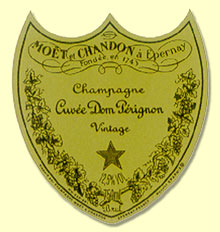 A Plenitude of Dom Perignon
The word "plenitude" pops up often in the rarefied world of Dom Pérignon. Plenitudes are good things they're vintage Pérignonese for the stages of a luxury champagne's life.
According to Benoît Gouez of Dom Pérignon, the first, the "age of fullness" is the result of the first seven years in the cellar. The newly released wine tastes of brioche, citrus fruit, honey and mild spices.
At 12-15 years old, the wine you've carefully hoarded, while still fresh, yeasty and fruity, has developed ripe aromatics and complex, toasty flavors of nuts, biscuit, chocolate and spices.
After 20 years, if you're amazingly patient, it becomes creamier, with leather, spices, cigars and blossoms, with nuances of sandalwood, musk, new leather, truffles and spices.
These phases occur because there is "maturation vs. aging" and it's not a linear process. "Each vintage, according to its own rhythm, passes through the same stages at different moments," says Gouez, D-P's oenologue.
The wine spends its youth at Epernay maturing in contact with the spent yeasts (lees). This is a process of reduction. After disgorgement, removal of the lees, the wine begins the process of oxidation-aging.
To save you cellaring your own Dom until it reaches major plenitudes, the winery is rereleasing old vintages from its Oenotheque, a holy of holies wine library where these rarities are gently aged, but it'll cost you! The re-releases will include the great '59, '62, '73, '80, '85 and '90. Chef de cave Richard Geoffroy continues to set aside a few bottles from each vintage.
The latest release, the '95, is in 350 stores, at $164.95, $341.60 for the magnum, from a sun-drenched vintage, fresh and lovely, showing a pinpoint mousse, with smoky briochealmond aromas and flavor trails of ripe pears, grapefruit, vanilla, and ginger (95). As always development is slower in magnums. Rosés also are slower to mature, because of extra tannins from the red Pinot Noir rather than the magnum's smaller air/liquid ratio.
The Fall Classics Catalogue has the '93 Rosé at $379 (94) for intense floral-dried fruit and pomegranate flavors and coppery-pink color, more body and, quite simply, more Pinot Noir, about 70%, the reverse ratio to the Chardonnay in the whites.
"The wines are 100% from our own vineyards, from nine Cru (8 Grand Cru and the Hautvillers vineyard, home of the famous 7th Century abbey where Dom Pérignon is said to have "discovered" champagne).
"We have 12 winemakers making the champagne at Moët & Chandon (owner of D-P), three are dedicated to Dom Pérignon. We have three generations for continuity to preserve the style, and vintage character freshness, balance and elegance. We all taste all the wines. What is unique to Dom Pérignon is that best fruit from best vineyards is dedicated to Dom Pérignon and the blend. [Champagne, of course, is the ultimate blend - of grapes from many vineyards.]
"Indigenous (wild) yeasts are risky. We inoculate with our own selected yeasts at Moët. The yeasts, the Chardonnay and the Pinot Noir are all of equal importance.
"Everything is made in stainless steel, no oak barrels have been used since 1964. Few chemicals are used, and our vineyards are nearly organic. Like all champagne houses, we use crown caps until the final bottling, and will always use real cork. We're working with (cork makers) Amorim and Sabaté on a new CO2 process to completely eliminate cork taint. Meanwhile, every bottle is tasted by a winemaker to make sure none are oxidized or corky." Typical of today's highly trained winemakers, Benoît interned with wineries in California, Australia and New Zealand.
The only question now is, what food to serve? Try white truffles, beluga or sevruga, oysters, morels, fish in creamy, buttery sauces, and call me!
For these upcoming Oenotheque wines, try the Summerhill store:
'80, $499, candied citrus, menthol, black fruit and citrus accent.
'73, $699, toasty brioche, ripe plum, vibrant with a lemon finale.
'62, $1050, Arabica coffee, musky new leather, preserved citrus, citron, pepper, nuts.
'59, $1199, opulent, black truffles, cherry, pears, figs.
The '90 is in the Fall Classics Catalogue, $247. For more info, call Select Wines, 416/367-5600.
Canada's stellar Icewine has finally been protected from foreign fakers.
A definition by the Office International de la Vigne et du Vin outlaws "freezer wines" and other phonies being labeled Icewine, 'vin de glace' or 'eiswein'.
Canada, Austria and Germany make Icewine from naturally frozen grapes, and serious dollars are at stake from artificially frozen fakes undercutting exports. In the definition, the grapes must be frozen on the vine and pressed frozen. Minimum harvest temperature is -7§C, one higher than the Canadian minimum.
In return, Canada agrees to stop using "sherry," "port" and "champagne" on wine labels.
The EU used to limit Canadian wine imports to a paltry 100,000 litres a year. Last year, our Icewines were tentatively given free access, and the agreement makes this permanent. Wine Council of Ontario president Linda Franklin expects exports to double within five years. "And we'll sell more wine at home, our key marketplace, because that added international credibility helps us."
The LCBO's system gives a good idea of whether a wine is bone dry, semi-dry or honey sweet.
0: Very Dry
1 to 2: Dry
3 to 6: Medium
7 and over: Sweet
The numbers indicate the residual (grape) sugar in the wine. The driest, 0, has under .49 grams per 100 mL, about 5g/L. 1 has .5-1.49g per 100mL; 2 has 1.5-2.49; 3 has 2.5-3.49, and so on.
The sweetness you perceive is the balance between sugar and acid. Wines will seem drier when they have high acid levels, and vice versa. Off Dry falls between Dry and Medium in taste and is 3 on the code.
Thinking globally/acting locally, Donald Triggs, president of giant Vincor International, has become a hands-on grape grower in Niagara. He and wife Elaine have created Delaine Vineyard.
The 5-year-old vineyard (once an apple orchard) sits on 95 acres beside the Parkway, and the first wines look promising, especially from such young vines, with outstanding Gewurztraminer, Riesling, and Chardonnay, and rich, concentrated Pinot, Merlot and Cabernet.
The exceptional depth of flavor is helped by slashing the fruit load on the vines, (green harvest) by a staggering 66% on the reds, and 50% on the whites! This pursuit of excellence has a big assist from wine/vine experts associated with Vincor, North America's 4th biggest winery.
In the $16-$30 range, initially under the Jackson-Triggs Estate label, the first wines are being introduced at the Jackson-Triggs winery (co-founder Don Triggs), and Wine Rack and Vintages stores.
The vineyard is also a research centre, tracking vine clone/rootstock combos, pruning techniques, soils, and climatic conditions.
"It's a labor of love," says Elaine, a CA and former teacher, who oversees day-to-day management. "Don and I are passionate about quality and we're working with the best viticultural experts to get it right!"
The main red planting is Pinot Noir (21 acres), with Cabernet Sauvignon, Cabernet Franc and Merlot covering 10 acres each. Among the whites, 15 acres are Chardonnay and 10 Riesling. The balance includes Syrah (10 acres), Sauvignon Blanc (4) Gewurtzraminer (3) and Semillon (1.5).
It was planted in '99 under the guidance of Inniskillin grape supplier Gerald Klose, with input from Dr. Richard Smart of Australia, Prof. Denis Boubals of Montpellier, and Inniskillin co-founder Karl Kaiser, using only vinifera clones from French nurseries. Bordeaux viticulturist Alain Sutre of Groupe Taillan visits the vineyard quarterly. He's introduced a variety of pruning, bud reduction, canopy management and green harvesting techniques.
Don and Elaine met at the University of Manitoba. Their love of the land and passion for wine is transparent. "We dreamed of having our own vineyard for years," says Elaine. "We're expanding our knowledge literally from the ground up. Understanding the terroir and vine management is crucial, because to make super- and ultra-premium wines we have to produce grapes of the highest quality."
Please take me back to the top of the page!