I think she means the wines of the entire Loire Valley, as beautiful as the people and their land. And it's time to explore this Eden of pure, healthy wines that rival anything on the planet. They're just getting tastier and sexier.
Take, for example, Muscadet. More than a steely chaser with raw, briny oysters, it can be complex, nuanced and ageable. A very grown-up wine indeed.
In the west, where the river flows into the Atlantic, Muscadet produces half the Loire's whites. Occasionally confused with (sweet) Muscat, it's piercingly dry and bold, floral and refreshing, a trendy choice in Europe's bistros with just 12% alcohol. Reminds me of fine Chablis.
The best examples are hand-crafted, ageable, organic and pure.
The secret is keeping the yeast in contact with the wine (sur lie) after fermentation right up to bottling, delivering velvety mouth feel, a spritz of carbon dioxide, big flavor and freshness – with no oak at all.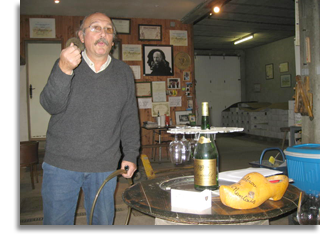 These artisan wines are made by people like the affable Michel Brégeon on his 14 acres at Gorges in Muscadet. This garagiste patiently ages up to 5 years sur lie as the wines become progressively more Chablis-like, steely, full of racy grapefruit-mineral notes and floral aromatics.
The secret is the Loire's special soils, schist, granite and sand, that store precious moisture and add smoky gun flint, stone and citrus nuances to the wines. "They're so good you can spit in your body!" says Brégeon.
It's all about respect for the grapes, pruned to 8 bunches per plant, and fermenting with the natural yeasts on the fruit. "It's a risk, but otherwise you only get standard wines like everybody else. You have to take risks to make great wines," adds Brégeon.
Over a crisp, bubbly Crémant de Loire, he describes how his family roots include barrel-makers and winemakers whose passion is a commitment to the wines. Today he and his wife and a helper run the entire show, and everything is done by hand. His winery is more cozy den/garage than high-tech wonder.
We're 70 km from the Atlantic but the tides of the Loire and the cool waters of the Sèvre and Maine rivers can bring early morning fogs. "The sea salt in the rain can burn the vine leaves and add a salty note to the wines," says Brégeon.
Happy with an exceptional 2009 vintage ("a real winter, good flowering and a healthy vineyard"), he explains that true wine quality emerges only with time and patience.
Going through a tasting of older vintages with him reveals amazing freshness and zero oxidation. The '06, for example, is perfect with avocado and shrimp or Breton oysters. The '05, with a hint of greengage, has a core of fresh herbs and cut grass that's perfect with seafood, shellfish, spicy dishes or goat cheeses
The '03, after 45 months on lees, is an amazing "superMuscadet": "I should have decanted it yesterday," he apologizes over this stony Chablis-like beauty, clean and chalky with steel, stone, soft herbal notes, and ready now.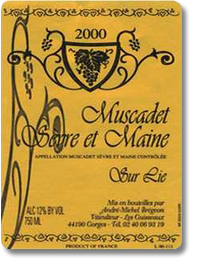 The '99 is buttery, with soft applewood, white grapefruit, mint and pear, the finesse of a lightly oaked Chablis and hints of vanilla and cocoa. Steely, crisp and delicious.
No surprise after these stellar bottlings, the '96, pale gold, is a marvel of wet stone, citrus, fine minerality and youthful acidity after five years sur lie and 15 years of patient aging.
The '95, 2 years on lees, shows intense yellow plum, tobacco, stewed fruit and wet stone. Fresh and vibrant as a youngster.
The '93, sleek, buttery, racy, zesty and elegant, is in peak form. Tasted blind, I'd have said Burgundy. Topping even this, the 1989, despite a crumbling cork, shows amazing stuff with camomile, gun flint, honey, mocha, caramel, wood smoke and lemon curd with mango, hazelnuts and fresh almonds on the finish.
The capper is a magnum of Brégeon '85, so fresh, racy and elegant it's breathtaking. Unlike the oxidation that happens in barrel aging, sur lie is relatively glacial but patience brings rich rewards.
Brégeon and his neighbors ("We are a tribe of artisans not volume producers.") are developing a new Muscadet "cru" to be called Gorgeois. The sur lie requirement is 24 months to 5 years.
However, the AOC says Gorgeois must be known and recognized to achieve AOC status, but until it is they can't use the name! ****ing bureaucrats...
They should just call it Gorgeous!
On a grander scale, Michel`s Muscadet neighbor, Château de Cléray, has an equally impassioned vision. "I'm not just a wine maker. I'm a pleasure maker," is how Pierre-Jean Sauvion introduces himself. Slim, articulate and bespectacled, he owns Sauvion, a domain of the rich and famous.

"We make wine in the garden, and here is our garden," he says sweeping an arm over the 80 acres around the house and its moat. That's where Melon de Bourgogne vines sink their roots deep into slate, sand and clay "and we make a marriage of the three terroirs.
Grapes don't like oxygen, so we grow them two minutes away from the press." Freshness is next to godliness here.
The domain, an old fortress, houses antique presses and aging cellars, and no barrels to speak of. But who needs oak?
In our market, Sauvion's very well made Muscadet Sur Lie, 143016, LCBO, $12.60, is straw yellow with gooseberry, apple, lemon and mineral aromas. Dry with crisp acidity, clean citrus fruit and snow pea flavors on palate with yeasty notes in finish. Serve with shellfish and seafood; perfect with oysters on the half-shell or as an aperitif.
It`s just an entry level to the fine wines that Sauvion produces, including the elegant Haute Culture range and the lovely Douce Surprise sweetie.


Muscadet: fresh oysters, fish pâté, turbot, halibut meunière. Bourgueil: quail, sweetbreads, cheese soufflé. Dry white Anjou: roast herbed chicken, sushi. Chinon red: morel risotto. Saumur-Champigny: charcuterie, feathered game, rack of lamb. Sparkling Vouvray: to toast the bride, and with beef carpaccio. Vouvray moâlleux: tarte tatin. Savennières or Montlouis: foie gras, bouillabaisse. Red Sancerre: rillettes, hare, venison, Chavignol. White Sancerre: pan-fried trout, turbot and sea bass. Ménétou-Salon or Pouilly-Fumé: asparagus, pasta pesto. Rosé d'Anjou: crudités, cheese fondue or soufflé.
Ex-Cellars Wine Services sources great Loires through Christophe Garnier Selections, including Pouilly-Fumé Tabordet, Sancerre Cherrier, Vouvray Gauthier, Touraine Azay-le-Rideau Pibaleau, Bourgueil Chasle & Menard, Saint-Nicolas de Bourgueil and Chinon Lorieux, Muscadet Sèvre-et-Maine Bouchaud. Contact Nuray Ali at (416) 822-8187.
When Texas meets Argentina, the score is: Cattle 18,000, Sheep zero.
"There's no mutton in Texas!" says Ward Lay, and so there's no Château Mutton in his winemaking future. Only 200,000 acres of cattle and lots of lovely old vines.
When he bought the acreage, the resident woollies got the boot in favor of prime beef, and premium Torrontes, Cabernet and Malbec, with Merlot and Chardonnay right behind.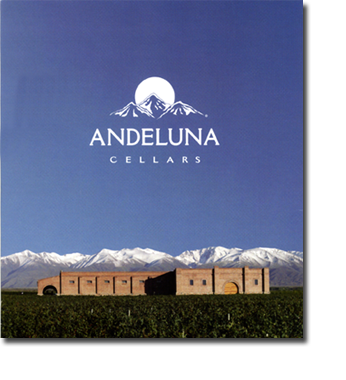 Nowadays, the spread is home to the spectacular Andeluna Cellars, producer of some mighty fine wines at great prices, with help from rising star Silvio Alberto and France's flying winemaker Michel Rolland.
Ward came to wine from the Lone Star State via the world of soda pop and potato chips after PepsiCo, the Fortune 500 multinational (Quaker Oats, Gatorade, Tropicana, Mountain Dew, 7-Up) consumed his family's Frito-Lay empire (Fritos, Tostitos, Doritos, Miss Vickie's and Cheetos, etc.). Ward`s father, who founded Frito-Lay, became Chairman of PepsiCo.
Ward`s own resumé includes real estate and aviation, along with the South American ranch (purchased from Luciano Benetton), a luxury lodge in Patagonia and now the winery, at Tupungato in Mendoza, where grapes had been grown by the Rutini family for 120 years.
This part of the Uco Valley combines high altitude (3,600-4,300 feet), alluvial rocky-sandy soils, low rainfall and mountain snow melt for drip irrigation, and brilliant, luminous sunlight a place for happy low-yield grapevines. Award-winning wines with great minerality have been flowing since 2003.
"We have outstanding people and the desire and the spectacular location to make unique wines. Our goal is the best wines in the world," says Lay.
The 2007 Malbec, Torrontés, and Cabernet are priced at $16.99, and the 2004 Gran Reserve Pasionado, a Bordeaux-style blend, is $55, and are available directly through www.stemwinegroup.com
The state of the art winery boasts the most advanced equipment and cellars and makes wines that taste as though they should cost twice as much.
The Malbec has upfront oak with black fruit, fresh raspberry and dried fruits, smoke, subtle tar notes is totally food-friendly without excess alcohol (91). The Torrontés has a wonderfully peachy-apricot aroma, grapefruit and jasmine on the tongue and graceful length and acidity to match seafood pasta or roast herbed chicken (90). The silky smooth Pasionado is a small, age worthy miracle of ripe Morello cherry and dark chocolate, strawberry, plum, raspberry and vanilla with hints of wood smoke and toasty oak (92).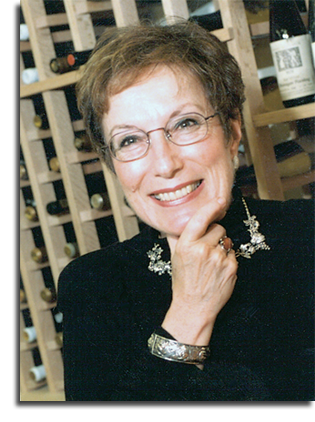 Their names include Hatch, Ziraldo, Pennachetti, Bosc, Speck, Triggs, Franklin and Beal and they're trailblazers who should all be in a Niagara Wine Hall of Fame.
They're the stars of a new Linda Bramble book: Niagara's Wine Visionaries: Profiles of the Pioneering Winemakers, amazing people who miraculously transformed a backward historic labrusca Canadian backwater into a modern international fine wine region in just 30 years.
Entrepreneurs, scientists, innovators, heretics and true believers, idealists and stubborn enthusiasts, their impact is immeasurable.
Sommelier, academic, wine lover Bramble weaves their challenges and contributions during the fledgling industry's saga of hope, disappointment, innovation, heartbreak and, finally, success. It`s like watching the Ontario wine industry story unfold on the History Channel!
This is a gripping tale of Canadian business and cultural achievement despite Prohibition, world war, Depression and red tape.
Published by James Lorimer, $29.95. www.lorimer.ca



Ontario's largest vintners, who make "Cellared In Canada" (CIC) wines, have abandoned the Wine Council of Ontario, which markets their wines, negotiates grape prices, and, importantly, lobbies the Province on their behalf.
Vincor, Peller and Colio may be joined by Magnotta, Kittling Ridge, Pelee Island and Diamond Estates in pulling out and forming their own Winery and Grower Alliance of Ontario.
The big wineries buy 80% of Ontario's grapes and make 90% of the wine. Most of this is CIC, which actually contains large amounts of foreign wines. The producers of 100% Ontario wines, labelled VQA, call CIC labelling a sneaky way to confuse customers into believing they're buying Canadian.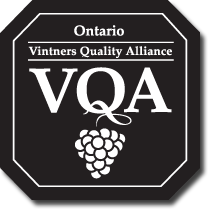 Less than 2.5% of the monopoly's listings are wines made entirely from local grapes and labelled VQA. The vast majority of "Canadian" wines sold by the LCBO are, in fact, foreign blends. If a local boutique winery can't make LCBO's list, its only option is direct sales.
Queen's Park recently imposed taxes on wines sold through the big wineries' own stores to fund the Wine Council's marketing and a VQA program at the LCBO.
The Council's $4-million budget comes from provincial grants and membership dues based on each winery's production. Vincor, Peller and Colio contribute 13%.
Please take me back to the top of the page!