New Feature:
Click on labels and photos for even more information!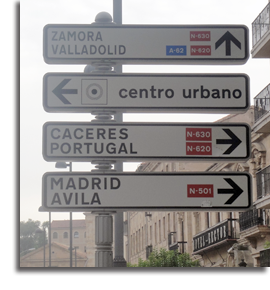 Times have changed since Columbus sailed for the New World with powerful Ribera del Duero and Toro wines for comfort, medicine and courage on the scary voyage.
Tour guides in Spain still call these wines reds you cut with a knife. But, the reality is, their raw power has been polished into modern elegance, voluptuousness and grace.
Wine along the Duero, river of gold, dates from the Romans, and it's the oldest and second-largest wine region in Spain. The river, framed by red sandstone bluffs and rocky clay-ochre slopes, was for centuries the often violent frontier between northern Spain's Christians and the Moors. Punctuated with medieval fortresses, its muddy waters become the Douro in downstream Portugal, Spain's arch-rival for control of Iberia.
The growing conditions in Toro? Broiling parched summers, icy winters, short springs and falls, 45C summer days and 20C summer nights, 3,000-plus annual sunlight hours, poor, sandy, pebbly, rocky soils and plenty of wind. Think Châteauneuf-du-Pape. Perfect for eco-friendly healthy Tempranillo aka Tinta de Toro vines and, in the old days, high-volume, high-alcohol wines.
In recent days, however, visionaries like the Fariña family have upgraded the once rustic wines – tipple of Salamanca students since medieval times – and established proud ultra-modern appellations.
Manuel Fariña, patriarch of the Duero's Toro region, studied in France and brought home shocking new ideas, like low fruit yields and wire trellising, to a tradition-steeped land. Today, son Bernardo creates balanced wines with sweet tannins, intense flavors and deep color. His brother studies agronomy and will soon help run things.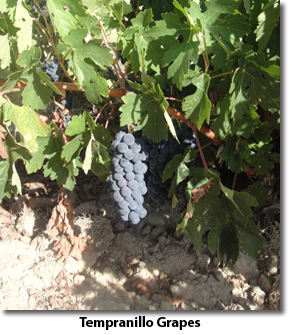 The estate is in the only phylloxera-free region of Spain, and Bernardo explains that the sandy-rocky soil saved the vines, many now over 100 years old, from the deadly bug. One über-vine, 220 years old, still yields a litre of wine every year!
"Tinta de Toro is Tempranillo," insists Bernardo, who admits the reputation for heavy, oaky wines persists, though export success has created new domestic interest.
The family is testing new grapes and creating a museum/gallery for ancient implements, curios and artworks. [The region, half a day's drive NW of Madrid, always within sight of mountains, also grows sugar beet, wheat, maize, garbanzo beans, carrots, goat and sheep cheeses, and lamb for export.]
Meanwhile, over at Dehesa La Granja, also in Toro, a hotter, even drier spot a few kilometres away, Alejandro Fernández, patriarch of Pesquera del Duero, is a tiny, gregarious 70-ish winemaker and founder of several wineries.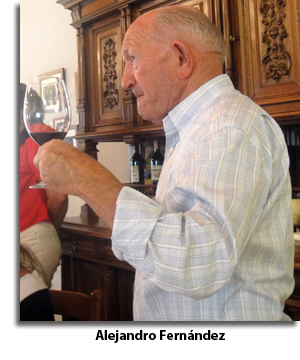 Fernández has helped pioneer the renaissance of Ribera, creating iconic Tinto Pesquera, Condado de Haza, Dehesa La Granja, and El Vínculo in La Mancha. Back in 1972, he was the first to trellis vines on wires in Pesquera, then just another village in Old Castile, instead of bush vines and by the '80s Pesquera had become an icon.
He followed up brilliantly with Condado de Haza, a gravel, clay and gypsum riverside slope of neglected vineyards. After years of negotiations, he planted 100 acres of prime Tempranillo. Today 500 acres surround Haza high above the Duero and the wines are stellar. The Crianza '06 was just voted World`s Best Red in Business Class and is served by Iberia.
Dehesa La Granja, once used to raise fighting bulls, had ancient cellars and "just smelled right for wine making" to Alejandro. Add to that wine the Iberico ham from his own hogs fed on his own acorns, and cheese from his own sheep and goats.
And white wines, too, like his oak-aged Airén, a mundane grape carefully nurtured here into something like a Muscadet x Meursault. Lovely and fetching 14 euros in Germany today, quadruple the regular Airén.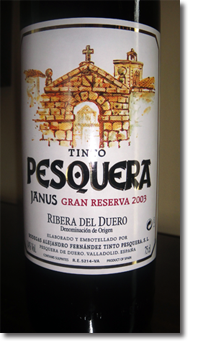 Unfiltered reds including the stellar Tinto Pesquera, which should be decanted and served at 14-15C, the temperature of its home cellars, according to Alejandro.
Janus, Alejandro's halo wine, 60 euros winery gate, is lush, round and loaded with black fruits, gamey notes, old leather, vanilla and fresh berry aromas. Just supply the roast suckling pig and Castilian lamb, thank you. Pheasant with plums would be OK, too.
Newly released in Ontario at $21.95, the Alejandro Fernández Dehesa La Granja 2004, (v) 192476, is a 93-pointer aged in French oak, with a profile of pure raspberry-strawberry, crushed black pepper and spicy dark fruit notes, juicy oak and savory tannins. It's 100% Tempranillo Pesquera clones vinified at Toro. After 24 months in barrel and four years in bottle, it's a miracle of grace and power, eager to partner with lamb, pork, beef, ham or feathered game.
The bottom line, as Alejandro puts it: "Happiness is old wine, young women..."


Framed jewel-like amid three mountains and the deep blue sea, from Rhône to Pyrenees, the Midi is a sensuous rainbow of sunflowers, vines, ochre crags, white beaches, granite cathedrals and red-tiled farmhouses.
Here, fifteen (15) very diverse appellations of the new (2007) Côteaux du Languedoc appellation offer infinite choices of delicious red, white and rosé to accompany game, meats, fish, fruits, vegetables, mushrooms, cheeses and shellfish. It's impossible to avoid gastronomic pleasure here.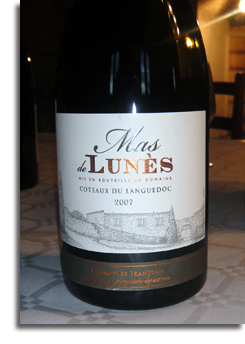 This Mediterranean paradise France calls the Midi produces more wine than Australia. And it's good wine! The air around the Greek, Phoenician, Carthaginian, Roman, Benedictine and Cathar buildings and the wines themselves is pungent with juniper, sage, thyme and wild rosemary along Via Domitia, the ancient road to Rome.
This southern kingdom of Langue d'Oc, where people still speak Occitan, was an independent realm until Church and King allied to subdue it, massacre its Cathars and annexe it to France. It's united in spirit by the heraldic Languedoc Cross dating back to the Visigoths – an icon that's starting to highlight the Languedoc "brand."
A fine place to start exploring these wines is an honest red called Mas de Lunès.
It's a Côteaux du Languedoc '07, $18.95 at Vintages, #183376, an elegant earthy, savoury bottling with blackberry, marshmallow, black raspberry, anise, fine tannins, subtle spicy oak and vanilla notes. A concentrated blend with a mineral streak picked up by Syrah and Grenache vines grown on ancient pebbles and limestone scree surrounded by 1,000 hectares of garrigue, it's versatile as a food wine. A Gold Medal winner at Hérault in 2008.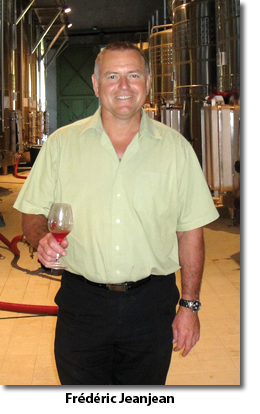 It's from the 12thC winery of Frédéric Jeanjean. He's the man charged with helping you understand Languedoc wines better: he's President of the Interprofessional Council of the Wines of Languedoc. [You might also recall his Devois des Agneaux d'Aumelas, now sold out, but his Syrah Rosé, $9.95, is thankfully still around. As well as Devois and Lunès, Frédéric owns Le Pive, Fenouillet and Mas Neuf.]
Changes to French wine law in 2007 enlarged the Côteaux du Languedoc to include all Languedoc and Roussillon AOCs and be the benchmark for all its appellations – a challenging task. The goal is to offer 100 million bottles of quality wine, especially at 3 to 4 euros a bottle.
The benchmark challenge is tough because of the diversity of the Midi plus local pride in each appellation: from the vins doux nectars of Rivesaltes/Banyuls at the toe of the Pyrenees on the Spanish border to the fragrant Muscat de Lunel on the outskirts of Nîmes.
Along the way, you'll visit the appellations of Corbières, Boutenac, Minervois, La Livinière, St Chinian, Faugères, Limoux, Cabardès, Malepère, Clairette, Frontignan, Lunel, Mireval, and St Jean de Minervois as well as simple Languedoc AOC.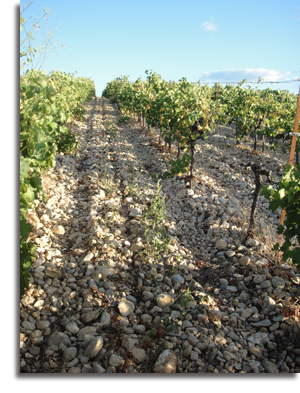 The terroirs are a mosaic of pebbles, shingle, sandstone, marl, limestone and schist, fine sandy soil, and basalt. Vineyards rise from sea level to 400 metres and the grape varieties include Grenache, Carignan, Syrah, Mourvèdre and Cinsault for reds plus Bourboulenc, Marsanne, Roussanne, Piquepoul, Clairette, Rolle, Tourbat and Viognier for whites.
Thousands of hectares have disappeared in recent years while yields have been slashed, concentrating the wines and their quality. Passionate young winemakers are using the latest techniques to obtain the finest results.
The reds show ripe red fruit, berries, spice and garrigue notes, great with lamb, grilled meats, rabbit, and firm cheeses; the whites are crisp, peachy with orange blossom and citrus, great with seafood and shellfish, the rosés are dry, fruity and food-friendly throughout the meal. Wines perfectly ripened by 3,000 hours of southern sunshine are kept fresh by the biting Cers and Tramontane winds.
By my reckoning, we're all the winners for that. And, if Frédéric Jeanjean has his way, we'll be seeing a lot more of the Languedoc Cross.
Please take me back to the top of the page!