Helpful hint: click on labels and photos for even more information!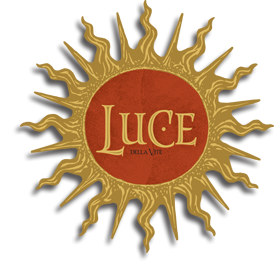 It has taken 30 generations of Tuscan expertise to perfect a new wine in Brunello di Montalcino.
The result is a ground-breaking blend with the structure and elegance of the Sangiovese grape and the soft roundness of Merlot. It's Luce della Vite, literally the Light of Life.
It was born in 1995 in a handshake between wine icons Vittorio Frescobaldi and Robert Mondavi to celebrate the amazing sandstone-limestone and shale terroir of Brunello. Italian-born Mondavi going back to his roots and the Marchesi de' Frescobaldi contributing seven centuries of Italian winemaking experience.
The idea of growing Merlot, a logical choice today, was radical at the time for normally 100% Sangiovese Brunello but Vittorio started experimenting with Merlot as early as 1968.
Today, Luce della Vite is wholly owned by the Frescobaldi family, with Lamberto as the winemaker. "Luce has a very distinct identity for me," says Lamberto. "Although it's connected to my family's traditions, Luce is a wine and an idea all its own."
A vertical tasting from 2009 to 1999 showed consistently taut, elegant, at times almost austere, yet wonderfully integrated wines with a spectrum of blueberry, cherry, plum, anise and licorice in the young vintages mellowing to dried plum, blackberry, tobacco leaf, old leather, cloves and truffles in the mature bottlings. The sizzling hot 2003 could be mistaken for a California red while some early vintages like the 2001 are surprisingly still closed and need further cellaring. The tannic 2005, Lamberto describes as "grumpy" while the generous 2004 is "smiling".
Ageable, expressive, sophisticated, among the best Italy has to offer – Luce is almost out of stock here and awaiting the arrival of the deliciously fruity, nicely oaked 2009 vintage, which will retail for $109. Luce's second wine, the exceptionally good La Vita Lucente, $34.95, which has Cabernet in its blend, is available now and totally deliciousl
Frescobaldi's nine Tuscan estates include Nipozzano, Pomino, Rèmole, Attems and Castel Giocondo.
---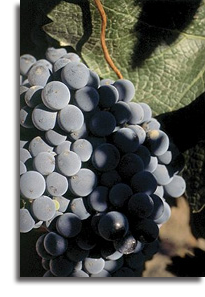 No longer a Johnny One-Note, Argentina's Malbec is the leader of a band of smooth, swinging reds – like Bonarda, Cabernet, Petit Verdot, Syrah, Merlot, Pinot, Tannat and Tempranillo.
It's tough being a global superstar and Argentina's signature grape, but Mendoza's Malbec is bigger than Chile's, more elegant than California's, softer than South Africa's and riper than Europe's.
The nuances of all the sub-regions and grand cru sites aren't yet being translated into the labels we see but the value across all price ranges is truly tasty.
Among the whites, our consumption of aromatic, exotic Torrontes is rising fast, along with bright, fresh under-$20 Chardonnays, all made with impressive winemaking skills and modern equipment.
There's been massive recent investment in vineyards and wineries, but the expertise dates back the 1853 launch of the Agronomy School in Mendoza by French soil expert Michel Pouget, who imported Europe's best vines to their mountainous new home. The cuttings included Malbec and Tannat from Cahors, France.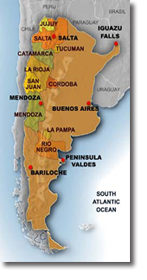 Since then, Italian, French and Spanish immigrants have brought their love of wine and most of Argentina's wine was consumed within the country until growers realized the need for a more international style. Now exports are soaring: shipments to China grew 68% last year, for example, and Canada is #2 to the US as the top market.
Microclimates vary along an east-west axis, mostly on the foothills of Andes Mountains and the profile of Malbec at any price point is consistently full, rich and ripe on the palate with sweet tannins and wonderful aromas of mulberry, blackberry and flowers.
Northwestern Salta has vineyards as high as 10,000 ft. The central, most historic and largest area includes La Rioja, San Juan, and Mendoza as well as Lujan, Maipu and Uco with vines from 2,300 to 4,200 feet. Patagonia to the south has vineyards mostly in the valleys of the Negro, Neuquen and Colorado rivers.
Good examples of Malbec are Zuccardi Q 2009, grown above 3,000 feet, matured in French oak, $19.95 at Vintages, showing blackberry, plum, mulberry and velvety mid-palate tannins (89). Kaiken Ultra 2010, also $19.95, is all smoky plum, dark chocolate and ripe berry fruit, complex with a little Cabernet in the mid-palate (92).
---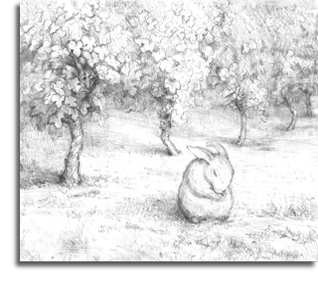 If vines could talk, here's what they'd say…at least if an 80-year-old vine were speaking to a baby rabbit.
But first, the back story.
For 20 years, Krishna Lester was in charge of growing more than 100,000 vines at Chateau Chaintre, a lovely winery in the Saumur Champigny district of France's Loire Valley, and at first his job was a real challenge.
"The weather, whole hosts of insects, microscopic mushrooms, French public holidays, which always fall in the busiest moments of the year, the fact that I was a foreigner (British) and sometimes even the workforce took it in turns to render my life difficult…"
However, he recalls, "time and experience finally got the upper hand and it became a very satisfying experience indeed." Lester started to see the vineyard as a little world within our big world, with its amazing diversity of inhabitants and a delicate ecological balance for which he was, to some extent, responsible.
Now, in The Little Book of the Vine, Lester lovingly tells the vineyard's story through the voices of its inhabitants, in this case a wonderful conversation between a mature vine and a baby rabbit.
Readers aged seven to seventy will be charmed by the whimsical yet vinously accurate and engaging text plus exquisite illustrations by Krishna's brother Guy, a talented Shropshire painter and ardent wine drinker.
The Little Book is published by Anagrus Atomus Press, Lester's literary muse and in fact the bio-friendly wasp that helps control pesky bugs like the leafhoppers that damage the vines, without having to spray chemicals.
To get the book, go to www.thelittlebookofthevine.com and order a copy delivered for 7 pounds. Make absolutely sure to click the link to Guy Lester, the landscape artist, at www.guylester.com.
---
One of the oldest brand names in the world was originally burned into the wooden barrels of wine from Gaillac with red-hot branding irons.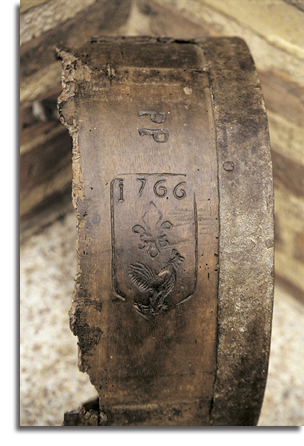 The imprint of the "Coq" – the cockerel – was the physical label of these lovely wines grown upriver from Bordeaux since ancient times and shipped downriver for export from the port of Bordeaux.
Every barrel was branded with its contents and place of origin – in this case, the cockerel and coat of arms of Gaillac, whose wines are known as "Vins du Coq". Importantly, this early I.D. gave us today's terms "brand" and "marque," from marque au fer, French for branding iron.
Wine has been grown in the Gaillacois, one of France's oldest, most beautiful – and most under-rated – wine regions, for 2,400 years.
From vines planted by the Phoenicians who colonized ancient Gaul, Gaillac wine was already prized when Roman orator Cicero praised it 300 years later, By then, potteries at nearby Montans were firing amphorae to carry wine across the Roman Empire.
Terra cotta jars were safer and their contents less disturbed when taken by water rather than by ox carts along rough paths and trails. It was also cheaper, more efficient, which led to a commercial boom for the port of Gaillac itself, at the head of navigation on the Tarn.
At its peak, hundreds of flat-bottomed boats and sailboats plied this ancient port to carry the region's wine, corn, coal, fruit and indigo dye to eager clients.
The whole region has an exceptional climate, where Atlantic and Mediterranean influences merge and there's a diverse range of wonderful soils and sites.
The wines the Romans made became the currency of choice between the colonizers and the native tribes whose cooperation they needed.
Only Roman citizens were allowed to make wine until 213 when Caracalla allowed all the Gauls to grow vines. By 476, however, the end of the Roman Empire was in sight and things started to go seriously wrong in the wine business.
By 507, the Visigoths, Normans, Franks and Huns had laid waste to the Empire and destroyed organized viticulture for centuries to come. Things were reviving by 920AD when records show a donation of vines to the Canon of nearby Albi.
Monks of the religious orders played a huge role in this economic revival by planting and tending new vineyards, many on land bequeathed to the Church by the faithful.
The bloody 13th-14thC crusades by the Pope and King of France against the Cathars, heretical Christians who vainly sought refuge in castles and hill towns in the Gaillac region brought death, more destruction of the vineyards and loss of trade once more. The last Cathars were eliminated by the Inquisition.
Exports from Gaillac to northern Europe had to pass downriver to the port of Bordeaux, a region determined to advance its own wines and smother competition from the Haut Pays, Gaillac, upriver.
During the 100 Years War in the 14th Century this fierce rivalry over wine exports swung back and forth depending on who was winning, England, which controlled Bordeaux, or the King of France.
At various times, Gaillac exports were held up at Bordeaux until St Martin's Day (Nov 11), St Andrew's Day (Nov 30) and even Christmas Day allowing foreign ships to load and leave with their cargos of Bordeaux wine.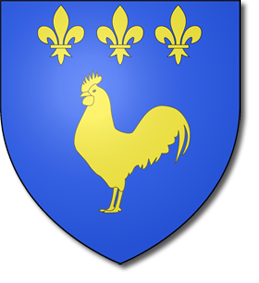 Taxation was always a thorn in the side – so bad that a barrel of corn was once demanded as the duty on two barrels of wine! A considerable burden since 41,739 barrels of wine were recorded in transit in 1311 alone – and that's a lot of Coq!
After 1451 when the French King retook Bordeaux, free movement of shipping was granted. The centuries-long role of the Tarn and Gaillac as a major port declined rapidly after the 1864 arrival of the railway, and the killer blow was the phylloxera plague that wiped out Europe's vines until growers eventually grafted their vines onto immune American vine rootstocks.
The net result is that Bordeaux wines are much more famous than their country cousins. If the two geographical positions had been reversed, today we might consider Gaillac, not Chateau Latour, the finest example of French winemaking.
The main grapes for Gaillac's white wines are Len de l'el, Mauzac and Muscadelle, along with Ondenc, Sauvignon Blanc and Semillon. For reds and roses, the varieties are Duras, Fer Servadou and Syrah. The Bordeaux varieties Cabernet Sauvignon, Cabernet Franc and Merlot are also permitted, as is Gamay, the Beaujolais grape. Prunelard Noir (a local variety once thought extinct) is allowed in the reds.
Renowned English artist Gordon Frickers is capturing in oils with precise historical accuracy Gaillac, circa 1820, thronged with sailors, merchants and shipping, http://www.frickers.co.uk/blog/.
Please take me back to the top of the page!