Helpful hint: click on labels and photos for even more information!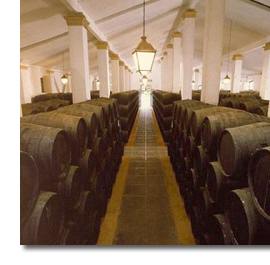 As of January, all the Sherries on the LCBO's shelves will be the authentic Spanish originals – white wines grown around Jerez, their sunbaked home in Andalusia.
The world's best aperitif, Sherry offers a dazzling range of styles to match every dish and every cuisine, from tasty tapas to the haughtiest haute cuisine.
All you need know is that pale gold Manzanilla and Fino, the steeliest and driest with hints of almonds, are served chilled and remind you of Granny Smith apples. If you also know that buttery, hazelnut-caramel Amontillado is partly barrel-aged under a creamy coating of yeast flor and tastes dry, like Palo Cortado (think peanuts) and Oloroso (hints of walnuts), so much the better.
Cream Sherry, originally designed for thirsty English customers, is a moderately sweet blend, perfect for pudding and foie gras; and ebony-dark PX (Pedro Ximenez) comes from eponymous late harvest or sun-dried grapes and its raisin-date-fig lushness flatters blue cheeses, ice cream or bitter chocolate.
That technical stuff about multi-level stacks of solera barrels where young vintages gravitate from high casks to low, to be fractionally blended with the oldest butts on the ground (sol, hence solera), is interesting but not essential. No barrel is ever completely emptied so there are elements of every vintage going back up to 200 years in the finished wines. The principle is that the young wine takes on the character of the old.
The word saca, Spanish for taking out wine (from the solera), was framed by Elizabethan English lips as Sack, the early name for this prized import.
A small portion of each year's wine is distilled into brandy, which is used to fortify the Sherry to 15-22% alcohol.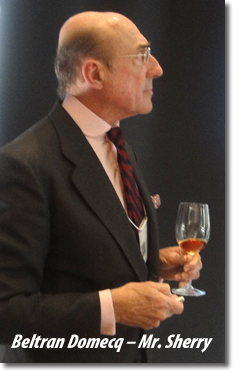 Thank the Moors who invaded in 711AD for bringing distillation (al-cohol and al-embic are Arab words) to Spanish winemakers. Fortification with brandy stabilized the wines for export to northern European ports. Sherish, the Arab name for Jerez, became Sherris-Sack in Shakespeare's day and eventually, of course, Sherry!
Oh, flor. That's the yeast layer that forms on the surface of the lightly fortified (to 15%) Fino in barrel, preventing oxidation and creating aromas of toasted hazelnuts and saline complexity. Oloroso is fortified to 17%, which kills the yeasts and allows a quite different, oxidative aging. Gonzalez Byass alone uses 85,000 American oak barrels to age its own Sherry. Annual evaporation of 4-5% is normal (wood is porous) and most winemakers shrug that off as the "angels' share"). The pragmatic Andalusians call it the Devil's share.
A great way for you to enjoy Sherry's sheer variety is to take a home tour: pour yourself a steely dry Manzanilla such as Solear, La Gitana, La Guita ($14.95) or El Maestro Sierra ($17.95); then a bone-dry Fino like iconic Tio Pepe ($15.90); a buttery, caramel-nut Amontillado Muy Viejo Del Principe; a stylish Palo Cortado from Gonzalez Byass; a honeycomb-walnut dry Oloroso from Real Tesoro or El Maestro Sierra ($12.95); Santa Maria Cream Sherry ($11.95); and finally a luscious Pedro Ximenez from Gonzalez Byass or Osborne ($17.95).
Smell each one in turn then very deliberately swirl, sniff, sip and savor. You'll be flor'd by the diversity and finesse!
A few things to know:
Beltran Domecq, president of the Consejo Regulador, reminds us that Sherries are dry, apart from PX, Moscatel and Cream. It's a Spanish wine, although some countries sell wines they call "sherry".
Palomino is Sherry's principal grape and Jerez has 300 glorious days of sunshine a year to ripen them!
Sherry is amazingly consistent: Finos and Manzanillas are aged at least 2-3 years, many Olorosos are decades old and a specific category has been created to regulate 20- and 30-year wines.
Sherry thrives alongside all foods and flavors (like asparagus and artichoke) that kill other wines.
Serve it in a good-sized white wine glass, not the small, narrow copita.
Drink Sherry within hours or days of opening. PX, however, can keep for months, properly corked. Store all Sherries vertically, by the way.
Other producers worth following: Rey Fernando de Castilla (very old Sherries), Williams & Humbert (Dry Sack), Tradicion (very old Sherries), Sanchez Romate (founded 1781, family-owned).
---
They're two white wines from Spain's Atlantic coast, but Sherry from sunbaked Andalusia, close to Africa, is the mirror opposite of Albariño from chilly Rias Baixas in northwestern Galicia – like the rain-soaked coast of Scotland.
Albariño is crisp, dry (and I mean dry!), grown in the top-left of Spain and Portugal for 1,000 years, unknown except to pilgrims on the Camino de Santiago to Compostela.
Sherries like Fino, from Palomino, can match the steeliness of Albariño, but Sherry's repertoire also extends to sweet and luscious.
In Rias Baixas, Loureiro, Treixadura, Godello and Caino Blanco grapes are allowed but wines labelled Albariño must be 100% of that grape, aka Alvarinho across the Minho River in Portugal.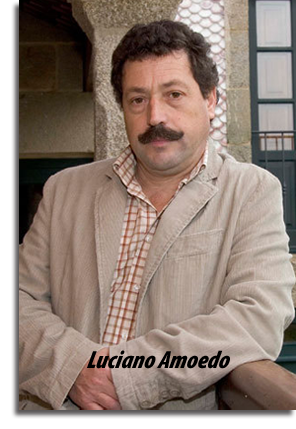 One of the best Rias Baixas producers, Martin Códax, is a co-op of 500 families with 2,400 plots of land,13% of the vineyards, and it's imported to North America by Gallo. Códax was a medieval Galician troubador.
Ninth-generation winemaker Luciano Amoedo says: "The best white wines in the world are from very extreme areas and we are one of those."
Most vines are trained high, pergola style, close to the sea on sandy, granite soil and tend to pick up a little saltiness. The wines are designed to match the local oysters and mussels, white meats and cheese.
With its Granny Smith, steely peach, lemon and mineral flavors and razor sharp balance, the 2011 Martin Códax is $17.95, (v) 984906 and rates a tasty 90.
In our market, you'll also find excellent Albariños from Alvinte, Burgáns, Columna, Eidosela, Nessa, Paco & Lola and Señorio de Rubioso, all in the $14-$18 range.
---
If you don't know your stick shaker from your kiln hanger there's a chance you also don't know your apassimento from a strip room or a hole in the ground.
That's all about to change as Ontario's South Coast wine, food and recreation destination gains more recognition.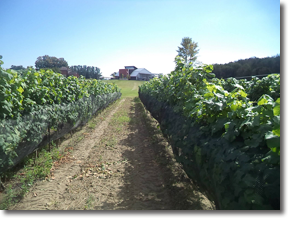 A phoenix from the ashes of Ontario's once huge rural tobacco business, this small-town Norfolk County area around Port Dover, St. Williams, Port Rowan and Long Point now boasts exciting new wineries like Burning Kiln, Carolinian, Golden Leaf, Rush Creek, Quai du Vin, Villa Nova, Wooden Bear, Blueberry Hill, Dover Vineyards and Bonnieheath – which gets the nod for great wine names like "don't count your chickens" and "Crooked Wrench"!
South of Delhi and Simcoe, it's a gloriously scenic wine eco-tourism destination on Lake Erie that offers waterfront hiking-biking, beaches, wilderness camping, zip-lining, sailing, fishing, birding – even a star-gazing observatory that benefits from zero local light pollution! All just two hours from Toronto.
Burning Kiln, near St. Williams, is where the apassimento comes in. This winery uses old tobacco kilns to air-dry its grapes, concentrating their sugars, acids and flavors like Amarone using the centuries-old apassimento method from the Veneto.
An old tobacco packing barn has been repurposed into its stylish winery and Burning Kiln's wines bear names like Kiln Hanger, Strip Room, Stick Shaker, a legacy of the old tobacco biz. The Pinot, Cab, Chardonnay, Riesling, Savagnin, Merlot and Sauvignon are all grown on the sandy loam soils of this glacial delta.
Across from the winery, within sight of the lake, in the UNESCO designated Long Point World Biosphere Reserve, you can also hop on a zip line and head out into the old-growth Carolinian forests, or hike, or camp or check out the cosmos through the telescope.
By the way, Norfolk County, aka Ontario's Garden and once the heart of the tobacco belt, is the number one grower of asparagus, sweet corn, cukes, cabbage, strawberries, peppers, sour cherries, ginseng, blueberries, pumpkins and sweet potatoes – and fine wine grapes. You can even get lavender wine from Bonnieheath.
Meanwhile, Ontario has just awarded Niagara's Foreign Affair winery the Minister's Award for Innovation for wine making and commitment to Ontario viniculture.
Owner Len Crispino says: "It's a difficult technique – we've had our failures including losing 15 tons of grapes in our first year." Len and wife Marisa were inspired to develop a Canadian Amarone following a stint as expats in Italy.
---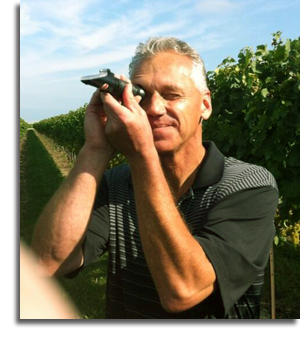 What do Le Clos Jordanne, Jackson-Triggs, Inniskillin and Delaine have in common? These great vineyards all owe their excellence to master grower Gerald Klose.
Gerald has worked from the early days alongside the industry's pioneers to establish Canada's international reputation and he continues to grow fine grapes for Constellation Canada.
His own family's purchase of a Niagara-on-the-Lake vineyard in 1969 launched a distinguished career in which this year marks his 35th harvest.
Gerald still manages that 15-acre farm near the Niagara River. The first grapes – delivered to Inniskillin in 1977 – were the white hybrid Dutchess, bottled for the Prince of Wales Hotel in Niagara-on-the-Lake.
Gerald has worked every Inniskillin Icewine harvest since Karl Kaiser's first successful Vidal Icewine harvest in 1984. The 1983 (un-netted!) was eaten by starlings.
Today Gerald manages 650 acres from Niagara-on-the-Lake to Beamsville, including Montague, Brae Burn, Delaine and Le Clos Jordanne.
He works closely with winemakers Bruce Nicholson (Inniskillin), Marco Piccoli (Jackson-Triggs) and Sebastien Jacquey (Le Clos Jordanne), overseeing 75 people and liaising with 90 growers.
Please take me back to the top of the page!