Modern Pinot Noir:
It's Déjà Vu Again
Any true definition of "modern" Pinot Noir, the Holy Grail for today's winemakers, must have a regional and a generational perspective.
For example, the "modern" use of gentle gravity flows rather than mechanical pumps to move wine, is actually a return to ancient methods that pre-date electricity, according to leading Pinot maker Ann Sperling.
"Modern" cold soaking (days of grape skin/juice contact before the yeast starter is added) were considered new in Burgundy but its advocate Robert Jayer-Gilles of Échézeaux insisted that before modern temperature-control and yeast inoculations, fermentations traditionally took many days to start.
In a presentation at Cuvée, Ann, managing winemaker at Malivoire Wine Co., expounded on modern Pinot Noir, noting that the reference is still always Burgundy, where, ironically, producers feel the grape variety is subordinate to the terroir.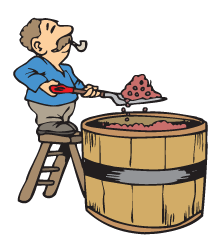 Mme. Lalou Bize-Leroy, owner of choice terroirs in Romanée-Conti, Musigny, Chambertin and Richebourg, calls Pinot Noir a blank slate on which the region's various terroirs may be expressed. Matt Kramer of the Wine Spectator calls this "somewhere-ness" and says winemakers should ask if their wine has a sense of place. "Can we recognize where this wine has come from?"
Why is Burgundy the Pinot paradigm while other varietals have definitions outside their traditional French region? asks Ann. Shiraz in Australia might just as well relate to Penfold's Grange rather than France's Côte-Rôtie. Cabernet producers might as well look to Harlan Estate or Opus in Napa rather than Premier Cru Bordeaux.
If we've learned from Burgundy that Pinot provides an opportunity to ultimately express place, then what drives winemakers to extract more from the varietal?
* In Niagara, we have referenced great producers or great vintages or Burgundy.
* We think the market or critics are driving us there.
* Warmer regions are showing us different options.
* Simply because we can.
New World producers also have many modern tools and technology at their disposal as well as history and viticultural experience.
Their range of choices is truly enormous and includes:
* Site selection, including soil characteristics. "In Niagara, we now have history on the region from 20-30 years of vinifera growing. We can now choose sites we know are well suited to Pinot noir. There's universal agreement that low vigor and low yield make better Pinot more consistently."
* Clonal selection. We have more detailed information from more sites on vine clones and better availability of good clones.
* Better understanding and availability of virus-free rootstocks for their various characteristics, especially for reducing vigor.
* The importance of open leaf canopies.
* The importance of low grape yields (30-35 hl/ha).
* Physiological ripeness: fully matured skins that maximize color and tannins, and mature seeds.
* Field monitoring devices to distinguish differences within vineyards and pick fruit lots accordingly.
* Gentle handling of grapes: hand harvesting, sorting the fruit in the field and on tables; gravity-flow production, especially during primary processing.
* Including whole berries, with or without stems.
* Using small fermenters with temperature control.
* Reliable, gentler methods of frequently punching down the cap (of grape skins and pulp) that forms over the fermenting wine, without damaging the seeds or over-working the wine.
* Cold soaking and using enzymes to maximize color extraction.
* Temperature control (cold, warm, hot), using higher temperatures early in the ferment before the alcohol gets high; gentler extraction without loss of alcohol; and extending the fermentation.
* Using open or closed fermenters to release or conserve alcohol.
* Natural vs cultured yeast, with more ability to monitor/control both.
* Post-fermentation soaks, using temperature control.
* Pressing vs not pressing; using separate fractions.
* Natural vs added malolactic culture, with more ability to monitor/control both, and doing malo-lactic fermentation in barrel vs tank.
* Oak: using new barrels for a sweeter, more approachable wine when young; customized barrel treatments to create uniqueness/house style.
* Blending: from multiple pick dates, different treatments, from various vineyard/clonal blocks, handled separately then blended for complexity.
* Selections: culling out to blend the finest components.
Here are the Pinot Noirs that were served blind at the Cuvée Experts' Tasting at Brock University in St Catharines:
Vincent Girard, Burgundy 2001, $17.95
Purple hue, bright, spicy aromas, fleshy texture with flavors hinting at cut apple and raspberry, cherry (87).
Creekside Estate VQA Niagara, 2001, $16.95.
Whiffs of game and smoke, tastes of cherry and bramble pie (87).
Henry of Pelham Unfiltered, VQA Niagara, 2002, $18.95
Lean, taut, perfumed and elegant with hints of wild strawberries and beets (89).
Lailey Vineyard, VQA Niagara, 2002, $20
Big, fruity wine with layers of dried plum, raspberries and blackberries (89).
Lakeview Cellars Butler's Grant, VQA Niagara, 2002, $11.95
Vanilla, fresh cream and small red and black berries, with supple tannins (88).
Malivoire Estate Bottled, VQA Niagara, 2002, $26
Hints of sweet barnyard and animal notes, still young and closed, well structured and concentrated with ripe tannins (90).
Beaune Toussaint Premier Cru, Burgundy, 1999, $58
Elegant, sweet ripe berries, subtle oak, understated and sophisticated (90).
I correctly identified five of the seven as Niagara or Burgundy, assessing the Pelham and Lailey as Burgundian. The wineries didn't mind!


Peer Approval
The Oscars of the Ontario wine industry, Cuvée 2004 bestowed its two highest honors on Stoney Ridge Estate Winery, honoring winemaker Liubomir Popovic with Best Red of Show and Best White of Show, a double-first.
The wines are the 2002 Reserve Cabernet Franc and 2003 Founder's Signature Collection Charlotte's Chardonnay.
Stoney Ridge also won Best Limited Edition Red for its 2002 Reserve Merlot. An outstanding performance in competition with 50 wineries, with the wines judged blind by a panel of winemakers.
Easily available and affordable are the Best LCBO General List Red, Colio Harrow Estates Cabernet Franc 2002 and Best General List White, Jackson-Triggs Proprietors' Reserve Chardonnay 2002. Best sparkler is Pelham Cuvée Catharine Rosé Brut. Konzelmann Riesling Select Late Harvest 2001 is Best Sweet Wine.


United We Stand
A clever winemaker just shortened the flight from Okanagan to Niagara to a single sip. And the wine label is so politically correct: Unity!
Rob Scapin has spearheaded the project by Vincor International to blend top-notch Vitis Vinifera wines from Canada's best wine-growing regions, enhancing two very diverse terroirs.
Exceeding VQA standards, these first of a kind wines don't qualify as VQA, which is tied to a single geographic area, but they do taste great and are very well made. SuperCanadians, perhaps?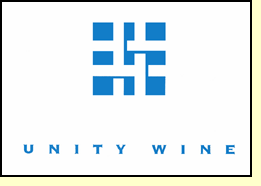 Aussie-born Scapin, Vincor's award-winning chief winemaker, says "it's all about learning how wines from different climates with different geographical characteristics and soils can bring out the very best in each other."
Perfect challenge for an Aussie, of course, accustomed to blending fruit from huge and disparate regions into consistent blends.
Slightly different logistics, of course, this being Canada. The six barrels of Niagara wine trucked out to BC for blending had to be trucked back here and bottled in Ontario to be legally sold in this province.
"I'm especially proud of the Chardonnay and the good first reds," says Rob. "2001 was pretty warm in BC, cool and more difficult to pick in Ontario, but we've managed to add rather than cancel out the finest characteristics of the two regions."
The first to be launched are a Chardonnay '01 and a Cabernet Sauvignon-Merlot '01, at $24.95 and $29.95 respectively, in very limited quantities, 300 cases each.
Rob Scapin tastes all Vincor's Canadian wines and decides which are up to snuff for this blend. "We may choose not to release any wines in some years rather than compromise our standards of quality and innovation."
Says Vincor chief Don Triggs: "We're seeing new confidence among our wine- making team. Unity is a perfect example of how they're becoming more creative in their pursuit of excellence."
How're the wines? Creamy, buttery Chardonnay, seamless tropical fruit, pear and toasty caramel, long on the palate, sweet oak notes, good length, ageable and elegant (90). With smoked salmon, poached halibut, sea scallops, or chicken with fruit salsa. The Cab-Merlot, dusty tannins, raspberry-bramble fruit, anise, mint, hints of violets and good acidity, a keeper with time to spare (91).with apricot-crusted Ontario lamb chop, braised lamb shank, wild mushrooms, duck breast or Ontario Cheddar.
Available in Wine Rack stores, at the winery, now in Vintages and coming into the LCBO.


A Long Hot Summer (yippee!) In Germany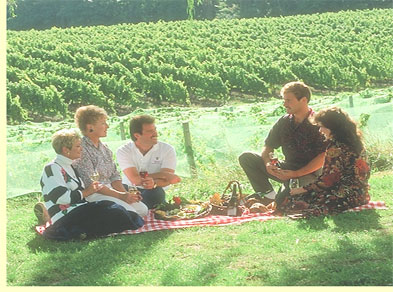 Excellent growing conditions in virtually all of Germany in 2003 helped produce another outstanding vintage for German wines. The 2003 continues a string of fine vintages for German wines that now stretches well into the new millennium.
The report by the German Wine Growers' Association confirms a smaller production in 2003, 8 million hectolitres, but ripeness well above average and exceptional.
Most of the harvest will produce higher quality Pradikatswein. And many went into the cellars with record-breaking natural sugar levels.
The QbA and Kabinett wines are very impressive. The wines are vigorous, full-bodied with a very mild fruity acidity that reflects the abundant sunshine. This balance makes them very accessible and drinkable early.
Reds, a growing segment in Germany that account for 25% of production also did well and more are likely to appear on the export markets.
Given the lower yields, a high proportion of luscious sweet wines were selected by producers for Beerenauslese and Trockenbeerenauslese wines.
And many producers still were able to harvest some very exciting Eiswein.
The last pickings took place in late January in the Rheingau, Rheinhessen and Nahe.
According to Armin Goring of the Deutsches Weininstitut in Mainz: "The potential of this vintage is so great that even our grandchildren a generation from now will find the 2003 vintage a pleasure to drink."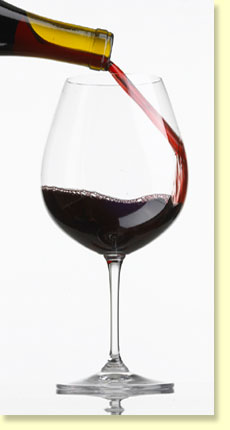 California Treasures
Tasted at the California Wine Fair:
Chardonnay
J. Lohr Riverstone Arroyo Seco '02 $20.10, LCBO
Lime, grapefruit and cashew on the nose, light and zippy on the palate, as an aperitif/sipper (85)
Kendall Jackson Vintners Reserve '02 $22.95 (v)
Apple/sweet cider nose, good acidity on the tongue citrus/red grapefruit, fresh and appetizing (87)
Pinot Noir
Mandolin '00, California $14.95 (c)
Great value from importing agent Small Winemakers, by the case only, www.smallwinemakers.ca Great fruit development and gorgeous aromas, supple blackberry, red raspberry and blackcurrant. A beauty (89)
Zinfandel
Ravenswood, Sonoma County '01 $19.95 (v)
Deep opaque almost black color, ripe, full, mature red fruit, elegant and food friendly (89)
Ironstone Reserve, Lodi '01, $40.99, by the case from Lifford Agencies
Leather, raspberries, smoky bacon bits and hints of roasted meat, clean, zippy and fresh on the palate (89)
Cabernet Sauvignon
The 2000s:
Kendall Jackson Vintners Reserve $24.95 (v)
Complex, blueberry/blackberry bouquet, lean and taut, like a fine Graves (89)
Far Niente Napa Valley $160 (v) coming this fall.
Fine mocha, mulberry and elderberry aromas, licorice, dried plums, spice and hints of toasty oak mingle with red and black fruit on the palate (88)
The '99s:
Arrowood Sonoma County $69.95 (v)
Smoky oak, fleshy and ripe with black plums and blueberry pie notes (88)
Rodney Strong Reserve $59.95 (c) Mark Anthony Group
Barnyard and leather on the nose, mocha, cassis and lingering wild strawberries on the tongue (89)
Beringer Knights Valley $44.95 (v)
Blueberry, blackberry and black licorice with a trace of elderberry on the finish. Drinking well now (87)
And, from '98:
Robert Mondavi Reserve, Napa Valley $169.75 (v)
Perfumed, elegant, alluring, hints of red licorice, saddle leather, red and black fruit, good length and fine tannins, a keeper (92)
Please take me back to the top of the page!