Fresh Vinho Verde: The Zing of Spring!

As soon as we move the clocks forward I immediately start thinking eagerly about well-chilled, spritzy, tinglingly fruity wines. Especially, Vinho Verde, the sharp, fizzy 'green wine' of Minho, the lush north of Portugal, from the Douro River all the way up to Galicia on Spain's side of the Minho (Entre-Douro-e-Minho).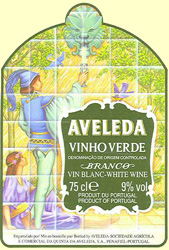 Unlike the brawny wines of the broiling Douro region, these fresh, aromatic little marvels enjoy cool coastal Atlantic airs, plenty of winter/spring rain, and a long, slow ripening as their grape-laden vines festoon pergolas, cling to trees and climb on trellises.

No, they're not green wines (the term refers to unaged wine vs maduro, matured): they're mostly red, with about one-third white, and they pack a bracing acidity that makes them totally food-friendly. In Spain, the equivalent young fizz would be the Chacolí wines of the Basque Country (never seen any on sale in Canada, though).

They're all harvested under-ripe for freshness, low alcohol and a characteristic tartness, tempered by a natural bacterial conversion of the preponderant malic acid into creamy lactic acid along with those mini-bubbles. As gulpable as a cold beer, with a refreshing little spritz, on a warm day, the V-Vs make up one quarter of Portugal's production. S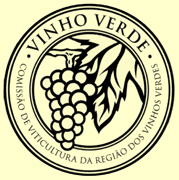 erve them at 8C-12C for whites, 12C-15C for reds.

The most famous brands would be multi-million-seller Mateus Rosé, Lancers, Casal Mendes, and the drier Aveleda and Aliança but the top Vinho Verde for me are the steely, elegant single-variety bottlings from Monçao in the far north which use only Alvarinho, the grape the Galicians across the River Minho call Albariño. Alvarinhos are sometimes aged in wood, tend to lack the spritz and are ageable, with floral, apricot, steel and mineral complexity and little hint of sweetness.

Red Vinho Verde can be seriously tannic and astringent, but are improving rapidly to meet international tastes.

Availability in Canada is limited: Aveleda Vinho Verde '05, which sells here for $7.95, LCBO 5322, is a steal, with aromas of citrus, pear, apple and limes and gooseberry and candied limes on the palate. Only 8.5% alcohol (87), from a blend of Arinto, Loureiro, Trajadura and Alvarinho. Gazela from Sogrape, LCBO 141432, also $7.95, is pale straw, floral and fresh with citrus mineral notes; light with nicely fruity with a spritzy finish (86). Aliança's Vinho Verde checks in a $8.05, LCBO 75663, with light fruit and mineral flavors, zesty acidity and spritzy citrus finish (86). Serve all three chilled as an aperitif, with shellfish or fried fish. The latter two are very slightly sweeter (2 vs 1) but their fine acidity keeps them crisp.

The wine history of the region dates back to the Romans, but a ton of new research is going into improving them, with better vine clones, more varietal bottlings, better use of barrels and even making sparkling Vinho Verde, as well as spritz.

A recent Vinho Verde tasting showcased Quinta d'Amares, a floral, fragrant white made from Loureiro, exhibiting starfruit, apricots and yellow plum (90); Quinta da Ferro, made from Avesso, a big ageable white exuding tropical persimmon, peach, and hints of marzipan (89); Quinta da Lixa, from the Trajadura grape with a ton of banana aromas and flavors from carbonic maceration, and delicate apple blossom (88); Quinta da Soalheiro, a single-variety Alvarinho, stony, steely and aromatic with hints of tropical fruits (88); Quinta da Carapeços Rosé, from Espadeiro grapes, Kool-Aid pink, showing cherry cola, vanilla, strawberry, lush and tasty for a summer sipper (90); Muralhas da Monçao made by the 1,600-grower Adega co-op, from Alvarinho and Trajadura, floral and again showing bananafloral character with a hint of celery (86).

In any case, a Portuguese-style meal in Canada could well start with Vinho Verde as an aperitif and with the fish course, middle with a rich, red Ramos- Pinto Duas Quintas from the Douro (with the smoky BBQ stuff) and finish with a glass of Port. And you've never even left northern Portugal!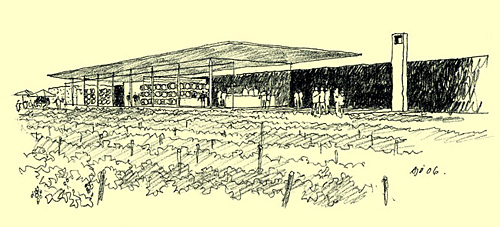 Fifteen years after it opened, Southbrook now has its own vineyards, 74 acres with a half-mile frontage on Niagara Stone Road, growing the best French A-clones of Cabernet, Merlot and Chardonnay. It's the first winery off the QEW heading into Niagara-on-the-Lake. "It's a fabulous property, the gateway to Niagara," say owners Bill and Marilyn Redelmeier. "Warm, not superfertile, a viable size and perfect for wine. Our vision is for the winery to become a landmark for the potential quality of Ontario wines."

The winery's licence is being transferred from the old family farm and garden market on Major Mac between Richmond Hill and Maple, north of Toronto, where it's business as usual, offering Southbrook's wines, fresh fruit and produce, including the fall pumpkins. Fifty acres on the south side of Major Mac have been sold for use as a high school and parkland, 100 acres remain the site of the original family home and coach house, home of Bill's parents.

There's an existing winery on the new Niagara property and renowned Toronto architect Jack Diamond has designed a separate showcase hospitality/tasting centre as an eco-friendly landmark with three walls of glass, interior walls of barrels, and a "great wall" overlooking the vines. Everything will be up and running next summer.

Winemaker Ann Sperling, ex-Malivoire and Cilento, is making the wines, including Semillon, Syrah and Viognier, in quantities up to 10,000 cases a year. It's a good spot for a flying winemaker... Niagara District Airport is across the road. The winery will continue to source grapes from local growers but Southbrook Niagara-on-the-Lake is now in complete quality control. Good move!


California sales inside the US hit a record 441 million gallons last year, 185.4 million cases worth US$16.5 billion, 63% of the US market.

Chardonnay is still king, followed by Merlot, White Zinfandel and Cabernet Sauvignon. Wines $7 and above grew 13% while cheaper wines dropped 2%. The movie Sideways lifted interest in Pinot Noir, which rose 70% in stores.

U.S. wine consumption growth began a steady climb in 1991 with media reports on the potential favorable health effects of moderate wine consumption. Exports dropped 16% to 101 million gallons after 29% growth in 2004, probably because of more aggressive pricing and the currency exchange.

The wines, 95% from California, totaled US$658 million. To save money, more wineries shipped bulk wine to Europe and bottled it there. At the recent wine fair in T.O., Rick Slomka, Canadian Director of the Wine Institute of California, pointed out that the '05 harvest is 3.15 million tons, biggest ever, from a cool year that promised great wines. He adds that if California were a country, it would rank #4 in world wine production, behind France, Italy and Spain!

A couple of Golden State wines that were enjoyed were the Silverado Sauvignon Blanc '04 from Napa and the biodynamic, age-worthy Tandem Chardonnay from the Porter-Bass Vineyard in Russian River Valley (July Classics Catalogue, $59.00), vivid with toasty new oak, butterscotch and vanilla, and their delicious Peloton red, $35.95, (July Vintages). Peloton is a rare, food-friendly blend of sturdy Sangiovese, soft Pinot Noir, brambly Zin, smoky Syrah and chocolatey Carignane! Tandem, a 6,000-case winery, is named for its two Gregs, star winemaker Greg La Follette and Greg Bjornstad. Two great Pinot Noirs, the Sangiacomo, $61.95, and Kiefer Ranch, $51.95, will be in the August Classics Catalogue. For more info, call 905 882 1999.



Zinfandel, California's signature wine, is centrestage in the April 15 release and the good news is its evolution to a more elegant, restrained style, with spice, raspberry, smoke and mocha.

Power is never in doubt – some top 16% alcohol! – with prices to match: but there's good value, too. For example, the superb Storybook Mountain '02 from Napa's Mayacamas Range, packed with crushed berries, spring flowers, mineral complexity, tannins like buffed abs, and a tantalizing persistence (92), $39.95, 682989. Value-leader Ravenswood's Old Vine '03, at $23.95, checks in with Port-like heft and depth of fruit, cassis, plum, feral notes, chocolate, and a hint of medicinal spearmint. Built for the long haul (90), 942599. The '02 version of Old Vine, 684563, $24.95 is a little simpler, fleshier and food-friendly right now (87).

This winery's entry-level Vintner's Blend backs Ravenswood's motto: No wimpy wines! Fruit-forward, immediately enjoyable, youthful, and complex enough to show off the winemaker's craft. Given less barrel and bottle age than higher-end releases, the Blend is instant pleasure, good value.

Back in the '70s, when California's claim to fame was the "best jug wine in the world," Ravenswood's Joel Peterson aimed to rival the great wines of Europe. He samples hundreds of wines to complement the lots he makes at Ravenswood. The goal is accessibility in character and price.

Meanwhile, in the Ali-Foreman league, Rosenblum Annette's Reserve '03, is a heavyweight mouthful, massive and brooding but smooth and delicious, showing some toasty oak, silky tannins and wild berries (91). A keeper at $44.95, 686204.

At the California Wine Fair, the LCBO's Philip Olsen, holding the fort for recently retired Andy Brandt, announced that California's performance in Ontario has been sunny: with total sales up 10% and 25% at Vintages, with Pinot Grigio up 90%, Zin 55%, and so forth.

Once again, for the 11th straight year, LCBO total sales hit a record: $3.6 billion, with a profit of $1.2B.
Please take me back to the top of the page!