A rose is a rose is a wine: In a marriage made in wine heaven, Bordeaux's Pascal Madevon has fused savoir faire with terroir. His stunningly good Osoyoos Larose has its roots, literally, in the Okanagan Valley and in Bordeaux.
"It's the pride of my life," says ex-Parisian Madevon, now in rustic Oliver, BC, "a town of two stop lights, 9,000 km from Bordeaux - but we now have a French bakery!"
The joint venture by Groupe Taillan, owner of Château Gruaud-Larose, and Vincor Canada, chose rootstock and special clones from Bordeaux. And no effort or expense was spared in planting the Merlot, Cabernet Sauvignon, Cabernet Franc, Petit Verdot and Malbec or in equipping the winery.
Top consultants Alain Sutre and Michel Rolland supervised and Madevon moved to BC in 2002 as winemaker/vineyard manager. Planting began in 1999 beside Lake Osoyoos, Canada's warmest lake, just north of the US border and the single "wave" of 80 acres vines are on the slope facing east.
The vines enjoy intense sunlight, evening shade, minimal rainfall, and good air drainage. Cool nights favor supple tannins and anthocyans, freshness and subtle aromas, while the lake gives warmth in winter, plus water for the vines.
"The number one quality factor is the terroir," says Madevon, "and we define terroir as a mix of the soils, the relief of the landscape, the climate and human hands.
"The soil is heavy rocky-loam up-slope, and light sand at the bottom. We get only 230 mm of rain and we need careful irrigation (Bordeaux gets 800-900 mm of rain), because the Rockies catch most of the rain and snow. There's can be 3 metres of snow on the peaks and only 30 cm in the valley. It's a land of cactus, sagebrush, bears and rattlesnakes. One day, Alain and I were out in the vineyard and it was 45.8C!"
Meticulous care is taken in pruning and training the 96,000 densely planted vines vertically into "solar panels" of leaves - that's 20 km of walking. Seventeen steel fermentation tanks handle the grapes from the various vine blocks, which are "spot picked" over a period of days or weeks, to take advantage of subtle changes in flavor and aroma that develop over time, and to pick each bunch at its optimum ripeness.
The fruit, skins and juice are macerated slowly before 10-day cool-fermentation and the free run wine is transferred into new and one-year French casks. The wine is gently racked (clarified) using gravity as it ages for 18 months.
"The big discovery has been the astounding Cabernet Franc component, expressive and of very high quality," says Madevon, who adds that the wine changes in the glass and is best decanted 1 hour before tasting and best with food. The grape blend is Merlot 65%, Cabernet franc 4%, Malbec 4%, Petit Verdot 4%, and Cabernet Sauvignon 23%.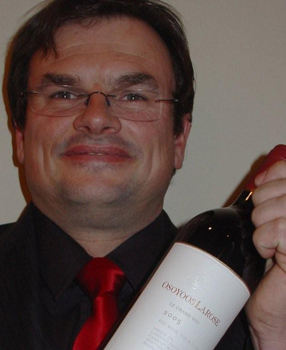 The newly released 2004 is $39.95 in Vintages and there's also a 3L size at $164.95, lean and floral with ripe berry elegance and fine soft tannins. Very approachable now with a nice oak toastiness, warm and suave with good depth and structure. Better still in a couple of years (93).
A barrel sample of the '07, shows the wine is elegant, expressive, with integrated oak, blueberry, cherry and cassis, vanilla, cedar, plum, soft floral tannins, with a big-boned structure. "We're lucky to get such development so early in history of the wine," says Madevon (94) .
The '05, arriving later this year, is subtle, layered and complex with vanilla, plum, cherry/strawberry notes framed by spicy oak and cedar. Lean, elegant and harmonious with soft, chewy tannins and an elegant finish (93).
The '02 is lighter in structure with tar, spice, floral, cedar, oak and licorice references, quite complex and elegant (92).
A second (less expensive) wine, the stylish yet easy drinking Pétales d'Osoyoos '05, a "vin des copains," made from the younger vines, could be shipped later this year.
What's next? A Bordeaux style white, of Sauvignon/Semillon from the cooler northern end of the Okanagan Valley? Don't bet against it!
"From the very start, we recognized the potential of the Okanagan Valley to grow the Bordeaux varietals successfully," says Antoine Merlaut, head of Taillan and winemaker at Château Citran. "However, we never realized that the ecosystem of this unique wine-growing region would have such a dramatic effect on the speed that our young vines would develop, and on the quality of their fruit!"
The release of the first vintage, the '01, was hailed by then-CEO of Vincor Don Triggs as yet another milestone for the Canadian wine industry. "Our Icewines have been enjoying success in the international arena for years," he said. "Now, with the help of our French partners, our red wines from the Okanagan are on par with some of the best from other New World producers and from Europe." Truly Le Grand Vin.
The parent company of Don Melchor, Chile's finest Cabernet-maker, probably spills more wine in a year than the 15,000 cases its offspring produces! Concha y Toro, the mother ship, turns out a 29 million-case ocean of global brands including Almaviva, San Pedro, Trio, Cono Sur and Casillero del Diablo...
And yet, in making Bordeaux-styled cellar-worthy reds, Melchor, the icon wine, named for the company's founder, is number one.
Its secret and most consistent advantage is the Puente Alto Mediterranean semi-arid terroir, stony/alluvial soils, cool Andean winds, warm Maipo Valley sun and tender, loving care. Winemaker Enrique Tirado dropped by recently to launch the fall arrival of the 2005 and show off newly arrived '04, $59.95 (v).
The '04, 315176, is 94/6 Cab S/Cab Franc, spicy with vanilla, cassis, cr è me brul é e and berries on the nose, youthfully tannic still, meaty and robust with hints of new leather, to be cellared, ideally, for 2-4 years.
The 2005, 97/3 Cab S/Cab F, to be released on Consignment via Select Wines (toronto@selectwines.ca ) 416 367 5600, shows forest floor notes, caramel and red currants and wild strawberries with subtle oakiness and soft tannins, and winemaker Tirado believes "it will be great!" (91). Terrific food wines.
The 100% Cab Sauvignon '97 and 2000, for aging reference, are lean, austere and elegant, spicy with cocoa, tar, barnyard and pencil lead notes, mineral, berry, leather and black plums, with chewy tannins. Drinking well now but still ageable.
Tirado recommends 4-5 years minimum aging, with 5-10 for complexity.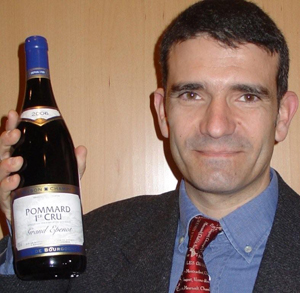 Winemakers describe their wines as lovingly as proud new moms and such is the case when Dimitri Bazas presents the Burgundies he'd makes for Maison Champy.
Champy, founded in 1720 as Beaune's oldest negociant, slid into the rough over time but has made a fresh start since 1990 and now produces about 80 small, brilliant lots from the top domaines.
Most come from their own estates in Pernand-Vergelesses, Auxey, Savigny, Beaune, Pommard, Volnay, Corton, Chorey and Saint Romain and with total production around 50,000 cases, Champy aims to keep prices stable, unlike many of its neighbors!
"It's all about typicity and selection," says Dijon-trained Bazas, reflecting the view of his partner Pierre Meurgey, son of a winemaker/broker, who turned to the business buying Champy after a career selling mainframe computers. It's also about tasting like a Volnay or Chambolle rather than having a Champy signature. And that means cutting quantities, buying land and paying more for grapes.
Meurgey also believes that some of the best Burgundies ever have been made in the last few years by the younger generation, who also work in other regions and don't fear change. A fruit-driven New World style can help the regional wines but not the premier and grand cru wines, which deserve aging, adds Meurgey.
A good introduction to Champy would be the Bourgogne Chardonnay '06 and Bourgogne Pinot Noir '06 en route to Vintages at $19.95, both fruit-driven, fresh and attractive for early consumption, the Chard showing floral, peach, apricot and mineral notes, a barrel-fermented version called Signature offers depth and complexity and with Pinot Noir Signature is the only house style wine rather than terroir. The Bourgogne Pinot is unoaked, packed with fresh raspberry, cassis, cherry and violet notes. Chillable and easy drinking (90).
Pernand-Vergelesses white '06, $29.95 expresses chalk and limestone minerality with a steely acidity set fair to age beautifully. A junior Corton in style (91). Beaune 1er Cru Les Revers é es white '06, $36.95, has more apparent oakiness framing white peach, ripe melon and fresh floral notes (92). Corton Charlemagne '06, $126.00, is the most ageable white Burgundy, showing toasty oak, vanilla bean, hazelnut and wet stone, 90% is opened to soon and it deserves 5-8 years of cellar time. Pommard 1er Cru Grands Epenots '06, $74.00, is already supple, rounded and opulent, with vanilla, Asian spices, toast and red berries evolving from nose to palate (94).
Contact HHD imports at 519 884 7600 www.hhdimports.com for more info.

Not only are Graham Beck wines tasty, consistent and good value, they're also really green and eco-friendly and the revenues provide housing, training, college funding, home-buying help, child care and learning centres for its workers.
The family firm has been championing the environment, biodiversity and conservation since its inception in 1983. Hats off to them! Anywhere else, they'd be considered a non-profit foundation.
Half of Beck's Robertson estate has been permanently dedicated as a wild game conservancy covering 100,000 pristine acres.
Breeders of thoroughbreds and builders of luxury yachts, the family owns Gainesway Horse Farm in Lexington, Ky, vineyards in Oregon and the ancient Steenberg wine estate in Constantia
In our market you'll find Brut Rosé Cap Classique '05, $21.95; Railroad Red Shiraz/Cab '05, $12.20 at the LCBO. In Vintages, there's Dual Varietal Shiraz/Cab '05, $15.85; Pinotage '05, $16.85, with Rhona Muscadel '03 dessert white coming in September at $21.80/500mL.. There's more in the pipeline and I'll keep you posted.
Available now, the excellent Rosé is 80/20 Pinot Noir/Chardonnay whole-bunch crushed together in the same press, nicely salmon-hued and wild strawberry-raspberry nuanced in aromas and flavors, creamy and delicate, with a fine mousse (89); Railroad Red's a super-value everyday food wine, like a Mâcon red, nicely fruity with berry acidity and smoky, spicy oak to enhance BBQ meats and rich stews (88); more upscale and complex, the Dual is all black plums, dried herbs and dark chocolate, with whiffs of mocha and violets: pair with ostrich fillet or prime rib (90); Rhona is a lovely off-dry wine from Muscat grapes with nuances of orange blossom, honeysuckle and rose petals with a crisp citrus spine for freshness (91).
Winemaster Pieter Ferreira got his start at Möet & Chandon and his Cap Classique sparklers are essentially fine quality Champagne made in South Africa. His Brut NV won't be here until February but it's a steely, elegant dry sparkler with honeyed pear-apple and brioche tones (91). Worth the wait. Ontario agent is Vinexx, 905 525 1113.

White wine should be chilled for freshness without being stunned into icy blandness.
The colder the wine, the less flavor and character it offers.
About 9C (48F) is fine for light, sparkling and very sweet whites, and rosés.
[Some restaurants hide the flaws in their wines, for example, by serving them seriously over-chilled!]
Top Chardonnays, Semillons and Alsace whites from France show their complexity at slightly higher temperatures up to 15C (59F).
Reds, because they're more complex than most whites, also benefit from serving at 15-17C (59-63F). However, big heavy reds like Cabernets, Shiraz, and Zinfandel served too warm tend to show clumsiness and are better avoided on hot summer days.
Light, fruity reds, like Beaujolais, Loire reds and Dolcetto can be happily chilled for 15 minutes in the fridge 12C (54F).


Please take me back to the top of the page!