Hint: click on labels and photos for even more information!


From its unique soils and sunshine to local cuisine to music and shopping, Ontario's vibrant young wine region is rebranding itself as Wine Country Ontario.
"It's an expression of the entire Ontario wine country experience: how our wine tastes, where it's made, how it marries with local food, and how it reflects the lifestyle of each region," says Ed Madronich of Flat Rock Cellars, chair of the Wine Council of Ontario. Wine Country Ontario "solidifies the pride we share in developing and promoting our collective wine story."
The new logo, a sunburst of wine bottles, represents the "customers, partners, industry, innovation and culture" of Ontario wine.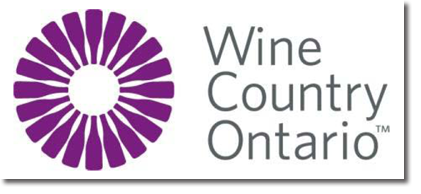 According to Hillary Dawson, president of the Council, the new brand stands for "passionate, pioneering, welcoming, confident and proud (and it will) bring the full wonder of the Ontario wine country experience to life." www.winecountryontario.ca
"We're a lifestyle, a celebration of the magic and wonder of place," says the Council's Magdalena Kaiser-Smit. "More than ever, consumers are looking for local, and 100% Ontario-grown VQA wines are authentically local and taste great," she adds.
Ten VQA Ontario wineries showcased this localness at Somewhereness – another term for terroir, the expression of place of origin through the wine it produces.
This group came together in 2007 to showcase their commitment to small lots of site-specific wines in Ontario's ancient glacial soils.
The preview wines, grown in the sub-appellations of Creek Shores, Beamsville Bench, Twenty Mile Bench, Niagara-on-the-Lake, Niagara Escarpment and Prince Edward County, were: Pinot Noirs from Norman Hardie, Tawse and Hidden Bench, Stratus Red, Southbrook Poetica Cab Merlot, Cave Spring CSV Riesling and Charles Baker Riesling, 13th Street Essence Sauvignon Blanc, and Malivoire and Flat Rock Reserve Chardonnays. They range from $30 to $63 and are, without exception, gold medal quality and fairly priced, at Vintages or at the wineries.


Somewhereness visitors had a virtual tour but – in addition to their day jobs – some winemakers also operate virtual wineries.
Full of passion, short on capital, they own neither vines nor wineries but source their fruit locally, vinify it at established wineries and bottle their own labels.
Virtuals are not new internationally, but are a growing local phenomenon. Here's a snapshot:
2027 Cellars

– Kevin Panagapka has access to a 30-year-old Riesling block and makes his wine at Featherstone where he's a consultant. "I'm making a sparkling wine, too," he says. 2027 is his grower number. "Virtual is best because you have an instant winery. We're all brand builders but it's tough on cash flow."

Bachelder Wines

– Thomas Bachelder, formerly Le Clos Jordanne, has yet to make his own wine but has access to three organic Chardonnay blocks – in Niagara, Burgundy and Oregon. His goal is 300 cases from each. "I'm fascinated by comparing three terroirs and I'll make each wine using identical methods so people can discover the differences.
"The worst thing about a virtual winery is you don't own your own vineyards. The best is you don't own your own vineyards."

Charles Baker Wines

– Charles Baker is in his sixth vintage, vinified at Stratus and making 500 cases of single-vineyard Riesling. "I call myself the producer, with (winemaker) JL Groux of Stratus." Charles has a partner in Roussillon where he's made four virtual vintages.

The Leaning Post

– Ilya Senchuk makes wine at Foreign Affair winery, the base for his own Pinot Noirs. He's purchased 11 acres at Winona. "It's an orchard now but it will be planted to vines next year," he says. "One advantage (virtuals) have is being able to choose the fruit we want and it's a way into the industry without bricks and mortar. That can come, down the road."

100 Marks

– Jeff Hundertmark, winemaker at Marynissen, sources Pinot Noir from a St David's Bench vineyard and makes his wine at Marynissen. 100 Marks is a word play on Jeff's name and the 100 point scoring system.

Generation Wine

– Andrew von Teichman and Alan Jackson produce 5,000 cases of red and white vinifera called Union for the LCBO and plan to craft varietals for Vintages. Their wines are made at Twenty Bees.

Mike Weir Estate Winery

– While other virtuals are establishing their brands, Weir has been an extension of the golfer's brand since 2004. The wines raise funds for Weir's charitable foundation and the wines (all Vintages Essentials) are made by Chateau des Charmes. "Mike tastes all the wines and his special interest is in the reds," says the winery's Nicole Speranzini.

Five Suns

– Owned by Gina Edwards, made at Cattail Creek by Peter Graham, an assistant winemaker at Lailey Vineyard and currently has Pinot noir and Sauvignon Blanc.

Nyarai Cellars

– Steve Byfield, cellar master at Calamus, where he makes Nyarai, and formerly at Southbrook, has a sure hand with Sauvignon Blanc and red and white blends, around 1,000 cases in all. Nyarai means humility.



In the very heartland of the world's cork industry, Portuguese wine giant Sogrape is raising eyebrows – putting one of its major wines under screwcap. Portugal grows half the world's cork and sells 80% of the corks. Quinta de Azevedo, a crisp, spritzy Vinho Verde not yet available in Canada, costs $14 in the UK. Sogrape wines in Canada include Gazela, Mateus, and Grão Vasco as well as the Ports of Offley Forester and Sandeman.
"It's not the first Portuguese wine to go under screwcap, but they're rare," says James Forbes of UK importer Stevens Garner. "For the biggest wine company in Portugal to do this is quite rare. It's a slightly maverick and quite a brave move. It might not be well-received by the industry."
Sogrape, which makes wine all over Portugal and owns Finca Flichmann in Argentina, is certain to feel pressure from its home country's cork industry.
Ten years ago, over 95% of wine bottles used cork. Since then it has dipped to 69% of the 18 billion corks used annually, with screwcaps taking 11% and plastic 20%.
In regions that have embraced screwcaps, like New Zealand, more than 90% of wines are sealed with them. In 2009, 3.1 billion screwcaps were sold worldwide, a total that's increasing by 500 million a year.
Sogrape's entry-level Terra Franca is already under screwcap, but it is highly unusual for Portuguese wines to use anything but cork. In parts of Portugal – for example the Douro – it's illegal to use synthetic closures.
Sogrape export director Júlio Martins says the company is responding market requests. "Considering Quinta de Azevedo's light and fresh style the screwcap is very convenient for consumers to open and reseal the bottle, with the added benefit of allowing one to enjoy it by the glass."

Apcor, the Portuguese cork association, says one winery switching one brand to screwcap doesn't "represent the overall picture". It says the cork industry just had an 8.5% increase in exports and a double-digit increase in the first two months of 2011, and that Amorim, the market leader, has just posted its best results in 140 years.
"Natural cork's continued success is firmly based on three key advantages: technical performance, added value and sustainability. In export markets – whether it be the US, the UK or China – these factors are becoming ever more important."
Meanwhile, the cork industry is preparing a €20m ad campaign using cork's "scientific background" to convince the public of its benefits. Apcor is running promotions via TV, radio, press, wine fairs and the web. The message is that cork is a traditional but innovative and sustainable industry.
It's also launching a recycling program for corks through restaurants, supermarkets, storage facilities and recycling plants. Cork has dozens of applications, including flooring, design, and footwear, in the automotive industry, the military and pharmaceuticals.


Some of us remember Hernan Gras as a Canadian pioneer in the '70s when, as Brights' winemaker, he tended experimental vineyards in Niagara. He's gone a long way since.
Returning to Chile, Hernan, his brother Eduardo and Cristián Hartwig created MontGras Properties in 1992.

Starting in Colchagua, famed for its reds, MontGras has been delighting Ontarians ever since with exceptional quality and value.
Current offerings are his Carmenère Reserva 2010 (cocoa, mocha and blackberry scented, 91/100) and Cabernet Sauvignon Reserva 2009 (cassis, blackberry and green pepper, 90), both $12.05.
He's also expanded into other regions, including the cool Leyda Valley, beside the Pacific coast, sending us Amaral Sauvignon Blanc 2010 (v) $14.95, a lovely unoaked white with fresh melon-grapefruit and star fruit character (90). His Vina Leyda Las Brisas Vineyard Pinot Noir '09 (89) is available at $16.95.
He's also gone up the mountain: in Ninquén, a volcanic crater with granite soils, he's creating Antu Syrah. The 2009 is at Vintages for $17.95, a big fruit-forward plum-prune wine with soft tannins, new oak and vanilla, (91). The Antu Cabernet Sauvignon-Carmenère '09, $17.95, coming in October, is big with black fruit, green pepper and smoky tannins (90).
He's also making wine in Maipo at Intriga, an ancient vineyard in the foothills of the Andes. The elegant 2008 Cabernet ($21.95, 93) is a beauty and may help explain why Chile's 17 million people are drinking more and better wine!
Please take me back to the top of the page!