Helpful hint: click on labels and photos for even more information!


Sicily, the lovely island at Italy's toe was once part of North Africa. Today, it's a unique Mediterranean Eden of fabulous fish, seafood, fruits and organic vegetables – with fascinating wines to match its colorful Arab-Afric nuanced cuisine!
Having just tasted 200 new wines from 28 wineries at Sicilia En Primeur, I can testify that 2011, just the latest of Sicily's 3,000 previous vintages, is superb.
Sicily produces more wine than New Zealand, Austria and Hungary combined, as well as nectarines, oranges, lemons, olives, olive oil, almonds, table grapes, and pistachios. It also claims a natural, artistic and architectural heritage that's unique.
Classic grapes like the red Nero d'Avola, Nerello Mascalese and Frappato plus stunning whites like Catarratto, Grillo, Insolia and Carricante are being joined by "relic varieties" grown on the mineral-rich slopes of Mount Etna.
Over eons, the earth's shifting tectonic plates have bequeathed Sicily a priceless biodiversity and microclimates with soils of iron-rich sand, clay, lava, schist and chalk that yield extraordinary wines.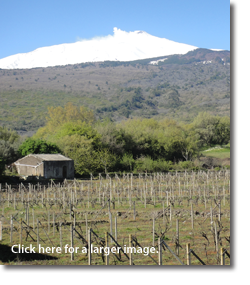 Another variable is having a live volcano, terrifying, fascinating and splendid, looming over your vines but the most powerful catalyst for today's renaissance is the passionate winemakers committed to the Sicilian-ness of their wines. "Let others try to copy our wines," they say. "The best way to know our future is to invent it ourselves."
The altitudes, exposures, temperature ranges, luminosity and soils of snow-capped Etna (3,323 metres), basically a half-moon of vines at 1,000 metres, nurture an astonishing range of micro-zones. Meanwhile, researchers are poring over timeworn maps and quizzing grizzled old farmers to recover their best cultivars (the relics) and terroirs to make the wines even better, while experimental vineyards are testing brand new ideas.
Young women like Arianna Occhipinti in Vittoria are dedicated to their native wines like the fresh, delicately bramble-berry fruity red Frappato. "My Frappato is born from a dream I think I always had. I want it to convey all that I think, the land I'm working, the air I'm breathing: Vittoria with all its history, perhaps myself as well. It is a synthesis of my Sicily, with a thousand faces. I adore it because it's difficult, at times rough and bloody, and yet extremely elegant. I thank it for having brought me back to Sicily… I admire the Nero d'Avola and Frappato's strength and ability to merge the past and the future."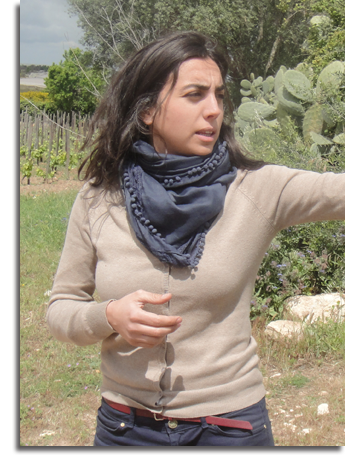 Her own 30-hectare farm has olives and cereals cultivated organically, just like the grapes. I think of her as the future Sant'Arianna di Frappato, a true pioneer, but the way she sabres a sparkling red makes me reluctant to tell her!
Her uncle, Giusto Occhipinti at COS winery in Ragusa, is proud to pour elegant old wines and today's vintages. He's a star making Cerasuolo di Vittoria Classico, a food-friendly fruit-forward blend of Nero d'Avola and Frappato. These smoothies never see oak and are fermented and aged in amphoras, ancient terracotta jars that date back to Sicilian winemaking in 500BC, set deep in the earth inside his winery.
"We make wine without oak influence. Pure fresh flavors, like wild strawberries, licorice, kirsch, black cherry and blackberry." Giusto also makes Nero and Frappato, delicate-hued reds resembling Barolos, organic with only a touch of sulphur at bottling.
Sicily's grapes arrived with the ancient Greeks and spring from Sangiovese (the blood of Jupiter) although international varieties are not taboo here. A 1994 barrel-fermented local Chardonnay is still vibrant and so are Cabernet and Syrah.
Sixth-generation Gaetana Jacono, a proud, skilled winemaker and entrepreneur in Ragusa at 100-hectare Valle d'Acate (pronounce that in Japan, please!) brings an eco-sustainable approach to her heritage. She's restored the historic cellar where people once trod the grapes as a tasting bar for her elegant Cerasuolo DOCG, Frappato and Insolia plus the IGTs Il Moro (Nero), Bidis (Chardonnay/Insolia) and Zagra (Grillo/Insolia) and premium Rusciano (Syrah) and Tane (Nero/Syrah), and grappa! The museum stands proudly behind Gaetana's ultra-modern winery.
Marco Nicolosi Asmundo, 10th Baron of Villagrande ("Call me Marco.") is based at Milo in Catania on the east side of Etna from 700 metres down to the sea in a natural, terraced amphitheatre cultivated since 1727. Marco's Etna Bianco Superiore, like the Pietramarina of Benanti, has a balance of minerals, lime zest and grapefruit acidity, floral aromas and intense fruitiness. Made from bush-vine Carricante grapes and capable of serious aging.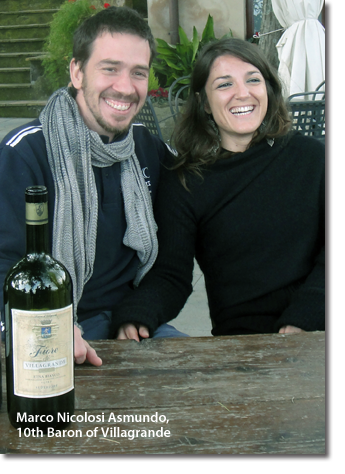 "The wines that come to life in our cellars are expressions of the territory, the vines and the vintage," says Marco. His Etna Rosso matures in barrels from his own chestnut trees which give the Nerello Mascalese a Bordeaux richness and delicate cherry fruitiness. The chestnut preserves the wine's color. Marco's father and grandfather pioneered and wrote the first DOC rules for the Etna wines, Italy's very first DOC.
At Benanti in Viagrande on Etna, a Noblesse spumante sparkles with white pepper, orange and lemons, white grapefruit and flinty notes. Giuseppe Benanti's Pietramarina dry white is from Carricante vines grown on rootstocks that predate phylloxera, like most Sicilian vines, and shows ripe pear-pineapple with floral notes.
Dr. Benanti made a scientific soil-clonal study to reproduce the ancient fragrances of the native vines using modern vinification. He calls the unique Etna microclimate an island within an island and perhaps within the world, home to mythology, literature, art, legend and folk traditions.
His Etna estate includes gnarly 110-year-old Nerello vines – like wrinkly apple trees! They yield intense reds with aromas of fresh roses and wild strawberries. Serra de la Contessa (Nerello) is even more concentrated with raspberry, peach, cocoa, red plum and a black fruit core.
As a change of p(l)ace, Benanti has Il Musico, a Moscato from sun-dried grapes (passito), sensuously sweet with white flowers and garam masala spice, from Pachino in the deep southeast. Another passito, from Pantelleria, the volcanic island off western Sicily, is Coste di Mueggen, made from Zibibbo, and tasting of dried figs, toffee and caramel. Yum! 10 litres of regular wine translates to 1 litre of passito!
Names To Note:
Benanti, Graci, Firriato, Arianna Occhipinti, COS, Pisciotto, Arancio, Donnafugata, Tasca d'Almerita, Barone di Villagrande, Planeta, Duca di Salaparuta, Tenute Rapitala, Valle dell'Acate and Zisola.
---
HERE'S HOW THE LCBO, one of the world's largest wine buyers, views Sicilian wines:
"From March 2011 to February 2012, red sales increased more than 55%. That represents 3% of Italian red wine sales in Ontario or close to $1 million.
"Last year, Vintages offered 40 products from Sicily and expects continued growth. The challenge is finding good value as most wines seem to be priced at the premium level and higher.
"White wines are up 28% in Vintages, over $500,000 in sales or 10% of sales of Italian whites. Finding the price/quality ratio in whites is less of a challenge and we expect to see growth throughout 2012. Thirty whites from Sicily were offered in Vintages last year."
My own comment: Current offerings at the LCBO are pathetic in their under-representation of the island's riches!
Please take me back to the top of the page!