Helpful hint: click on labels and photos for even more information!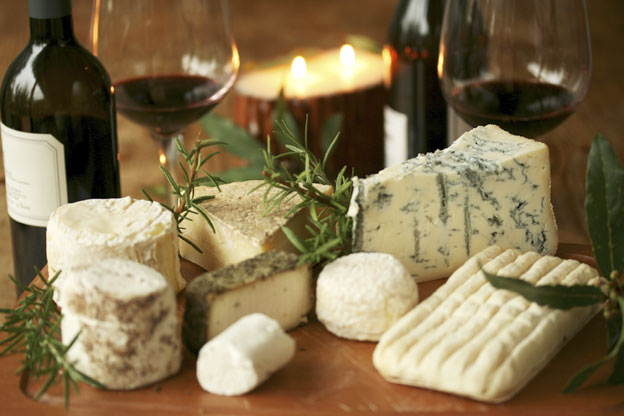 Nothing is more intimately and deliciously linked to wine than cheese – and with good reason!
They share deep historical roots – artisan miracles of nature, often created side by side around the world.
Both are renewable resources: cheese from the fresh milk of cows, goats and sheep, wine from pure ripe grapes.
Another characteristic they share is aging. Like wine, cheeses are matured under different conditions and for varying lengths of time, with a significant impact on their flavor, texture and overall style.
Lucky for us that today we can easily access handmade and small production wines and cheeses that offer indulgent, delicious food pairings. Here's a collection of great cheeses and the wines to serve with them.
1. Brie, Camembert and soft creamy cheeses with Chardonnay, Pinot Noir, Beaujolais.
While these cow's milk French cheeses are international favourites, they're among the newest, dating back to the mid-1700s. The interior is soft and mild, with an edible white mould rind that often packs more flavor than the interior. Barrel-aged Chardonnay is a classic match for the rich, unctuous texture and nutty-buttery aromas. Light, refreshing reds like Pinot Noir or Beaujolais are delicious, too, (slightly chilled, if you prefer), for their bright raspberry, red currant and strawberry fruit flavors, a counterpoint to the richness of the cheese.
2. Gruyere with Riesling, Verdejo, Gewurztraminer.
Atop French onion soup, in a quiche, adorning veal or chicken Cordon Bleu, or alongside ham in a croque-monsieur, Gruyere is widely used for cooking or on its own. Fully aged Gruyere has the texture and complexity of a great cow's milk cheese. The fruity profile invites midweight aromatic white wines. Off-dry Riesling and Gewurztraminer are wonderful companions, or pair it with a bone-dry Spanish Verdejo from Rueda.
3. Roquefort, Gorgonzola, Stilton and full-flavoured blue cheeses with Australian Shiraz, Amarone, Port.
Roquefort (French), Stilton (English) and Gorgonzola (Italian) are the best blues, full and pungent. With this in mind, we typically look to equally rich, full-flavored wines. Reds like Aussie Shiraz or Ripasso style reds from Italy (most notably Amarone) offer density and concentration that will stand up to these cheeses, but other hot-climate full-bodied reds can work. My personal favorite alongside blue cheeses? I like to go to Ports, the iconic fortified wines of Portugal, for their benchmark dark berry fruit, spice and richness.
4. Fresh Mozzarella with Sauvignon Blanc, Champagne/sparkling, Pinot Blanc/Pinot Bianco.
Whether we're talking about Mozzarella di Bufala Campana (from Italian water buffalo milk) or Fior Di Latte (cow's milk) these soft, young expressions of Italian Mozzarella are some of my favorites. Sure, they're used on pizzas, or alongside fresh tomatoes and basil in a classic Caprese salad, but don't overlook the sweet mild flavors and texture of young Mozzarella when assembling your cheese board. Delicate and mild young white wines are a perfect pairing.

5. Gouda with Merlot, Malbec, Primitivo.
Gouda comes in semi-hard and hard styles, from cow's milk. Its profile, texture, flavor and value depend on how long it's been aged. With Gouda's roots in Holland dating back almost 1,000 years, the Dutch have had time to learn the optimal conditions and aging to produce amazing flavors. Even the most well aged Goudas are not "over the top" with flavor, so we recommend midweight red wines with moderate silky tannins, so as not to overpower the complex flavors.

6. Cheddar with Cabernet Sauvignon, California Pinot Noir, dry Sherry (Palo Cortado or Oloroso).
With age comes wisdom and with aged Cheddar comes big flavor! While North Americans enjoy 10 lbs of Cheddar a year, our focus today is on the less commercial expressions of the world's most ubiquitous cheese. Somewhere between its 5th and 10th birthday, Cheddar really begins to sing, with complex savory notes and distinctive gritty textures. While there are more flavorful cheeses demanding even bigger, more full-bodied wine pairings, we're starting to get close to the top of the spectrum serving Cheddar alongside rich, robust reds with full, velvety tannins. Dry Sherries also work beautifully alongside flavorful cheeses. I'd recommend a fuller style, such as an Oloroso or Palo Cortado.
7. Aged Parmesan and Asiago with Chianti, Merlot, Loire Cabernet Franc.
These world-famous Italian cheeses are from cow's milk, and each bite is an umami laden flavor explosion. Complex and salty, they get better with age – and offer a nutty and buttery mouthful. Firm, crumbly cheeses work best with refreshing light to midweight red wines. I'm a fan of regional wines and foods together, so a northern Italian Merlot or Chianti would be great but, to shake things up a bit, why not a Loire Cab Franc?
8. Chevre and mild goat's milk cheeses with Champagne, Sauvignon Blanc, Chablis.
Goat cheeses are produced virtually everywhere, from the UK to China, from Venezuela to Malta, and back again. To complicate things, they come in almost as many styles and ages as places. Here, we'll stick to the classics from France's Loire Valley and the hockey puck shapes called Crottin de Chavignol. We serve them with lower alcohol whites like Chablis or Sancerre, and older cheeses with Champagne or good sparkling wines.
9. Manchego with Merlot, Rioja, Garnacha/Grenache based reds from Priorat and southern France.
Manchego is Spain's best known cheese, produced only in the province of La Mancha, from whole sheep's milk. This dense, compact and firm cheese offers fruity flavors when young that evolve into earthier, spicy and nutty flavors. Often served in paper-thin shavings or as part of a traditional tapas meal, we recommend serving aged Manchego and midweight red wines with their bright red fruit flavors, great acidity and freshness.
10. Feta and Cotija with Beaujolais, Pinot Grigio, Torrontes.
Even though Feta (Greek) is made from sheep and goat milk and Cotija (Mexican) is from cow's milk, younger expressions share a similar texture and salty flavor. While they're most commonly used to top salads, vegetables or meat dishes, on their own we favor crisp, refreshing white wines like Pinot Grigio or Torrontes – or try them with Beaujolais – a red wine that behaves like a white when served slightly chilled next to food. The bright, clean and refreshing berry fruit and acidity in Beaujolais are a perfect companion to these salty, crumbly young cheeses.
11. Munster and Taleggio with Zinfandel, Amarone, aged northern Rhone reds.
Produced in very different parts of Europe, Taleggio (Italy) and Munster (France) are two of the oldest soft cheeses produced anywhere. They also share a distinctively aromatic quality that comes from regular hand washing with salt brine while they age. The final product is cheeses with a powerful and full-flavored exterior – and a buttery, much milder interior. They work best with big, dense red wines whose lushness pairs well with the buttery interior. Aged northern Rhone reds are a good match as the earthy-gamey qualities of aged Syrah complement the flavors and aromas in the exterior of the cheeses.
This article was contributed by Andrew Hanna of winetrader.ca, the online home of John Hanna & Sons Ltd., one of Canada's oldest and most respected independent wine agencies. 1 (800) 337-7043.
---
They say that for farmers there are only four kinds of weather: too hot, too cold, too wet and too dry!
In Burgundy, the 2013 vintage was exactly that, right on the money!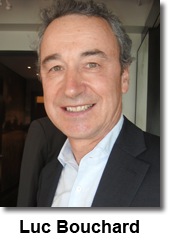 The third small crop in four years, it's described diplomatically by Luc Bouchard as "a complicated vintage."
"Turbulent growing conditions continued but once again many excellent wines have been produced, albeit in smaller quantities. A cool spring and some rain disrupted flowering. It was not damaging in terms of quality, but certainly affected quantity.
"The heat and sun returned in July, but a fierce hailstorm on the 23rd hit the Côte de Beaune, especially Corton-Charlemagne, Savigny, Beaune, Pommard, Volnay and Meursault, further reducing the potential harvest.
"August was glorious, mostly dry and sunny without excessive heat; this is what really saved the crop. September was rather more mixed. Vignerons who utilized their skill and expertise, such as Bouchard Père & Fils and William Fèvre, have produced some wonderful wines that are rich in body, with excellent acidity. Beautifully aromatic reds, very terroir-focused, characterful and balanced whites."
He was presenting more than 25 Grand Cru, Premier Cru and village Burgundies from 2013 by Bouchard, Fèvre and the Villa Ponciago from Fleurie in Beaujolais.
The verdict? Two of my favorite reds were Bouchard's Premier Cru Beaune Marconnets and Volnay Caillerets, $68 and $107, both rating 93: the Marconnets gorgeously fruity and ethereal with lightly musky licorice and delicately oaked subtlety; the Volnay super fresh and ripe with silky tannins and a core of cassis and strawberry. Less affordable at $142, and belying its normally "feminine" image, the Nuits-Saint-Georges Les Cailles is a blockbuster of black berry fruit depth, intensity and minerality from its chalky terroir (94).
Superstar Grand Cru wines from the Cote d'Or can run to almost $500 a bottle (even $900 for a Montrachet) while the village wines start at around $30 and happily there's a respectable and affordable lineup already in our market, including, from Bouchard: Macon-Lugny St Pierre $16.95; Bourgogne Pinot Noir $19.95; and Beaune du Chateau $36.95. Among the whites: Petit Chablis $20.95; Pouilly-Fuisse $28.95; Meursault Domaine $66.95.
The Fèvre Chablis Champs Royaux is outstanding at $22.95 and the Vaillons 1er Cru is beautiful at $53.
Ponciago La Reserve is a steal at $29. One of the best Beaujolais, it has huge depth of blueberry and violet aromas with complex flavors of cherry and blackberry, very expressive, spicy and elegant (93).
Not to be missed is the superb Henriot Brut Souverain Champagne at $70. One of my own favorites.

Joseph Henriot, 79, president of Groupe La Vigie, owner of Champagne Henriot, Bouchard Pere et Fils and Chablis William Fevre, has just died.
Henriot had been head of Champagne Veuve Clicquot and Charles Heidsieck. His death follows that of Burgundy biodynamic pioneer Anne-Claude Leflaive and California wine veteran Joseph Phelps in the last few weeks.
To obtain the wines, contact Woodman Wines and Spirits, (416) 767-5114, www.woodmanws.com.
ADDED BONUS! Here's a video of Luc Bouchard being interviewed by Debra Meiburg:
---
We Canadians love our wine, especially imports, and mostly reds.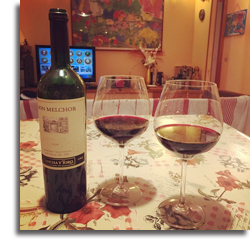 If ever there is an official First Growth wine in South America, it will be Don Melchor, a fabulous red the burghers of Bordeaux will be proud to call their own.
The iconic wine is the offspring of the finest Bordeaux vines brought carefully to Chile in 1883 and groomed to greatness by the founding family of Concha y Toro.
It's not just the best wine Concha makes, it's the best in South America, and among the world's finest.
Stony-crystalline Puente Alto vineyard soils, fresh Andean breezes, generous Maipo Valley sunshine, fanatical attention to every single vine, lots of fine new French oak barrels and years of experience combine to produce these exceptional Cabernets.
French winemaker Jacques Boissenot, a renowned Bordeaux consultant, helped sculpt the wine, grown in six vineyard blocks at 650 metres on the foothills of the Andes.
The current vintage in Ontario is the 2010, LCBO 403980, released at $70 and already almost gone but the 2011 should be here in late summer and worth pursuing.
The wine was named for Don Melchor de Concha y Toro, the founder, and is notable for its consistent red fruit, graphite, elegant tannins and mineral notes, elegant to a fare-thee-well (94-95). The first vintage was 1987 and it has its own dedicated winemaker, Enrique Tirado and his team of vine minders.
Wonderfully age-worthy Melchor, tasted recently back to the 1991 vintage showed charm, balance and finesse, more complex with each year, offering notes of tobacco, vanilla, dark chocolate, plums and cherries.
The perfect ringer to throw into your next blind tasting of left-bank clarets!
Please take me back to the top of the page!