Helpful hint: click on photos for even more information!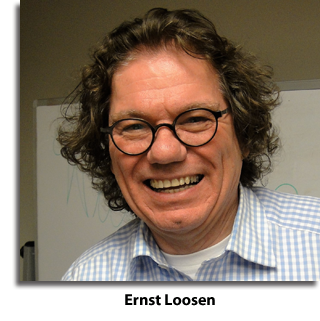 "I don't give a sh*t about "perfect" food and wine pairings.
"You have a meal at (Michelin-starred "world's best restaurant") Noma in Copenhagen, (famed for its 20-course meals). It costs you $1,000. It's a mish-mash of who-knows-what served with wines that you don't even like!
"I'd much rather enjoy a wine I like with one of my favorite simple meals," says Mosel enfant terrible/wine genius Ernst Loosen.
This is imparted as he begins his "Rocky Horror Riesling Show" – an exploration of some of Germany's finest wines, from Weingut Dr. Loosen.
The background to the tasting, he explains, is 100,000 hectares of Riesling vines in the world, half of them in Germany, at the most northerly latitude for fine wine growing, plus excellent Riesling vineyards in Canada, Washington State, Australia and South Africa.
Germany has 13 wine regions, mostly in the west along the Rhine and its tributaries, with not so much Riesling grown in warm southerly Baden, home of more Pinot Noir and Pinot Gris.
The German vineyards were planted more than 2,000 years ago by the Celts and then the Romans, who were planning to expand their empire east as far as the Elbe until they lost six legions in battle. End of that story.
Erni, who's been honored by every wine authority in the world, tosses out factoids like: the world's warmest Riesling region is the Clare Valley in Australia and coolest is the steep, terraced Mosel. Driest is Washington. Riesling, like Pinot Noir, doesn't need lots of sun and heat, he says, but it does need cool nights in the fall to maintain its famously good acid levels.
You might be surprised to know that Germany has been famed for its tradition of making rich, crisp and fruity sparkling wines for 200 years. Many of the elite French Champagne houses (Grandes Marques) were founded by German families – like Mumm, Krug, Heidsieck and Deutz. Kicked out later after the 1870-71 Franco-Prussian war, the German winemakers regrouped in the fatherland where they founded new sparkling wine operations using Riesling grapes.
Perfect for sparkling wines because of its relatively low alcohol, high acidity and good aromatics, Riesling makes great bubbly via the Charmat or stainless steel tank method rather than by labor-intensive second fermentation in the individual bottles.
Based on the twisty Mosel River, the oldest wine region in Germany, Loosen started exporting its own bubbly just four years ago and decided to launch it as Riesling Sparkling instead of using the traditional German name Sekt ("which sounds kind of conspiratorial") "and it was a huge success!" grins Erni.
Dr L Riesling Sparkling just passed through Vintages at a bargain $14.95 although there may still be a few bottles left – soft, slightly peachy nose with a fine, elegant acidity (91).
Non-estate dry Rieslings from grapes bought in from trusted local growers (labelled as Dr. L as opposed to Dr. Loosen, pronounced LOH-zen) are a source of pride and joy for Loosen: grown on the potassium- and iron-rich red slate and blue slate soils of the Mosel, their smoky intense mineral frame holds an electrical charge of vibrant lime-lemon nectarine acidity.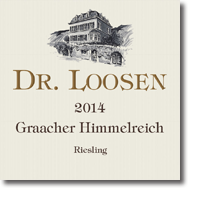 But the true jewels in Loosen's crown are its world-beating single-vineyard estate wines: Bernkasteler Lay, Erdener Treppchen, Urziger Wurzgarten, Wehlener Sonnenuhr and Erdener Pralat. Almost forgot, Graacher Himmelreich! They've been in the Loosen family for more than 200 years.
From, respectively, encircled by a huge loop of the Mosel, the picture-postcard villages of Bernkastel, Erden, Urzig, Wehlen and Graach, they're the quality equivalent of the Grand Cru wines in Burgundy or the finest First Growths of Bordeaux. Richly textured, assertive wines that express the unique and intense minerality of their soils.
Interestingly, the root-eating phylloxera bug that decimated Europe's vines in the mid-19th Century can't survive in the Mosel's stony, well-drained soils and this is one of the few areas where pre-phylloxera vines are still viable.
Many of the Loosen vines are over 120-years-old and ungrafted (they don't need bug-resistant American rootstocks). Their yields are smaller and more concentrated than young vines' output.
Meanwhile, over in the warm, sunny, dry Pfalz region, the Villa Wolf estate, which Loosen also owns, makes a rounder, softer, more peach-nuanced Riesling with a cut of apricot, stone and Meyer lemon. Lovely with chicken, pork and freshwater fish.
Villa Wolf also makes a delicious barrique-aged Pinot Noir, which, being German, always tastes to me like a spicy-smoky Beaujolais and that's not a bad thing! It sells in Ontario for a mere $12.95! Germany still grows more Pinot Noir than any country except the United States, never mind France!
When Ernst Loosen assumed ownership in 1988, he changed vineyard practices to dramatically reduce crop size, stopped all chemical fertilization and extended sustainable practices into the winery, too. Gentler handling and a minimum of technical meddling have led to his wines receiving accolades around the world. Bravo, Erni!
For more Loosen wine info, contact Liz Morellato of Select Wines, (416) 367-5600 x19.
---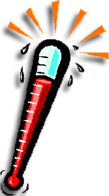 It's almost certain 2016 will be the hottest year on record, probably by the largest margin ever.
April was the hottest ever – the seventh month in a row to break global records. The figures smashed the previous record by the largest margin ever.
It's three months in a row that the monthly record has been broken by the largest margin ever, and seven in a row at least 1C above the 1951-80 mean for that month. When the string of record months started in February, scientists began talking about a "climate emergency".
Figures from NASA show the global temperature of land and sea was 1.11C warmer in April than the average for April during 1951-1980.
The new record broke the previous one by 0.24C, set in 2010, at 0.87C above the baseline average for April. That itself broke one three years earlier at 0.75C above the baseline.
The current blast of hot air around the globe is spurred by a massive El Niño, a release of warm water across the Pacific Ocean. But it's not the biggest El Niño on record and that spike is over a background of rapid global warming, pushing temperatures to all-time highs.
"The interesting thing is the scale at which we're breaking records," said Andy Pitman, director of the Centre of Excellence for Climate System Science at the U of New South Wales. "It's clearly all heading in the wrong direction.
"Climate scientists have been warning about this since at least the 1980s. And it's been bloody obvious since the 2000s. So where's the surprise?" said Pitman.
The record temperatures were wreaking havoc with ecosystems around the world. They've triggered the third recorded global coral bleaching, and in Australia 93% of the reefs have been affected along the 2,300km Great Barrier Reef. In the northern parts of the reef, the majority of coral is dead, and on some reefs over 90% is dying.
A recent analysis showed the bleaching was 175 times more likely because of climate change, and the conditions that caused it would be average in less than 20 years.
---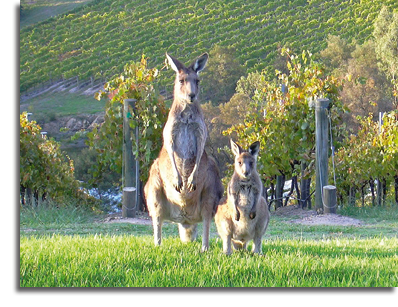 Since the fortified sweeties of its early days, Australian wine has come a long, long way.
Classics in their own right, today's Rieslings, Semillons, Chardonnays and great dry reds like Grange have brought Australia right into the mainstream.
Some early vineyards date back to the 1840s and earlier but recent evolution has gone far beyond simply "sunshine in the bottle."
There's more planting of exciting new grape varieties taking advantage of the Mediterranean climate that most of the country enjoys.
There's a better understanding of the regions themselves and cool microclimates being better exploited.
A decade ago in an effort to become more like Chablis and less like their toasty-oaky Aussie stereotype, Chardonnays became lean, green and mean, harvested underripe and underoaked.
They're long past that now and into a new era of balance, not afraid to be Australian, more voluptuous yet a lot more restrained.
There's a revolution under way with adventurous new producers, many from the restaurant trade and a bevy of ex-sommeliers making fun and outstanding wines.
It's a country larger than all of Europe so is it possible to really talk about an "Australian-style" anything? From Western Australia, for example, you can't travel anywhere in an hour! Everything's on a massive scale although most of the wine growing is in cooler southern regions more suitable for grape production.
Some of the historical producers include:
Killikanoon, whose Mort's Reserve Riesling 2005, Clare Valley, is all Key limes and racy acidity, dry and bracing with a toasty minerality and the ability to age beautifully.
d'Arenberg, whose The Derelict Grenache 2012, McLaren Vale, is a symphony of brambly red berry fruitiness, toasted hazelnut fragrance and haunting lightness. From ancient vines with extremely low, concentrated fruit yields.
Hollick, whose Ravenswood Cabernet Sauvignon 2012, Coonawarra, is cool, elegant and classy with black fruit concentration and limestone minerality born of its ancient sea bed heritage.
St Hallett, whose Old Block Shiraz 2013, Barossa, is savoury with sweet spice aromas and a beefy core with nicely integrated tannins.
Evolving wines are coming from wineries like:
Leeuwin in Margaret River, Western Australia, whose Estate Art Series Chardonnay 2013 is a model of vanilla, spice, buttered toast and apple-pineapple that Burgundians would envy.
Soumah Single Vineyard Pinot Noir 2015 from Yarra Valley, Victoria, is smoky, succulent, balanced and earthy with beets and cassis on the palate. Gorgeous!
Alpha Box and Dice in McLaren Vale has made Xola, a 2011 Aglianico, a grape from Campania in southern Italy. It took four long years in French oak barrels to tame the tough tannins and deliver sweetly spicy berry-nosed concentrated pleasure in a glass.
Fowles gave us Ladies Who Shoot Their Lunch Shiraz 2012 from Strathbogie Ranges, Victoria. A big chocolatey peppery big tannin wine design to flatter roasted game. Apparently the name's not popular in London!
More revolutionary, cutting edge offerings are coming from wineries like BK, whose Skin n' Bones White 2015 from Adelaide Hills is made from the Jura grape Savagnin and tastes like a dry white Rhône, with tasty apricot, melon and oxidative oak.
Jauma's Like Raindrops Grenache 2015 from McLaren Vale is to me more Beaujolais-ish, really minimally handled and selling like wildfire.
Ochota Barrels I Am The Owl Syrah 2015 from Adelaide Hills also has minimal handling and shows ripe blackberries and silky supple tannins. Made on the principle of Occam's Razor, the philosopher's concept of choosing the solution that has the fewest assumptions to any problem. Sounds good!
Brash Higgins Nero d'Avola Amphorae Project from McLaren Vale relies on the porous properties of Sicilian-style terra cotta jars for its Sicilian variety of grapes and offers creamy-floral red fruit flavors with spicy tannins.
It's a whole New World out there!
Tons of experimentation especially with Italian and Spanish varieties and when they reach maturity, watch out!
---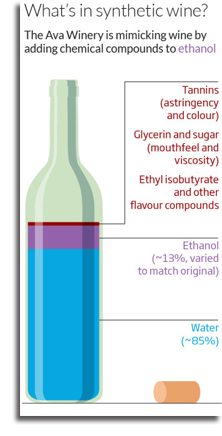 "We can turn water into wine in 15 minutes."
So claims Ava Winery, a San Francisco start-up making "wine" without grapes from flavorcompounds and ethanol.
Mardonn Chua and Alec Lee bypass the fermentation that turns grape sugars into ethanol and develops hundreds of flavor compounds.
They simply combine ethanol with compounds like ethyl hexanoate, which has a fruity, pineapple-like aroma. One result is a synthetic that mimics Moscato d'Asti and they're trying for a mock Dom Pérignon.
Using gas chromatography, the team analyzed Chardonnay, Champagne and Pinot Noir, identifying flavor molecules – like ethyl isobutyrate and ethyl hexanoate – and their concentration.
Then they mixed, matched and taste-tested.
"The big secret is that most compounds in wine have no perceptible impact on flavor or aroma," says Lee. "It's going to be substantially cheaper."
They plan to sell a batch of 499 bottles of a Dom Pérignon mimic for $50 a pop.
There's resistance, of course. "It's nonsense, to be honest with you," says Alain Deloire of Charles Sturt University, Australia, who has worked for Moët & Chandon.
Deloire argues that the natural origins of wine have an indispensable impact on the drink.
One independent taster describes the synthetic as "essence of plastic bag".
Please take me back to the top of the page!