Sauvignon Blanc: Hey, Wild Thing!

There's a wide, wild world of zippy, fresh Sauvignon Blanc out there to enjoy this summer. Underrated, undervalued, it's a chameleon of a wine, shaped by terroir, by vintage and especially by how the growers manage their vines.

Food friendly Sauvs range from "cat pee on a gooseberry bush" all the way to luscious mango and pineapple. And it's not always easy to identify its country of origin.

There's no mistaking New Zealand's piercing version, all things vegetal and herbaceous: like iconic Cloudy Bay, with bell peppers, asparagus, grass, hay, pea pods, lemon grass, tomato leaf, and razor-sharp acidity born of its cool maritime climate.

The cat pee-vegetal aroma is pyrazine, at 1-2 parts per trillion. Too much and it's like stewed tomato leaves, too little and the Kiwis say it tastes (ugh) Australian! The US made Coopers Creek change its labels to Cat's Phee. With a silent h . . .

The flavor profile worldwide shifts and softens through warmer regions and warmer vintages – through floral, mineral, lemon, lime, grapefruit, green apple and honeydew, all the way to passion fruit, guava and papaya.

South Africa and Australia are less love-or-hate than New Zealand, fuller and fruitier with a mineral core, like Jardin from Stellenbosch, $15.95, and Rolling from New South Wales, $14.95, with lean and lemony examples, too.

The Loire, ancestral home of this grape, is racy, with mineral and red currant fragrances and restrained herbal notes. The best are steely Sancerre and smoky, oaky Pouilly- Fumé, and you can buy a dry, aromatic Haut Poitou for a mere $10.95 or Sancerre Les Barons from Henri Bourgeois, $22.95. In Bordeaux, SBs such as Château Bonnet, $12.95, show green gooseberry, grassy notes, with a fresh lemon finish, delicious well-chilled with oysters, seafood, and goat's cheeses. Bordeaux Sauvignon is mostly blended with lusher Sémillon and these have improved thanks to modern technology.

Ontario's SBs are nicely mid-range, elegant, midweight, with fine green apple-citrus acidity, delicate herbal aromas, good structure and a steely, mineral backbone In style, betwixt Loire and Bordeaux, a good place to be!

Chile's Casablanca Valley with cool nights and sea breezes delivers fresh acidity and elegant melon-citrus aromatics. California covers the spectrum: many are oaked and full bodied, with high alcohol. Among the best are Sonoma's Dry Creek and Napa's St. Supéry and Robert Mondavi Fumé Blanc, $24.95, with lemon grass, peach-pear tones. Cooler Washington is well suited for the more herbaceous style. Long Island also has warm days/cool nights for crisp wine that shows red currants, grass and lemon curd aromas/flavors, sometimes with a little oak.

An early ripener, SB grows well in Ontario although, like Merlot, it's not winter hardy. Vineyard wind machines are required to help prevent winter kill. Hilling is expensive but Matthew Speck of Henry of Pelham covers his vines with snow, using a simple blade on the tractor!

Most wines are cold-soaked then cool-fermented in stainless tanks but, as winemakers expand their repertoire, we're seeing more barrel-fermentation/ aging and creamier versions. Savvy Ontario winemakers are also using Loire yeasts for complexity and flavors.

The LCBO lists 208 SBs and, to meet the demand, our own wine regions have 350,000 SB vines planted, on a par with Gewürztraminer. Chardonnay, with 2 million, leads all whites and reds. Cab Sauvignon trails with 1,170,000, Cab Franc 1,305,000, Merlot 1,006,000, Pinot Noir 800,000 and Gamay 500,000.

Styling begins with the way the leaves are pruned to shade the ripening fruit. A grape cluster shaded on one side only will produce green, herbal, higher-acid grapes on that side and golden berries with melon-tropical flavors on the other! Typically, leaves are plucked and thinned on the morning-sun side and are left to shade the hotter afternoon side.

During winemaking, exposure to oxygen is key: less oxidation equals fruitier, more vivid wines. They're made to be consumed young, and many are bottled under screwcap for freshness.

Ontario's 2005 VQA wines, reduced by a harsh winter, show excellent aromatics and they're arriving now. Good examples include Vineland, Henry of Pelham, Château des Charmes, Peninsula Ridge, Lailey, Thirteenth Street, Stoney Ridge and Creekside.

Riesling might be king and Chardonnay is a synonym for all white wine, but Sauvignon Blanc and Cabernet Franc are the proud parents of the noble Cabernet Sauvignon!



South Africa has the world's oldest, most weathered soils, so ancient that some predate fossils, thrust to the earth's surface when a colossal upheaval created the continents.

This is the terroir of South Africa, massively diverse soils and microclimates that support biodiversity of a kind found nowhere else on earth.

The Cape Floral Kingdom, home to 9,600 plant species, a botanist's dream, happens to encompass 95% of South Africa's vineyards.

And the wine farmers are gung-ho to conserve their priceless heritage as well as delivering pure premium wines that reflect their land and their passion for nature.

Who says? Well, Sue Birch, CEO of Wines of South Africa, who's out there telling the world about this ancient ecology, and how important it is today.



Variety Is In Our Nature is South Africa's mantra. More than 600 farmers have already pledged to set aside parts of their land in perpetuity, says Sue Birch, adding that, soon, wine for export can only come from farms audited as eco-friendly.

The wine industry, which dates back three centuries, has progressed light years since the end of apartheid in '94, which had cost intellectual and financial capital, an exodus of wine-making talent, and the absence of talented flying winemakers.

New confidence is evidenced in a radical replanting with vines suited to world demand, like Syrah/Shiraz, Cabernet, Sauvignon Blanc and Viognier, and more attention given to Chenin Blanc. These vines are already showing quality and they have a great future ahead, with a focus on premium wines. "We can't be a low-end producer," says Sue Birch, "But we can be cost-competitive with our premium wines."

The confidence also shows in the new wineries, from 212 in '91 to 572 today, thanks to foreign investment, especially from France and Germany, and new wine areas opening up after to the end of quotas on what/where you could grow/sell.

Exports are up fivefold in a decade or so, to 2.86m litres from about 100,000 hectares of vines (Spain has 1.3m ha, by comparison).

Some examples of good South Africans in our market at Vintages are:

Neil Ellis Groenekloof Sauvignon Blanc '05 Stellenbosch 679913 $16.95, dusty, herbaceous melon and grapefruit on the nose, amping up to ripe melon and nectarine on the palate and a dry, crisp citrus finish (86).

Steenberg Sauvignon Blanc '05 Constantia 590398 $16.95, rich citrus melon-lime aromas, stony core with melon and grapey finish (86).

Jardin Chardonnay '03 Stellenbosch 663336 $18.95, very buttery-toasty-oaky with a whiff of vanilla on the nose, carrying through to the palate – a baby Montrachet! – with a hazelnut-citrus and oak finish. A big wine! (90).

La Motte Chardonnay '04 Franschhoek 663377 $16.95, more lightly oaked and slightly smoky nose with a more pear and melon profile, more fruit forward and fresh (88).

Middelvlei Pinotage '03 Stellenbosch 977819 $16.95, barnyard, rustic notes with some cherry, raspberry and mulberry on the nose with a metallic core and echoes on the palate but a little short (86).

Beaumont Pinotage '03 Walker Bay $22.95, a slightly minty-plummy red berry fruitiness on the nose, a little acetone in mid-palate, light and a little lacking in concentration (85).

Cathedral Cellars Cabernet Sauvignon '01 Paarl $16.95, velvety dark chocolate and spicy plums on the nose, slightly smoky with cherry and cassis nuances, lovely length and elegance (89).

Morgenhof Cabernet Sauvignon '02 Stellenbosch $21.95, raisiny, plummy, mocha nose with just a hint of oak, a fresh raspberry mid-palate and decent length (87).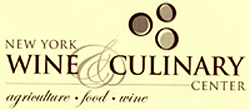 With a new Wine & Culinary Center in the Finger Lakes and the new Niagara Escarpment appellation, the Empire State is a must-see gastro- destination.

Today's 230 NY wineries, up from 19 two decades ago are making wine the powerhouse of New York's agri-tourism, contributing $3.4 billion a year.

The Center, off the thruway at Canandaigua, is a non-profit educational gateway to New York's agriculture, food and wine, built on budget/ on time, in nine months.

From the Inn On The Lake, it's a two-minute stroll to the Center. You enter via vines, fruit trees, vegetables and herbs reminding you that food comes from the earth. Renowned chefs and winemakers are on hand at the 44-seat educational theatre, the hands-on kitchen and the private dining room.

The tasting room rotates flights daily, by region, by tradition (including Catawba and Cayuga), and by international varieties. The Taste of New York lounge offers light meals, wine, and lake view. The exhibit hall's videos explain the unique character of New York's wine and food, and a culinary boutique offers gifts and cookware.

The key sponsors are the New York Wine & Grape Foundation, Constellation Brands,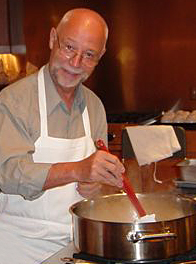 (formerly Canandaigua Wine Company), Rochester Institute of Technology and Wegmans food markets. Admission is free: www.nycc.com.

New York's wine regions are the Finger Lakes (famous for Rieslings), Long Island ("New York's Bordeaux"), Hudson River and Lake Erie. New kid is Niagara Escarpment AVA, defined last October. Geographically and geologically, it's an extension of Ontario's Niagara Escarpment across the river, and new wineries are evolving from fruit to grapes. However, the future could be Pinot Noir, according to Warm Lake Estate in rural Lockport.

Inspired by Inniskillin, ex-engineer Michael VonHeckler, aided by 40 investors, aims to make reds of Burgundy quality. Soil/climate studies show this is the perfect terroir, and his early vintages, made in new French oak, look promising. A Bordeaux collector, Michael sold his 33 cases of Lafite as a $20,000 grubstake, and his Burgundy role model is Romanée-Conti. The "warm lake" is nearby Lake Ontario.


Please take me back to the top of the page!