Wine glasses come in every shape, size and color – green goblets for Alsace and Mosel, amber for Hock, elegant little Sherry copitas, Loire tulipes, Champagne coupes and flûtes, stemless bowls, monsters that hold a bottle's worth, Impitoyable tasters, bridal cups, stirrup cups, loving cups and more....
There's even a glass for the blind, for God's sake, opaque purplish-black, designed for tasters who want no visual cues. (It's the Zinfandel/Chianti glass from Georg Riedel's Sommelier Collection, darkened with manganese oxide! Riedel offers specific glasses that vary the impact on your palate of everything from Chianti to Icewine.) Certainly, in recent years, much glass industry research has been devoted to finding the optimal goblet shape for specific wines.
But why are the traditional glasses all so different?
It's geography, actually. In the 19th Century, all glassware was designed and made locally in small factories using various techniques and molds before Europe developed national rail systems that could deliver coal anywhere to fuel, mass-produce and then distribute glasses. By that time, of course, the local versions had become traditional as well as practical.
For example, tall Champagne flutes enabled cloudy sediment to settle out before disgorging techniques were perfected to clear the wines. Meanwhile, large tulip-shaped glasses were efficient in collecting the desirable aroma compounds in reds, while smaller versions sufficed to showcase chilled and less complex whites.
Lead oxide was introduced not to make crystal chime prettily but to lower the furnace temperature required to melt glass, thereby cutting costs – not to enhance our wine-drinking experience.
What should we do to enhance that experience?
Use a plain, clear glass (filled no more than half full) large enough to swirl without spilling, wide at the base to maximize the liquid-air contact and narrow at the rim to capture all the aromas.
Before the wine even hits the glass, of course, we're all accustomed to decanting and vigorously aerating the liquid into a carafe to soften up young, tannic reds, because wine opens up when exposed to atmospheric oxygen.
All of which brings us to a new kind of glass that breathes – and allows you to skip an hour or so of decanting. Created by Eisch Glaskultur, third-generation specialist Bavarian glass makers, the Breathable Glass, made from a special raw material in lead-free crystal and given a proprietary oxygenization treatment, has the same impact as decanting and aerating.
As quickly as five minutes after the pour, the mouth feel of the wine on the palate is silkier, the flavors more integrated, and the aggressive bouquet and tannins of young reds mellowed as the wine quickly takes on a mature character. All the things you'd expect from an hour or so of wine-air contact in an open carafe.

Good-looking as well as effective, the comprehensive Eisch range costs about 2/3 of Riedel and is just as good-looking. They're also dishwasher safe and don't lose their magic properties. Contact 1 877 AGE WINE (243.9463) or 905 855 9202 or info@winecellarexpress.com. Ask also about the Breathable Espresso Glass and the No Drop Effect Decanter, and the Wine Cellar Express magnetic coaster (which can be used effectively in combo with the Breathable Glass.
PS: Thomas Jefferson, author of the Declaration of Independence, third US President and wine lover par excellence, once said of his consumption: "My measure is a perfectly sober one of 3 or 4 glasses at dinner, and not a drop at any other time. But as to those 3 or 4 glasses I am very fond." His glasses at Monticello are tall and narrow like tiny Pilsener glasses holding no more than three ounces.
---
Beaujolais is a great summer wine and the very best the region offers comes from the cellars of P. Ferraud & Fils, whose elegant wines are sold in Michelin-starred restaurants and Paris icons like Fauchon and Brasserie Lipp. It's a long way from cheery purple November Nouveau from the new harvest, made swiftly and rushed to market with great fanfare.
From days of delivering 215-litre pièces of wine hauled by oxcart to shipping globally, Ferraud has been around a while – one grape grower has been selling to the family since 1882 without a written contract, and even today Ferraud matures its wine in old-fashioned 6,000-litre barrels, or foudres . Some of the wines come from family's own vineyards, while others are from domains and chateaux exclusive to Ferraud.
"Nouveau is a good product to keep the name of Beaujolais top of mind, but our own wines are more Ferraud than Beaujolais," says owner Yves-Dominique Ferraud matter-of-factly. "Nouveau is only 10% of our own production while it's 40-45% for the Beaujolais region."
One quarter of his wines are white Saint-Véran, sold mostly to the Japanese although the '05 is in Ontario at $17.95, fresh, racy with a nice acidity and showing a hint of toastiness (90). Ferraud also sells a deliciously Burgundian Mâcon-Fuissé '06 from his mother's estate, soft, round and easy to drink now (89) $16.90.
However, his reds are from the finest areas (crus) of Beaujolais. For example, the Brouilly Domaine Rolland '06, from a fifth-generation grape supplier is rich, spicy and crisp, with raspberry, loganberry, cocoa, mocha and cola scents (91) $18.30. Fleurie Le Reposoir, $20.15, with its heady bouquet of flowers and mulberries, is from a hilly vineyard laced with manganese in the soil, while Chiroubles just over the crest is pure granite soil (90).
Morgon Les Charmes '06, also from Mom's vineyard, is still a baby – with a golden future, $17.65 (91). Chénas Cuvée Jean-Michel '05, the Romanée-Conti of the Beaujolais (Chénas is the best value and smallest cru in the region), is fleshy with firm tannins, strawberry-plum and cherry notes (92) $20.15.
Ferraud sends Ontario collections of 6, 8 and 10 Beaujolais crus in single packages so you can do wonderful horizontal tastings. More are coming in the fall, so stand by! Meanwhile, to obtain any of the above wines, contact Trilogy Wine Merchants at 416 968 0758 or trilogy@on.aim.aibn.com
If you invited a dozen or so people for a Beaujolais tasting with the 10-cru pack, what would the tasting order be, Ferraud is asked: Without hesitation, it's Regnié, Chiroubles, Brouilly, Fleurie and Juliénas, Côte de Brouilly, St Amour, Morgon, Chénas and Moulin-à-Vent. And that's also the order of ageability, with Regnié capable of 3-5 years of cellaring and the substantial Moulin 8-10 years.
---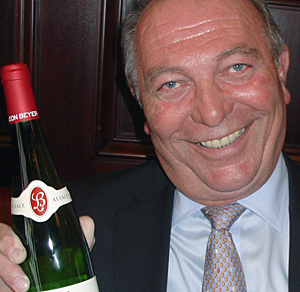 Marc Beyer, director of renowned Alsace negociant Maison Léon Beyer knows a thing or two about food and wine: his family runs a Michelin-star restaurant that's highly regarded by the wine growers and townspeople of Eguisheim and the whole of France.
Beyer's Riesling '04, a $15.40 steal at the LCBO, (89) is heavenly with salmon tartare and gravlax because its racy apple, green pear-lime acidity tames the rich, oily saltiness of the fishy duo. The mineral and grapefruit flavors hone the palate clean for another bite. Serving suggestions include freshwater fish, steamed mussels, fish kebabs and pork sausages.
Beyer's more upscale Riesling Les Ecaillers '02 is en route to Vintages, $25.00, (90) more intense, with apple-citrus notes, a whiff of petrol and wet summer pebbles. Perfect paired with roasted black cod and red pepper beurre blanc. Or shellfish: Ecaillers is French for oyster shuckers.
The Pinot Gris '04, LCBO 165241, (92) is $16.40 and simply one of the most elegant, balanced Pinot Gris around, flower and woodland scented, as spicy as a Gewürztraminer, tropical in fruit profile, with pear, melon and smoky peach, perfect with mushroom risotto, shellfish, lobster, cream-sauced white meats, or mildly spicy oriental fare.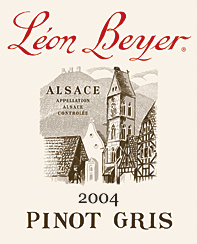 The standard Gewürztraminer '04 (v) 718015 $15.00 has the pure fruit flavors and good acidity that mark this more normal cool vintage following the blazing hot 2003. Classic aromas of guava, lychee, passion fruit, grapefruit and spice with a hint of honeyed sweetness to match subtly spicy Mexican, Chinese or Indian fare. Almost out of stock.
The high-end Gewürztraminer Cuvée des Comtes d'Eguisheim '00 (v) 12542 $45.00 comes from the slopes of a spectacular hill town with triple ramparts, once a Roman fortress and the Beyers' wine base. Vignerons since 1580, they've provided regular mayors and even a Pope in 1049, the later canonized Leon IV. One of Alsace's top wines, this superb vintage, one of the best in a decade, is light gold with a bouquet of dried apricots, white peaches, yellow plums, caramelized ginger, and spice cake. Rich and dry; chewy and spicy. With blue and piquant cheeses, spicy Thai, Chinese or Indian cuisine. For more info: 416 968 0758.
---
Ripe, full-bodied red wines are the pride of a unique community in Kfar Tikva near Haifa. Family-owned Tulip Winery helps 200 developmentally and physically challenged folks who live in the village to get involved in producing Israel's new wines.
The 45,000-case output, from grapes grown in Metullah Dalton in the north, at Karmei Yosef and the Judean Hills, is being released in five series: called Mostly, which are blended; Just, which are single vineyard wines; Reserve; Grand Reserve; and Port-styled, which are fortified reds.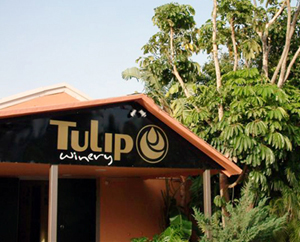 Just Cabernet Sauvignon '05, my favorite, is in Vintages and a very good Bordeaux-style value for $18.75. Ripe blackberry, blackcurrant and mulberry nuances with a silky, cedar component and smooth delicious finish (90).
Other 2005s, like the slightly green plum and black cherry Just Merlot, mocha-raspberry Mostly Cabernet Franc, smoky raspberry Syrah Reserve and the still closed '03 Cab Sauv Grand Reserve and the intense, well-made fortified Port Esperanza are available by calling Vintage Wines 416 922 3950.
---
The world's best people-watching spot is not the Trevi Fountain in Rome.
Instead, park your bum on a stool at the Seafood Bar of the Caviar House at London's Heathrow Airport, Departure Lounge, instead, and you'll see why.
Flanked by the bazaars of Bulgari, Christian Dior, Chanel, Armani and Gucci, you can nibble on Scottish smoked salmon, rock oysters, Malossol, Sevruga or Beluga caviar (with blini and crème fraiche, of course) as you sip your Bollinger Grande Année, Loire or Chablis.
All the while, scanning the human condition of the world's travelers racing, puffing or strutting into the Great Departure Gate for foreign parts. It's easy to spend the equivalent of your flight here if there's a delay, but what better way to see the world than from the comfort of your seat at this special spot.


Please take me back to the top of the page!