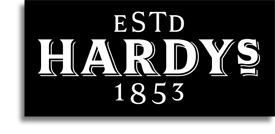 "When I taste a wine I put my fingers behind the glass. If I see my fingers it's white, if not, it's red."
I've always loved this line from wry and self-deprecating winemaker Bill Hardy and I've quoted it shamelessly to loosen up many a wine event.
I fessed this up tasting with Bill recently and he contributed a second version, used by Australia's red wine specialists: "...If I see my fingers, you can stick it up your..."
Hardys has pioneered Australian wine since 1853 but the venerable outfit is right up with hi-tech and 5th-generation descendent Bill was here to introduce Hardys Shuttle, a new take on packaging.
For picnics – or anytime – this is a 250mL single-serving bottle-and-glass duo, unbreakable, and no washing up! The glass works like a screwcap. Just twist it off the bottle and pour.

The package is recyclable, stylish, tamper-proof and contains white or red wine: the fresh citrus-peach Hardy's Stamp Series Chardonnay-Semillon Shuttle with a kiss of oak (87) or Stamp Series Shiraz-Cabernet Shuttle with spicy blackberry and fresh, tangy acidity (88), $4.25 each at the LCBO.
Developed in Australia for the Cirque du Soleil's 2006 season there, it's been an instant hit, convenient, eco-friendly and happily now in Canada.
In 1850, when 20-year-old Thomas Hardy shipped out from the UK to Australia, he couldn't even have dreamed of this kind of technology from the winery he founded. Young Tom's credited with being Australia's first "wine exporter": shipping two hogsheads of wine to England.
The great value Stamp Series wines continue to be available in the regular 750mL bottles in the $10-$11 price range.
Hardys wines in Canada sell from $10 to nearly to $100 and now they're adding a $15 Chronicles line and a $36 Heritage Reserve Bin line to close some gaps.
"Over the past 18 months we have been focused on expanding our wine range and introducing new regions, blends, varieties and stories to our consumers," he explains.
"Most recently, this has included releasing our HRB (Heritage Reserve Bin) wines, which continue the Hardys tradition of blending the best of a variety from two or three standout regions to create a wine that is greater than the sum of its parts."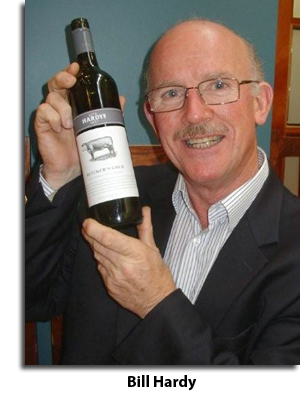 "We've been reinvesting in the brand," says Bill Hardy. "We're the biggest brand in the UK, we sell the most in Australia and we're the best known in the world after Gallo.
"However, it was time to take a new look and see if we couldn't make Hardys even better. We've upgraded the labelling but the main change has been that our chief winemakers now have better access to the best fruit from more regions."
The Chronicles include Twice Lost Rosé '08, $14.96, The Gamble Pinot Gris '08, $14.95, and Butcher's Gold Shiraz Sangiovese '07, $15.95, all 90-point wines that represent great value a notch above the Nottage Hill series.
Next come the Heritage Bin Reserve Chardonnay '07, $35.95, and the Shiraz '06, $39.95, both 93 points and finely crafted collectibles, each a 100% single grape variety sourced from the best regions. These "cross-regional blends" are a departure from the usual multi-varietal blends from several regions.
The two new ranges won't be here for a while but the iconic and ageable Thomas Hardy Cabernet Sauvignon, the finest Cab Hardys can make in a given year is here now in the 2002 vintage, 464461, $89.95, and simply one of the best reds you can buy, taut, tight tannins, sweet core of cherry, mocha, rich new leather and needing some cellar time (94).
The Eileen Hardy Shiraz 2003, 461368, $88.95, is still a youthful purple and showing primary fruit with hints of Christmas spices, dusty tannins and minerals (93). 2011 to 2021.
Too pricey? Take the Shuttle!
Back in 1978, Austin Hope's family were happily growing apples in California's Central Valley until the Alar pesticide cancer scare killed the apple business. Switching to growing grapes for local wineries was a new start and back when there were 1,000 acres of vines and four wineries. Now there are 30,000 acres and 180 wineries in this oak-studded area now best known for Zinfandel, Sangiovese, and the Rhone Rangers, pioneers of Syrah, Grenache, Viognier and Marsanne.
Midway between San Francisco and L.A. at Paso Robles, the Hopes discovered that a gap in the Santa Lucia mountains allows foggy sea to air condition their vines during the 90-100F summer days and that with cool 50F nights you get superb fresh wines with good acidity.
They got their start selling to the wineries and now they buy from local farmers in carefully selected locations chosen for different microclimates. As a result, they've created "Super Paso" blends called Treana Red and Treana White.

The red began as Cabernet, Syrah, Merlot, Sangiovese and Petite Syrah, evolving to today's 70/30 Cab/Syrah. It's dark fruit and exotic spice perfect with braised beef short ribs, $44.95 from Noble Estates, www.nobleestates.com (93)
The sibling Treana White is a versatile Viognier/Marsanne blend that reminds you of a white citrus-jasmine Châteauneuf-du-Pape, $33.95, perfect with grilled white meats, Asian food, white fish and scallops (92).
Using French oak barrels, more usual with white wines than with big reds, Austin Hope, winemaker and president today, has developed a soft, rich, attractive winemaking style midway between California and the Rhône Valley.
"My goal is to deliver the best Cabernet based wine from Paso Robles," says Austin, in the next breath adding: "I want to make the best Syrah in California!"
In either case, his focus is on "wines with a sense of place" and the winery's own evolution has been "a wild and crazy ride along the way!"
Fine wines from this area were not dreamed about 30 years ago. However, better clones and rootstocks, bold experiments with varieties and blends, and sheer perseverance have prevailed. Irrigation is vital and the Hope wines are gently handled using inert nitrogen gas rather than mechanical pumping to avoid oxidation.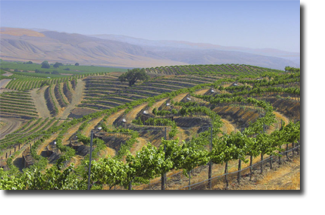 The Hope vineyards also supply the fruit for the value-priced easy-drinking Treana Liberty School range of wines: the Cabernet Sauvignon, 738823 (v) $18.95, a plush red with cocoa, dark chocolate, cassis, rich red berry and briary-bramble character (89).
The charming Liberty School Chardonnay to be released in August at $16.95 (v) has a buttery, balanced green apple and citrus core with melon-peach minerality and lively, fresh acidity (90).
The Syrah, 942383, (v) $17.95, is a remarkably good smoky, complex and aromatic food wine, dry and crisp with a core of ripe red berries. A smidge of Viognier adds another flavor element (90).
Well made wines from a rapidly evolving fine wine region.



If you're youthful, female and adore "Sex and the City" you're the prime target!
Meet a chic new accessory to go with your Jimmy Choos, your Labradoodle and your Crackberry: Strut is a playful new collection of easy-drinking wines with distinctive personalities for your fun and pleasure. And they and their leggy labels have just debuted, exclusively, in Wine Rack boutiques – chic accessories for fashionistas. For a mere $11.95.
Following in the high heel marks of Girls' Night Out from Colio and Bottle Blonde from Pillitteri, Strut, from Vincor, comes in four models:
Chardonista is (natch) a crisp Chardonnay with buttery apple-citrus character and a flirtatious hint of toasty oak (87).
Well-Heeled White is a sophisticated Riesling-Gewurztraminer blend with aromatic tropical tones of luscious pineapple, melon and lychee and a touch of sweetness (88).
Moving into red wine territory, sexy Cab Couture is an earthy, prune and chocolatey blend of Cab Franc, Cab Sauvignon and Merlot that's svelte and velvety, round and smooth (86).
Red Over Heels is a soft, spicy inviting Merlot that's light, tasty and berry berry good (88).
The approachable, palate-friendly wines are made by Liubomir Popovici of Vincor Canada and they're all VQA – 100% grown in Ontario. Could be a "runway success!"



Things are rosy today in the Port world, thanks to the new Croft Pink Port, the first and certainly not the last Port rosé, a sweeter, more feminine alternative to the macho world of Vintage and Tawny.

This from one of the world's oldest wineries, founded in1588.
It wasn't easy going pink, says Adrian Bridge, managing director of the Fladgate Partnership (Taylor, Fonseca, Croft and Delaforce), since there's simply no Port rosé category – yet.
Solution: trademark the name Croft's Pink Port and Joao's your uncle!
Floral with aromatic raspberry aromas and nuances of black cherries, honey and grapefruit, it's $19.95 and available via Whitehall Agencies, (905) 625-9463. Serve over ice with soda or tonic, and a garnish of orange, lime or lemon.
Meanwhile, in these heady days of summer, you can pick up a delicious Fonseca White Port at the LCBO for $13.95, mellow, fruity with hints of oak and honey, to enjoy as an aperitif over ice, 1/3 Port, 2/3 tonic, with a lemon wedge or a sprig of mint. Salted almonds or olives go well with this aperitif, but you can also enjoy White Port as a sweet dessert wine at room temp after the meal.
The summer is a raging hot season in Portugal's Douro Valley so if White port quenches thirsts there it'll work for you, too!
A lovely (also) inexpensive red alternative for dessert is Fonseca Bin 27 Reserve Vintage Character Port, $16.95 (v), kind of a poor man's Vintage Port, foot-trodden and ready to drink without decanting (91), or the superb Taylor Fladgate 20-Year-Old Tawny, simply one of the great wood-aged Ports of the world, $68.95, (97).
Dated Tawnies are aged in small wood casks for a raisiny, roasted nuts finesse, unlike LBV (aged in large wood vats) and Vintage Ports (bottle matured) for big berry-fruit character, power and complexity.

Also currently at Vintages are the 2001 Quinta do Panascal (Fonseca's main vineyard) and the 2005 Quinta da Roeda (the "diamond in the ring" named for the rapids on the Douro near Pinhao), $64.95 and $58.95 from Fonseca and Croft respectively, two immensely complex single-vineyard blockbusters brimming with plum, licorice, leather, mocha and mint characters. Both rate 93 points.
Croft, repurchased from Diageo in 2001, has been given a major makeover and replanting and looks set to regain some past glory.
Watch out also for the arrival of the phenomenal 2003 Vintage Ports from Fonseca, Croft and Taylor later this year.
The Douro produces 120 million bottles of Port a year, of which Vintage represents 1.5% and LBV (Late Bottled Vintage) 4.5%. The remainder is Ruby, and Tawny.
Vintage Ports are made – "declared" – only in exceptional years and they're long-lived and cellar worthy. In the past, 20- to 50-year-old Ports were still very drinkable but today winemakers make very refined and fruit-driven ports accessible much sooner.



Please take me back to the top of the page!