Helpful hint: click on labels and photos for even more information!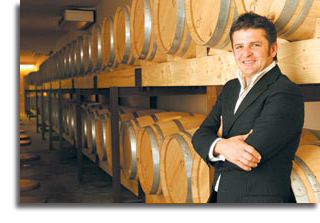 With bodegas in Rioja, Priorat and Bierzo, Alvaro Palacios is Spain's most talkative and talked about winemaker, a visionary, philosopher and born marketer.
Born in the family's own winery in Rioja, he studied in Bordeaux with the Moueix family of Chateau Petrus fame, took inspiration from France's grand crus, and made it his destiny to revive the great wines of Spain, starting by travelling the country selling barrels.
"I was in love with wine my whole life but Spain was a forgotten place after its isolation in the last century," he reminds you. "All viniculture was forgotten and poorly considered. Rioja was the only place known for sophisticated wines. Vega Sicilia the only winery known outside Spain. The Civil War and poverty had erased the ancient tradition of our great wines.
"I remember going to buy wines with my father as a child. It was miserable. All the regions were very poor, and this was just four decades ago."
His own family has a 350-year winemaking history and Alvaro began a search for Spain's great sites, vineyards with Roman/monastic origins, ancient vines and their magical ambiance.
"In 1989, Rene Barbier (5th generation Burgundian winemaker) invited me to help him in Priorat, and I fell in love with the place. Close to the sea and very extreme – steep slate, tough weather, hot, dry but with a luminosity to give precision to the wines. I saw a diamond in the rough." With Barbier and friends, he planted vines and created wines that re-established Priorat and created its most iconic winery, 1.7ha Ermita beside the medieval village of Gratallops. And he also became the historic region's most powerful communicator.
He's in love with Garnacha rather than Tempranillo (even in Rioja) and returning to old-fashioned cultivation, swapping herbicides for mules ('the only difficult part about being organic') and reverting to bush vines.
In 1999, with nephew Ricardo, Alvaro revived the fortunes and elegant wines of Bierzo in Galicia, the cool, rainy northwest corner of Iberia known as Green Spain (think vinho verde of Portugal here). It's the last leg of the pilgrims' long road to Compostela.
When his father died in 2000, he returned to Rioja to take over from his older brother as winemaker, cutting production and improving quality. He is now based in Rioja, but travels weekly to Priorat.
His labels are Alvaro Palacios, Priorat; Descendientes de J. Palacios, Bierzo; and Palacios Remondo, Rioja.
Working with importing agent Woodman Wines Spirits, (416) 767-5114, if I were ordering one of each, it would be Les Terrasses 2010 from Priorat, $45, a supple, elegant restrained red with red berry nuances of plum and cherry, good depth and perfect ripeness (94), Petalos de Bierzo 2010, $26, a bright, crisp red with ethereal violets, cherry, strawberry, blueberry notes and svelte tannins (91) and Propiedad 2008 from Rioja, $39, a voluptuous, vibrant Garnacha red with red/black fruits and a hint of new oak (91).
When asked his opinion of screw caps, Alvaro replies disingenuously: "I don't know anything about screw caps!"
---
In 1853, Thomas Hardy, a visionary young chap from the West Country in England, started a small vineyard in southern Australia.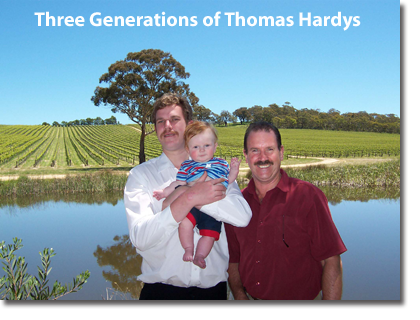 Five generations and thousands of medals later, his great great grandson, winemaker Bill, can proudly say that every 24 hours two million glasses of Thomas Hardy & Sons' wine are poured and enjoyed in 70 countries! In the UK, Hardy's is the best known of any wine brand in the world.
In most Ontario stores, you'll find everyday excellent The Gamble Chardonnay-Pinot Gris 2011 and Butcher's Gold Shiraz-Sangiovese 2008, both from South Australia at $14.95.
The white shows ripe peach-pear notes with a touch of citrus and flint, with a pleasantly viscous mouth-filling texture and crisp finish (89). Great with seared scallops, crab cakes or pasta carbonara. The "gamble" was Tom's personal roll of the dice on his own future in the brave New World.
The 90% Shiraz red packs a hefty chocolate, blackberry, mint and black pepper punch with savoury tannins – perfect with braised lamb shank or pan-fried veal cutlets (91).
The "butcher's gold" came from Tom Hardy's sales of fresh meat after he drove herds of cattle to the goldfields to feed the hungry miners.
The premium Hardy wines are Eileen Hardy Chardonnay and Eileen Hardy Shiraz, $60 and $80 but not currently released. Named to honor the matriarch, they're icons and set the benchmark in their categories.
You'll have to wait until November for the elegant cool-climate HRB/D648 Chardonnay and intense HRB/641 Shiraz, $30 and $35, coming to Vintages. Think lobster and lamb with these two 90-pointers, both skilful blends from quite different regions.
Hardy tells a great story about the original family winery, Bankside, with 300,000 gallons of wine being destroyed by fire. "When they ran out of water the fire fighters started using wine. Unfortunately, they didn't know that, back then, we made a lot of fortified wine and the high alcohol only fed the flames!" The resilient family quickly committed itself to rebuilding and became the biggest wine company in Australia.
As the wine world moves towards lighter glass bottles and more earth-friendly packaging, there's talk of a return to shipping in bulk and bottling on-site, a practice that was standard in the early part of the last century. Hardy's is ahead of this trend, already bottling in Bristol, England, for its major European clients like Tesco of Britain.
---
Chianti ruffino was until recently owned by the Folonari family, and Folonari wines used to be owned by, let's see, Gruppo Italiano Vini, since purchased by the Riunite group. Confusing, yes?
The Ruffino brand and the business but not Ruffino's seven superb Tuscan estates, now belong to Constellation Brands, the US-based global wine titan.
However, the handsome face of Ruffino is still co-CEO Adolfo Folonari, who was recently on hand to celebrate the 60th anniversary of Ruffino Riserva Ducale Oro Chianti Classico Riserva DOCG. Indeed a delicious mouthful!
The company founded by two Ruffino cousins in 1877 shortly after Italy's unification encompasses 1,800 acres of single vineyard estates and its elegant, fruit-driven wines range from traditional Chiantis based on 100% Sangiovese grapes, to softer Merlots, Cabernet Sauvignons, Pinot Noirs, Chardonnays, and Orvietos.
And they include the finest regional expressions of Tuscany: Chianti Classico, Montalcino, Siena, Orvieto, Umbria, and the super-Tuscan blend Modus.
Through better clone selection, high-density vine planting, lower yields and more precise winemaking, today's Chianti Classico transcends the light, fruity pizza wine in its green bottle in a straw basket (the fiasco) that doubled later as a candle-holder. Now, it's 80% Sangiovese plus reds like Cabernet and none of the white grapes once permitted. The result is much more complexity and fuller body, led by the bold black cherry signature flavors, with higher alcohol (11.5%-13.5%).
And now, Chianti Classico is about to create a new flagship classification to show the region's improved quality. As yet unnamed, it will be above Riserva and include single vineyard wines.
Wines that qualify for the new tier cannot be sold until 30 months after harvest and must spend at least three months in the bottle.
Producers have replanted 60% of the Chianti Classico vineyard area in the last 15 years to improve quality and distinguish themselves from standard Chianti. Exports account for 78% of Classico volumes.
Ruffino once employed 60 Italian ladies to weave the straw fiaschi baskets. "We stopped in 1975," says Adolfo. Good move for a company that prefers to be known for providing wine for the Duke of Aosta – hence Riserva Ducale.
The entry level Ruffino Chianti $15.00, is fruity, elegantly dry, easy-drinking and quite well concentrated (87); the single-vineyard Aziano, $18.05, is spicy, fat, almost nutty with some tannins and cherry aromas (88); Santedame $19.95, is more oaky, bigger still, full, rich and intense from a single vineyard in Chianti's Golden Bowl – an amphitheatre of vines (90).
Bigger brother Riserva Ducale $24.95, is a modern, rich, velvety cherry, plum and rosemary-fragranced red for gracious dining (91) and the benchmark Riserva Ducale Oro, $43.95, shows violets, cherries, plums and spices on the nose, chocolate and cinnamon on the palate and hints of pipe tobacco on the finish (93).
Oro was a favorite tipple of the likes of Giuseppe Verdi and, later, Sophia Loren and Marcello Mastroianni.
For deliciously fresh, crisp, dry summer whites, Ruffino offers Canadians a Pinot Grigio, Lumina delle Venezie IGT, $13.00, and an Orvieto Classico DOC, $11.00 (both 88).
Chianti Classico is grown in the heart of Tuscany from a small territory between Florence and Siena and must meet strict rules. Delectable and exceptional Chianti Classicos currently available to us include: Banfi, Bibbiano, Cacchiano, Calcinaia, Castellina, Cennatoio, Cerreto, Cinciole, Emma, Dievole Fontodi, Grevepesa, Paneretta, Rocca della Macie, Ruffino, San Felice, Vicchiomaggio, Viticcio, and Vignamaggio.
Please take me back to the top of the page!