Helpful hint: click on labels and photos for even more information!


Of the world's 265 billion litre wine production, France grows 50 billion litres, 25% more than Italy and five times Germany's output, which equals South Africa.
However, Germany is the leader, in quality and quantity, in growing, the elegant Riesling, a wine associated with the aromas of vineyard peach, apple, grapefruit, rose blossom, honey and fresh-cut grass.
Shaking off the hangover of icky Liebfraumilch (Germany's L-word!) that once sullied the country's fine wine reputation, the 13 (distinct) German regions (there's no such thing as "German wine") today produce a spectrum of Rieslings, from vibrantly crisp and dry all the way to dessert sippers. (L-word production, meanwhile, has dropped from 1200 million litres a year to 300m since the '80s.)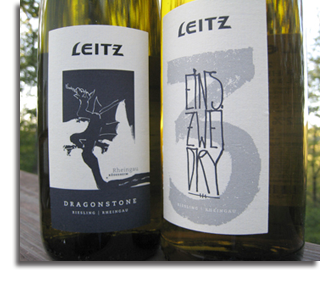 Label design has progressed from byzantine medieval-Gothic to cool, hip and modern, while wine quality has risen sharply. (Reds, too: In an international Pinot Noir blind tasting, six of the top 10 were German.)
One fifth of Germany's vines are Riesling, half of the total plantings in the entire world. In terms of German exports, Canada ranks #5 as a buyer of Deutschland's total production including Riesling, behind the US, Dutch, UK and thirsty little Norway. German Wine Queen Julia Bertram told us all recently: "We are modern, we are new. We are not old fashioned as you might think!" The tasting that followed this sentiment, The Unexpected Germany, yielded some interesting support.
Exhibit A: Loosen Bros Dr. L Sparkling Riesling, 296095 (v) $13.95 and impeccably crisp, fresh lime scented bubbly with a steely acidity and maximum refreshment (90). From the Mosel-Saar-Ruwer region.
Others followed, such as Pfeffingen Riesling Kabinett Trocken 2011 (v) 324343, $18.95, from the Pfalz, sans bubbles but crisp and food-friendly with whiffs of apple blossom and stone with aromas of peach, apple and citrus, especially white grapefruit and lime (90).
St. Urbans-Hof Riesling 2011 (v) 995746, $16.95, from the Mosel region and medium sweet with tropical fruit, citrus, apricot and smoky mineral (88).
A second flight, from the warmer south of Germany kicked off with the great Gunderloch Rothenberg Grosses Gewaechs 2011 from Rheinhessen, from its red sandstone vineyard full of ancient iron deposits, rich in peach-apricot nuances yet still a dry, elegant wine (92). (The sweet Auslese 2009 is here at $59.)

Germany is a big red wine producer, weighing in with surprisingly good and elegantly smoky Pinot Noirs (Spatburgunders) like Salwey Dry Pinot Noir 2010 (v) 317271, $19.95, food-friendly and full of red cherry, raspberry and hickory aromas with grapefruit acidity, aged in native oak. A wine for the patio from the volcanic Kaiserstuhl in southernmost Germany between Alsace and the Black Forest.
From Germany's far northern tiny wine region of Ahr comes Meyer-Nakel Spatburgunder 2010 (v) 314500, $29.95, from a blue slate vineyard, showing rich, intense fruit notes of cran-cherry, with beets, ancient minerals and a little fine oakiness (92).
Two interesting 90-point $30 Pinots from southerly Baden, Heitlinger 2010 and Wassmer 'M' demonstrated the versatility of these German reds with food, ideally fine steaks or roasts to flatter the silky tannins and fruity elegance you might otherwise seek in perhaps a Cabernet, a Syrah or Merlot from the Oregon or New Zealand.
PS: For a fun sipper for a tasty $9.95, try Funf Riesling, LCBO 175026. Look for the number 5 on the label of the all-white bottle. Only 9% alc, fruity (peach, citrus) and just off-dry, Funf = 5 in German! Careful, though, it could lead to sechs (6)!
---
New Yorkers John and Harry Mariani created their own wine counterculture, being simultaneously Italian producers and American importers.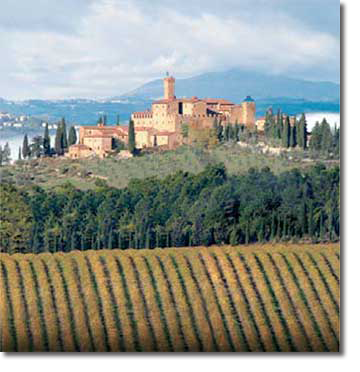 Against a deluge of incoming Italian immigrants in 1978, the brothers went back home to Tuscany to build an iconic estate, Castello Banfi, in the sleepy village of Montalcino.
Growing mostly Sangiovese, Tuscany's top grape (the signature of Brunello, Chianti, Montepulciano, Vino Nobile, Morellino and the SuperTuscans), the Mariani family is still making wines of the highest order.
Today a 3,000 ha estate, having added other family properties, Banfi is one-third vines, olive groves, wheat, truffles, plums and forests with deer, boar and pheasants. The clay/limestone of the estate has revealed, amazingly, an intact whale fossil from the prehistoric ocean that once covered ancient Tuscany.
The castle, Poggio alle Mura, towers over the countryside. Siena's fortress in the Middle Ages is now an ultra-luxe hospitality centre, Il Borgo.
ISO-recognized for environmental, social, ethical responsibility and customer satisfaction, Banfi has been honored by Vinitaly and the Italian Sommeliers Association.
The woman responsible for all this today is Cristina Mariani-May, the co-CEO, and John's granddaughter. She's proud of the pioneering Sangiovese clonal research the family has supported for the benefit of all the Tuscan growers.
Some 600 Sangiovese clones have been identified and whittled down to three for the highest quality production at Banfi.
The family is responsible for modernizing wine production in the entire region. The Banfi name dates back to great-great-aunt Teodolinda Banfi, who looked after Pope Pius XI's home and taught her family about wine.
The signature Castello Banfi Brunello 2007 (v) 378257, $59.95, is fruit forward with plum, vanilla, kirsch, cassis, fine tannins and elegant red fruit fragrances. Licorice, spice, tobacco and new leather (90).
You should also know that this Brunello is ageable – the 2001 is brilliantly alive and elegant (89), a blackberry, tobacco and dark chocolate vintage made from the new clones.
The entry-level Banfi Rosso di Montalcino 2010 (v) 681262, $22.95 is a serious Sangiovese red with lush fruit and great minerality (90).
---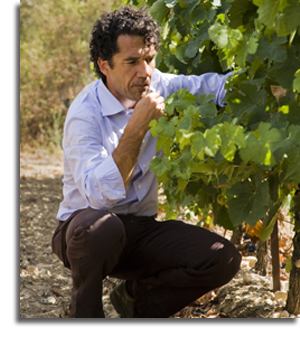 One of the top Languedoc growers, Jean-Claude Mas has been owner-winemaker at Domaines Paul Mas since '98, with vineyards now spanning France's Mediterranean coast.
The many microclimates, soils and winds of the region and 30 kinds of vines deliver healthy, ripe fruit that his rivals in Bordeaux can only dream of – "We're blessed by God to make wine," says J-C. "I have no problems picking when I want – unlike Bordeaux. I have sorting tables but don't need them."
"French wines are seen as expensive because people think of Bordeaux and Burgundy. We in the south make wines ranging from affordable to classic. Our aim is $12 to $29. Everything costing more is only marketing!" he asserts.
His philosophy, summed up as "rural luxury" is "to awaken all five senses as you discover our wines, food, arts and crafts, music and fine local produce." (For some of that you'll need to visit his restaurant, Cote Mas, at the Chateau near Montagnac.)
The Paul Mas Estate Cabernet Sauvignon-Merlot, fruity with spicy cherry, plum, blackcurrant, soft tannins elegance and balance (90), is certainly affordable and exciting at $13.95, 293134 (v). La Ferme du Mont la Truffiere 2011 (90) 234716 (v) $15.95 is a dry white Grenache Blanc, Viognier and Clairette blend that packs herbal-floral apple-sauce pleasure with steely freshness and crisp texture.
All Mas wines are under screw caps today – his first vintages were ruined by bad corks. They're lightly fined, from organic vineyards, and made with meticulous modern hygienic technology.
The total amounts to 1.5 million cases a year – bound for Japan, Holland, Australia, Canada and Italy for the most part.
J-C started Domaines Paul Mas with 35 ha inherited from Dad in 2000. He can barely keep up with demand and is adding to the 360 ha (730 acres) he owns today plus 2000 acres of contracted vineyards. All are machine-harvested because: "Two machines equal 250 people. There's no damage to the vines and you get exactly the same grape maturity."
There's no false modesty to Jean-Claude, aka the Humble Vintner, famed for his brilliant Arrogant Frog range. (I've always said the French have a lot to be arrogant about!)
A pioneer of Languedoc's rebirth as a premium region (its wine history stretches back 2,500 years) J-C feels its weakness is co-ops that follow fads, in contrast to single-minded Napa and Coonawarra. "Our system is too political," he concludes, with no arrogance at all.
---

Lirica, a very fresh and appealing take on Europe's original dry red Primitivo, the ancestor of California's Zinfandel, offers a more savoury, food friendly experience than many California Zins.
From one of Canada's oldest, most reliable importing agents, Cesare Regazzi, 40-odd years in the biz, Lirica Primitivo di Manduria is grown by a large and well-established co-op in Puglia in the heel of the boot of southern Italy. More on the instep, actually.
Lirica has a lovely aromatic black raspberry, plum and spicy blackberry character with notes of forest floor, tar and fresh herbs (90). The typically hefty 14% alcohol is sleek, nicely restrained, and its silky tannins are as smooth as an old river pebble.
This new LCBO General Listing is 326710, $17.95. Serve with medallions of beef and porcini and a smile!
The co-op Produttori Vini Manduria dates back to 1932 and its 400 partners farm 1,000 hectares in Apulia.
Manduria happens to be in the province and port city of Taranto (serious olive oil country!) – not to be confused with Tronna, Ontario! Enjoy Lirica with Burrata or any tangy cheese and capocollo sausage.
Please take me back to the top of the page!