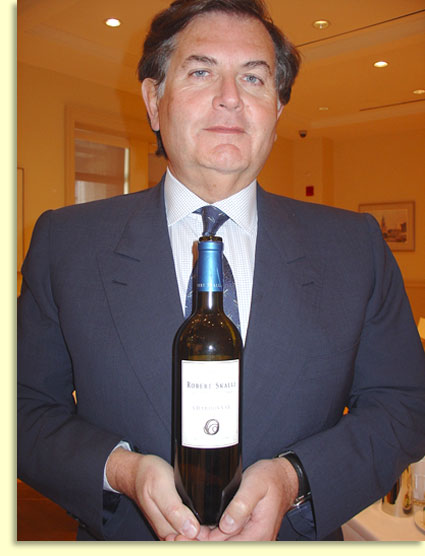 All In The Family:
Crafting An Empire
In the noble tradition of wine dynasties, like Antinori, Torres and, until recently, Mondavi, let me present Robert Skalli, lord of all he surveys across the Languedoc, Napa, Corsica, and now the Rhône.
He's the scion of Pieds-Noirs, French families repatriated after Algeria's independence in '61 (comme Paul Bosc père of Château des Charmes). The Skallis, based in Oran, had been making robust North African vino often used to add muscle to frail Burgundies.
In France, Robert led a revolution in Languedoc-Roussillon, switching production from rustic Midi wines to premium wines, emphasizing the distinctive terroir. It was a cultural/economic revolution, and Skalli almost singlehandedly created the new Appellation Pays d'Oc, covering 3.5 million hectos of production.
"The locals thought we were crazy aging Languedoc wines in barrels," he recalled recently. Today, varietals sell well in France, too. Back then, though, it was a breakthrough. [Achieved initially through his own Fortant range of varietals.] The focal point was Skalli's 5,000-barrel winery at Sète, on the coast near Montpelier.
In California, Skalli also owns renowned 500-acre St Supéry, on Hwy 29, a cork's throw from Opus, Cakebread and Mondavi, and which hosts 600,000 visitors a year! At 45,000 cases a year, selling for $18 up in US, it has cool nights and warm days. ..."for elegance, acidity and freshness – to make European-style wines."
"Our company's history has always evolved towards higher quality, more interesting wines. We have roots, structure, a mission, and the keys to success -- time, capital and good people."
The Skallis are also owners/producers in Corsica, at Terra Vecchia with a superb property at Clos Poggiale, and, there's a newly added Rhône property, 100-year-old Les Rabassières in Châteauneuf-du-Pape. Silène des Peyrols was bought in 2000 from Laurent and Jacques Pourcel, the twins who run Montpellier's Michelin 3* Jardin des Sens. [The Pourcel gastro-empire extends to Tokyo, Singapore, Bangkok and now the 120-cover W'Sens, 12 Waterloo Pl., London SW 1.]
Starting with the Fortant varietals, the next step up is the Robert Skalli range, available at the LCBO, including the new Chardonnay '02, plus the Merlot '02, $13.10, and Syrah '01, $13.45.
The Chardonnay, light yellow with gold tints, elegant and balanced, with toasted bread and a hint of oak from partial barrel fermentation, spicy citrus and floral with Cox Pippin notes (91) great value.
The Merlot, shaped by über-enologist Michel Rolland, comes from the best vines, using careful canopy management. "And the growers are paid by the hectare not the weight!" says Robert. Green-harvested (reducing the crop load) and picked for full maturity, the wine shows delicate, spicy blueberry aromas, soft tannins, a whiff of oak and truffles, and a graceful finish (92).
The Syrah '01, has deep, saturated color, aromas of smoky bacon, raspberry, black cherry, violets and black pepper, with ripe tannins. It's harvested just ahead of the late-September rains. "We love Syrah. We control everything but weather!" (90) The control extends to the degree of toasting in the new barrels: "We don't allow any charring or heavy toast."
Côtes du Rhône Blanc Les Rabassières '03 has no oak at all, pure stainless steel. Made from Grenache (king of Rhône grapes) and a dash of Viognier, it's fresh, easy-drinking, and delicious with a profile of wet stone, peach, minerals and spring flowers. The '02 is in Vintages, $12.95 .
St Supéry Sauvignon Blanc '03, $24.95, from a "valley within a valley" -- Dollarhide Ranch -- exotic, lush, a cocktail of tropical fruit (lychee, lemon, pineapple) and aromatic, ripe fruit balanced with a razor-fine acidity and freshness. A masterpiece of restraint and elegance, signature of all the Skalli wines (91).
L'Esprit du Silène '00, a tiny estate 200 metres from the sea and influenced by its breezes, is ruby garnet with purple edges, a little barrique aging for a touch of spicy toasty oak. From Grenache and Syrah, it shows spice, plum, cherry, mocha, and nice grip (89), $18.95 (v).
All of the less expensive wines are filtered: "Under $15, clients don't understand tartrates (the harmless "broken glass" crystals that occur in healthy wines)."
With his name on every Skalli label, Robert says: "My wine is my word."
He picks Spain as the next emerging wine super-region and plans to be a part of it. Meanwhile, the Skalli food business in France continues to flourish, buying 300,000 tons of Canadian wheat a year to supply 40% of the French pasta market! skallifamilywines.com


In-Spiring Barossa
Bloody Good, Mate!
In Australia's Barossa Valley, co-ops are a rarity, outnumbered by state-owned and corporate operations. Enter Barossa Valley Estates, just 122 family growers.
"The list of names reads like the Berlin phone book!" says Stuart Bourne, the laddish cobber who makes their wines. That's because the growers, who took control of their own destiny in the mid-'80s to create their own wines and brand, are of Lutheran immigrant descent. "Strong, proud people, old vines. It was a brave move."
The co-op is in partnership with BRL-Hardy: "We have access to Hardy's technology and mentoring. We're part of a bloody big family! The Hardy mantra is: "Over-deliver at every price point, and we do that, too!
"We have a warm, not a hot climate, and we know our limits. In our wine making, we don't try to write a cheque that the fruit can't cash. We prefer finesse to horsepower, without an excess of alcohol. We source from parcels all across Barossa and especially in the north, where you get the world-beating Shiraz."
And it's the multiplicity of parcels and picking in three phases – early for freshness and acidity, mostly at full ripeness, and lastly for concentrated flavors. This gives Stuart Bourne a range of components for harmonious blends of food-friendly, wallet-friendly wines.
"When we pick, the grape seeds have to be ripe. We take the Italian approach, we want them golden brown, hard and crunchy. We use a little acidification to reach the perfect balance. We used to be anal about filtering the wines now we're more laid back."
"One of our problems is we ship our wines thousands of miles and sometimes the last 1 1/2 inches kills them -- tainted corks! Screwcaps are the future!
Local status among the Barossa grape growers is determined by which wine their grapes are selected for: the best bar stool is always reserved for E&E Shiraz growers! The Barossa '04 vintage is of moderate quality, average quantity, "not a '98 or a 2002," says Stuart.
Spires Chardonnay '01 86
Barossa Valley Estate, S. Australia
598136 LCBO $12.95
Chardonnay is leading the Oz export charge, with volumes up 26% in Ontario, and Spires is one of the reasons: affordable, easy drinking, refreshing citrus and tropical fruit aromas, stone fruit and tangy lemon-lime flavors, versatile alone or served chilled with fresh green salads, quiche or creamy pasta dishes. Enjoy within 3 years.
For a good red, the Barossa Valley Estates Spires Shiraz, another General Listing, $15.10, delivers rich, smooth black pepper, mulberry-raspberry spiciness and hints of vanilla (87). Both for early consumption. Also at the LCBO are Barossa Valley Estate Ebenezer Cabernet Merlot 2001,990689, $38.95 and, arriving shortly, Ebenezer Chardonnay 2001, 976324, $29.95 and Ebenezer Shiraz 2001, 971705, $38.95.


"All happiness without Champagne is artificial," insists Christian Pol Roger, and he's one bubbly guy these days.
"Our region is once again flirting with 300-million-bottle sales, and production/demand are perfectly balanced. There are worries, of course, but we're optimistic that the dark days of 2000 and '01 are behind us."
Post-Millennium blues, currency dips, and US boycotts aside, "we've suffered less than our colleagues in Bordeaux, and things are starting to look up. Canadian sales are increasing in the high teens, with Ontario the strongest."
All of which prompts happy observations, including:
• Champagne teases the brain without destroying the intelligence.
• An hour without Champagne is a waste of time; and
• It's liquid sunshine, to enjoy before, during and after whatever you're doing."
In the five generations since Pol Roger started in 1849, the art of blending, the passion and emotion of the wine making team, and the family thread have been unbroken.
"We avoid oak barrels completely, to obtain our fresh, floral style, with depth, complexity and character. Our wines are matured in the coolest, deepest cellars (7k of them) in the region." However, the winery has added better temperature-control technology and the wines are fresher and more appealing. "In my grandfather's day, we just used to open the doors in January and February and hope for the best!"
The winery was recently awarded the Royal Warrant to supply Buckingham Palace (with the makings of Buck's Fizz, presumably!), joining Möet, Clicquot and Bollinger as royal suppliers.
The popular Brut Réserve non-vintage is consistent value (90). Full-flavored with fresh brioche, oyster shell, grapefruit and floral tones, rich and toasty. It's equal parts Chardonnay, Pinot Noir and Pinot Meunier from a number of vineyards and vintages, $48.05, LCBO General List.
The Chardonnay Vintage '96 $69.95 (v) is more perfumed, lighter, a touch more elegant and vivid, with hints of flowers, vanilla and citrus (92). The Brut Vintage '96 (v) $64.95 (93) 60-40 Pinot/Chard, is big, rich and round, with nectarine, fresh and dried apricots, and a zippy, Granny Smith lift. The '96s, says Pol Roger, are like '85 for extract, '95 for power and '88 for balance.
The bronzy-pink Rosé Vintage '96, $69.95 at Vintages is Chardonnay blended with 15% Pinot Noir from Bouzy (what a name!). "We make our rosé in such a way that tasted blind you wouldn't know it's pink – a sign of its quality." The wine exhibits an apple blossom fragrance and citrus acidity, perfect with smoked salmon (93).
Cuvée Sir Winston Churchill '95, $159.95 (v), the top of the line, is a super-fresh, elegant fizz. Lean, long-limbed, elegant, subtle, super-smooth, with mineral notes and very pure acidity (95). Churchill, a bottle-a-day Pol Roger imbiber, used to say: "My tastes are simple. I'm easily satisfied with the best..."
This Cuvée was launched with the '75 and the latest vintage reprises that blend. (All Champagnes are blends, from various parcels and up to three varieties from top vineyards, and only the best years are bottled as Vintage, the only Champagnes designed to age. The rest are to be enjoyed NOW!
"The Pinot Meunier grape is underrated: we think of it as the Merlot of Champagne," says Christian. Acidity, he adds, is the "central nervous system of the wine, alcohol is the flesh." All the Champagne houses employ malolactic fermentation to control the high acids, and chaptalization (adding beet sugar before fermentation) to achieve desired alcohol levels. This flat, chalky northern plain barely gets enough sun to ripen the fruit (except for, of course, a blisteringly hot 2003!).
The 2004 vintage assessment? "Like '82 and '88, and a generous crop."


Back To The Future!
Oh, to be 18 again!

Time travel with Chivas Regal's 18 Year Old Gold Signature, prestigious, smooth, stylish, impressive. Blended from two Spey malts: rich and fruity from Strathisla, the Highlands' oldest operating distillery, and mellow, floral from Longmorn to the north. Both are bottled as single malts, but at 18 they're reserved for the Chivas 18, signed by master blender Colin Scott. $79.95, LCBO General List.
Chivas has been around since 1909, thanks to brothers James and John. It became the by-word for luxury in '50s North America and sells 30 million bottles a year.
Meanwhile, over at The Glenlivet... they're going with French Limousin oak wine barrels for maturing, instead of the usual used Port or Sherry casks, introducing The Glenlivet 15 Year Old French Oak Reserve, described by master distiller Jim Cryle as "beautifully balanced, rich and mellow with a creamy finish." Expect to encounter citrus, cedar, mango, cinnamon and oriental spices in this beauty. At press time not yet priced by the LCBO.
Further over, still, Bushmills has just released its new Irish Cream liquor, all warm chocolate and vanilla cream blended with Irish whiskey. Does life get better? Made from fresh cream, sugar, cocoa and whiskey from the world's oldest licensed distillery with nearly 400 years of experience. $25.95, LCBO General List.
Please take me back to the top of the page!