Great Vintage For 2003 Port

Huge, unctuous, silky, smoky and spicy with heady aromas of super-ripe plums, raspberries, cherries and wild strawberries: that's the Fonseca Vintage Port 2003, typical of the gorgeous wines of this latest declared vintage from the Douro.
The Fonseca, still chewy with its firm tannins, will be magnificent with cellaring, up to 50 years, $136.95 (95).
All of Europe in '03 was searingly hot, but that's just normal in the steep, rugged Port region, where 43-45C is normal, conditions were perfect for powerful, elegant wines, deeply colored with heavy tannins, and the Ports are shaping up like the great '77s, on a massive scale.
Taylor Fladgate winemaker David Guimaraens reports "textbook ripening conditions, with a dry and bright summer rounded off by some light rain at the end of August. The weather for picking was excellent, with clear sunny skies prevailing throughout the harvest."
Vintage Port is made ("declared") only in the finest years, about three in ten.
The Taylor Fladgate '03 that David made already shows a complete spectrum of ripe red and black fruits, whiffs of mint and violets, and seductively integrated tannins. Typical Taylor, massive and built for the long haul, $138.85, $72.05 for the 375mL (94). A very complete wine, the Latour of Port.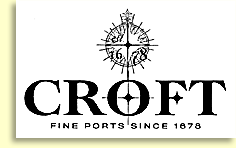 The Croft, in its first vintage declaration since being returned to family ownership almost four years ago, is another classic Port, showing a fresh fruit cocktail of damson, raspberry, mint, mulberry and supple tannins $125.05 (94). Drawn entirely from the prestigious Quinta da Roêda estate, the object of major new investment in the vineyard and the winery, this is the first Croft vintage to be traditionally foot trodden, in newly reinstalled granite lagars, since the '63.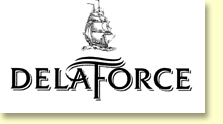 The Delaforce '03 is very closed, of course, but balanced, sleek and complex, and you can already detect its subtle mint-eucalypt, mulberry and blackberry core, with lovely cedar-floral notes, and smooth tannins beneath. Very refined, $104.30 (90).
All benefitted from the previous wet winter that stored reserves of water in the soil following dry conditions the previous year. Excellent wines were made throughout the Douro Valley, from the Baixo Corgo in the west to the eastern reaches of the Douro Superior -- featuring very intense color in the wine, large amounts of tannins, and powerful fruitiness.
Collectibles all. Pricy, but they'll fly off the shelves.
Vintage Port, bottled after two years and which can age 50 years, is traditionally served on its own at the end of the meal, with walnuts, Stilton or dried fruit. Custom dictates that the decanter should be passed clockwise around the table allowing each guest's glass to be filled in turn. However, contrarians have never been known to come to harm!
The Delaforce LBV (late bottled wine of a single vintage aged 4-6 years in vat before being fined and bottled) is now in the LCBO General List and a steal at $16.75 (90).
The newly-arrived Croft Indulgence, a gentle, sweet, easy-drinking Vintage Character Ruby, also in the LCBO at $16.75, is aimed at women 25-39. Another wood-aged Port, it's a blend of several years aged in cask 2-3 years before bottling (89).
Here's to the wee Kilmarnock grocer whose whisky blends inspired a mega-brand with the famous Red, Black, Green and Blue Labels -- going from pioneer little guy to international mega-corp.
Today, Johnnie Walker, the world's number one Scotch, is owned by Diageo, a global corporate blend of the old Distillers Company, Guinness, United Distillers and Grand Metropolitan...
Over 120 million bottles are sold every year and 4 are downed every second, so it's ironic that JW himself is celebrated today in a blend so rare that only 200 bottles (150 litres vs the 99 million litres of other JW Scotch) have been made.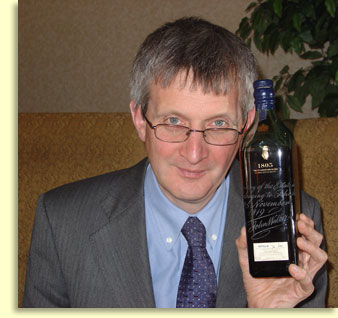 The Blue Label 1805 Anniversary Pack, valued at an eye-popping $27,000 for a single bottle, comes in a Victorian writing case (for the cheque, presumably) with replicas of the handwritten whisky recipes of grandson Alexander Walker (ingredients but no quantities).
The component whiskies are 45 to 70 years old, largely from long-extinct distilleries. How exclusive is that!
Created by Master Blender Jim Beveridge, it's pretty special: ethereal and Cognac-like on the nose, with nuances of fragrant old wood, vanilla, dried fruits and exotic spices; on the palate, a tang of malt, a very soft, rounded mouth feel with floral, and almost salty, tangerine-nectarine, vanilla and spicy wood notes. The length of the aftertaste is astonishing and the smoothness is an eye-opener. Not the iodine-seaweed-peat style; in fact, this whisky is lacking any Island malt components, and it's the smoothest, most elegant Scotch I've ever encountered (100 pts), the best Johnnie Walker ever made. A wonderful birthday card to the old man!
The nearest you can (affordably?) get to this rarity is the Johnnie Walker Anniversary Pack (minus the 1805) including a cask-strength Blue Label with Baccarat decanter, for $4,400 and there are 10 in Ontario. www.lcbo.com or 1-800/668-5226.
The Johnnie Walker Family Pack, $99.95, has 50mL bottles of Red, Black, Gold and Blue, perfect for a comparative nosing/tasting or a great gift item! The Frozen Gold Serve Glass Pack has a 750mL Gold Label, (aficionados usually freeze this 24 hours ahead and sip very slowly as it thaws), $95.95.
Single malts, like wines, are products of terroir. Vodka, on the other hand, is a neutral spirit of almost obsessive consistency with practically no aroma, taste or color. The name, after all, from ''voda'', means water, and back in 15thC Russia and Poland it was flavored with berries, herbs and fruits.
Today's vodkas, pot-stilled and charcoal-filtered to a fare-thee-well, are made from any one or more of: wheat, potatoes, rice, barley or corn.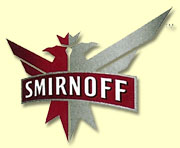 World brand-leader Smirnoff, with a pedigree dating back to 1864 Moscow, chooses charcoal from northern European silver birch trees for its 10-stage production process, as opposed to the paper, sand, felt or limestone filters of some of its rivals (120 in Canada alone). Perhaps one reason the New York Times recently picked Smirnoff #1 in a blind tasting of 21 vodkas. It sells 1.1 million cases in Canada and is smooth, crisp, clean and elegant, showing slightly fruity notes, hints of greengage plum and fresh hay, as compared to herbal, grassy Absolut and the subtle tropical fruit of Grey Goose.
Even so, most vodka -- first marketed in North America as "white whiskey, no taste, no smell" -- is consumed as a mixer. Historically, Smirnoff's first mixer mate, was ginger beer and lime, the Moscow Mule, back in the 1940s. Today's Smirnoff Twist range includes Vanilla, Citrus, Raspberry (the popular favorite), Green Apple, Cranberry and Orange, as well as the new Strawberry, Ice, and a flock of coolers.
In 1842, British forces conquered Sindh, part of today's Pakistan. To announce his victory, Charles Napier sent a one-word telegram, 'Peccavi' -- a double pun, since the general admitted: "We have no right to seize Sindh, yet we shall do so.''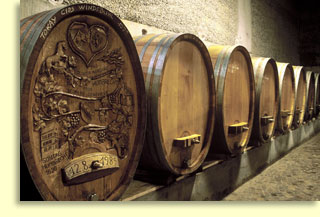 Imperial rule aside, Peccavi to me always means Zind as in Zind-Humbrecht, possibly the best winemaker in France and certainly the finest in Alsace, where father and son make wines with passion and skill.
In 1959, Léonard Humbrecht married Geneviève Zind, and a spectacular winery was born. Son Olivier, the first Frenchman to become a Master of Wine, makes Riesling, Gewürztraminer, Pinot Gris, Muscat, and just four barrels of Pinot Noir a year.
Zind's 40 hectares of vines are pruned to yield half or even a third of the normal amount of fruit, to create ultra-concentrated, ageable, elegant wines. The biodynamic cultivation is chemical-free and gentle on the soil, using native yeasts to truly express the terroir.
The best vineyards, such as Rangen and Windsbuhl, are so steep and difficult to work that a winch is used to pull the plough. The Grand Cru vineyards include:
Hengst: with SE facing scree over marl, near Wintzenheim
Brand: with S and SE granitic soils near Turckheim
Rangen: insanely steep, with S facing volcanic rock, ash and sandstone, near Thann
Goldert: with E facing calcareous clay and sandstone over limestone.
Other single vineyards include:
Rotenberg: rocky, iron and mineral-rich, near Hengst
Herrenweg: alluvial, silt and granite S of Turckheim
Heimbourg: limestone abutting Brand.
Zind-Humbrecht also owns three walled vineyards (clos):
Windsbuhl: terraced limestone and clay
Hauserer: marl and limestone below Hengst
Jebsal: terraced marl and limestone, beside Brand.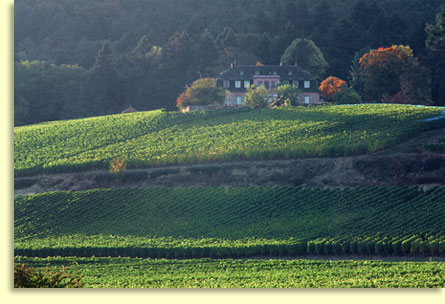 The domaine uses high-density planting, fermentation in oak with no malolactic fermentation, and the Humbrechts manage the vineyards according to the phases of the moon. "We use only the best vine clones, we require the lowest yields, and we give the greatest tender loving care to our vines which are 40-60 years old to make about 200,000 bottles of wine a year. And we don't buy grapes from other people," says Olivier. The quality is evident in every glass because the wines are gently pressed and racked and not pumped.
"The (many varieties of) native yeasts from the leaves and trunks of the vines actually compete with each other to start the fermentation, so it takes longer, but we still don't inoculate with industrial yeasts. The industrial yeasts work fast but you lose all the flavors and personality of the wines. The natural yeasts promote enzymatic action that develops a wealth of esters, fatty acids and glycerol, for more complex wines -- thick, opulent, almost oily.
The wines:
Muscat Herrenweg '02, $44.00, 598557, fine and elegant, although there's only 5 cases in the system, originally in the Classics Catalogue.
Gewürztraminer Wintzenheim '02, $47.95, 918078, late-picked but fermented dry. Major wow factor here! An incredibly slow fermentation (6-12 months) Now showing notes of tangerine, rose petal and lichee.
Gewürztraminer Herrenweg '03's label shows a 2 (out of 5 where 1 is bone-dry). A big wine with lichee, exotic tropical fruits, and pungent aromatics. Smoky, peppery, creamy, and very much alive.
Riesling Herrenweg '02, $44.95, 706697, fermented 18 long months! From Vendange Tardive quality grapes -- heady, deep, rich, great wine. Steely nose, with lime and minerals, superb acidity, spicy tropical fruit, mineral and bacon fat aromas/flavors.
Zind Pinot d'Alsace 2001, $34.95, 626796, concentrated gun-flint, tropical nectarine, pineapple, pear, minerals, very low yield, high extract. The 2002 is also available now. In this case, Peccavi means "I have Zinned, California-style!"
Clos Jebsal, in half bottles here, named for its calcareous gypsum (jebsal) soil, pre-Jurassic, which also occurs in the Barolo vineyards in Italy, is a precocious spot that always develops Noble Rot. The 2003, affected by passerillage, the drying process caused by hot, dry winds raisining the grapes, has a pinky-gold color, 15.5% alc, and enough acid and tannins for long aging. Léonard Humbrecht recently presented a Pinot Gris Sélection de Grains Nobles Clos Jebsal at a curtain-raiser in Zurich for Vinoble, the international exhibition of fortified, dessert and natural sweet wines, that takes place in May this year in Jerez de la Frontera, Spain.
All in all, Zind Humbrecht's wines are treasures to keep for very special occasions, or if you have to atone for your Zinds!
For more info, call The Merchant Vintner at 416/822-3904.
It's a good news story! Highly regarded Napa producer adds terrific estate vineyard with great terroir, builds new winery, focuses on growing its own fruit to maintain quality and consistency -- and keep prices down.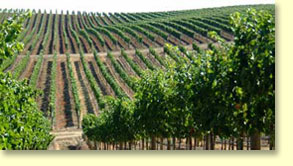 In 1998, Cuvaison purchased the spectacular 170-acre Brandlin Vineyard on the gravelly, well-drained soils of Mt Veeder and in 2007 will release 600 cases of an icon Cabernet called Brandlin, in the $70-$80 range.
Meanwhile, Cuvaison continues to offer great-value Napa Sauvignon Blanc, Chardonnay, Merlot, Pinot Noir and Cabernet in the $25-$50 bracket from its cool-climate 400-acre Carneros property, from Mt Veeder, Howell Mountain, St Helena, Rutherford and Stag's Leap. The Cabs are vinified at Cuvaison's northerly, much warmer Calistoga winery and the Pinots/whites (93% of production) 40 miles south at the cool new Carneros winery with all its bells and whistles. Wines of power and finesse, they're in Vintages and the Classics Catalogue, and through Prevedello & Mathews, 416/979-9153.
Jay Schuppert, visionary prez of Cuvaison, and winemaker Steve Rogstad, ex-Clos Pegase, know the (very expensive) local turf well. "Land values are $200,000 a planted acre where we are, $120,000 in most of Napa, and our mountain vineyards are expensive to work, but we're in this for the long haul."
Cuvaison is owned by a Swiss family who give Jay plenty of freedom as long as he finances the improvements out of cash flow! Production is 55,000 cases although the new winery will help deliver up to 70,000.
The wines and approximate prices:
Sauvignon Blanc '04, $24.95: tropical peach, pear, guava aromas and a zippy core of limes, grapefruit and orange zest (87).
Chardonnay Carneros '03, $29.95: white peach, ripe apple, and nectarine on the nose, citrus, vanilla, melon and peach on the palate (88).
Chardonnay Estate Selection '03, $39.95: peaches, almonds, nectarines and grilled toast slinking into key limes, melon and ripe pears (87).
Pinot Noir Carneros '03, $31.95: aromas of raspberry and smoky cherries with a hit of damsons, Earl Grey and orange zest on the finish (89).
Pinot Noir Estate Selection '03, $49.95: elegantly black cherry, spice and orange blossom with a palate of wild strawberry, black and red plums and menthol (91).
Cabernet Sauvignon '01, $43.95: lush and plush with a pure blackberry-boysenberry fruit rush and a spine of toasted new oak with hints of cocoa, cassis and sage (92).
Please take me back to the top of the page!