Centuries-Old Sunlight Caught in a Bottle...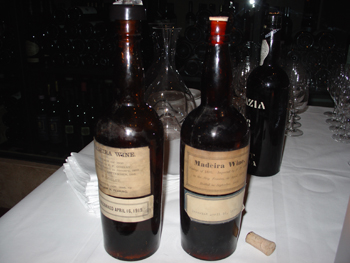 The finest expression of solar energy I've ever discovered is the 200-year-old sunshine captured in two barrels of a wine made in 1806, the year Napoleon Bonaparte blockaded Britain.
This magical Madeira was brought over first to New York from the (ex-)volcanic island of that name, 850k SW of Portugal. The first barrel, or pipe, was carried aboard a brigantine, The Twins, that left Funchal in January, 1810, while the second arrived on the square-rigger Frances that April.
Both were imported and later bottled under separate labels by the P.P. Goelet family, owners of the wineries Clos du Val in Napa and Taltarni in Australia, and collectors of fine Madeiras. The bottles we tasted were the same vintage; both bottled in September, 1816; both recorked April 16, 1919; and recorked in 1999 when they finally left the Goelet cellars.
The "Brig Twins" has been tracked as far back as entering Jamaica in 1799 under Commander William T. Scott. Frances was commandeered by US "revolutionaries" in 1813 under Commander T. McDonough to transport supplies on Lake Champlain, and returned to her owners in 1814. Frances was also a convict ship, taking a single prisoner from Madras to Fremantle in 1859 (maybe he became an Aussie winemaker!).
The long, arduous Atlantic journey under sail was routine then for Madeira wine, crossing the equator twice, enduring the torrid heat, oxidation and ceaseless motion that "baked" it into the longest-lived, most intriguing fortified wine, somewhere between Port and Sherry.
The shipping casks bore the names of their producers and the square-rigged ships for which they were both ballast and cargo, according to Luiz Gomez of the Madeira Wine Company. These wines would generally then be resold in New York, Boston or perhaps Philadelphia.
To understand the time line of the 1806 wine, every single person making it has been dead ten generations, since the time when Elizabeth Barrett Browning and Isambard Kingdom Brunel were newborns and George Stubbs and William Pitt were dying. The Napoleonic war was raging; Noah Webster was publishing his dictionary. Andrew Jackson was dueling someone to death and Francis II was abdicating, ending the Holy Roman Empire.
Flash forward, how did the duo taste? While both had nuances of acetone, the Twins was bright, fresh and intense, showing barley sugar citrus notes with apricot, cola and tropical fruit aromas and elegant acids, very much alive and kicking. The Frances, while offering glimpses of delicious hazelnut, vanilla and pineapple with aromas of caramel and burnt sugar, seemed slightly less focused although still elegant and crisp. Both of them the perfect complement to beef consomme, bone marrow, Berkshire pork meatball and shaved Périgord black truffles at the stellar Splendido, Toronto, where co-owners Yannick Bigourdan and David Lee were just honored by the Ontario Hostelry Institute with a Gold Award for Independent Restaurateur.
Why would they taste even slightly different? Because of the different ambient temperatures during the passage, slight differences in the casks' porosity, perhaps. Who knows?
A third Madeira tasted, a 1906 Malvasia from Cossart, was a youngster by comparison, born as Vesuvius trashed Naples, the Big One leveled San Francisco, Lon Chaney and Bugsy Siegel were being born, and Ibsen and Cézanne dying. The 1906 is a sweetie, showing plums, truffles, forest floor and whiffs of honey. The perfect dessert wine with chocolate souffle.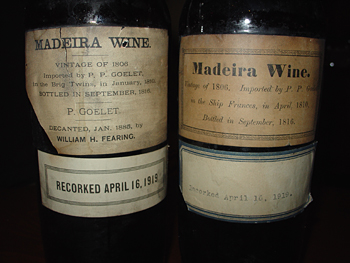 Madeira, the island, fell under Portuguese sway in the 15thC as the perfect way station for mariners crossing the Atlantic, a place to load water, foodstuff, wood (Madeira is Portuguese for wood), fresh fruit, sugar cane and wines from the native grapes, Sercial, the driest, think Fino Sherry; Verdelho, very slightly sweeter, like Amontillado; Boal, richer, fruitier; Malmsey or Malvasia, like Tokay or Muscat; and the rarer Terrantez. Madeira, the wine, is, naturally, made today by a shortcut method – "cooked" in an estufa or heated cellar, where the young wine is held at 40C for three months before being aged in French casks.
Bottles of the rare old wines do surface from time to time at auction in the $350-$800 range, usually from barrels that were family heirlooms and dowries for generations. Very often they're from the last barrel on earth. Sic transit gloria vini.




Up to here with traffic? OK, you reach Little Sark by turbo-prop plane or fast catamaran (from the UK to Guernsey), by ferry six miles from St Peter Port, then uphill by John Deere tractor, and finally by horse-drawn carriage (or by bike or on foot) –– ultimately to be transported by the cuisine, wines and warmth of La Sablonnerie, a country hotel of rare quality. Welcome to Europe's last feudal state (pop. 650).
Cars and buses are banned on this minuscule Channel Island (3 miles x.1.5). Hence, tractor from the dock to reach cabbie Phil and Paddy the pony atop the plateau of Big Sark. From here, it's a serene clop-clop in the vintage barouche (commentary by Phil) via hedgerows, woods and wildflowers above rocky coves and seascapes. Gridlock is unknown, although you dismount and walk across La Coupée, the causeway linking the two Sarks. Some 250 feet straight below you are bays of Aegean-blue. It's another world.
You're en route to the "most excellent country house in the British Isles" chosen by Condé Nast from 700 contenders and by Which as "regional hotel of the year".
Surrounded by gardens, the 16th C farmhouse has 22 rooms and its restaurant specializes in Sark lobster and oysters, as well as meat, fruit, vegetables, butter and cream from the family farm. The wine list, mostly French, is well chosen and benefits from the Islands' laughably low taxes and a low mark-up.
You'll have butterflies for company in the sun-trap of a garden with your Fino or aperitif before lunch or dinner. Owner Elizabeth Perrée calls the discreetly modernized Sablonnerie an oasis of good living and courtesy. It's definitely of honeymoon quality.
Self-governing Sark was a feudal state, run by the 40 original "tenants" and a hereditary seigneur for 450 years. Seigneur Sybil Hathaway, the Dame of Sark, refused to leave when the Nazis arrived in WWII and prevailed on the islanders to stay. The seigneur is the only person allowed to keep pigeons and unspayed dogs, and owns everything washed up between the high and low tide lines.
Michael Beaumont, Sybil's heir, remains seigneur until a new government is elected this year: the islanders have just voted 234 to 184 to install an elected council. None of this will change the warm hospitality and good wines at La Sablonnerie, 011441481832061. Welcome to the 16th C.
Sark is 80 miles from England and 25 miles off France's Cherbourg peninsula. The other Channel Islands are Jersey, Guernsey, Alderney, Herm, Jethou, Brecqhou and Lihou.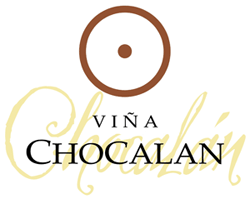 After 55 years of making bottles for wine, the Toro family of Chile is putting something good inside them – its own wine.
Delicious, too. Since 1998 the family has invested $10m creating Viña Chocalán, a state of the art winery headed for international recognition.
Guillermo Toro's vision of making great reds is being realized by daughter Aída, agronomist, mother of six, general manager and driving force of the project.
The vineyards are at the seaward end of the Maipo Valley, famous for its reds, 35 km from the Pacific, with their fossil-laden chalky-clay soils, luminous days and chilly nights – great for pure-flavored ripe grapes with superb acid balance.
Choose from Cabernet Sauvignon Selección '04 $10.86 ($9.82 licensee), smoky plum, strawberry and spice (90); Merlot Reserve '04 $14.75 ($13.33 licensee), raspberry and black fruit, lush and mouth-filling (91) and Syrah Reserve '04 (same prices), dark chocolate, smoke, spices and tarry raspberries (92), all on the list at Momo Bistro, The Queensway, Toronto. Listed in other provinces already, Chocalán wines are in Ontario via Schiralli's Don Ackerman 416 253 4974 and they're fantastic value.
The Chocalán wine-making team is all-French and the Syrah just won 3 stars in a Decanter Chilean Syrah panel tasting. Currently producing 30,000 cases a year, the target is 100,000 cases within five years as new vineyards come on-line. Pinot Noir is being planted in the newest, coolest site at Malvilla, 5k from the ocean.
The logo, by the way, is a symbol of life, of infinity. Guillermo, the patriarch, 82, is smiling. www.chocalanwines.com





Please take me back to the top of the page!