Gentlemen, in the little moment that remains to us between the crisis and the catastrophe, we may as well drink a glass of Champagne – Paul Claudel.
If you happen to be in Ontario, it might as well be a delicious glass of the new Château des Charmes Brut Sparkling, a bubbly that will assure a good outcome in any situation.
Vinified in the classic Méthode Traditionelle, bottle-fermented and aged on the yeasts for over three years, it's a 50/50 blend of the signature Champagne grapes Chardonnay and Pinot Noir. Dry, with biscuit and brioche notes, it has a creamy mouth feel and fine mousse, as befits a winner of the Award of Excellence at the Sante Wine Festival. Yours for $22.95.
Only 1005 cases were produced, from bunches hand-picked in the Paul Bosc family's own vineyards. Says Michèle, wife of Paul-André Bosc: "We're delighted with the increasing interest in bubbles. Valentine's is certainly an ideal celebratory occasion where sparkling wine can have a prominent place but our Brut is a wonderful food wine, anytime. In fact, Paul and I have been known to crack open a bottle of our Brut while enjoying popcorn and a movie at home – gourmet popcorn, of course!"
How popular are sparkling wines today "Even the British winemakers are getting into the act!"
No longer the butt of jokes, English wine sales are going from strength to strength. Retailer Waitrose says numbers are growing 120% a year and farmers are ripping out other crops to make English wine. It's winning international awards, with some even rivalling Champagne.
Production is 3 million bottles a year and that could quadruple in the next few years. "We are New Zealand in the 1980s really, but their climate is more benign than ours, so we will expand at a slower rate," says Bob Lindo of the UK Vineyards Association and owner of Camel Valley vineyard in Cornwall.
Each year 500 acres of farmland is converted to vineyards because an acre of wheat earns a farmer $600 and an acre of grapes earns $10,000. An acre costs $100,000-$250,000. Currently, under 1% of wine drunk in England is English but suitable limestone soils and a lack of tough EU rules are tempting French winemakers to kick the tires and plant in Angleterre.
The limestone – highly visible in the White Cliffs of Dover – is the deposit of billions of corals, sponges and other creatures that lived in the tropical sea that reached from Britain to Scandinavia and Poland 130 million years ago and included the Champagne region of northern France.
Pink Pearls
Pink sparklers are gaining admirers everywhere (because of their food versatility). Examples like Rosé de la Solitude '06 from Bordeaux's Pessac-Léognan district, 063024 (v) $18.75: a 90-pointer, dry in the Tavel style with hints of rose petals and morello cherries. Or from the Loire, Yves Lambert Crémant Brut Rosé, 656488 (v) $16.85, light, fresh and crisp with strawberry-vanilla charm (87).
How To's
Champagne and sparkling wine should be chilled to about 7C (45-49°F), ideally in a bucket half-filled with water and ice for a half an hour. Or in the fridge for an hour. Never chill a bottle in the freezer. If you forget, it will explode!
Served in long-stemmed flute to concentrate the aroma and show off the sparkle. Don't chill the glasses.
To open, make sure the cork's not pointed at anyone - the pressure inside equals a truck tire! Loosen the cage covering the cork, slowly twist the base of the bottle (not the cork) while pushing down slightly on the cork. You'll feel it begin to push back as it releases itself from the bottle. The goal is to hear a small whisper, not a loud pop.
Pour into the flutes and fill half way. In the moment between crisis and catastrophe, admire the color, bubbles, and aroma.
Bubbles Burst!
Belgian customs have seized and destroyed 3,200 bottles of Californian Andre sparkling wine made by E. & J. Gallo and labelled as 'California Champagne'..
EU law recognizes only Champagne made in France's appellation of Champagne No other wines can be labelled 'Champagne'.
Thousands of bottles illegally labelled Champagne, including product from the US, Argentina, Russia, Armenia, Brazil and Ethiopia have been seized since the EU toughened its laws four years ago. Andres Canadian Champagne is still on sale in Canada.
Meanwhile, the battle continues over semi-generic label names, such as Old, Reserve, etc., but the main fight is still over the regional names: Burgundy, Chablis, Champagne, Port and so on.
Meanwhile, zut alors, the US will soon consume more wine than any other country – 304m cases last year – according to the Wine Market Council. Already ahead of Italy, the US will pass France perhaps as soon as this year.
The only sparkling wine that can legally be called Champagne must come from the Champagne region of France.
There's a tiny amount left of the Sparkling Ice Cider from Domaine Pinnacle of Quebec: exotic and delicious. Calvados fans will love it. Search at www.lcbo.com in the Product window for 52365. It's $44.95 with two flutes.

The Two-Minute Drill
To Age Or Not To Age
Contrary to popular opinion, most wines do not improve with decades of cellaring, although reds tend to round out with a year or so of keeping.
Only a very few whites, particularly Rieslings, Chardonnays and Semillons, and then only from very good vintages, get better with time. Whites are made for drinking young.
However, some big reds such as top Bordeaux, Italian Barolos, Rhones and Australian Shiraz and California Cabernet Sauvignons can improve for many years. There's no real virtue in age for its own sake, however, except to be able to open a cherished bottle at the peak of its form!
The trick to knowing when a special vintage you've purchased is at is peak is to either: buy several bottles and try them at regular intervals (one a year, for example) or two keep an eye on wine columns that include information on tastings. When they mention a wine you happen to have in your cellar, and say it's great now, that's the signal!
The French tend to drink wines young, fresh and fruity while the English prefer the geriatric approach and appreciate the dried fruits, woody, mushroom and truffle character of older wines.
Setting up Your Own Cellar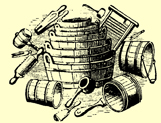 Starting a cellar can involve as little as finding a good spot to stash a single carton – on its side, of course, so the corks don't dry out and spoil the wine. In a cool, quiet, spot away from direct light, heat and vibration – low down in a cool, dry closet will do.
And avoid storage in areas with strong smells (of paint, detergents, etc).
As your interest and budget expand, so can your wine "cellar".
Wine prefers steady storage temperatures ideally around 11C (52F) but won't mind a little higher as long as there are no major spikes of heat or cold.
Colder temperatures simply put the brakes on the natural maturing cycle, although a few people do practise what I call "cryogenic" cellaring that puts their wines in a coma.
Serving Temperatures
White wine should be chilled for freshness without being stunned into icy blandness.
The colder the wine, the less flavour and character it offers.
About 9C (48F) is fine for light, sparkling and very sweet whites, and rosés.
[Some restaurants hide the flaws in their wines, for example, by serving them seriously over-chilled!]
Top Chardonnays, Semillons and Alsace whites from France show their complexity at slightly higher temperatures up to 15C (59F).
Reds, because they're more complex than most whites, also benefit from serving at 15-17C (59-63F). However, big heavy reds like Cabernets, Shiraz, and Zinfandel served too warm tend to show clumsiness and are better avoided on hot summer days.
Light, fruity reds, like Beaujolais, Loire reds and Dolcetto can be happily chilled for 15 minutes in the fridge 12C (54F).
---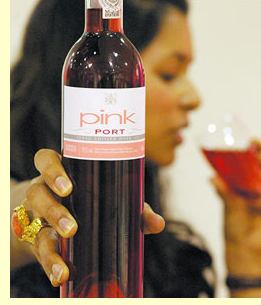 Women will no longer have to leave the room when the port is being served with the launch of "Pink Port" aimed at the female palate.
Leading British retailer, Marks and Spencer, on Monday introduced what it says is the world's first brand of port created to appeal to women.
M&S port specialist Sue Daniels said, "Some people wrongly think port is the preserve of men but we have created a drink which will appeal to women because it is light and flavoursome and we expect it to be as popular on a summer's day as it will be in the middle of winter."
Pink Port was invented after booming sales of rose wine and is meant to be served over ice as a refreshing drink, or as an accompaniment to dessert.
It is bright pink with a fruit aroma. Made from classic red port grapes winemakers created the light color from using only a small amount of the tannin-loaded grape skin.
M&S hails Pink Port's "smooth and round palate," but experts beg to differ.
"This doesn't taste like any port I know – it's more like vodka and cranberry juice," said editor of Decanter magazine Guy Woodward.
"The nose smells like a rose but then you get this whack of confected fruits and alcohol on the palate.... It tastes rather cheap, and is worryingly close to the alcopop market," he said, referring to the heavily flavoured sweet alcoholic drinks which appeal to underage drinkers.
"I think the whole concept is a bit bizarre," Simon Field, Master of Wine and buyer at Berry Bros. and Rudd told Reuters.
"The whole point of port is the integration of concentrated fruit with spirit that gives it its longevity and character, "he said, critical of the Pink Port process which takes only a small amount of color from the grape skins.
Field said although a "bit gimmicky", the Pink Port, "Should appeal to wine drinkers because it is high in alcohol and relatively sweet. "


Please take me back to the top of the page!