Thanks to the determination of the 32nd Baron, Francesco Ricasoli, the business is safely back in family hands after 20 years of foreign ownership that ended in 1993.

Since then the 1,200-hectare estate's 250 hectares of vines at Castello di Brolio have been replanted using 15 selected clones, making it the largest Chianti Classico estate, and one of the finest. Francesco, whose medieval ancestors include Charlemagne and were all staunch defenders of Florence (mostly against Siena), really is a Renaissance man: sailor, diver, collector of rare seashells, professional photographer, economist, and winemaker extraordinaire, he was born in the castle, twixt Siena and Florence, one of Chianti`s most imposing fortresses.
Progenitor Bettino Ricasoli was Prime Minister of the newly unified Italy after Cavour and a wine scientist/innovator in his own right. Born in 1809, he is credited with establishing the basic Chianti blend – 70% Sangiovese, 15% Canaiolo, and 15% Trebbiano – a white grape – and sometimes a little Colorino (red). He also created a superb 7 ha park with rare plants sourced from around the world.
The "Iron Baron" would be pleased that since Francesco, 52, regained the family heritage, Brolio has more than re-established its reputation, and was Italy's Winery of the Year in 2002.
It's a noble family of wines: Ricasoli's trademark properties include Castello di Brolio, Casalferro, Rocca Guicciarda, Torricella, Formulae and Campo Ceni.
From the 2004 vintage, Ricasoli's top wine, a traditional Chianti Classico, the iconic Castello di Brolio, is made with Sangiovese and a smidge of Cabernet Sauvignon from several vineyards, $49.95 (v) 92981. A muscular, deeply colored blackberry inflected red with sweetly ripe tannins, fresh raspberry and pepper notes, mineral nuances and a smooth, long finish (93). Still a (beautiful) baby.
The 2001, more elegant and nuanced now, is in the Classics Catalogue, also $49.95. Showing damp earth, truffles, forest floor and old leather with a sweet core of plum, cherry and dark chocolate, it`s the delicious future of the 2004 after cellaring (94).
The Casalferro '04 DOC Toscana $39.95, (v) 92973, a SuperTuscan international-style red with deep roots in Tuscany, bottled in the summer of '06 clean, smooth and fresh with an intense berry, new leather, blueberry and forest fruit persona with a lick of black pepper, sumptuous and elegant, made only in good vintages and this is one. A blend of Sangiovese and Merlot (93).
Rocca Guicciarda, in Consignment here at $27.95 is a Chianti Classico Riserva made in small vats and casks, supple, rich and harmonious with a black cherry, new leather aroma/flavor profile and potential for 5-8 years of evolution (89).
The Ontario favorite Brolio Chianti Classico DOCG '05 (a great vintage!), LCBO 3962, $24.00, is toasty with soft tannins, cherry-plum fruit, black fruits, and fine acidity, elegant and well priced (88). Enough concentration and flavor to enhance a fine steak, roast or stew.
Campo Ceni '06, a Toscana IGT, LCBO 241844, is a bargain everyday red at $12.85, tarry, brambly, licorice, with vivid acidity, fresh and attractive and perfect with tomato-sauced pasta, pesto, pizza and pork (87). Sangiovese plus Merlot plus French oak equals great value.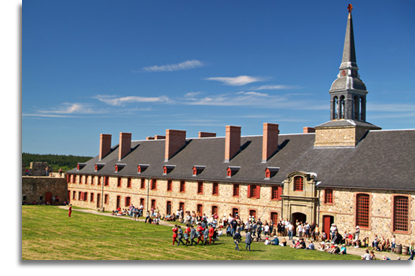 Even 260 years ago, there was good Chianti in Cape Breton Island, NS, to wash down the Governor of Fortress Louisbourg's Beef Ragoût. A deliciously clear entry in the nobleman's 1744 cellar book reads Vin de Florence, 150 bouteilles, enough to see the ruler of one of France's last two remaining North American colonies (with Prince Edward Island) through a winter in the damp, cold fortress.
Add to that Chianti generous supplies of Vin de Nantes (Muscadet), Vin Cleret de Provence (Roussillon rosé), Vin de Navarre (Rioja) and Liqueur de Framboises (raspberry dessert wine), and the Guv of what the French called Isle Royale was set for anything.
His Louisbourg evenings included oysters, fish soup from a 1651 recipe, Burgundian Gougères cheese pastries, Salmon aux fines herbes, Ragoût from a recipe by Massialot, France's royal chef, and Gâteau fin au Chocolat from La Varenne.
One such evening was magically re-created in Old Fort York barracks in Toronto and it's served every summer at the Fortress to lucky visitors. The wines are matched locally to the cellar book and the menu: Champagne, de rigeur, Louise Brison Brut; Hautes Noëlles Muscadet '06; Carte Noire Rosé '07; Frescobaldi Chianti Rufina Nipozzano Riserva '05; Chivite Gran Feudo Reserva '03, all sourced from the LCBO, and Jost Framboise Raspberry Dessert Wine, grown in Nova Scotia and hand-carried in at an enormous Ontario mark-up in this land of free trade. They're all carefully selected by Susan Lane, sommelier/GM at Lane's Privateer Inn, Snug Harbour.
The folks from Parks Canada, which staffs the fort, brought their "road show", with period costumes and warm hospitality to showcase this "time travel" to visitors from Central Canada, and Fort York captured some of that ambience.
"It's not quite the same as a walk through the black starry night and candlelight on the battlements before dinner..." says Parisian's Chip Bird, "But we were thrilled to use Fort York." Louisbourg, sacked by both the New Englanders and the British, had been one of North America's busiest seaports.




The words "poetry in a bottle" have been turned into art by a Canadian winery.
Distinguished Canadian poets are showcasing their work – about love, nature and the sublime – on wines reflecting Southbrook Vineyards' respect for vines and the earth.
The wines are stellar and the poetry sensuous and moving. They're all small lots of Cab-Merlot and Chardonnay, some in magnums, from the outstanding '98, '99, '00 and '02 vintages, available through the winery, (905) 642-2548, www.southbrook.com. The poems are literally a bonus on the labels.
They sell from $50 for the Poetica Chardonnay '06 to $168 for a magnum (1.5L) of Cabernet-Merlot '98 and they all rate in the low- to mid-90 point range.
BC poet Wendy Morton, founder of Random Acts of Poetry, contributes If I Had A Name Like Rosie Fernandez to the '06 Cab-Merlot, a 94-pointer with subtle black cherry, wild berry and shoe polish notes, still with baby fat and full of fresh vivid fruit character, waiting to blossom with a few years in the cellar, $60.
Her fellow contributors range from Charles G Roberts, PK Page, Gwendolyn MacEwan, Steve Venright, Martin Tielli and bp nichol, to Sarah Slean, Lesley Choyce, Stephen Elliott-Buckley and Christopher Dewdney.
Toronto graphic designer Laura Wills captures the sound of the verse visually in fonts and shapes of sweeping curves and waves she "heard" in the text. "It introduced me to the voices and stories of some lovely and accomplished Canadian poets," she says.
The idea began with Bill and Marilyn Redelmeier, founders of Southbrook. "The wine in the bottle honors the poetry on the labels and, in turn, the poetry honors the wine in the bottle," says Bill.
"In showcasing older wines that go back almost a decade, Southbrook is celebrating Niagara's ability to produce ageable wines."
From roadside picnic table in Richmond hill, to family cattle farm, to thriving market and winery, Southbrook has evolved into a Niagara winery and organic grape grower in Niagara-on-the-Lake, the first in Canada to have its vineyards certified by Demeter, and a leader in sustainable practices. "We strive to sit lightly on the land," says Bill.
Winemaker Ann Sperling testifies to the value of biodynamics on grape and wine quality. 'It's startling. The vitality of these vines gives a whole new dimension to the wines!"
Southbrook is now home to 14 lambs, descendants of the first Shetland sheep to arrive in Canada in 1980, and the vineyard team has created a mobile pen that allows them to graze without being able to reach the vines. The fresh manure is beneficial to the soil and eliminates the need to truck in manure.



It's Triple Overtime again for hockey legend Igor Larionov, this teaming up with Pillitteri Wines, who're making Triple Overtime Centre Ice 2006 Vidal exclusively for him.
Now a wine merchant, the Red Army, NHL and Olympic star sells his own brands, Hat Trick from California, and Triple Overtime from Australia and now from Canada. Most goes to Russia and Switzerland, with a little to Michigan.
The scorer in Game 3 of the 2002 Stanley Cup finals, says, "Hockey is my life, wine is my passion. It's been 10 years since the Soviet Union disintegrated and my goal is to steer people from Vodka to wine. Good quality wine is going to give you more peace and tranquillity."
Larionov became a wine nut playing in Lugano, Switzerland: "Fans would bring me two or three bottles when I scored a big goal or because they appreciated my style of game. From that point, I started to taste and read about the wines and meet wine people."
A cool customer, Igor, now living in the Detroit area, knows Icewine grapes can only be harvested below -8C. His own Centre Ice was picked at -10C in January 2007, fermented 6 weeks at 15C and has a balanced acidity with 12% alcohol.
"I like to put my own stamp on all my wines," he says. "It's my wine, my reputation. He also like to give back: a portion of the sales of Larionov's 2002 Hat Trick Napa Red was donated to the Ted Lindsey Foundation for Autistic Children.
More of a white wine fan than red because he eats red meat only two or three times a month, Igor favors Chardonnay, Viognier and Sauvignon Blanc, and the occasional California Syrah or Grenache. He does, however, recommend his own killer Icewine Martini: 3 oz chilled Vodka with 2 oz of (his) Icewine.
Russia will be the first export market for Centre Ice, then, who knows, maybe an Ontario launch? Meanwhile, Pillitteri's I Baci Vidal Icewine is available in Ontario LCBO Vintages stores at $28.95 375mL and the upscale Pillitteri Riesling 375mL is $49.60.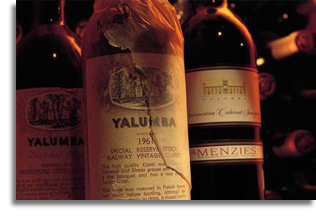 You know, those Brits have done a lot for wine. First (being a non-winemaking country) as huge consumers, and later as New World emigré winemakers, in Australia, South Africa, Portugal, et al.
In Oz, Yalumba was founded in 1849 by Sam Smith, a brewer seeking a new life in Angaston, South Australia. The rest is successful wine history and, the good thing is, the wine is getting better. Way better!
The oldest family-owned winery in Oz isn't sitting still. The old firm has become an edgy innovators. Adopting a quiet garagiste mentality while still being a big producer, Yalumba has seen a number of experimental projects bear fruit.
Spokes-force-of-nature Jane Ferrari ran a few lucky folks through the results recently to great acclaim. The secret, she says, is that Yalumba is Australia's leading vine nursery. And the winery has used this strength to source clones of the world's best vines from top international nurseries. Simple!
Oh, and planting and testing the clones in just the right spots is good, too.
For example, the rocky-clay of the Eden Valley high country vs the warm sandy clay of the valley floor vs the igneous lava of the foothills. Each terroir has been planted with its own specific vine clones over the last 20 years and the results are just in!
Angaston is a two traffic-light town of 1,500 population, says Jane, and the project results are an overnight success after 159 years! "The Viognier is more aromatic and fuller on the palate, with more passion fruit than the Sauvignon Blanc. Our Wild Fermented Chardonnay is a red drinker's white wine.
"Our secret is our relationship with the best French vine nurseries and being able to import the best clones, instead of the old Davis (California) clones. Those are good for high yield, not for finesse and aromatics.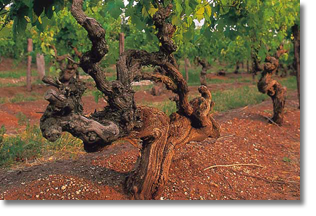 "We're now able to really express the elegance of the terroir as never before." The reds, especially, are more lush aromatic and floral, with rose petal and crushed velvet texture. The whites more exotic, fuller on the palate.
Being family-owned has allowed Yalumba to plow its own innovative furrow, early into biodynamics and a leader in Cabernet Sauvignon/Shiraz blends as well as Viognier.
With its own on-site cooperage, Yalumba is also almost unique in the world in being able to control the quality of its own barrels, especially the 90-litre casks used for the premium Octavius Barossa Shiraz '01, 449017 (v) $109.95: from ancient vines and brimming with black fruit, dark chocolate, smoky oak and violets. Impressive and charming, with a solid future in your cellar, in a layered and exceptional wine (94).
Current Yalumba whites include the Eden Valley Viognier '06, 82701 (v) $50.95: lemon grass, peach, ginger, honey, honeysuckle and apricots with a fabulous viscosity. Hello, Condrieu! (92).
The reds include Hand-Picked Shiraz Viognier '04 631028 (v) $41.95: a Côte Rôtie lookalike, great, rich and heart-warming, with cherry-berry, briar and floral traits and a core of mocha, licorice and new leather (90). And the Vintages Essential listing Y Series Shiraz Viognier 624494 (v) $14.05, a terrific value.
In the pipeline soon, and I'll keep you posted:
Eden Valley Wild Ferment Chardonnay '07, $19.95, straw gold with green tints and packed with floral, citrus, white peach, toasted almond and brioche nuances, elegant rather than belligerent (91).
Barossa Shiraz Viognier '05, $19.95, lush, inviting and elegant, floral with oriental spice and black pepper shooing in black cherry, red currant and cedar-mocha notes. Fine tannins and great elegance (91)).
Barossa Bush Vine Grenache '06, $20.00, all raspberry and rosemary with sweet floral and herbal notes, lush and sweet mid-palate and ageable for 5 years (90)
Barossa Patchwork Shiraz '06, $19.95, restrained Christmas pudding spices, forest fruit and earthiness, with cassis and blackberry notes and silken texture (90).



Please take me back to the top of the page!