Hint: click on labels and photos for even more information!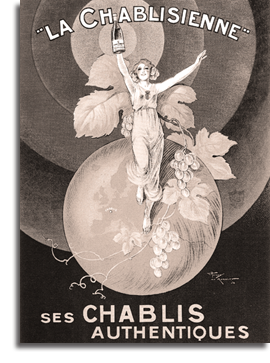 Chablis, like Riesling, is a white wine I prefer to enjoy naked. The wine, not moi!
Naked as in not ornamented by lashings of oak flavors from assiduous aging in expensive barrels. Those delicious barrel-imparted nuances of buttery vanilla and toasted hazelnuts are fine, but it's OK to leave them for other drinking occasions. Let's occasionally allow the wine itself to speak.
The message contains complex aromas of fresh fruit, citronella, honey, white flowers, gentle spice and a distinctive, racy mineral quality, evolving to apples and hay with aging.
Like Riesling, Chablis is a wine of place, terroir, reflecting the unique soil and the purity of a single grape – Chardonnay.
A northern outpost of Burgundy, Chablis, two hours SE of Paris, is on the edge of viable wine growing, as are Germany's top Riesling sites. Vine-growing here dates back to Cistercian monks in AD 865 and even now frost and hail are still a danger – requiring measures like stoves, spraying the vines with water and small, dispersed plantings.
Chablis is generally unoaked except for the more ageable Grand Cru wines. By contrast, to the south, the mostly oak-aged Cote d'Or wines offer more smoky-toasty and vanilla styles that evolve with age. The skill is to balance the amount of time in new, toasty barrels and flavor-neutral older casks with the power or finesse of each vintage.
New barrels are flame-charred to impart a toastiness that the wines absorb. This "barrel influence" wanes over three or four fills, and winemakers select new/used casks like musicians for the style they want. Your own palate will decide which styles are right for you.
Once France's largest wine region, Chablis was bypassed and eclipsed by the arrival of the railways carrying Languedoc wines to market in Paris. Equidistant from Paris and Beaune, it covers 5,000 hectares (down from 38,000) along the Serein Valley.
Its famous wines, austere, steely, and stony, come in four appellations: Petit Chablis, Chablis, Premier Cru, and Grand Cru. The best, the Grand Cru, are racy and flinty like Vaudésir, Grenouilles, Bougros and Blanchots, all on the hill overlooking the village of 2,500.
Next are 40 (excellent) Premier Cru, followed by (most common) Chablis and then basic Petit Chablis. Together they represent 20% of the Burgundy harvest and, at 3.4 million bottles, 0.1% of the world's production.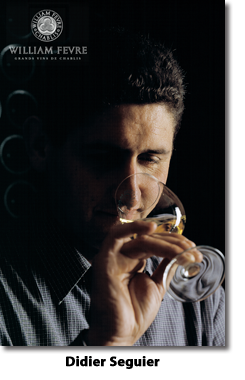 The most renowned individual producer is William Fèvre, which owns some of the very finest vineyards. Here's what its winemaker Didier Seguier says about Chablis: "The terroirs are particularly suited for Chardonnay grapes. The unique soil of clay and limestone with a sub-soil rich in mineral and fossilised oyster shells gives the wines their mineral character. But, beyond the terroirs, dedication, years of experience and knowledge are of tremendous importance.
"At William Fèvre, every step of production is studied in order to reach quality: hand picking in small cases avoid bursting the berries, a drastic selection of the grapes, pneumatic pressing, light settling of the juice to preserve enough fine lees for the alcoholic and malolactic fermentations to occur naturally.
"The Premier Crus spend 10-13 months in 4- and 5-year-old barrels for 50% of the harvest and 50% in stainless steel. The Grand Crus spend 12 to 15 months in 4- and 5-year-old oak.
"Thanks this we produce very typical Chablis wines: fresh, pure and mineral wines, though of a great complexity."
The largest and most important co-op, La Chablisienne, which represents 25% of all Chablis, includes 300 small producers with six Grand Cru sites including Blanchot and Grenouilles plus 11 Premier Crus. Its approach to oak aging is to "consider wood as a means and not as an end in itself," as a support allowing the grape to reveal itself in the finished wine. Chablisienne's methods are modern and its wines clean, well made and honest.
For more info on these appellations, www.chablis.fr/.
For William Fèvre wines, www.woodmanwinesandspirits.com
And for La Chablisienne, www.vinexx.com
Meanwhile, serious oak fans, if you're thinking richer, more buttery and full-bodied whites, stay in Burgundy but think Côtes d'Or, especially along the Côtes de Beaune, which includes stellar Puligny- and Chassagne-Montrachet, Aloxe-Corton and Meursault.


Speaking of the Côte d'Or, Burgundy wants to make 1,247 "climats" a Unesco World Heritage Cultural Landscape – a "combined work of nature and mankind, that expresses a long and intimate relationship between peoples and their natural environment."
A climat is a "combination of geology, grapes, wine knowledge, soil, subsoil, exposure, microclimate and taste profile."
The Côte d'Or includes the most celebrated vineyards, from Gevrey-Chambertin to Montrachet via Vosne Romanée, Pommard and Volnay.
Unesco already lists nine wine regions as cultural heritage sites: St-Emilion, the Loire, Tokaj, Wachau, the Rhine, Cinque Terre in Italy, the Douro Alto, Pico Island in the Azores and Lavaux in Switzerland.


One of the world's leading winemakers, Merry Edwards, the "Queen of Pinot Noir", came to wine via scientific research – and she credits terroir for creating great wines.
Rather than bearing a winemaker's imprint, she believes "the grapes provide the texture and nuance, and quality comes from the vineyard. Your job is not to screw up the grapes!"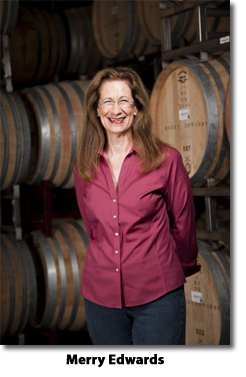 A pioneer, Edwards has made 37 vintages in California's Sonoma Coast and Russian River regions as well as opening other winemakers' eyes to the importance of the right vine clones.
She launched her Meredith Estate and Merry Edwards Wines at Sebastopol in the Russian River Valley 1998, buying in grapes, but quality was inconsistent, so she began planting vines. "Today, we have 24 acres of vineyards so we can compose blends, barrel by barrel, from various sites and maintain a strong persona year by year."
The family vineyards are Meredith, Coopersmith and Georgeanne. She also makes vineyard-designated wines from Klopp Ranch, Olivet Lane and Tobias Glen.
The wine making is all by hand, 30% whole clusters to obtain soft tannins; small fermenters for quality control; the floating caps of grape skins punched down by hand, then decanting straight into 85% new barrels from French coopers.
With a double degree in food science and enology from UC Davis, Merry is famous for her research into vine stress, phenolics, tannins and, especially, vine clones.
The current vintage, Russian River Pinot Noir '07 is a great example of Merry's style, fruit-forward blueberry, black cherry, cassis, wild strawberries and white chocolate on the nose and palate, with silky-sweet tannins and fine refreshing acidity to finish (95). A wine to enjoy now or cellar up to 10 years.
Lovers of fine Burgundies will appreciate this wine, available through the Stem Wine Group, 416-548-8824, for $64.99. Also available is the delicious Sauvignon Blanc '09, $55.99 (92) and Pinot Noir Sonoma Coast '07, $59.99 (94).
Corkscrews appear to be a thing of the past in New Zealand with 90% its wine production now under screwcap.
Auckland University says screwcaps are better at preserving a wine's fruity bouquet. A Sauvignon Blanc sealed with a cork lasts 18 months. The same bottle with a screwcap lasts twice as long. And clearly the vast majority of Kiwi wine makers are now using screwcaps.
"We used to have 30% or 40% of our wines prematurely ageing because a lot of corks were porous and letting in too much oxygen," says George Fistonich of Villa Maria.
"Since we've moved to screwcaps we've got a 100% success rate and very few complaints," he says. Screwcaps appeared five years ago, now 100 million are sold each year in New Zealand.
"Huge growth...we can hardly keep up with demand," says wine product manufacturer Stephan Jelicich. "In the last three years it's been exponential for the whole country, we are seeing about 90% of the wines bottled this year under screwcap," Jelicich says.
So, for the traditionalists, the cork pop might not be around for much longer – except for Christmas bubbly.
Three bottles of Mackinlay's scotch abandoned in Antarctica in 1909 by ill-fated would-be South Pole explorer Ernest Shackleton have been returned to their native Scottish soil. They're being analyzed by a Mackinlay's master blender.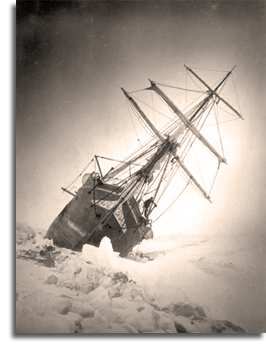 Since alcohol levels in whisky are over 40% and local temperatures around -40C, the elderly malt should be in perfect shape.
Five cases found under the ice below Shackleton's final base last year were flown to New Zealand for preservation.
Meanwhile, the traditional Scots water of life is arriving in new guises, the "dram in a can", for example. Panama-based Scottish Spirits is testing the cans in the Caribbean and South America, to the disgust of the Scottish Whisky association.
Whisky guru Jim Murray claims to have seen whisky on draught in Chicago and sold in plastic sachets in Uganda, and there's even been a "wee dram" made from the urine of elderly diabetics... Purified and fermented, of course.
There's even been a pink whisky, sold by Bruichladdich of Islay for $100, made by mistake after the firm aged their 20-year-old malt in red wine casks. It was marketed as "Flirtation".
Whiskies in parts of Asia can be bought with snakes and lizards in the bottle.
The world's rarest and most expensive whisky, the Dalmore 64 Trinitas, a blend of whiskies more than 140 years old, costs $180,000, and offers a bouquet of "sweet raisins, rich Colombian coffee, crushed walnuts, bitter orange, sandalwood, white musk and Indonesian patchouli".
Please take me back to the top of the page!