Helpful hint: click on labels and photos for even more information!


Robert Mondavi gave the world premium California wines and his widow Margrit continues their tradition of giving us great wine, gastronomy, art, culture and music.
In their early days, 40 years ago, Napa was a placid rural backwater of plums, pears, walnuts and pasture land interspersed with grapes. Much was for sale, vineyards going for $1,000 a planted acre! There was no French Laundry, wine tour guides might wear bedroom slippers and rumor had it that an oak tree had a root in one of the tanks at Beringer's.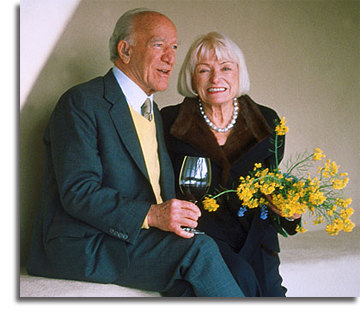 Swiss-born Margrit recalls starting work with Mondavi, then 53, after he launched his own winery in 1966. "He had $200,000 in borrowed money, 12 acres and a vision to make wines of the very highest quality," she says. "The neighbors ran a sweepstake on how soon he'd be out of business. They called it Bob's Folly."
Margrit remembers Bob tasting a 1961 Chateau Margaux and saying: "'I want to make a wine like this.' The balance and elegance touched him. It was wine as art."
On a shoestring, Margrit organized opera and symphony on the winery lawns, shows where local artists filled the walls with their paintings, and a film festival using a borrowed projector – all accompanied by great food and wine.
A working artist herself, Margrit recently dedicated the Robert Mondavi Room at Ristorante Modus, Toronto, and presented a cheque to the Toronto Symphony Youth Orchestra.
The passion for giving has included the Mondavi Great Chefs series, $35 million for the Robert Mondavi Institute for Wine and Food Science at UC Davis, the Mondavi Center for the Performing Arts, and much more.
"In the beginning, families like Schramsberg and Chappellet were there and there was great camaraderie. Today there are more entrepreneurs, not as connected to the soil and the vines.
"For our Music Festival I painted the posters myself and put them up in schools and stores. We used a Gestetner for the tickets and 400 showed up. Stars like Benny Goodman appeared, all without real planning.
"The Napa Wine Train was real transportation back then. Our own tanks came in on it (since replaced by oak fermenters from France). Everything was small, intimate and new, and the wines were becoming well known.
"Robert's great personality and generosity were already famous. His philosophy was that wine is a drink of culture bringing people together with joie de vivre."
Now, the Mondavi name is known everywhere great wine is poured. Robert died at 94 in 2008 "after 28 years of great marriage. He always said there are more old winemakers than old doctors..."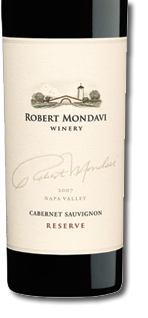 One wine those old winemakers would love to make is the newly released Mondavi Cabernet Sauvignon Reserve 2007, $139.95, (v) 670463. Up there with any Margaux, here's proof of Robert's vision, among the world's best. Open-knit structure with toasty oak, cedar, flowers, cassis, licorice and pencil lead, balanced, with the tenderness of a baby's bum and the power of Pavarotti (94). Great with braised oxtail.
The Chardonnay Reserve 2008 from cool Carneros is rich, crisp as a Granny Smith, with crème brulee and hazelnuts, mouth-filling with a buttery freshness (91) 258186, $46.95. Great with foie gras and porcini.
The Pinot Noir Carneros 2008, $29.95, is bright, silky and elegant (90) with wild blackberry, cranberry and cassis, and its sibling Reserve (from older vines) is magnificent showing black cherry and toasty oak (93), especially with duck prosciutto.
Robert Mondavi coined the enduring name Fume Blanc (after the Loire Blanc Fume) for his barrel-aged Sauvignon Blanc's toasty smokiness, perfect today with sautéed scallops and freshwater fish. The 2009, $22.95, offers crisp stone fruit and nectarine peachiness with a lemon-grass citrus core (91).
The midrange Private Selection versions of these wines, $16.95-$17.95, offer huge quality and value, as do the entry level Woodbridge labels, $9.95 to $12.95.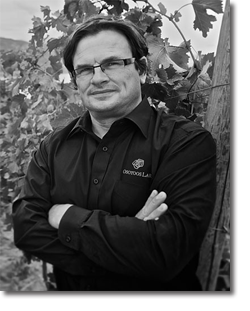 Pascal Madevon was fussing about the 2011 grape crush going into the cellars a little late this year. The cell phones hummed from T.O. to B.C.
The great news was it was a real Bordeaux summer this year – an elegant 25-30C average – instead of the searing 35C-plus heat of the Okanagan.
"The grape sugars developed fast and the tannins were smooth, late bloomers by 2-3 weeks and this will be the most Bordeaux style vintage we have ever made, with incredible aromas," he says smiling. "Really balanced, I'm very happy!"
Pascal already has a head start in making great wine, one of the world's most beautiful vineyards – a great terroir – at Osoyoos-Larose, where he crafts Canada's finest red wines.
The 2007 has just been released and it's superb. A very traditional vintage, a big wine from a hot summer. "I love this wine," says Pascal, "and I suggest it into a carafe for two hours or I cellar it away for two or three more years. My favorite for right now is the 2001 but the best way is to have them all in your cellar!"
The outstanding components are vanilla, raspberry and spices with smooth tannins and great finesse. Of the 18,000 cases of 6 bottles, 10,000 are going to Quebec and the balance to Ontario and B.C.
The grape blend is typically Merlot 60-65%, 20% Cabernet Sauvignon plus Malbec, Petit Verdot and Cabernet Franc.
"About 90% of the fruit from our best terroir goes into Grand Vin, the rest, goes into our other wine, Petales, fresh, easy to drink and aimed at licensees. At home, with dinner, we start with Petales and finish with the Grand Vin.
"In France, we always drink a red wine with food, with guests and friends along with charcuterie and cheese. Comte cheese works really well with our wine.
"My friends in Bordeaux have trouble picking out my wine as Canadian. They simply compliment it by saying: 'You have a fantastic terroir!"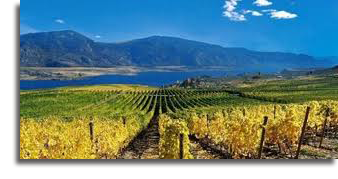 "My priority is to make wines that are Okanagan first, not Bordeaux wines. "In my opinion, terroir consists of a single vine – two metres between plants makes a big difference. You can tell simply by tasting the grapes." Shadows from the mountains in early afternoon, for example, change the aromas in the fruit.
"As the vineyards are maturing we now begin to talk about vintages rather than locations. The skill, he says, is knowing how things will evolve, using your training and experience. This from a Paris-born polymath turned winemaker, junior math whiz, engineer, ceramic artist, painter, furniture maker and wine genius.


A Wine Express special report by Rick Blechta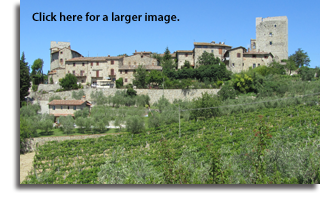 Wine lovers dream of visiting Chianti. Ochre Tuscan hills with emerald rows of vines, grapes ripening in the Italian sun, wineries offering delicious handcrafted wines.
La Porta di Vertine (The Gate to Vertine) is one of these friendly, family operations, and my wife and I discovered last summer that they do make excellent wines.
The picture-perfect hamlet of Vertine perches daintily on a hilltop just above Gaiole in Chianti, and La Porta is right outside the main gate. This vineyard is one of three that provide their grapes.
"All cultivation is done organically," we're told by Giacomo Mastretta, the winery's manager, as we walk along the rows. "We leave the ground cover as a natural barrier to protect the vines. We trim the vines by hand and we stay out of nature's way as much as possible."

"It's more challenging to grow grapes this way," Giacomo continues, "but we feel the results are worth the effort. Because we don't use fertilizer and the soil is quite poor, yields are naturally low and our grapes fully express the terroir."
Grapes are hand-picked and vinification is carried out in concrete tanks using naturally occurring yeasts and the ambient temperature of the cellars. Non-intervention reigns supreme at La Porta – and it shows beautifully in the finished wines.
Since we're talking Chianti Classico, the wine is mostly from Sangiovese grapes. The Riserva is 100% Sangiovese, while the Classico is 90% and is blended with other Tuscan varieties (Canaiolo, Colorino, Pugnitello).
La Porta also produces Rosato and Sassi Chiusi Rosso, their supertuscan (in very limited amounts), as well as organic extra virgin olive oil. "We press our olives until we're tired," Giacomo laughs, "and that's our output for the year."
While La Porta di Vertine is in its infancy (founded in 2006), the wines are already being noticed. The LCBO has bought La Porta's Chianti Classico 2006 for a February 7 Vintages release: $49.95 (v) 251678, showing new oak, raspberries and sweet cherry aromas with lively acidity as a great food wine (93). For more, call Kolonaki Group, 416-630-7392.
Check out www.laportadivertine.it
Rick Blechta, a musician and writer of crime novels, was in Italy researching a new novel. (And we believe him!) His latest is Orchestrated Murder. This fall sees the release of The Fallen One, a mystery/thriller set in the opera world. You can also catch him playing trumpet with The Advocats big band on the first Monday of any month at People's Chicken in Toronto.


There's a Canadian link to Casa Raia in Tuscany.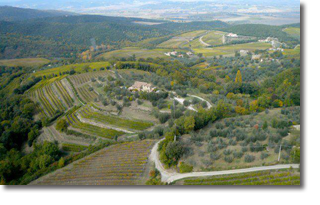 Montreal-born Kalyna Monnoyer, an ex-Torontonian, and her French husband Pierre-Jean have restored this estate – originally planted by the famed Biondi Santi family – and modernized the cellar. Today they're hand-crafting organic reds in a deliciously approachable style.
Casa Raia, named for Kalyna's grandmother, sits on a rocky promontory below the medieval hill town of Brunello di Montalcino. And the soil around its 40-year-old vines is covered by grasses and flowers that nourish the chemical-free terroir.
P-J and Kalyna met and fell in love in China and they've just released their first wines, a 2008 Toscana IGT called Bevilo, a 2008 DOC Rosso di Montalcino. and a 2006 Brunello di Montalcino DOCG. They're on the wine list at Tutti Matti, Toronto, a great Tuscan resto run by chef-owner Alida Solomon; and through TWC Imports, 416/809-9463.
Not cheap but great value: $40, $48, and $75. Bevilo, a super Tuscan, blends Cabernet and Merlot with 90% Sangiovese, fresh, vivid and playful: Bevi lo! means drink up (88)! The Rosso, 100% Sangiovese, shows sturdier tannins and fruit to match a rich meat stew, for example. The Brunello, 4 years in barrique offers new leather, berry, balsamic, sweet cherry and a hint of gaminess (93). Approachable and good for a decade.
If you should ever get lost in Piemonte, pray that you stop for directions at Enoteca del Borgo di Neive in the hills of the Langhe between Asti and Alba. You'll meet the delightfully hospitable owner of the eponymous Casa Vinicola Italo Farinetti.
You'll sample Italo's handmade Barolos, Barbarescos, Dolcettos and Moscatos, his amazing range of single variety grappas, as well as cheeses and hams. You can also do b&b at his place in Diano d'Alba – +39-338-2205080.
Or you could go back in time and in style Albergo Castiglione a short drive away in hilltop Castiglione Tinella, surrounded by vines, whose rock-hewn cellars date from the 7thC www.albergocastiglione.com.
The hotel will give you directions to the restaurant Verderame 10 minutes walk away. Don't miss it! After gastronomic bliss, relax at the pool, solarium, sauna and Turkish bath! The views from the pool across the Langhe are out of this world!
Please take me back to the top of the page!