Helpful hint: click on labels and photos for even more information!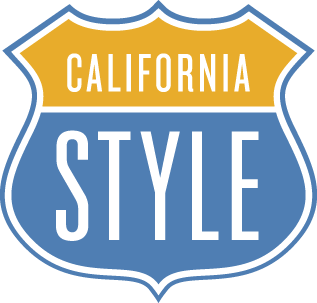 Celebrate March in sunny California style – on an exciting wine country road trip without leaving Ontario!
The world's #4 producer (closing on France, Italy and Spain), is showcasing the Golden State's gourmet cuisine, relaxed lifestyle and top-notch wines in all 630 LCBO stores.
It's the biggest Cal promo in Canada since Arnie invaded, back in 2008. With billboards, radio spots, shelf talkers, winemaker dinners, recipes and in-store demos, there's no chance you'll be unaware!
The March 3-31 campaign features 100-plus California wines and releases of 35 premium and super-premium wines ($20-$150) from Napa, Sonoma, Paso Robles and Santa Barbara March 2 and 16.
There's a "California Legends" tasting March 21 at the Royal Ontario Museum, and events in LCBO in-store kitchens where West Coast cuisine will be paired with wine.
The iYellow Wine School's winter session is dedicated to California wines through February and March (iyellowineschool.com) and the California Wine Fair pours sunshine into the glass again April 8 at the Fairmont Royal York. Tickets for the evening are $75 per person. Call California Wines at 905-336-8932 or 1-800-558-2675 or visit www.calwine.ca. The event, which offers samples of 480 wines from 180 producers, is in support of Second Harvest and there's a silent auction.
California is America's largest wine producer with 2,300 wineries and 90% of U.S. production. At $307 million, Canada is the top export market.
There are 400-500 California wines released per year in Vintages and 17 are Essentials. California accounts for 22% of Vintages' business, ahead of Italy and France. Year-to-date sales to February 2, 2013 are: White wines, $17 million, up 2.5%; red wines $57.1 million, up 7.4%. It's number two in New World wines after Australia.
The best deals, the LCBO's Limited Time Offers, include Smoking Loon Old Vine Zinfandel, spicy, jammy, packed with black fruit flavors to enhance a lamb stew, $13.90 (88) and a rich, intense Pepperwood Grove Old Vine Zin, $12.85, each saving you $1. Zinfatuation Zin saves $2 at $14.95 and tastes like Mom's best raspberry tart (88). For fun, easy drinking, 7 Deadly Zins from Lodi has a killer label and eye appeal (15% alcohol!).
Project Paso Cabernet Sauvignon, $15.90 from Paso Robles, is just right with its black plum, black pepper and gentle tannins to flatter a classic rib eye or a steak sandwich (88) and Louis Martini Cabernet Sauvignon (87) both save you $2. Fetzer's Cab is great value (86) at $11.95.
Among the whites, Ironstone Obsession Symphony, a wonderfully aromatic Gewurz-style wine (88) at $13.70 saves $1.
I was intrigued by the Bandit Pinot Grigio, $12.95 for 1 litre, in its dashing lime-green Tetrapak container, showing an apple, citrus and melon flavor profile (87). It compares well with the Pinot Grigios from Entwine, fresh, clean, very Granny Smith $14.95, and Fetzer, simple, refreshing and approachable (86) $12.95.
Chardonnay fans who love sweet, toasty, buttery corn with hints of apple and Anjou pear will want Wente Morning Fog (88), a winner at $16.95.
---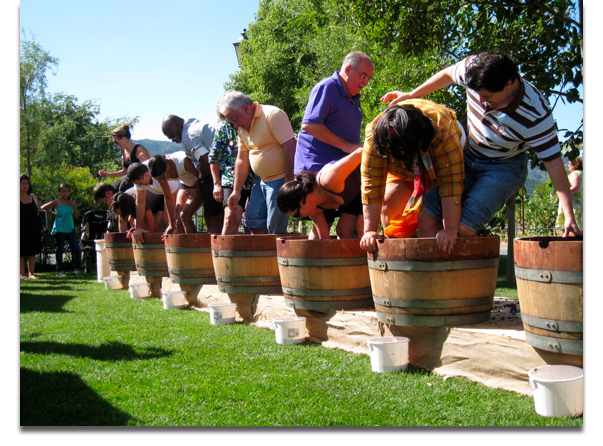 California reports a record 4.01 million tons of wine grapes were crushed in 2012, up 20%. Red varieties accounted for 2,289,783 tons, up 19%, while white varieties totaled 1,724,121, up 21%.
The bumper crop marked a rebound from the two previous years, both short and cold, and a nearly 20% lift from last year. (The total crush of 4.38 million tons, which includes table and raisin varieties, was up about 13%.) While for winemakers, 2010 and 2011 marked moments of decision in terms of ripeness, and wine styles, they were years of frustration for growers – short, tough crops. As grape brokers Ciatti Co. note, the 2012 helps bring the market back into balance after several lean years. Growers feel flush. Wineries have the grapes they need – and maybe a bit extra as the economy slogs back.
Aside from a flush feeling in the vineyard, what did 2012 bring? In many ways, more of the same: another record delivery of Chardonnay (up more than 30%), a huge jump for Pinot Noir (up 45%), Sauvignon Blanc (up 43%) and Cabernet Sauvignon (nearly 30%) – in other words, California going large on what it knows best.
Meanwhile, bottled imports from Argentina to the US were down after 11 years of consistent growth. Chilean imports continued a steady decline and Australian imports fell to the lowest in a decade.
Gomberg, Fredrikson & Associates report French wine imports are up 4.8% after a 10-year low in 2011.Spanish imports, less hard hit than the French, reached a high in 2012, up 6%.
Imported wine accounts for 35% of the total US wine volume, up 11%.
Moscato continues to do well but slightly sweet red blends are dominating supermarket shelves, up 29% with 367,000 cases sold to Moscato's 90,000. The red blends category is led by the brands Cupcake and Apothic.
The US imported 40m cases of wine and exported 20m. The decrease in bottle imports and rise in bulk imports suggests that consumers are increasingly brand loyal and less concerned with origin.
Meanwhile, other producers had lower harvests with the exceptions of Portugal and Greece in Europe and Chile and South Africa in the New World.
According to France's Organization of Vine and Wine: "The European producing countries are down significantly compared with 2011."
Chile hit a record 10.6 million hectolitres (+15.5%) and South Africa had an increase of 4% (10 million hl).
France's production has slumped 20% to the lowest in 40 years after weather damage and mildew hurt harvests in Champagne and Beaujolais. Production in Champagne has dropped 40%. Both Burgundy and Beaujolais volume is estimated at 1.8 million hl, falling 27%.
Wine for making spirits including Cognac and Armagnac is down 20%. In Languedoc-Roussillon, France's biggest wine region, wine slumped 20% and in the Loire Valley production fell 27%. Bordeaux dropped 3.6%.
---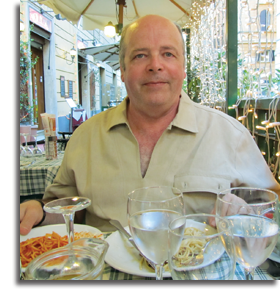 I recently gave this interview to Rick Blechta at amanforallseasonings.blogspot.ca. Rick's a major foodie, a prolific writer of crime fiction (8 novels so far) a musician of note, and a baseball fan. His other blogs are typem4murder.blogspot.com and lateinnings.blogspot.com, or visit rickblechta.com.
Q: Okay, Frank, so you're a molto experienced oenophile. Tell us, what was your first experience with fermented grape juice?
A: In English pubs as an under-age teen tippler/explorer. The house wines weren't great but it was still a buzz! My Dad grew his own grapes in his greenhouse but no wine dynasty ever emerged from that!
Q: When someone is about to pour for you: red or white?
A: A light, unoaked white at first, probably, as most reds are best served with food, especially the savory, bone-dry and often tannic reds of Europe, where red wines AND food are joined at the hip and rarely served separately.
Q: Your newsletter, Wine Express (not to mention winexpress.ca) is packed with wines that tend for the most part to be affordable. Why is that?
A: To me, wine is food. That is, a daily pleasure that's deliciously affordable. Everybody ('fess up, now!) is searching for bargain wines that taste great. I'm there as your advance scout, taste-testing 5,000-6,000 wines a year on your behalf, and reporting back on the best. Tough job but someone, etc., etc…
Q: Staying on the same topic, do you feel high-end wines are over-priced?
A: Winemaking is a huge commercial gamble. The variables for success/disaster include frost, hail, hungry birds, beasts and bugs, an army of plant diseases, and rain on the eve of harvest, to name just a few. The top producers tend to restrict the number of grapes per vine for better concentration and flavor – at the expense of volume. The artisan wineries have fewer products to sell and so they need to charge more per bottle.
Some high-falutin' prices, however, are simply part of the marketing package, the cachet, along with tiny availability. There are always collectors with very deep pockets who pursue cult wines. Remember, scarcity is the opiate of the super-rich!
Q: What wines or wine regions should people be on the lookout for?
A: Wines are traditional products of their place of origin and good ones taste exactly of that place. Typicity is important. Regions do evolve over time, however: for example, currently in Australia there's a laudable move to making finer wines in small batches from great (cool climate) locations, as opposed to the industrial-scale production of el cheapo plonk that competes mostly on price.
Q: What wines are very popular now but perhaps don't deserve to be?
A: People talk dry but drink sweet (or at least off-dry). California (not alone) has chosen to lead the way in big, high-alcohol reds and whites that have a fair amount of residual sugar (at the discretion of the winemaker).
The subtle sweetness flatters the wine for the first few sips but it palls with food and fails to refresh your palate during a meal.
As drinkers mature, they tend to prefer truly dry wines that showcase great food rather than smother it.
Q: Your best ever wine experience?
A: Too many to count, but they would include the mind-blowing introduction to my first really great red Burgundy, a Grands Echezeaux; a Chateau d'Yquem vertical tasting with the winemaker; dinners with Marie de Maigret, the Countess of Champagne, and Christian Pol Roger in Epernay; and swapping wine anecdotes over lunch with Princess Takamado in Japan.
Frank's complete interview is available at amanforallseasonings.blogspot.ca.
Please take me back to the top of the page!