Helpful hint: click on labels and photos for even more information!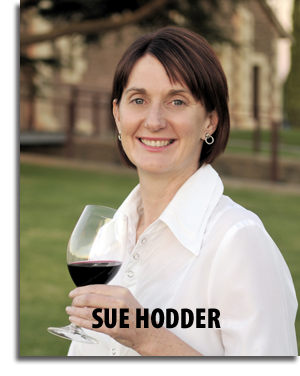 Coonawarra, Aboriginal for honeysuckle, is isolated – 450k from Melbourne, 380 from Adelaide. And it's stellar winegrowing country, thanks to a narrow 15k ridge of terra rossa, a thin layer of rich, rare red soil.
The land is part of a prehistoric coastline created over twelve ice ages. Each retreating ocean created a limestone bedrock whose free-draining qualities allow vines to thrive.
It's cool, just 80k from the frigid Southern Ocean and Antarctic winds. The grapes have a long ripening that builds intense flavors and a balanced acidity. The wines are Australia's finest for their richness, intensity, flavor and longevity.
Vineyards here are $100,000 per hectare. Wynns, pioneer of the region, owns 70% of the terra rossa and the oldest vines.
Cabernet Sauvignon is Coonawarra's flagship and the region produces fine Shiraz, Chardonnay and Riesling. Wynns Coonawarra Estate wines are the benchmark – partly thanks to senior winemaker Sue Hodder.
Sue, one of Australia's best-known winemakers, has just completed her 21st vintage at Wynns. A viticulturist, she's made vintages in Margaret River, California and Bordeaux. She's also judged 80 competitions and knows her wines.
"We're known for our reds in Coonawarra but the Riesling is a personal favorite of mine. It's a damn good drink, food versatile with flavor and softness. We made Riesling every year since 1962."
Wynns website notes the Riesling's "circus aromas". Forget citrus or even barnyard! Cirque du Soleil, perhaps? Whatever. Its tangerine and lime cordial notes are perfect with Mexican food.
"Chardonnay is everywhere in Oz but Wynns' 2012, grown since 1981 is medium bodied, lightly oaked and more Macon more than Montrachet," says Sue.

Chardonnays have happily re-evolved in Australia. Backing off being more buttery-oaky than California to becoming underripe and thin. Now, through planting in cooler areas, sophisticated winemaking, better fruit and fine oak they've become world class once again.
Coonawarra is most famous for Cabernet, and a vertical of 60 vintages, from 1954 on, will be lined up at Wynns next year. "We have some of the most important Cab vineyards in Australia," says Sue. "There's been no phylloxera, we have respect for the heritage, we're up to date with new vine clones and global developments."
About global warming, she says: "In the past decade, we've had the coolest, wettest, hottest and driest years ever. Serious replanting is going on now and our old north-south rows are being replaced east-west to be less vulnerable to heat and sunburn."
Wynnsday, the first Wednesday in August in Australia, saw the release of 2010 icons John Riddoch Cabernet, the rarely made Michael Shiraz and the single vineyard Messenger Cabernet. It's a stunning vintage and these are collectibles for cellaring. They're only made in exceptional years.
The Black Label Cabernet is a perennial favorite and fabulous value at $27.95, showing blackcurrant, coffee, chocolate and violet notes. Its sibling The Siding with its older oak and soft tannins is even more affordable and equally well structured at $22.95, same price as the delicious Estate Shiraz with its medium body and an array of spicy red fruits.
The elegant Chardonnay is well worth the $17.95.
The good news is that alcohol levels are not trending up – "We're still closer to 13% than 14% alcohol wines, with soft tannins, and not too much oak influence."
---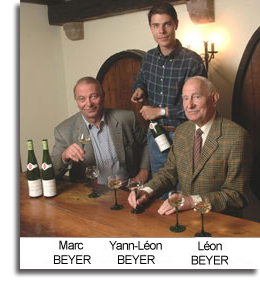 The Leon Beyer family's complete focus on fine wine and haute cuisine qualifies them as the world's first gastronauts. It's what they've done for 14 generations.
Their wines are showcased in enough Michelin star restaurants worldwide to form a new galaxy.
Centre of wine heaven is Eguisheim (pop. 1,600), Alsace, on the French border with Germany. Its concentric medieval streets resemble tree rings – dating back to 1580 when the Beyers were already making wine.
Protected by the Vosges Mountains, Eguisheim, the cradle of Alsace wines, has been producing wines since the 4th Century and was the birthplace of Pope Leon IX in 1002.
The little town is surrounded by tidy vineyards of Sylvaner, Pinot Blanc, Pinot Gris, Riesling, Muscat, Gewurztraminer and Pinot Noir, grown on the limestone bed of ancient oceans. The family owns 20 Grand Cru hectares and also buys in from growers who have 50 hectares.
The Leon Beyer style is famously racy and ultra-dry to accompany fine cuisine, unlike their neighbors just across the Rhine. Rare and exceptional sweet wines called Vendanges Tardives (late harvest) and Selections de Grains Nobles (selected noble grapes) are luxurious and collectable.
Marc Beyer, 13th generation, sums it up: "Sugar is a basic instinct. With sugar you catch flies, the dog, the children and Grandma. Kids love sweet, then when you're 15 you start trying a little acidity. You have to be over 20 to be interested in bitterness. When you're over 70 you go back to sweet!"
His stellar Rieslings include an $18.60 Reserve, Les Ecaillers, $35.50 in Quebec, and Comtes d'Eguisheim, top-drawer at $50. Les Ecaillers, the oyster shuckers in French, goes beautifully with guess what? Any seafood and shellfish, actually, as do the others. Salmon carpaccio, veal tartare, pike quenelle and lemon confit go well with them, too.
There's a Gewurz Comtes d'Eguisheim, too, projecting marzipan, nectarine and white pepper nuances. Terrific.
For the light, fresh Pinot Noir with hints of cherries and tar, you'll have to ask the SAQ in Quebec. $24.95. Then pair it with roasted squab.
---
Take some rocky volcanic soil (with great drainage), a semi-arid Mediterranean climate at the foot of the Andes in Chile.
Plan on warm dry summers with cold wind at night to refresh the vines and maintain great fruit acidity and ripe tannins in your Cabernets, Merlot and Petit Verdot.
Add superb winemaking from Enrique Tirado and what have you got? Perhaps the best red in all of South America – Don Melchor.
Not a lot, admittedly. Just 15,000 cases. Less than its parent, the 20-million case giant Concha y Toro spills in a year….
Concha y Toro, mind you, has been making good wine, with global brands like Casillero del Diablo, since 1883, when its founder, Don Melchor Concha y Toro, planted pre-phylloxera vines from Bordeaux beside the Maipo River in Pirque, near Santiago.
His goal, to emulate the best wines in the world, using French expertise.
And the 127-hectare Don Melchor property at Puente Alto carries on the name of this entrepreneur-political figure who was a senator and Finance Minister of Chile.
The icon wine, planted in 1968, is made by a dedicated team led by Tirado and made its first appearance in 1984. The great Bordeaux enologist Emile Peynaud and his partner Jacques Boissenot brought their expertise. On the vineyard's potential, Peynaud's comment was: "The poorer the soil, the richer the owner will be!"
That soil is alluvial terrace with clay, gravel and rounded stones, dragged down from the mountains. A sandy surface is underpinned by stones and volcanic material. The vines are 90% Cab Sauvignon, 7% Cab Franc, 2% Merlot and 1% Petit Verdot at 650 metres above sea level.
Seven groups of blocks are each worked independently and gently by hand. The wine is aged 12-15 months in French oak barrels and aged a further year in bottle.
At a vertical tasting with Enrique Tirado, I found the 2001 still silky smooth, vibrant and fully ripe with impressive mulberry and slightly minty notes (93); the 2003 has more acidity, a cherry puree note and fresh blackberry-blueberry jam nuances (94); the 2004 offers licorice, coffee, fig and tobacco complexity with still firm tannins (91); 2005 more raspberry-blueberry fruit driven with seemingly older oak being used (90); 2006 brighter, fresher and fully ripe red fruit, like the 2001 (92); 2007 dense unresolved fruit, mocha, still fairly tannic and good for the long haul. Will be superb with cellaring (92); 2008 licorice, cedar and mulberry up front with lovely freshness, chocolate and minerality (93). This is at Vintages for $80 and should be snapped up right away.
These are elegant, lovely Cabernets that express the very best of Chile.
PS: The Chardonnays, Cabernets, Syrah and Carmenere of Marques de Casa Concha are also not to be missed.
---
Chile is making a huge effort to achieve sustainable viticulture but Mother Nature whacked last year's crop with a late frost that damaged $1 billion worth of fruit – and not just wine grapes.
The central region is the main fruit and wine area in Chile, the world's No.7 wine producer. It includes vineyards owned by Concha y Toro and Valle San Pedro.
Early ripeners like Chardonnay and Pinot Noir are hardest hit.
Fruit and wine are Chile's largest industries after copper. Fruit exports were worth $4.3 billion in 2012 and wine $1.8 billion.
Please take me back to the top of the page!