Helpful hint: click on labels and photos for even more information!


Bulk wine was once synonymous with sunny Sicily: tanker loads of this unlabelled, inexpensive vino, prized for its color and especially its power, were used to build great abs on some of Europe's most noble wines.
That was then. Now, a new generation of brilliant wine families (and co-ops) has taken the high road to quality with estate wines that compete with the best.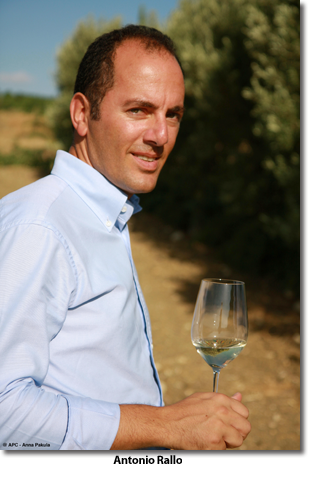 One of the leaders is Donnafugata, founded in 1983 by the Rallo family with 150 years' experience of making fine wines. Today it's run by Giacomo and Gabriella, their daughter José and son Antonio.
Donnafugata means "fleeing woman", hence the striking logo, a gorgeous redhead with her hair on fire! This is a historical/literary reference. In 1799, just as Napoleon's troops invaded Naples, Queen Maria Carolina fled for her life to the remote Sicilian estate that's home to today's Rallo vineyards.
In Lampedusa's novel Gattopardo, that estate was Donnafugata.
Innovative yet cherishing their Sicilian past, the family use solar power and champion indigenous grapes, aging their wines in cellars that date from 1851.
Though Sicily is far south and warm, its wines are marked by refreshing acidity and verve, thanks to cool nights and temperature-controlled winemaking. Donnafugata harvests at night, picking part of the harvest early to achieve freshness.
Antonio is president of Assovini Sicilia, the winemakers association. He follows the footsteps of his father as well as Lucio Tasca and Diego Planeta.
"Sicilian fine wines have great appeal worldwide and our wineries must take advantage, leveraging our enological history and our flair for promotion," he says.
Antonio talks a lot about freshness, crispness, soft tannins and delicious fruitiness of the reds and whites that thrive here in the Mediterranean. From May to September almost no rain falls and the harvest runs from early August to late September.
The principal whites include Sicily's ancient Catarratto, aromatic with floral, pear, apple and cedar notes. Indigenous Grillo: melon, peach and spice with good acidity. Moscato, known as Zibibbo from the Arabic for dried grape, a clue to how it's made into a natural, elegant, unfortified dessert wine, full of sage, rosemary and orange blossom notes. And versatile Chardonnay, vinified in steel or oak, complex with banana, citrus, vanilla and herbal character.
The reds are spearheaded by Nero d'Avola, the Syrah-like Sicilian grape, tasty and fresh with nuances of red cherry, dark chocolate and ripe plum with soft tannins.
Syrah, too, grown in Italy for two centuries, is intense, spicy with a hint of bacon and dark chocolate, cocoa and coffee. Cabernet Sauvignon thrives in the southern sun and delivers complex licorice, black pepper and black plum flavors with good acidity and silky tannins.
"Our philosophy (inspired by consultant Giacomo Tachis) is elegant, fresh, balanced wines, making sure the fruit is not overripe" says Antonio. "We're looking for crisp acidity that comes from just a little stress on the vines."
Vintages like 2005 were slightly cooler and allowed perfect slow ripening for the red Tancredi – about 1 kilo of grapes per vine. This DOC blend is Nero and Cabernet from the 10 hilly plots of the Contessa Entellina vineyards in SW Sicily. The 2010, by contrast, is made with Cab, Nero, and Tannat and designated simple Rosso Sicilia IGP, though it tastes silky smooth.
Like Tancredi, Mille e una Notte, also grown at Entellina, is nurtured in fine French barriques but the principal grape is 90% Nero with a small supporting cast. The result is licorice, leather, black cherry and black olive tasting pleasure.
"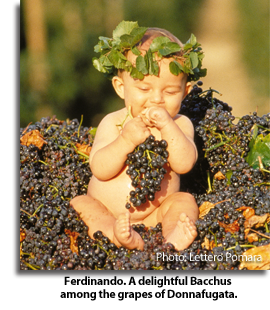 Nero is difficult to grow so not planted everywhere in the world. We berry-select the fruit so even in poor years we make good wine. And the vines are the finest new clones from a nursery we planted with other producers. The quality has already improved."
With 50 to 60 hectolitres of wine per hectare, the island has low yields, a sign of quality – 50% less than Veneto on the mainland, for example.
With 21 million bottles a year, Sicily's 100,000 hectares of vines are as large an area as South Africa's and larger than Germany's.
The island's switch from bulk to fine wines took place in the '80s. "Making quality is the only way for us to survive – the only direction," says Antonio. "It has to be very good or we're all out of business. And that includes the largest cooperatives as well as the smallest niche wineries.
"Thirty five years ago we had 50 people and only one had a car. Today everyone has a car and that's good. But better salaries means our cost per litre is high we have to produce good wines. It was a long process changing people's minds in the right direction.
"We can compete with Chile, Argentina, and Spain because the leading producers here, like Francesco Ferreri of Valle dell'Acate, Stefano Caruso, Alessio Planeta and Alberto Tasca and others including the co-ops, we're all friends working together. We have 80 grape varieties in the experimental vineyard.
"We have to work together to compete with the rest of the world, otherwise we're too small. Assovini is spending 1.5 million euros this spring to promote Sicilian wines in the US.
"We found 40 million Americans know Sicily and want to visit but they don't know our wines yet. We're trying to change that!"
There are very good reasons to visit: cuisine, especially fresh seafood, a valley of majestic Greek temples at Agrigento that rival Athens, the romantic Garden of Kolymbetra, rugged coastline, emerald sea, museums, galleries, dramatic salt pans and, of course, the wines!
The history of Sicily is occupation – by Phoenicians, Romans, Carthaginians, Arabs, Greeks, Normans, Aragonese to name a few.
Wine is never far away: just beside the Temple of Juno, for example, are the vines that produce Diodoros, wine from this archeological site cultivated beside ancient crops like almonds, olives and pistachios (parcodeitempli.net).
Folksy eating places like Ballaro in Palermo offer anelletti, panelle, arancine, couscous with snails, sardine fishcakes and, of course, cannoli (osteriaballaro.it). Upscale Dei Vespri offers scaloppini in Marsala (osteriadeivespri.it).
Mandrarossa Vineyards even boasts its own Cooking Brigade, ladies who preserve the old recipes and teach them daily (mandrarossa.it).
---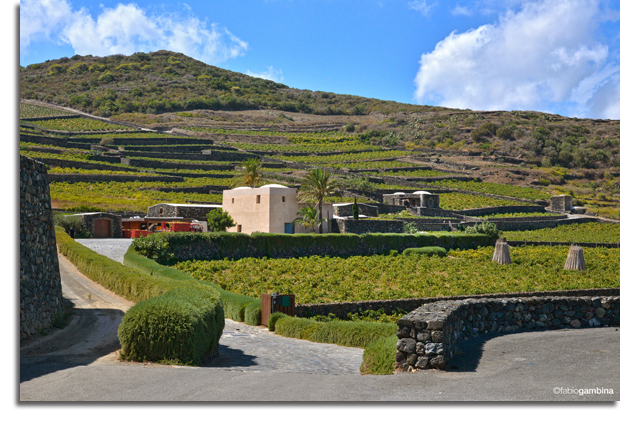 Pantelleria is an island between Italy and Tunisia. Just 15 km long, it's a volcanic satellite of Sicily – and a unique site of heroic winegrowing.
This arid outpost of pumice, ash and lava and hot springs, and wild winds that roar in from Africa, is an unlikely birthplace for wine.
But its Alberello system of dry-stone terraces and low-bush pruning has just been recognized by UNESCO as part of the world's cultural heritage. The first for an agricultural practice.
Cultivation of the vine on the island, painstakingly by hand, has created one of the most striking landscapes.
Ancient Muscat of Alexandria vines are trained to grow sheltered in hollows, pruned low to withstand the winds. Known in Sicily as Zibibbo, these grapes yield dry and sweet wines.
Portions of each crop are dried like raisins (Passito) to produce dazzling dessert wines, principally by the Rallo family: donnafugata.it/products/Ben-Rye.aspx
To produce Passito, grapes are dried 20 days on racks and mats, then in greenhouses and turned daily. Fermentation takes 30 to 40 days.
It takes 4kg of grapes to make one bottle of Passito di Pantelleria, which has residual sugar of around 200g per litre and is 14.5% alcohol. Moscato di Pantelleria is typically 100g of residual sugar and around 12%.
"It is a great achievement for Italy and for Pantelleria," said mayor Salvatore Gabriele. "It's a great compliment to a community which, over the centuries, has transformed places that are difficult to reach into terraces where an extraordinary product is produced."
Meanwhile, far to the north, the vineyards that produce Barolo and Barbaresco in Italy's Piedmont region have also been granted UNESCO World Heritage status.
UN body added Langhe-Roero and Monferrato to its elite group of cultural and natural sites and practices.
The listing includes Barolo, Castiglione Falletto Grinzane Cavour, La Morra, Monforte d'Alba, Novello and Serralunga d'Alba in Barolo DOCG, as well as Barbaresco and Neive in Barbaresco DOCG.
---
We Canadians love our wine, especially imports, and mostly reds.
About three quarters of our intake is grown elsewhere and we're among the thirstiest consumers of foreign vino —32.7 million cases a year, says a report by Vinexpo's Xavier de Eizaguirre.
Italian is our top choice at 6.5 million cases. France and US are tied at 5.8m, with Australia rounding out the Big Four at 4.8m.
Chile, Argentina, and Spain come in at 2m-plus, with South Africa, New Zealand, and Portugal close to 1m each.
Our wine consumption will rise almost 8% by 2018, the report notes. Meanwhile, our thirst for liquor is slackening, though tequila is hot.
"The Canadian market is doing better than most. It's a target for all major producers," says Eizaguirre. That's because our domestic industry is still small and our palates still lean toward France and Italy – though New Zealand, the US and Chile are muscling in, says the study done by Britain's International Wine and Spirit Research agency.
Red wine is the driver in Canada, representing 59% of our consumption vs 37% white and 4% rosé. However, rose is up 13.7% and white 8.4% vs 6.8% for red.
"Canadians produce a lot of very good wine but not enough for domestic consumption," said Eizaguirre. However, sales of BC wine did top $1b in 2014 for the first time, and they'll continue to climb.
Production in 28 countries and consumption in 114 countries were analyzed in the study commissioned by Bordeaux-based Vinexpo.
The US became top consumer last year at 339.6m cases and is the largest wine market, with business totaling $29.5b.
Canada ranks seventh at $6.1 billion, projected to grow 10.4% by 2018 to 16.4 litres per adult. "Over five years, Canada's wine consumption growth rate will be twice that of the rest of the world," says Eizaguirre.
Canadians also like sparkling wines, consuming 14.4% more of Italian bubblies since 2008, the report says. "Champagne is sometimes out of reach for consumers, so when they need bubbles they buy Prosecco or Cava."
We're apparently bucking the worldwide trend toward strong growth in spirits consumption. A decrease of 2% is expected in brandy, liqueurs and vodka, mainly through a drop in domestic spirit consumption.
Bourbon and cognac have grown steadily but tequila will be the big seller, jumping 16.7% in the next three years.
Meanwhile, at the production end, weaker shipments of Burgundy and Bordeaux caused a drop in French wine exports in 2014, overshadowing stronger demand for Champagne.
Total French wine exports fell 3.3% to 1.7b bottles worth 7.44b euros. Burgundy and Bordeaux were down 13% and 9.5% in volume, to 279m and 75m bottles.
Part of the problem for Burgundy has been small harvests and the ability of competitors to give better value for money. Champagne houses and growers had a better year, with exports up by 7.8% in value to 2.4b euros.
In other happy news, global Rioja sales are continuing their resurgence, reaching a record 281m litres with exports up 3.5%.
Rising demand for white Rioja and Gran Reserva reds within Spain, plus increased popularity for barrel-aged reds in export markets, saw overall Rioja sales reach 375m bottles in 2014. The news comes as Spain is challenging France as world's biggest wine exporter.
Please take me back to the top of the page!