Helpful hint: click on photos for even more information!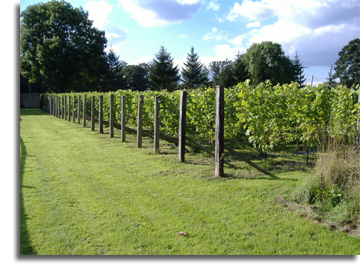 For $60, you could become a vineyard owner in England.
That would be one (1) vine at Renishaw Hall in Derbyshire, a few miles from Sheffield, in the walled garden of the 17thC manor house.
Owner Sir Reresby Sitwell (nephew of poet Edith Sitwell) began the 3-acre vineyard after a trip to Italy hoping to produce English wines from Italian vines.
Given the challenge of growing tender European grapes in frigid Derbyshire, however, reality struck.
But the vineyard and 3,000 vines survive: varieties like Seyval Blanc, Madeleine Angevine and Rondo, under the care of Kieron Atkinson, who manages vineyards at Renishaw, Welcombe Hills in Warwickshire and another walled vineyard at Kedleston, also in Derbyshire.
Growing within walls protects against cold, wind, frost and rain and gives vines valuable assistance at these higher latitudes. In Burgundy, the many walled vineyards usually have "les clos" in their name, as in "enclosure".
Until 1986 Renishaw was the most northern vineyard in Western Europe. We call that region The Land of Horizontal Rain!
The grapes are crushed and vinified at Halfpenny Green Vineyard in Staffordshire, where Kieron is winemaker and the star wines are from the Loire grape Madeleine Angevine, dark-skinned Rondo and a Sauvignon Blanc sparkling.
The white Angevine isn't picked until November to achieve full ripeness and offers elderflower, gooseberry and floral aromas. The Rondo, a light-colored early-ripening red, tastes of blackberry and strawberry, between a Cru Beaujolais and a German Pinot Noir, with fresh, tasty acidity (there's a rosé, too). And the traditional bottle-fermented sparkling is crisp and easy-drinking. For about $20 each.
Edith Sitwell and brothers Osbert and Sacheverell were renowned in the 1940s for their literary output and social commentary. They were said by Evelyn Waugh to have "declared war on dullness".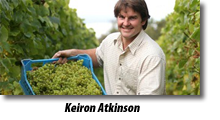 Oh, yes, for your vineyard "ownership", contact kieron@englishwineproject.co.uk. You get a bottle of wine, the vineyard tour, and 10% off your next purchase. And a certificate!
Canada, like northern Europe, has wine regions that struggle against tough weather conditions. Nova Scotia, for example.
Tasting the wines from there is like a time warp to the old days of Ontario wines made with grape varieties like l'Acadie, Seyval, Vidal and Geisenheim that were going to rescue Ontario from our foxy-tasting Labrusca-based wines.
The Labrusca grapes, native to North America – like Catawba, Concord, Delaware and Isabella – never had the panache, elegance or flavor of the European Vitis Vinifera vine family.
Along, briefly, came the North American hybrid varieties, OK-ish grapes that were quickly overtaken by seriously good grapes from Europe – varieties like Chardonnay, Cabernet and Pinot Noir.
That seems to be where most of the Nova Scotia wines are now. BV. Before Vinifera.
---
It's not news that alcohol levels are going up but, apparently, global warming is not the reason.
The study, in the Journal of Wine Economics, looks at 18 years of data from the Liquor Control Board of Ontario, which tests every incoming wine's alcohol level. The study covered 91,000 wines from around the world.
One hypothesis was that rising alcohol could be caused by global warming but that wasn't the main factor.
Wines averaged 12.7% alcohol in1992 and 13.5% by 2006. Average temperatures in wine regions are up 1-2 degrees C, but it would apparently take a whopping 11 C increase for a 1 percentage point increase in alcohol."
Winemaker choice is driving the increase, the authors say, although winemakers "understate the alcohol because it's advantageous for marketing."
The more expensive the wine, the higher the label discrepancy on the alcohol level. Wines under $10 have the most accurate labels, followed by wines $10-$20, then $20-$30, and so on.
Almost every country fibs about its alcohol levels, and every country underreports it. The most honest is Portugal, where the average 0.05 percentage-point discrepancy might be a rounding error.
The biggest fibber is Chile, where the average wine has 0.27 percentage points more alcohol than the label says. Argentina, the United States and Spain are the next least honest.
The paper speculates that winemakers have an ideal alcohol percentage for sales purposes that they put on the label.
Red-wine alcohol levels have actually risen fastest in Chile. Spain, Argentina and South Africa are just behind.
For white wines, it turns out that Canada has been the fastest riser, followed by New Zealand, Chile and Italy.
In Burgundy, alcohol has actually gone down over 18 years for both red and white wines; it's the only region where this is true.
Alcohol for red wines has also gone down in Oregon.
For white wines, Burgundy is the only place where white wines haven't risen steadily in alcohol.
The fastest riser in alcohol for red and white wines has been British Columbia, followed by the Languedoc and the Rhône.
---
According to a retired BC prof, a little help from a high-tech filter to eliminate the carbon dioxide and still retain all the full, fruity aromas and flavors.
And it appears his new process might be so easy for wineries to use that Dr. Dick Jones' invention could improve the taste of wines everywhere in the world.
From his home-based lab and winemaking room in Naramata, BC, Jones says he's pretty sure his process is a winner.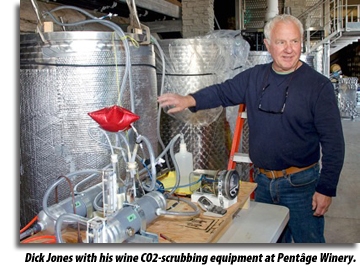 Jones is a University of Alberta professor of pulmonary medicine for 35 years specializing in lung, cardio and exercise physiology, and he's the inventor of a nicotine nasal spray to help people quit smoking – one of the U of A's top inventions.
He's conducted controlled experiments over three years, including blind taste-tests by experts, as well as chemical analyses of the wines by an independent professional researcher. In addition, Jones also has the owner of a popular South Okanagan winery on-board as a believer and enthusiastic supporter.
The "Aha!" moment came when he realized the valuable aroma compounds in his wine during fermentation were being carried away by the bubbling CO2 and lost into the atmosphere, reducing the wine's flavor.
Some winemakers reduce this loss by low-temperature fermentation or by removing aroma compounds then adding them back after fermentation. "Up to 80 per cent of a wine's most important aroma compounds can be lost with the CO2 during fermentation," says Jones. "I needed a membrane that selectively allowed the CO2 in the tank's headspace to escape while leaving the aroma compounds behind."
He found that a Norwegian professor had developed a specialized super-thin membrane for scrubbing CO2 from the smokestacks of coal-fired power plants. "It acts like our lungs to get rid of CO2, it's made of food-grade material, and it works at room temperature and pressure. It's perfect for a winery setting."
Dr. May-Britt Hägg of the University of Science and Technology in Trondheim supplied membranes for Jones' experiments.
After using the membranes to scrub the CO2 during fermentation and later bottling samples of each, the experimental wines were compared with the control wines in an extensive taste-test and chemical analysis.
Paul Gardner and Julie Rennie, owners of Pentâge Winery in Penticton, organized a panel of 10 experts who blind-tasted and ranked the wines on seven key aroma and taste attributes. As Jones reports, "The tasters rated all seven attributes with higher scores for the membrane-treated wines." The highest scores were for fruity aroma, complexity, fruity taste, and overall rating.
Samples were then analysed at UBC's Wine Research Centre. For the Pinot Gris, there was an increase of 23% in the aroma concentrations. For the Gamay Rosé, there was an increase of 66%.
Paul Gardner has offered Pentâge as the test location, where headspace in a 1,000-litre tank containing 700 litres of his 2015 Pinot Gris was scrubbed with an improved version of Dr. Hägg's membrane.
Jones and Gardner are running the wines through more taste-tests and chemical analysis.
Gardner says: "Until now the loss of aroma during fermentation has been accepted because there was no easy way to prevent it. But the membrane process makes total sense. I don't think it will be long before interest in this is worldwide."
One advantage is that the equipment can be the size of a suitcase, and the power consumption comparable to a 100-watt light bulb.
Gardner will bottle the control and experimental wines and sell them as a two-pack special-release Pentâge Pinot Gris, and invite feedback from customers.
Jones feels "this is the Holy Grail of white winemaking, and there are benefits to using the method on red wine fermentation, too."
---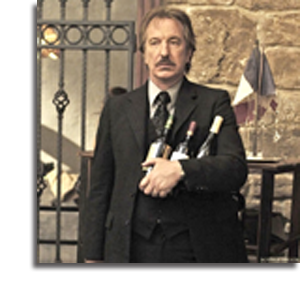 News of the death of actor Alan Rickman had legions of Sonoma County actors and vintners reliving his sojourn there for the filming of 2008's Bottle Shock.
The film fictionalized the 1976 "Judgment of Paris" tasting and the victory over French whites by Sonoma-grown Chardonnay from Napa's Chateau Montelena. Global perception of California reds was also enhanced by the judges' preference for Stag's Leap Cabernet over elite vintages from Bordeaux.
Rickman portrayed British wine-shop owner Steven Spurrier, who hosted the competition. When Rickman went to Sonoma he'd already made himself indispensable to the Harry Potter series as Professor Severus Snape.
Please take me back to the top of the page!