Helpful hint: click on photos for even more information!


In the beginning, there was chestnut, acacia, cherry, pine and oak.
In the making of wine barrels, that is. For transportation and for aging.
But the wines from those early barrels, apparently invented by the Celts, were a tad bitter, and the search for quality was on...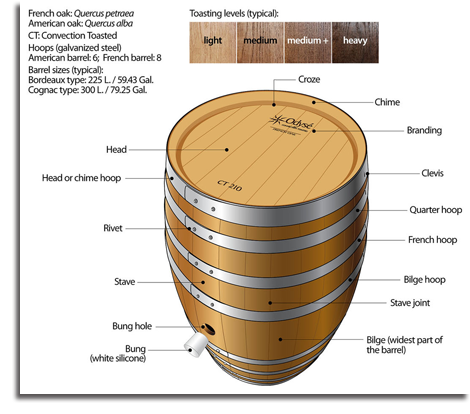 Oak is the clear winner today, first, oak from America and then oak from France. And now, both together – a transatlantic marriage of heads and staves!
The canny Spaniards in La Rioja, the world's biggest users of oak in wine aging, have combined American and French oak together in their barrels to age the most wonderful wines!
Matias Calleja, more than 34 years winemaker of Bodegas Beronia, is a leader in the field. Beronia originated as a Txoko (choco) in the tiny town of Ollauri back in 1973. A Txoko is a uniquely Basque private fraternity devoted to wine, food and comradeship – essentially a cellar, an open kitchen and a restaurant where the men cook for each other and socialize. (One reason chefs from the Basque country are so highly regarded in Spain and elsewhere.)
In Beronia's case, the Txoko decided to also grow their own wines, especially Rioja reservas and gran reservas, as well as cooking and dining together. Later, along came the renowned Gonzalez Byass family of Jerez, Andalusia (founded in 1835, think Tio Pepe!), famed for their Sherries and Brandies, expanding into Rioja, to purchase the Txoko.
Today a major player in Rioja, Beronia makes natural wines, using sustainable viticulture in diverse microclimates and terroirs, using minimal cellar manipulation to deliver the finest expression of their wines. Their elegant house style is recognizable even within the tight rules of the Rioja DOC. They always have the consumer in mind.
Beronia's view of the two major types of oak for barrels is:
French oak is more porous, releases more tannins, phenols and solids into the wine and is known for giving wine more subtle and pungent spicy notes like clove and black pepper. Wines aged in French oak are often found to have balsamic notes and silkier texture. French oak tends to be more elegant and delicate and therefore better for long aging.
American oak barrels tend to be more potent in their flavor, releasing compounds like lactones and vanillin at a much faster rate than French oak. These are responsible for some of the 'oaky' flavours such as vanilla, cinnamon, coconut and patisserie.
Since the 1970s, Beronia has been investigating oak's impact on wine aging. Matias has found that mixed French/American oak barrels allow the different characters from each wood to be more harmonized than aging in separate 100% French or American oak barrels.
Also, mixed oak barrels make it easier to control the delicate fruit-oak balance in the finished wines. After many tests, 70% American and 30% French is the best, with the staves from American oak and the heads from French.
Meanwhile, research is still ongoing. The result so far is aromatic Tempranillo-based Rioja wines with great mouthfeel, lovely fruitiness, just the right kiss of oak toast and spiciness and great length.
The new vintage each year at Beronia all goes into brand-new barrels and the winery buys 3,500 new barrels every year ($1,000 a pop!).
What's currently available:
Beronia Tempranillo LCBO 243055 $13.95 ruby red, savoury-sweet black fruit, cedar and spice; dry, with midweight, supple with dark berry flavors, Tempranillo, Graciano and Mazuelo aged in mixed French and American oak. Dark and spicy with raspberry and blackberry, cherry, vanilla, smoke, anise and black pepper (90).
Beronia Reserva Vintages 50203 $20.95, Tempranillo, Graciano and Mazuelo again aged in mixed French-American oak barrels. Spicy with brambly blackberry, black cherry, vanilla, smoke, anise and black pepper notes (91).
Beronia and Gonzalez Byass have an exciting new project in the very promising white wine region of Rueda, Spain. It's a 2015 vintage of the Verdejo grape variety, Vintages 461327, $11.25, crisp, dry with notes of lime, green apple, banana, pineapple, leek and spring pea (90). Think Sauvignon Blanc and Albariño super-dryness, Great with shellfish and seafood.
---
For something completely different, you can go to Rioja, Spain and enjoy La Batalla del Vino (the battle of wine), June 28-30.
Dressed in white, naturally, participants hurl thousands of litres of perfectly good red wine on and into each other from jugs, bottles, wine skins and water pistols, accompanied (musically?) by equally wine-soaked bands.
The craziness takes place on St Peter's Day in the postcard-pretty little wine town of Haro, and its traditions go back centuries. The night before, Haro throws the biggest party of the year, and the townsfolk fill the streets and squares to celebrate until the wee hours. And that's just the warm-up.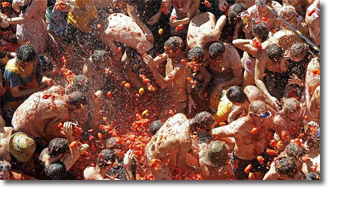 After this (and laundry) there's always La Tomatina in Buñol near Valencia (those crazy Spaniards!) where you'll be pelted and drowned in 100 tons of very over-ripe tomatoes around August 30. Food fight, anyone?
For something even more completely different, there's the Orkney Wine Festival, celebrating its eleventh year. It's hard to say Orkney and wine in the same sentence, but there it is! Probably Scotland's only wine festival, with visiting winemakers, tastings and dinners, a wine fair, a film night, and local produce, all across the islands, June 4-11. Sounds like another good warm-up.
---
Quick! What do all these words have in common?
Curvoisier, Catbernet, Pet-it Verdot, Catatonic, Chateau de Bone, Grand Chew, Cateau Mutton-Rothschild, Pinot Meow, Purrsecco, and Dog Perignon. Perhaps even Hair of the Dog?
While you're nosing through them, I'll explain: the fur's really flying over a new category of wines for cats and dogs, in cutesy little bottles with names like these (some of them mine!). And the infighting is fierce!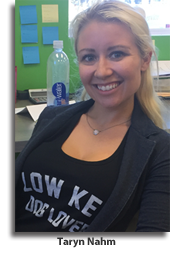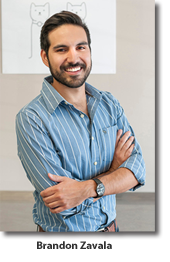 Brandon Zavala started Apollo Peak and describes his alcohol-free pet wines as "liquid catnip" using red coloring from beets. His catty rivals are Taryn Nahm and Kai Pfretzschner, who founded Pet Winery.
"They're copycats and they've cloned our products," barks Zavala. Nahm claws back with "Phooey!" Nahm's product uses salmon oil.
Trying to get a leg up, both companies have expanded into the doggy market: Apollo brews chamomile and peppermint in water. Pet Winery adds bacon extract.
Actual cats and dogs seem less than interested.
This despite the fact that for $11.95, you can buy Fluffy an 8-ounce bottle of Catbernet or Pinot Meow from Apollo Peak, based in Denver. For $14.95, you can pour 12 ounces of Meow & Chandon from Pet Winery of Fort Myers, Florida. Both products are essentially catnip water.
Zavala adorns his bottlings with deep thoughts like "Making Cats Great Again" and #whydrinkalone.
It's all big business. Marketresearch.com says 62% of cat owners (and 64% of dog owners) consider their pet part of the family. Cat products and supplies make up 30% of the $40 billion US pet market, excluding services.
David Grimm, author of Citizen Canine, says closeness with our pets began in the 1900s, when flea products allowed people to bring dogs indoors, and kitty litter did the same for cats. Soon, animals were on people's beds and in our hearts.
Multigenerational families gave way to small ones and people living alone. "The final piece of the puzzle," Grimm says, "coincides with the rise in technology and the severing of a lot of human relationships."
Last year, Zavala's company sold $500,000 worth of pet wines.
---
Legal marijuana has canna-balized 7.1% of revenue from the US beer industry and it could get worse for the suds biz.
If cannabis were legalized nationally, the US beer biz would lose $2 billion in sales, predicts Cannabiz Consumer Group (C2G). Twenty-seven percent of beer drinkers say they've already switched to cannabis, or they would in the future if legal. Wine, spirits and on-premise sales are also being hit.
There were 24.6 million legal US cannabis consumers in 2016. Legalization has since extended to more states, medicinal or recreational or both. C2G projects that legal cannabis consumption will settle at the level of beer and wine and create a new $50 billion industry. Meanwhile, the number of wineries in the United States has grown steadily, rising from 6,357 in 2009 to an estimated 9,091 this year, according to Statista.
---

Tesco, the mega UK retailer, is getting into no-wine wines.
The no- and low-alcohol category grew 39% in the year to September, and Tesco is keen to be part of the growth.
Eisberg, which has 52% of the UK's non-alcoholic wine market, saw its sales up 40% in that period.
Meanwhile, globally Prosecco sales will pass 412 million bottles by 2020, taking over from "discounted Champagne", according to Vinexpo CEO Guillaume Deglise.
Sparkling wines (including Champagne) will grow by 8.6% to 240 million cases by 2020, up from 221m in 2016, and "the big trend is Prosecco."
Prosecco will outgrow all other sparkling wines, increasing 14% over the next five years from 25.2m cases to 34.4m (or 412m bottles), giving the Italian fizz a 9.2% share of the global sparkling market.
Please take me back to the top of the page!