• Oct 29: Spirit of Toronto, Thomson Hall, malts, bourbons, etc.,
613/729-7042 www.spiritoftoronto.ca
• Nov.1: Italian Wine & Grappa, The Carlu, 416/598-1566.
• Nov. 1: Melbourne Cup Dinner, Australian Wine Soc., 416/944-1597.
• Nov. 2: Vintages Dinner with Francesca Planeta, 416/365-5928.
• Nov. 3: A Night Divine: Auction, Tasting, Le Parc, Thornhill, 905/889-2252, ext. 5.
• Nov. 5: TSO Wine Festival tastings, Crush, 416/593-7769, ext. 358.
• Nov. 5-7: Ottawa Wine & Food Show, Congress Centre, 416/755-1111.
• Nov. 6: TSO Auction, www.finewinefestival.com
• Nov. 6: Importing Wine Seminar, Malibu Club, 416/503-9834.
• Nov. 8-14: The Spirit of Hospitality Festival showcases master chefs
and "Iron Sommeliers" in a multi-event fund-raiser for hospitality scholarships
and food banks. Toronto's top tables present menus with New World wine
pairings, at the Design Exchange, Westin, Drake, Arcadian Court, Pepper
Mill Kitchen and Calphalon Centre. www.spiritofhospitality.com 905/277-3380.
• Nov. 8: Best Ontario Sommelier Competition, Royal York, 905/508-4164.
• Nov.10: Luce/Lucente, Winetasters Society of Toronto, www.winetasters.on.ca
• Nov. 11: Brunello, The Carlu, 647/290-2504.
• Nov. 18: Beaujolais Festival, French Chamber of Commerce,
416/205-9820, www.ccfctoronto.ca
• Nov. 25-28: Gourmet Food & Wine Expo, Convention Centre,
416/410-0405, www.foodandwineshow.ca
• Dec. 1: Clare Valley tasting, Australian Wine Soc., 416/944-1597.


---
* "I used to think it was a silly affectation to drink different wines from different style glasses, but I have finally become a convert. I now definitely prefer drinking hearty, macho reds from my Spiderman glass and lighter, fruity whites from Sponge Bob."
– Dean Tudor, wine writer and gourmet.
Bad Dog Spot On!
Bad Dog's pedigree, from fun concept to serious LCBO listing, begins with Lloyd Evans and Terry Milne of Vin Passion/The Case For Wine approaching Domaine Maurel-Vedeau, (self-styled "wine harmonists") who source/create Languedoc wines.
There, in Montpellier, they sipped and sampled dozens of micro-blends to find the flavor profiles they wanted. "We were looking for food wines with a modern, easy drinking style in the right price bracket," says Lloyd.
"We wanted it to be fun and it has been." Certainly the puns haven't stopped: Something about Premier Cur, never ruff! Doo diligence, I guess. "Amazingly, in our focus groups, some people said they'd already heard of Bad Dog wines -- before we created them!"
They're all Pays d'Oc appellation, sourced from sprawling Languedoc-Roussillon along the Med, priced at $12.35. The White and the Red are General Listings, and the Rose is available from Vin Passion/The Case For Wine at 416/467-1606.
The White, a Sauvignon/ Chardonnay, is buttery soft with whiffs of honeycomb, toasted bread, light citrus and vanilla (85). An easy-going everyday vino.
The Red, a Syrah/Cabernet, is ruby-hued with purple glints, and you could easily identify it as a Beaujolais with its soft, fruity cola notes. Gentle enough in tannins to be served refreshingly chilled, with vegetarian dishes, red and white meats or BBQ. Barrel-aged for eight months (83).
The Rosé, a Grenache/Syrah, shows a dusky pink, with fresh-cut berry and tea leaf flavors, and a dry, refreshing aftertaste. (86). Versatile chilled with white fish, chicken, cream-sauced pasta and white meats.
The next vintage could be Heir of the Dog -- a barrel-toting St Bernard?
Who Knew?
Sake, foie gras, chocolate, oysters, champagne, caffeine and caviar are all great for your body!
* Sake softens hands and skin. Foie gras is a moisturizer, chocolate's
an antioxidant, oysters rebuild collagen, and bubbly, java and caviar
are all skin tonics. Sake's organic acids [malic, lactic, citric] and
saccharides renew/soften the skin by gently peeling away dead skin cells.
* Foie gras is a natural moisturizer because of its heavy fat content.
* Chocolate protects/heals your skin from the sun.[The antioxidants
that make red wine healthy for your body also diminish the sun's
harmful effects and lessen damage from free radicals.]
* Oysters are rich in amino acids, the proteins that build collagen,
fight free radicals and keep your skin firm.
* Champagne's tartaric acid contains enzymes that encourage
exfoliation without rubbing or abrasion.
* Caviar, extremely rich in amino acids and fatty acids, helps
rehydrate your skin.
* Caffeine stimulates circulation, jolts you awake, and can do the
same for your skin by getting your blood moving.
Ain't science great!
Boxing Match!
Incredibly convenient! Ancient Coast Vidal 2003 and Baco Noir 2002 are now in 3-litre bag-in-a-box "casks" at Wine Rack stores, and they'll be in LCBOs next year.
The boxes, holding the equivalent of four bottles in a Mylar bag that collapses as the liquid is poured, have tight-seal caps that keep the VQA-quality wines fresh for weeks, unlike opened bottles. "These are our first Ancient Coast wines to be sold in the new format," says Scott Starra, Ancient Coast's marketing manager. "This is a breakthrough for Canada.?
Robust and complex with black cherry, currants, soft tannins and a gentle, pleasing finish, the Baco is fine with steak, tomato-sauce based sauces and pizza. The Vidal is flowery with peach and mango nuances and partners fresh fruit salads, light pasta and seafood. Vincor-owned sibling Sawmill Creek, l'Ambiance, Entre Lacs, and Sola-Nero wines are also going bag-in-box for between $24.95 and $31.95 for 3 to 4 litres.
According to Decanter, 52% of wine in Australia, and 50% in Sweden and the UK is in boxes. It's hot!
Rare Opportunity
Vintages is offering a special release of Rare Old Solera Sherries from Gonzalez Byass, over 30 years old, in half-bottles, including Del Duque Amontillado, 694331, $25.95; Apóstoles Palo Cortado, 969527, $25.95; Matusalém Oloroso, 694323, $25.95; and Noé Pedro Ximénez, 721159, $25.95. The latter should be a Canadian favorite: it's pronounced No, Eh!
The Spirituality of Wine
Drinking wine, the most ancient product of the earth, contends Tom Harpur, is a magical, mystical sacrament, a universal symbol of the natural world that helps us "take care of the vineyard of our heart."
A feast for eyes and spirit, Harpur's sensuous, brilliantly photographed The Spirituality of Wine, Northstone, $45, is a 100-point celebration in a glass!
Harpur documents wine's constant role in connecting us with the wheel of time, with places and people remembered, with the most ancient civilizations, love, moments, companionship shared, joyous anniversaries, future hopes: wine as a faithful companion to the human journey.
From the ancients to today, the book is spiced with wise, wonderful observations, historical notations, loving descriptions and life-affirming wine wisdom.
Priest, Rhodes scholar, theology prof, wine romantic and proud of it, Harpur makes wine's case through Bacchus, the Bible ("filled with wine"), Babylon (Hammurabi's Code regulated drinking houses), gastronome Brillat-Savarin and poet Rupert Brooke and punctuates with: "To take wine into your mouth is to savor a droplet of the river of human history," according to Clifton Fadiman.
Personally, I'm a firm believer that "one barrel of wine can work more miracles than a church full of saints," as the old Italian proverb says.
My favorite Harpur quote: "The inextricable bond between food and wine as celebration...of the joy of being alive with one another, at an exceptionally special time of the year, unites us all as members of one cosmic family." I'll drink to that!
Elvis Has Left The Winery!
Signature Wines of California is marketing Elvis Presley Graceland Cellars wines. The release includes Blue Suede Chardonnay, King Cabernet and Jailhouse Red Merlot. Suggested retail, $10.99 in the US.
Cellars Market
Up to here in wine? The Fine Wine Reserve offers private storage at King and Spadina, whether you're an amateur or a pro with 8 cases or 800.
Access is 24/7, via six layers of security including fingerprint technology and a lounge/tasting room and kitchen are available for free. Marc Russell, president, has spent a king's ransom to provide perfect temperature/humidity stability www.finewinereserve.com or 416/593-9463 (593-WINE).
Urban Cellars, at www.urbancellars.ca, offers a less upscale, less private, but still climate-controlled alternative. Check 'em both out!
Hot Tip
We might all be buying British champagne and German Chianti down the road, thanks to global warming. Climatologists say a 2C warming by 2050 will create ideal conditions for Chianti in Germany "while Champagne and Bordeaux will grow in southern England." [We should live so long!] Tuscany will have a North African climate and need irrigation to grow grapes, but Italian producers aren't worried.
"The climate has changed these last few years but that has brought excellent harvests," says Gallo Nero president Giovanni Ricasoli.
Sweet Surprise
Château d'Yquem has released its '99s to the trade for 75 euros (US$92), the cheapest in a decade. And U.S. retailers are offering it for $130.
The owners have a new strategy. Pierre Lurton, appointed CEO in May and trying to make Yquem an exciting brand, made 11,666 cases of the '99 available, all but 18% of the stock. "The idea is for people to drink Yquem and have it available in restaurants and shops."
It's likely to be a one-timer though. Yquem will release the great 2001s at a much higher price. As part of its new strategy, Yquem released its classic 2003s as futures in June for 135 euros. Alexandre de Lur Saluces, who headed the château 1968-'04, only released wines five years after harvest.
Golden Oldies
Tasting of the year: Harry Drung's Old Gold and Cellar Treasures celebrated a quarter-century of bringing fine wines to Ontario, and it was a day to remember at St Lawrence Hall.
"It took us six long years to get our first General Listing at the LCBO!" recalls Ingrid Drung, Harry's wife and partner in HHD Imports. "We've come a long way...and one of the big changes, apartment from the vastly increased selection of fine wines in Ontario, is the paperwork today! Life was so much simpler back then."
HHD, based in Waterloo, started in the era of the old Rare Wines & Spirits store. Since then, with a lot of perseverance, and tons of personal charisma, they have established a global network of 70 high-quality suppliers from 17 countries.
Golden oldies: Royal Tokaji Essencia '93, Royal Oporto Colheita '44, Varoux Chablis '89 Montée de Tonnerre, Schloss Schönborn Auslese '79, Château Margaux '79, Lingenfelder '89 Riesling TBA, Vignamaggio Chianti Classico Riserva '99, Viglione Primitivo Riserva Gioia di Colle '01, Bunnahabain 25-year-old single malt, Cognac Fillioux XO, and magnums of Champagne Deutz '79 and Hermitage Delas Frères '89. HHD, 519/884-7600, www.hhdimports.com Check out Harry's list: and here's to the next 25 years!
In 1979, Chinese Year of the Goat, with Joe Clark as PM, LCBO total sales were $990 million, HHD's were $199.47. Marv Shanken bought Wine Spectator, Parker published issue two of the Advocate, a bottle of '71 La Tache DRC cost $88.15, '71 Mouton $45, '67 Yquem $50.35, Dow's Reserve Port '65 $8.85, Taylor's '75 $13.95, Inniskillin Chardonnay Ltd Edition '77 $6.15 and Bright's Pinot Champagne $10.50!!!!
High Ambition
Joseph Henriot, owner of Burgundy shipper Bouchard Père & Fils, is building a $16-million winery, the first in the Côte d'Or to use gravity rather than pumps during winemaking and aging.
The 300,000-case winery in Savigny-lès-Beaune, on flat land, achieves the gravity effect with three floors, extending 30 ft below ground, where 165 vats receive the grapes/juice and 3,500 barrels will age the Chardonnays and Pinot Noirs.
Henriot, whose family has made Champagne since the 16thC bought the Beaune-based shipper from the Bouchard family in 1995. Bouchard is the largest owner of premiers and grands crus in the Côte d'Or, where its 321 acres produce 125,000 cases from 83 appellations. As a négociant it sells 300,000 cases.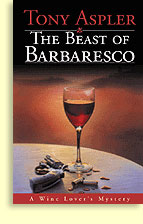 Book 'Em, Dano!
It's murder in the wine business!
Follow Tony Aspler's wine writer-detective Ezra Brant in Blood Is Thicker Than Beaujolais, The Beast of Barbaresco, and Death On The Douro. Great Christmas gift for the wine lover/mystery buff in your life!
Tony will autograph copies. One for $12.84 (inc. GST) + $6 postage/handling. Three for $32.10 + $8.
Email tony.aspler@sympatico.ca or visit www.tonyaspler.com. Send cheques or money orders to: Tony Aspler, 53 Craighurst Ave., Toronto ON M4R 1J9.
To Your Very Good Health
A glass of red a day sharply reduces prostate cancer. A new study in the International Journal of Cancer says it cut the rate by half, and especially the most dangerous cancers. Red wine contains the antioxidant resveratrol, which may also help the prostate. Vitamins C and E and white wine help, too. Beer and liquor are useless. The other way to protect your prostate is through frequent sex.
Take me back to the top of this page, please!
Take me back to The Buzz!