Jan10: Cool Climate Pinot Noirs, Ontario Club, Toronto – wines from New Zealand, Oregon, France and Ontario and guest speaker Derek Barnett of Lailey Vineyards, Toronto Vintners Club, 416/209-1442, events@torontovintners.org.
Jan 12: Tasting the Blends, Toronto Lawn Tennis Club, featuring some of the of South Africa, John Adam, South African Wine Society, johnqadam@rogers.com, www.southafricanwinesociety.com.
Jan 13-22: Niagara Icewine Festival, 905/688-0212, x12, gamay@niagarawinefestival.com, www.niagarawinefestival.com.
Jan 16: Canada vs. Bordeaux, Ontario Club, Toronto, Ontario Wine Society, 416/921-9798.
Jan 17: Tuesday with Tony Aspler, Grano, Toronto, New Zealand wines, 416/440-1986, tony.aspler@sympatico.ca, rdm@grano.ca.
Jan19-22: Winter Icewine Festival, Okanagan, B.C., 250/861-6654, info@TheWineFestivals.com.
Jan 23: Louis de Sacy Champagne Dinner (Il Mulino Ristorante, Toronto, zoltan@szaboandszabo.com.
Jan 24: LCBO Vintages Union des Grands Crus 2003 Bordeaux, Four Seasons, Toronto, 416/365-5767.
Jan 26: Australia Day Dinner, Albany Club, Toronto, Australian Wine Society, 416/207-9976, www.aws.ca.
Feb 1: Scotch Tasting of the World's Finest Brands, Niagara-on-the-Lake Golf Club, Companions of the Quaich, 905/468-0802, nmiddleton@cogeco.ca.
Feb 19-21: Food & Beverage Show, International Centre, Road, Mississauga; 670 booths showcasing food and beverage, 416/923-8416, www.crfa.ca.
Feb 20: Vintages/Woodman Wines & Spirits Winemaker's Dinner, George Restaurant, Toronto with Alvaro Palacios, 416/365-5767, 1-800/266-4764.
Feb 21: Australian Wine Society Shiraz Tasting 416/207-9976, www.aws.ca.
Mar 3-5: Canadian Women's Expo, International Centre, Mississauga, 300 exhibitors, wine, spirit and beer pavilion, 416/781-0909, 1-800/787-9328, www.canadianwomensexpo.com.
Mar 7: South African Tasting, Wines of South Africa, 416/698-8112, keenan@propellerpr.com.
Mar 21: Australian Wine Society "Spring Cleaning", 416/207-9976, www.aws.ca.
Mar 23-25: Food & Drink Fest 2006, Hamilton Convention Centre, 905/524-3689, www.foodanddrinkfest.com.
Mar 24-26: Toronto Wine and Cheese Show, International Centre, Mississauga, 416/234-0013, marti.milks@sympatico.ca.


---
Audible Feast
Tales From My Table: Food For Thought, a CD written/narrated by Toronto's Ann Tudor, is an audible feast of true stories, poignant, bitter-sweet, funny, and prepared with love.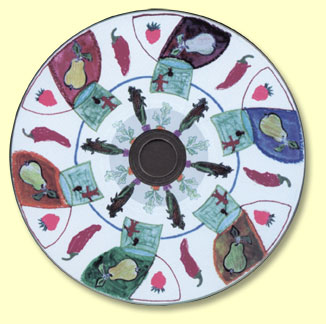 For Ann, heart and hearth are inseparable in these personal essays. And she delivers a skillful blend of gentle storytelling, lucid commentary and fond nostalgia to fire your imagination, stoke your appetite and re-awaken forgotten food memories.
The 74-minute disc (paced by superb instrumental sketches) also has the bonus of recipes that relate to the stories: guacamole, pea salad, eggs mimosa, etc., and it's $17.50 via www.anntudor.ca or ann@tudor.ca (98).
You'll find out what muffins used to be like, and how to make them, before they became cupcakes! And how to make eggs mimosa with just two ingredients. You'll never look at corn, tomatoes or fresh figs the same way again.
Garrison Keillor, eat your heart out!


'That's Gneiss...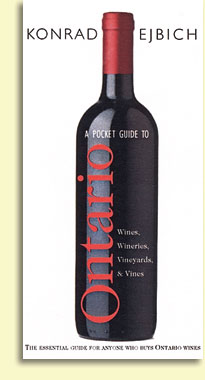 but who gives a schist?' is a sample of the earthy, user-friendly style of A Pocket Guide to Ontario Wines, Wineries, Vineyards and Vines.
Nicely opinionated and richly informative, Konrad Ejbich's mini-tome, $22.99, McClelland & Stewart, is meticulously organized along the lines of the seminal Hugh Johnson Pocket Encyclopedia of Wine.
In fact, Ejbich picks up where Johnson leaves off: filling in Johnson's woeful blanks on the quality and energy of Ontario's thriving wine regions and producers – 125 wineries today, more than quadruple the number since 1988.
Since the late '80s, Ontario has emerged as a leading fine wine region, a kind of Napa North, mirroring California's spectacular growth in quality, prestige, infrastructure as a tourist destination and increasing economic importance.
Ejbich is strong in documenting the Ontario winery profiles with sharply etched snapshots that convey a precise sense of their personae, terroirs, evolution and wine styles. Here's a writer who knows his stuff.
The candid, clear and fearlessly honest tasting notes are helpfully interspersed with technical definitions, such as malolactic fermentation, Asian lady beetle, veraison and verjus, for example, all alphabetically placed.
There's a browsable section on all the grape varieties (with all their many aliases) that are authorized for planting in Ontario, their characteristics, vices and virtues.
The full-page VQA vintage chart with its dozens of arrows looks like a page from an Argos' play book, but the info is on the money and difficult to obtain elsewhere. That goes for the whole publication. It's the most comprehensive reference book on Ontario wines ever published.
Two thumbs up!


Pep It Way Up!
Forget that dried-out stuff on the supermarket spice rack!
From Murcia, Spain's capital of pimentón – unsmoked paprika – you can now obtain the world's freshest sun-dried sweet red peppers, El Ruiseñor and La Odalisca.
Ideal for everyday cooking in stews, on eggs or potato and "discovered" by Canadian foodie Gerry Shikatani, these products are $6.50-$7.95 from Bonnie Stern, Scheffler's at St. Lawrence Market, La Salumería, Yonge St., the Cheese Boutique, Ripley Ave., and Magnolia on College. Buen provecho! Call Gerry: 705/745-3200.


Going Green
Aveleda Vinho Verde, from Portugal, light, clean, refreshing and spritzy, has been around so long I'd almost forgotten it! The lovely 2004 vintage currently available is a crisp, floral pear-apple-citrus match for oyster stew, grilled shrimp or calamari, 9.5% alc. A delicious rediscovery, and only $8.05. Another recent retaste from Portugal, Esporao Private Selection Alentejo '01 (v) 599357, $54, is ageably superb. From Alicante Bouchet and Aragonês (alias Tempranillo) grapes, rich, complex with ripe red and black fruit, supple tannins (90). The Reserva's a steal at $23.95. Alentejo is a Lake Ontario-size wine, olive oil and oak-growing region, busily modernizing and making good reds.


Good News, Bad News
The picking started early but Niagara's 2005 vintage will be a small wonder!
Henry of Pelham at St Catharines began its Sauvignon Blanc and Baco Noir grapes Sept 8 and the harvest continues until late October. The expectation is a small crop thanks to a very cold winter but one of remarkable quality.
"Growing conditions have been fantastic this year," says Matt Speck, VP of Pelham. "A warm, dry July/August and a sunny September have delivered very ripe, flavorful grapes. The crop is 50% of normal but the low yields should produce character and depth to rival the 2002 and 1998, particularly for reds."
"The record heat has created grapes of real substance for full-bodied reds that are age-worthy and have real finesse" said Paul Speck, President of Pelham. Harvest resumes again in December for Icewine. Previous vintages: 2002 – 42,000 tonnes; 2003 – 25,000 tonnes; 2004 – 39,000 tonnes; 2005 – 26,000 tonnes est.
In Europe, the summer has been kind and excellent crops are expected throughout France, Spain, Portugal, Germany and Italy. In Burgundy, for example, the picking started early, a good sign, around Sept. 10, with dry, sunny days and cool nights. Perfect! Growers are making comparisons with the wonderful '90 and '99...


New element discovered!
A research group has just announced the heaviest element known to science, Governmentium.
This has 1 neutron, 12 assistant neutrons, 75 deputy neutrons, and 224 assistant deputy neutrons, giving an atomic mass of 312. These are held together by forces called morons, surrounded by vast numbers of lepton-like particles called peons.
Governmentium, with no electrons, is inert, but can be detected because it impedes all reactions. A minute amount causes reactions to take days when they should take milliseconds.
Governmentium has a half-life of 3 years; it doesn't decay but undergoes a reorganization in which the asst. neutrons and dep. neutrons exchange places.
Governmentium's mass increases over time, since each reorg causes some morons to become neutrons, forming isodopes.
This moron-promotion leads to speculation that Governmentium is formed when morons reach Critical Morass.


Worst Nightmare
New world-record pepper mill, 13 ft- 5-3/4 in. tall, 11-in. diameter, unveiled at Erin Fall Fair, ON. No comment.


Virgin Birth
Brit billionaire Richard Branson is flogging Virgin Vines, a new wine label with the attitude "unscrew it, let's do it."
"Wine's meant to be enjoyed," says Branson. "The pomp and ceremony just gets in the way." The wine is marketed by Brown-Forman as "full-bodied Shiraz desires hookup. No commitments, baggage or corkscrew..."


Sweet Dreams
Royal deMaria Wines has been crowing about its 2002 Meritage Icewine commanding more than a 1922 Chateau d'Yquem at auction: $1,900 vs. $1,250. The Vineland, Ontario producer (16 varieties of Icewine) is rightly proud of its wines but charity auctions like the Finger Lakes International hardly carry the commercial clout or cred of Sotheby's/Christie's...


The Tetras Are Here
French rabbit is just a hop & a step ahead of an incoming flood of carton-packaged wines already familiar to millions in Australia, Argentina, Sweden, Spain, Italy and France. The well-priced Boisset entry is an unbreakable space-saver that combines re-sealable screw cap convenience/recycling vs the traditional glass bottle. What's the collective noun? A Pak of rabbits?
Color them Cabernet, Merlot and Chardonnay. $12.95/litre.
Factoid: it takes only two semis to truck 1 million litres worth of cartons vs 52 trailers to tote the equivalent bottles. In Canada, the paper/plastic/foil cartons are recycled into household tissues.


It's Official!
"Since wine was first made in Burgundy, Bordeaux, the Rhône, the Loire and Champagne, terroir really counted. The French (and many otherwise sensible non-French) waffle for hours about the real taste of wine grown in this soil, that soil or with the help or hindrance of that climate. I've always thought it was a load of bollocks." Rhys Mathias, New Zealand wine writer.


In The Zone
Produttori del Barbaresco is the leading Piemonte wine-co-op, whose 60 families farm 90 hectares and make 3 million bottles of terrific, ageable reds from the tiny, thin-skinned Nebbiolo grapes.
Neighboring Barolo is three times as big, but the hilly Barbaresco zone (the villages of Barbaresco, Neive, Treiso, and part of Alba), holds its own on quality. In the small producer vs co-op debate, "wine lovers talk (iconic winemaker Angelo) Gaja, but they drink Produttori," suggests export manager Aldo Vacca.
Cantina del Pino '98 Barbaresco Ovello, $46, aged in Slovenian and French barriques, with tarry aromas, shows good sour cherry and sun-dried tomato fruitiness; quite astringent and youthful (88). The 2000 and 2001 are a little more restrained and elegant, with lower alcohol (13.5%).
The '99 and '00 Langhe Nebbiolo, at $22.35, really a "baby Barolo" at an attractive price, shows good fruit and fleshy tannins with hints of licorice (87). This is pizza-pasta perfect!
The Barbaresco Rio Sordo Riserva '00 (from one of the zone's 9 single estates, which age their wines three years in very large casks) costs $230 for a six-pack of numbered bottles and is tightly wound, with leather, sour cherry and fresh road tar notes (90). The '95, no longer available, is even more closed than the 2000.
Serve 'em all with risotto, white or red meat, salami, ham, game and tangy cheeses. Call Craig McKay, 905/853-8929, for availability.


4-Buck Fred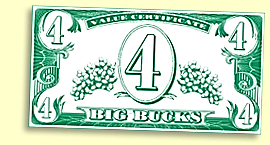 Fred Franzia, scourge of Napa Valley's upscale winemakers and producer of Two-Buck Chuck, is now selling Four Buck Fred Chardonnay and Merlot under his Napa Creek label, at $3.99 through Trader Joe's supermarkets.
Napa wines go for closer to $40 than $4 because Napa grapes cost $4,000 a ton vs $600 elsewhere. However..."people want to buy things at a reasonable price that are good value," says Franzia, boss of Bronco Wine Co. "It's not new. It's America. We challenge anyone to have a blind tasting and see where our wines come out," Franzia boasts. "There's no wine worth more than 10 bucks a bottle."


P.P.S.
Vintners producing Pinot Blanc, Pinot Noir and Pinot Grigio have developed a new hybrid that acts as an antidiuretic. It's expected to cut the number of trips people make to the bathroom in the wee hours and be marketed as Pino More.

Take me back to the top of this page, please!