November 23-26: Gourmet Food & Wine Show, Metro Convention Centre, 1 866 414 0454, x316, 905 634 8003, x316, www.foodandwineshow.ca
November 27: Ontario Wine Society, Ontario/BC tasting with Tony Aspler.
January 23: Ontario Wine Society, Cabernet Franc horizontal with Konrad Ejbich.
February 23: Niagara Icewine Weekend.
March 23-25, 2007: Toronto Wine & Cheese Show, International Centre, 905 815 0017, 1 800 265 3673.


---
Dial me up a Gewürz!
A new gizmo in Japan can record and replicate odors.

Scientists at the Tokyo Institute of Technology use 15 sensors to record odors digitally then reproduce them by mixing and vaporizing 96 chemicals.

Creator Takamichi Nakamoto says the technology will have food and fragrance applications, not to mention wines. Smells could even be recorded by sensors in a mobile phone and transmitted across the world. Online shoppers could check out perfumes or flowers before they buy.

The recorder has recreated the smells of oranges, apples, bananas and lemons, and can be programmed to reproduce any odor - from old fish to gasoline.

---
Better Odds On Screwcaps
Andrew Wigan, winemaker at multi-medal-winning Peter Lehmann Wines in Australia's Eden Valley, believes "wines under screwcap develop bottle character but at a slower, more controlled rate" than under cork, and screwcaps mean "we no longer have to play Russian roulette every time we open a bottle! Screwcaps preserve the fresh fruit character and there is no variation from bottle to bottle. The wine reaches the consumer as the winemaker intended it to taste.

Mon Dieu! Two New World subsidiaries of Moët et Chandon champagne, Green Point in Oz and Domaine Chandon in California, are dropping corks in favor of crown caps. Green Point ZD and Domaine Chandon Etoile have switched to the very same closures found on beer and soda.

Fact is, these caps have been used for 50 years in Champagne-making, during the second fermentation in the bottle until the disgorgement and the dosage when the bubbly is finally sealed with a whacking great cork. And cork can taint bubbly as well as for still wines. Highly regarded Champagne house Billecart-Salmon, for example, has experimented with a plastic protector under the final cork.

Domaine Chandon says crown caps are 100% effective at eliminating cork taint and the loss of carbon dioxide from the bottle.

Meanwhile, there's even a Portuguese winery going into screwcaps – under fire, of course, from the country's cork producers. Quinta do Cotto, one of the oldest vineyards in the Douro Valley, has launched its Paço de Teixeiró white and rosé 2005 under screwcap.

As Portugal is the world's largest cork-producing country – the industry is worth around €1bn a year, the decision has caused mortification. The winery is unrepentant, however. "We have been studying this type of closure for two years and are very pleased with it," says winemaker Manuel Lobo. Even putting Vintage Port under screwcap is not out of the question, he adds.

"We did research with all the closures on the market, and the results were quite good for the screwcaps," he said. "We are still studying the effects on red wine, but other research in Australia has shown that screwcaps can work for reds as well."

According to Cotto's owner, Miguel Champalimaud, cork costs are out of control: "Today a cork is more expensive than a litre of wine. We have become cork salesmen instead of wine sellers," he says.


---
Wine Atlas Of Canada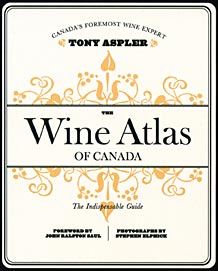 Canadian wines are putting us on the map and the fastest, most comfortable tour of our beautiful wine regions, from coast to coast, will set you back a mere $60, with no jet lag.

Having a well-filled glass in one hand and Tony Aspler's Wine Atlas of Canada (Random House) in the other is next best to being there.

Expertly covering the myriad soils, microclimates, technologies and growers, it's a landmark reference and tour guide.

The Atlas is an informative eye-opener, fast-forwarding through the warp-speed history of this amazing industry. Steve Elphick's photography is outstanding, capturing the beauty of the land, the people and the vines and wines.

Warning! It'll make you want to go wine-touring... Who knew that St. John's is Canada's third-warmest city in winter behind Victoria and Vancouver?

---
US Thirst For First
Americans are replacing the French as the world's biggest wine drinkers.

The International Organization of Vine and Wine says French consumption dropped 2% 2004-2005, while UK consumption rose 5% in 2005. Britain and the US are the hottest markets.

US consumption grew 3% in '05 and the US will overtake France in three years. French exports fell 11% 2002-2005, while Spanish exports increased 47%. Global consumption grew 0.1% to 23.56B litres 2004-2005. Did you play your part?

---
No to 'Vino Pinocchio'
Italian politicians and winemakers have united to oppose the use of wood chips to give wines oak flavor, a New World practice the EU recently authorized.

The new regs don't identify chip- vs barrel-aged wines on the labels, harming producers' ability to differentiate their wines from those of competitors using shortcuts.

MPs want to protect Italy's quality products from "Pinocchio wine." Oak chips (copeaux in French), barrel staves (barrel inserts or "planks in tanks") are usually added before fermentation, and can be suspended in the wine afterward. The chips are in mesh sacks like giant tea bags. Using a new barrel adds dollars a bottle to costs.

Winemakers can choose the provenance of the oak, the seasoning and the degree of toast. They can even choose chips impregnated with lactic acid to start the second, softening malolactic fermentation.

---
Sour Taste
A $630,000 collection of 600 First Growth Bordeaux stolen from a Swedish restaurant is undrinkable, say the owners.

The restaurant, Ulriksdals Wärdshus, had a Châteaux Lafite, Latour, Haut-Brion, Margaux and Mouton-Rothschild plus Châteaux d'Yquem of every vintage from 1900 to 2000.



The thieves cut phone lines and removed surveillance videos to cover their tracks but the collection was "more of a museum attraction. Most of it is undrinkable," say the owners.

Christie's and Sotheby's both say that unless a collection is in perfect, drinkable condition, it is of little value to collectors. "People willing to pay big money for wine want there to be a chance that it's drinkable, says Christie's. And it's pretty hard to create perfect storage conditions for wines that are constantly on display!
---
Red Males In The Sunset
After US winemaker Rainier Wine launched a label for women called Mad Housewife, a
California vineyard is launching a range of red wines for men.

Ray's Station is calling the bottles Hearty Red Wines for Men, producing a Merlot and a Cabernet Sauvignon for Joe Barbecue or Duane NASCAR. The labels feature a galloping stallion and the ads favor huntin', shootin' and fishin'. The firm is not going to produce any white wines, as they are "for the ladies".

---
Cellar Price
Building a wine cellar increases house value 7%, according to a British bank.

Standard Life Bank sees 2 million Brits building a cellar or buying a wine fridge over the next five years, adding that £3.5 billion of wine, 87 million bottles, goes off every year from poor storage.

Meanwhile, sales of wine coolers, chillers and refrigerators have soared 300% in the US, says AC Nielsen. Three million were bought in 2003 alone, challenging the conventional wisdom that most people drink wine within four hours of buying it.

---
Cliff's Notes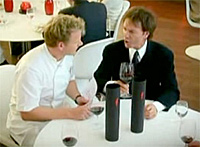 Singer-turned-winemaker Cliff Richard has been conned into calling his own wine "tainted and insipid" on TV.

He was the guest of potty-mouthed chef Gordon Ramsay, who gave him two wines to taste blind. The first he pronounced "amazing", to which Ramsay said, "Of course, it was a £400 bottle."

Of the second, his own Vida Nova, he said, "That's rubbish. I wouldn't pay for that, it's tainted, it's insipid. It tastes like vinaigrette. I'd never buy that."

Ramsay crowed that the singer had just trashed his own wine. "He couldn't even identify his own wine. We are now using it for vinaigrette at Claridge's."

But, as an observer pointed out, "The first wine was a £400 claret. Any Portuguese wine from five-year-old vines is going to taste rough after that. It's a classic wine industry sting."

Vida Nova is produced from 24ha of Syrah, Aragonéz and Alicante Bouschet at the Adega do Cantor (Cellar of the Singer) estate near Albufeira in the Algarve. Around 50,000 cases are made.

The wine is made by Australian David Baverstock, chief winemaker at Esporao in the Alentejo in mid-Portugal. Vida Nova has been extraordinarily successful, selling out in supermarkets within days.

---
Official Fruit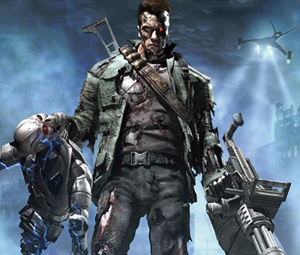 California already has an official State Fruit (honest!), a State Animal, a State Insect, and even an State Tartan – but still no State Wine, thanks to the Governator, who flexed his pecs to veto Zinfandel.

Ahhnold explained: "California wines have inspired authors, artists and Oscar-winning movies. Singling one out for special recognition would be inappropriate."

However, with alcohol often 15.5% or higher, Zins are expected to settle the issue by arm-wrestling. Mordant commentators are suggesting drunk driving as the State Motor Sport and heroin as the State Import.

---
Bon Appétit!
Spain's El Bullí has toppled Britain's Fat Duck as the world's best restaurant and Spain has three restos in the top ten.

El Bullí's "molecular cuisine", which includes foie gras with ice cream, melon caviar with passion fruit and mint, and Parmesan marshmallow, wowed the 560 critics who compile Restaurant magazine's top 50 restaurants.

French eateries dominate the top 50 with 10 entries. "Taking the list as a whole, it's the French who have conquered the globe," Restaurant says.

The French Laundry, in Napa valley, came top in the Americas, while Tetsuya, in Sydney, was best in Australasia.

Located on a stretch of coastline north of Barcelona, El Bullí is open just six months a year and is fully booked for 2006.

The top 10 are: El Bullí; The Fat Duck; Pierre Gagnaire, France; The French Laundry; Tetsuya; Bras, France; Le Louis XV, Monaco; Per Se, US; Arzak, Spain; Mugaritz, Spain.

---
Whither LCBO?
The EU claims Sweden's equivalent of the LCBO "violates the principle of the free circulation of goods" and the case will be decided in the European Court of Justice.

Sweden's retail monopoly – Systembolaget – with 400 liquor stores, restaurants and caterers, outlaws wine purchasing from independents like Internet-based wine companies.

Many web firms are poised to have great sales all over Europe, except in Scandinavia, which has been especially galling as the Bordeaux 2005 en primeur campaign takes off. The monopoly offers 2,000 wines while the web companies offer 5,000.

Systembolaget has released a video on restricted alcohol sales, which include apparent reductions in alcohol-related death, illness and abuse.

---
P.P.S.
Vintners producing Pinot Blanc, Pinot Noir and Pinot Grigio have developed a new hybrid that acts as an antidiuretic. It's expected to cut the number of trips people make to the bathroom in the wee hours and be marketed as Pino More.

Take me back to the top of this page, please!