Nov 24: Steven Trenholme explains how to import wine, spirits and beer into Ontario, Old Mill, Toronto, 416 883-3580, cstrenholme@sympatico.ca.
Nov 26: Tasting Challenge, Windows, Four Seasons Hotel, Toronto;
905 668-5550, x4949.
Jan 18-27: Niagara Icewine Festival, 905 688-0212, niagaraicewinefestival.com.
Jan 22: Vintages Union des Grand Crus Tasting, Four Seasons, Toronto, 416 365-5767.
Feb: 29: : OIWSBA Dinner, National Club, Toronto; 416 699-9535, ian.campbell@oiwsba.com.
March 2-4: Canadian Food & Beverage Show and HostEx, Exhibition Place, Toronto; 416 923-8416, www.crfa.ca.
April 3-7: Vinitaly, Verona, www.vinitaly.com.
April 10: A Night Divine! Le Parc, Thornhill, auction and tasting, karengrimm@templeharzion.com.
April 15: Austrian Wine Fair, 416 967-3348/18, toronto@austriantrade.org, www.austriantrade.org/canada.
April 26: Ontario Wine Awards Gala, Niagara-on-the-Lake; 416 398-3335, x2, www.ontariowineawards.ca.
April 28: California Wine Fair, Fairmont Royal York Hotel, 905/336-8932, calwine@sympatico.ca.
May1-3: Eastern Food & Beverage Conference, Canadian Society of Club Managers,
cscm-ob@rogers.com.
May 6-10: Santé: Bloor-Yorkville Wine Festival 647/999-0550, kelly.sante@rogers.com, or Steve Thurlow, 416 878-7955, steve@stevethurlow.com, www.santewinefestival.com.
May 15: New Zealand Wine Fair, Toronto, 888/993-9927, nzwine@ketchin.com.

---
You'll Go Into Choc!

Make your favorite chocoholic(s) really happy this year!
For the packages alone, never mind the great flavors, Parisian chocolatier Poulain has the holiday fashionista gifts for your gift list!
The brilliant gold Ribbon Box blossoms into an elegant hostess bowl of milk, dark, rochers, truffles and pralines, around $10; The Signature Series favors gold and tuxedo boxes of assorted dark and milk starting at $10, and the handbag-style Pouchette conceals 24 bite-size 76% dark choc and coffee and coc oa nibs as fashion accessory, $8.
Think wine and chocolate tastings here: Cabernet Sauvignon, Syrah and Tawny Port for sure. Match and mingle. Think Cognac, Armagnac, Madeira, Marsala, Kirsch... Or chocolate matching with your favorite coffees, or chocolate with dried fruits, or....
Poulain's been doing this since 1848. Relax. It's OK!
Want to keep the party beverages sparklingly simple? Start off with wines called Yellow or Pink, white and pink fizz from Oz at no-brainer prices: one's a Chardonnay with all kinds of nice melony and toasty flavor, the other's a blend of Pinot Noir and Chard, more vanilla, raspberries and limes. From an outfit called Yellowglen in SE Oz, $12.95, and no worries, mate! Surprisingly affordable!
Staying on budget, there's the Lindeman's Bin 50 Shiraz, $11.95 and the Bin 65 Chardonnay $1 less: high volume crowd-pleasers both, they'll take care of a happy party. Moving upscale, from Napa, Beringer's smooth '03 Chardonnay and '04 Merlot weigh in at $27.95. Wolf Blass's Grey Label Langhorne Creek '04 is $32.95 and a thoroughbred chocolatey Cabernet Sauvignon. The Blass Black Label '02 Shiraz/Cab '02 has a smidge of Malbec and a whack of plummy elegance and finesse – at 90 bucks! A gift for a good client maybe?
* Five reasons for drinking: your friends' arrival; your present and your future thirst; the wine's excellence, or any other reason
– Latin saying
---
Sheffield Shiraz!
Global warming means vineyards being planted as far north as Scotland in this century, says Richard Selley of Imperial College. The author of The Wine Lands of Britain Past, Present, Prospective predicts "our children will be drinking Sheffield Shiraz and Manchester Merlot. And our grandchildren will be drinking Glasgow Gewürztraminer." He sees vineyards creeping northwards via the Peak District and the Lake District, where the lakes would reflect sun onto the vines. Then Loch Ness by the end of the century.
* In victory, you deserve Champagne, in defeat, you need it – Napoleon Bonaparte
---
Babes' Wine
A New York company is enthusiastically exploiting the links between wine and sex – starting with a tasting at an adult toy store.
At Babeland – which is owned exclusively by women – some 60 libidinous enophiles sipped wines with names like Seduction Cabernet and Foreplay Chardonnay, listening to erotic poetry and bid for a goodie bag filled with wine paraphernalia, as well as vibrators and other adult toys.
"Wine and sexuality have one thing in common: people indulge in both, often don't have a clue what it's about, but like to appear as though they do," said Hollye Chanelle, event manager for Perfect Palate, the company which hosted the Erotic Wine Tasting Soiree last week. "It is a learning experience."
Even the tasting notes struck an educational note. "It's important to first titillate the senses with a little foreplay – for your palate, that is," the note accompanying the Chardonnay said.
Guests were "a cornucopia of people ranging in age, race, sexual orientation, culture and wine experience, from novice to experienced connoisseur," Chanelle told reporters.
"The novice feels welcomed by the trendy atmosphere and the down-to-earth demeanor of our Sexy Sommelier," she went on, "and seasoned enophiles are intrigued by the unique angles by which we analyze, decipher and present our wines."
As well as its standard sex-education sessions, Babeland runs other wine events, including "bachelorette" wine tasting parties, and a ladies-only "kinky wine tasting party," where participants "learn how to perform a striptease, lap dance, and walk with a new sexy strut like the pros from the pros," while enjoying a selection of red, white and sparkling wines.
* I drink my Champagne when I'm happy and when I'm sad. Sometimes I drink it when I'm alone. When I have company I consider it obligatory. I trifle with it if I'm not hungry and drink it when I am. Otherwise I never touch it – unless I'm thirsty.
– Lily Bollinger
---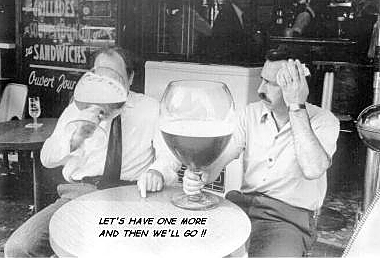 To Your Kidney!
Drinking wine or beer cuts the risk of kidney cancer.
The Karolinska Institute in Stockholm surveyed 855 patients and a control group of 1,204 people and found that people who drink 22 ounces of alcohol a week are 40% less likely to develop kidney cancer.
Professor Alicja Wolk says at least two glasses of red wine each week – or the equivalent of white wine or beer – has a beneficial effect.
* During a trek through Afghanistan, we lost our corkscrew. We were compelled to live on food and water for several days
– Cuthbert Twillie, My Little Chickadee (1940)
---
Breaking The Code
Scientists in France and Italy have deciphered the genetic code for grape vines: specifically Pinot Noir, signature grape of red Burgundy, paving the way to better flavor and disease resistance.
Researchers found double the genes contributing aroma than the other genome-sequenced plants – rice, the poplar, and cress.
Vitis vinifera, the noble grape vines, have large "families" of genes keyed to aromas, tannins and terpenes.
Tannins, astringent compounds in grape skins and seeds – especially reds – add body and structure for aging, and help prevent hardening of the arteries.
Terpenes are in the essential oils of plants and flowers used as flavor additives and in fragrances. In wines, they are especially concentrated in aromatic Muscat and Gewürztraminer grapes, exuding spicy, floral tones of rose, lychee and violet.
The study also identifies the genetic source of resveratrol, the anti-oxidant in red wine associated with anti-aging and boosting anti-viral treatments.
The potential is here now to make vines more resistant to diseases and oidium mildew to which Pinot Noir is especially vulnerable. And reduce the use of chemicals.
* I can certainly see you know your wine. Most of the guests who stay here wouldn't know the difference between Bordeaux and Claret
– Basil Fawlty, Fawlty Towers
---
Things Go Better With...
A Mid-Eastern businessman spent $271,000 in five hours in the London nightclub Crystal, the biggest bill ever from one customer.
The big spender brought nine women and eight men and ordered a $50 bottle of white. But soon he was ordering $1,400 magnums of Pérignon then a Methuselah (eight bottles) of Cristal Champagne at $60,000.
The nightcap was a Methuselah of Belvedere vodka at $2,800.
When the party left the bill was105,805.28 pounds, including six Coca-Colas.

* Let's have wine and women, mirth and laughter, sermons and soda-water the day after
– Lord Byron, Don Juan
---
Light Fantastic
Brits drink 1 billion bottles of wine a year, adding up to half a million tons of glass.
According to the government, cutting the weight of bottles would cut carbon dioxide emissions by 90,000 tonnes. So, Sainsbury is selling two of its own brands in plastic bottles: a $4.99 New Zealand Sauvignon Blanc and a $3.99 Australian Shiraz. Alongside, Sainsbury's sells two Wolf Blass wines in plastic. Blass, whose lines retail for $7.49, has pioneered plastic bottles Down Under.
Europe is already rife with containers of every kind, including bag-in-box at bargain prices.

* Invited to dinner while held captive by Dr No, James Bond grabs the first weapon that comes to hand. Dr No: "That's a Dom Pérignon '55. It would be a pity to break it." James Bond: "I prefer the '53 myself" – Dr No (1962)
---
Brand New
Jacob's Creek and Gallo are the best known wine brands, followed by France's JP Chenet, then Carlo Rossi and Mouton Cadet. Yellow Tail and Wolf Blass are right up there.
---
New Worldly Rioja Whites
Rioja whites can now include Chardonnay, Sauvignon Blanc and Verdejo. The trio can't be made as 100% varietals or be the major part of a Rioja. Until the change, the only varieties permitted were Viura, Malvasia Riojana and Garnacha Blanca.
At the same time, indigenous varieties are being reintroduced, including the white Maturana Blanca, Tempranillo Blanco and Torrontés as well as red Maturana Tinta, Parda and Monastrell de Rioja. These red grapes join Tempranillo, Mazuelo, Garnacha Tinta and Graciano, as the varieties for the red wines.
---
Hitler Wine
A bottle of Nazi wine with Hitler on the label has sold at auction in Plymouth, England, for $3,995. The 1943-vintage Führerwein was from a collection of bottles given to officers during the war.
The red was expected to fetch $800, but it attracted worldwide interest and was sold to an English collector. However, it's probably undrinkable.
---
Bottoms Up!
Men who drink four to seven glasses of red wine per week are half as likely to get prostate cancer as those who don't, says Harvard Men's Health Watch. And red wine protects against aggressive cancers.
When white was compared with red, red had the most benefit. Even low amounts seemed to help, and for every additional glass of red per week, the risk declined by 6%.
Flavonoids and resveratrol, missing from other alcoholic beverages, have antioxidant properties, and appear to counterbalance androgens, the male hormones that stimulate the prostate.
Harvard Men's Health Watch also notes that men who drink in moderation benefit from a lower risk of heart attack, stroke, diabetes, and cardiac death.

---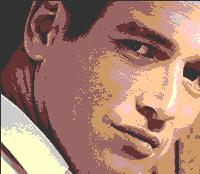 Paul Newman Goes Vinous
Actor Paul Newman, whose food company donates profits to charity, is adding wine to the product list. Newman's Own has partnered with Rebel Wine Co. to create a California Chardonnay and Cabernet Sauvignon.
"Wine was the only thing missing at dinner time. Now the meal is complete," Newman says. Since Newman's Own got its start in 1982, it has donated more than $200 million to charity.
---
Bring On More Lunch Wines
People are looking for lower alcohol wines – one woman in three and one man in four are taking an increasing interest.
Meanwhile, in the UK, whites are still more popular than reds while growing rosé sales are driven by rosé lovers drinking more.
Chardonnay is still top white but Pinot Grigio is challenging Sauvignon Blanc for second. Merlot and Cabernet Sauvignon lead the reds from Shiraz and Pinot Noir. Consumers still prefer Australia over France but the gap's closing. Consumers buying top American brands don't necessarily associate them with the US. Grape variety is more important than promotional offers.
---
Bottoms Up
A 9-litre bottle of the Tuscan red Ornellaia – equivalent to 12 bottles – has been auctioned in Florence for $33,600 in aid of restoring Renaissance art and architecture.
At 400 times market value, almost $500 a glass, the salmanazar has a gold engraving in place of a label. American Michael Corlinns won the auction in 50 seconds along with a six-day tour of the vineyard and Florence. The cash will renovate 15thC bronze doors by Lorenzo Ghiberti.
Italians spend, on average, 8 euros ($12) for a bottle of wine, or 10 euros for a special occasion.
---
Storefront Consignments
Importer Neil Fortes and sommelier Jose Paradela have unveiled a new concept in marketing Consignment wines in Ontario. Wine Guru Selections offers a portfolio of good wines from a number of agencies. All the wines are viewable and can be purchased via www.wineguruselections.ca
Wines are sold by the case and are viewable at the store at 2045 Avenue Road, Toronto. The duo will be providing advice and tasting notes. No sampling, though. Wine Guru Selections Inc, Toronto, 416.939 9512, 416 722 4471, mailto:info@wineguru.cawww.wineguru.ca
---
Tempest In A Wine Glass
Glass maker Riedel is suing competitor Eisch over its new line of 'breathable' glasses.
Eisch contends that its glasses aerate wine faster, making young wines more expressive after only a few minutes of being poured.
'We refuse to be intimidated by Mr. Riedel,' Eisch says. 'We understand he has a very aggressive approach to business. He purchased his major competitor as a way of eliminating competition, and he is now attempting to use his position of power to try to slow our growth in the market."
Take me back to the top of this page, please!