Nov 30: Ontario Wine Society Taste and Order Event,
U of T Faculty Club, 416 921 9798.
Jan 28: OIWSBA AGM. LCBO boss Bob Peter delivers a state of the LCBO nation address on 2009 holiday sales and financial data as the Board moves toward year-end (Mar 31) and plans for store upgrades/replacements through 2010, 416 699 9535.
April 27: New Zealand Wine Fair Ottawa (705) 444-0195.
April 29: New Zealand Wine Fair Toronto (705) 444-0195.
May 19-30: the wines of northern Spain (a wine-and-food tour from the Basque country via Rioja to Catalonia, hosted by Tony Aspler including Muga, CUNE, Vina Tondonia, Codorniu, Torres and others) Pauwels Travel Bureau, (519) 753-2695.
---
Bursting Bubbles
Champagne producers agreed to pick 32% fewer grapes this year, leaving the rest to rot on the vine.
As a result, 44% fewer bottles (a total of 260 million) will be produced this year in order to keep prices stabilized. Heavy discounting has been going on all summer in the French market.
It's the first time since 1955 that producers significantly cut volume, a result of declining sales and an oversupply of stock.
---
High Marks For Guile
Bolivia has a cult rep for its 'high altitude' wines. It's other rep is as the world's #3 cocaine producer.
Both converged when 714 bottles of Bodegas Kohlberg were found to be liquid cocaine at Bulgarian customs.
Kohlberg is a leading Bolivian brand, producing 2.7m litres a year, mostly Cabernet Sauvignon, Syrah and Malbec. Hi-ho! Things go better with coke!
---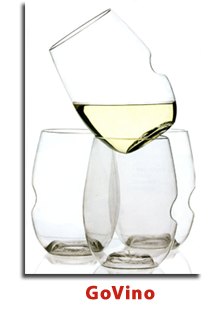 Doohickeys!
For all you stylers out there, and especially the people who love you, plug right into The Sharper Image's ultra-cool wine chiller with its temperature presets for 70 wines by country or wine type, or program your own preferences. Accurate and easy on the eye, $120 at The Bay and Home Outfitters (there's a 2-bottle version also) along with an electronic wine opener for $40. Saves that carpal tunnel stuff from opening all those Christmas wines! www.siproducts.ca And while you're there, check out the electronic wine preserver kit and the wine aerator. Happy holidays!
GoVino is a shatterproof aroma-free stemless wine glass you can take anywhere, except the dishwasher! Picnic-party perfect it's a worthy $3.95 investment from the Wine Establishment, (416) 861-1331.
---
Get Your Licks With Merlot
Rolling Stones guitarist Keith Richards once fronted the X-Pensive Winos, and said: "If you're gonna get wasted, get wasted elegantly," but Forty Licks, the Rolling Stones' new Merlot comes pretty cheap.
It was introduced at the R & R Hall of Fame Concerts at Madison Square Garden. Mark Beauman, the Mendocino Wine Co. winemaker, wanted a wine that captured what the Forty Licks album was about, 40 tracks covering the Stones from the '60s to now. "It's a statement about timeless, classic rock."
In the Stones "Sweet Virginia" from Exile On Main Street, Mick Jagger sang: "Thank you for your wine, California." At $16.99 a bottle, the label includes the artwork to the Forty Licks album. Minimum order $50.99 for a three pack. Go to the Stones' website.
---
* The amount of sleep required by the average person is five minutes more.
---
P As In... Pleasure
The 2007 Ontario reds are being well received for a reason: It's one of the best vintages ever for our young wine region.
Leading the pack are the Pillitteri and Peller, for example.
Pillitteri's '07 Cabernet Franc, Cabernet Merlot and Cabernet Sauvignon and Merlot ($18-$20) are exemplary, elegant and ageable with well controlled tannins, nuanced oak and food-friendly berry acidity thanks to the outstanding Queensland (and Wagga Wagga) winemaker Marc Bradshaw. For a winery famous for its Icewines, it's pretty cool the way it handles big reds!
These are all 90-pointers and worth cellaring.
Peller Estates is rightly excited about its own success in '07: The Private Reserve reds, Merlot, Cabernet Franc, Cabernet Sauvignon and the Bordeaux-style Meritage, well priced at $20-$22, are deeply concentrated, beautifully structured and capable of aging well thanks to the serious winemaking skills of Lawrence Buhler, a guy who clearly never takes a day off!
---
* You cannot prove the nonexistence of God; you just have to take it on faith — Woody Allen
---
Icewine Sort of...
Argentina's first "ice wine" will hit the world this year. The sweet Malbec from Mendoza will be in three US states, Brazil and Colombia.
Viña Las Perdrices says its wine won't compete with Germany and Canada. "We wanted to make something similar, with a good price-quality ratio." Just 10,000 bottles were made by artificial freezing or cryo-extraction, so it cannot say Icewine on the label.
---
By The Numbers: Burgundy...
• 27,200 hectares of Chardonnay and Pinot Noir
• 1.5 million hectolitres production
• 100 appellations
• 0.5% of global wine production
• 5% by value.
• 3,800 growers
• 250 wine merchants
• 23 co-ops.
---
Under Fire From Corks
Battling an intense truck blaze in Wyoming, emergency crews found themselves under fire from corks from exploding wine bottles.
"The corks were popping out like popcorn," Highway Patrol Lt. Scott Keane said. "My trooper got hit in the arm with one."
The fire burned the trailer down to its axles, melted the tires and damaged metres of pavement.
---
* Very old French wines Côôtes du Rhône!
---
Cool Customers
Quebec Ice Cider is emerging alongside Icewine as a signature Canadian export.
Think of it as Icewine meets Calvados, with only 12% alcohol and the elegance of a fine Sauternes.
Domaine Pinnacle, a family orchard/cidery in the Eastern Townships, uses 6 varieties of apples, picked after the first frosts and slowly fermented into honeyed opulent complexity.
Pinnacle Ice Cider, LCBO 94094 is $32.85 for 375mL can be an aperitif, dessert wine, or partner for foie gras and blue or goat cheeses. Serve well chilled. The high natural sweetness is exquisitely balanced by acidity that keeps it from being cloying.
Pinnacle's main competitor, La Face Cachée de la Pomme, crushes 5 kilos of apples per litre and its flagship Neige is of high quality. Burgundy-based Boisset is partnering as distributor targeting Canada, the UK, China and Japan.
---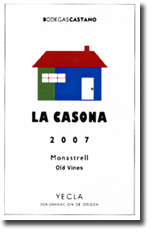 Spanish Sunshine
Bodegas Castaño's Hécula Monastrell is already a winner in Ontario at $13.95 but this stellar Spanish winery's latest offering, La Casona, weighing in at a trim $8.95 at the LCBO, is special.
It's an old vines, dry-farmed Mourvèdre, as the French call Monastrell, ripe and fleshy, spicy and seductive from sunny Yecla.
Only 50km from the tourist shores of the Costa Blanca, this ancient vine is believed to have its roots here in SE Spain at the nearby village of Murviedro. It's kind of a mini-Me of Hécula, not a bad thing, and will serve you well alongside the hearty meals of winter (89).
---
Filly Mignon
Kendall-Jackson has launched a wine honoring Jess Jackson's wining race horse Rachel Alexandra. Fewer than 300 cases of the wines will be produced and each bottle will have Rachel's image.
---
* Anything is possible if you don't know what you are talking about.
---
By The Numbers: California...
• 2,843 wineries
• 4,600 growers
• 526,000 acres
• 110 varieties, led by Chardonnay, Cabernet Sauvignon, Merlot, White Zinfandel and Pinot Grigio.
---
It's Official
The EU's flexible new wine laws, emulating the simpler New World approach, have finally gone into action.
European producers can now legally feature the grape variety and vintage on the label. Unprofitable growers can voluntarily dig up their vines (and be compensated) while distillation is tapered off to discourage overproduction.
The money spent on distillation will now go towards marketing and modernizing operations.
---
New Brew By Starbucks
Recession-hit Starbucks is testing a concept to sell wine and beer, too.
Starbucks has remodelled a Seattle store as 15 Avenue Coffee and Tea, offering alcohol, music, poetry and joe.
Starbucks will remodel similar locations named after their addresses.
Take me back to the top of this page, please!