November 15-18: Gourmet Food & Wine Expo, Metro Toronto Convention Centre, 255 Front Street West. Toronto's biggest food and wine appreciation event, featuring over 300 exhibitors and 1,500 fine wines, beers and spirits, top chefs and spectacular cuisine, Jennifer Campbell, 1-866-414-0454, Ext. 309, jennifer@townmedia.ca, www.foodandwineexpo.ca.
Nov 28-30: Shanghai International Wine & Spirits Exhibition, Shanghai Golden Commercial Exhibition Co., (86-21) 6439-6190.

---
Hint: click on labels and photos below for even more information!
Great Places To Enjoy In Old Montreal
Chez Delmo at 275 Notre Dame West is great for all things fish and seafood (good wine list, too) and it's a beautifully reborn resto in the Old Port; a few doors away at 212 is Accords wine bar/resto, which offers perfect accords or pairings of wine/food as well as desaccords, off-the-wall pairings that actually work, too – like Chardonnay with beef cheeks, for example, plus 45 wines by the glass. It's owned by Quebec TV star Guy Lepage.
Jardin Nelson at 407 Place Jacques-Cartier is the best brunch spot in Old Montreal with friendly wait staff, live jazz, people-watching on the square, and duck shepherd's pie on the menu!
---
This Website's Worth A Visit
One of Canada's best culinary/travel writers, poet and author Gerry Shikatani, our leading expert on the gastronomy of Spain, has a new website that's worth your attention.
www.gerryshikatani.com has been officially launched by the former Toronto Star food critic, who offers interviews with uber-chefs like Ferran Adria of El Bulli, reviews of the world's finest restaurants, and his own literary, fiction and gastronomic writings. He is also an authority on Japanese and French cuisine.
His oeuvre includes fiction, text-sound performance, experimental film, culinary criticism/writing and above all, poetry.
In 2009, he received the Cross of the Civilian Order of Merit from King Carlos of Spain for his years of writing devoted to Spanish gastronomy and culture.
---

If You See Kay
A Cabernet blend from Lazio, Italy, has New Hampshire's knickers all in a twist!
Say it out loud but If You See Kay, a $19.95 red made by Californian Jay Woodbridge is hot despite local pols harrumphing against its sale at state stores.
"This isn't the welcome mat New Hampshire should display for tourists," howled Councillor David Wheeler. "We need to set a higher standard -- the label violates community standards."
Woodbridge is best known for producing the California cult wine Hundred Acre, which sells for $250 a bottle.
A wine called Ménage à Trois is already among the bestsellers in New Hampshire….

---
Wine Intake Is Altar-ed
Men are likely to drink less when they marry but women drink more. In a divorce, however, men drink more and women less.
A team at the University of Cincinnati analysed data from 5,000 Wisconsin residents who graduated in 1957.
Married women consume 9 drinks per month compared to 6.5 for divorcees. Married men average 19.2 drinks a month, compared to 21.5 by their divorced counterparts.
Men drink more than women, period.

---
Red Carpet Red

Favorite wine at TIFF – you remember TIFF, don't you? – was the 2006 Umberto Fiore Barbaresco DOCG, $15.95 at Vintages. Thank you, thank you very much!
---
Olympics Killed Resto Business
Restaurant trade during the Olympics was 'absolutely disastrous' – down 40%, thanks to government warnings against travelling around London, and telling office workers to stay home or take a holiday.
Neleen Strauss, owner of High Timber restaurant near St Paul's Cathedral, hand-delivered an invoice for £90,000 in lost earnings to London Mayor Boris Johnson.
"The scaremongering to keep people out of the city was overkill," she said.
Clare Lattin of Ducksoup in Soho was more upbeat, saying tourists had compensated for some of the loss – though hardly the promised boom.
---
Going Green With Envy
A couple of incredible dry white wine bargains for your personal radar screen: Aveleda Vinho Verde, LCBO 5322, $8.95 and Quinta da Aveleda Vinho Verde, LCBO 89995, $9.95.
Both show dry, crisp, slightly fizzy charm with lime zest, steely notes and perfumes of ripe Granny Smith apples and white grapefruit. The Quinta, slightly more floral and elegant, is from the grapes of one single estate as opposed to fruit from the entire lush, green northern Portugal Vinho Verde region.
Amazing values as starters or served with shrimp, seafood, white meats or shellfish. Family-owned Aveleda, since 1870, is Portugal's largest producer and exporter of white wine.
---
Chilean Wine Is Buried Treasure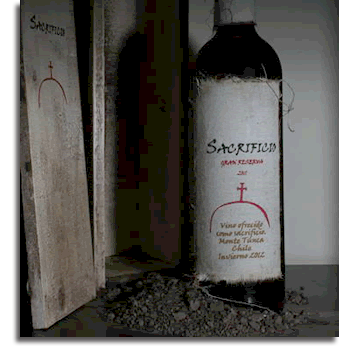 A winemaker in Chile has buried 200 bottles of wine buried on a mountain but each comes with a map.
Ian Hutcheon, owner of Tremonte, wants customers to dig up Sacrificio, "your own sacrificed wine".
The inspiration comes from the Incas who 600 years ago used to sacrifice animals, humans and valuable objects on mountain tops.
Single bottles of the Cabernet, Carmenère and Syrah blend are wrapped in a cloak, nailed into a coffin and buried at the summit of Monte Tuca, near the winery in Chile's Cachapoal Valley. The bottles have been left to age through the Chilean winter.
Sensible shoes are recommended.
---
Cricketers Test The Wine Biz
Two South African cricketers have joined the ranks of sports celebs Mike Weir, Ian Botham, Ernie Els, and Jack Nicklaus to launch their own wines.
The Cabernet Sauvignon and a Sauvignon Blanc, made at Rietvallei, a family-run Robertson estate, are called The Innings.
Jacques Kallis, the great SA all-rounder, has joined retired wicketkeeper Mark Boucher to launch the wines.
Botham and Bob Willis, former England captains, have teamed up with Geoff Merrill in Australia to launch BMW. Now they have competition...
It's becoming a crowded celeb wine world: The list includes Cliff Richard, Sting, Drew Barrymore, Robin Williams, Antonio Banderas and Dan Aykroyd.
---
Higher Interest In Low Alcohol
Weight Watchers has teamed up with New World producer McWilliams to endorse a range of low-alcohol wines.
The diet advice organisation is tapping an increasing taste for low-alcohol wines – a market which stands at one million cases per year in the UK.
The low-alcohol sector is being targeted by other Australian producers like McGuigan Wines which is researching ways of reducing alcohol and retaining flavour.
Maybe it's no accident that low-alcohol and delicious Moscato d'Asti is becoming such a trendy hit.
---
Newest Aussie Is Greek Grape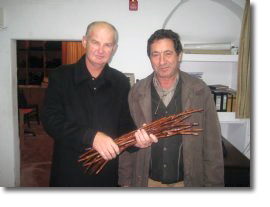 The Greek grape variety Assyrtiko has been planted for the first time on Australian soil. Peter Barry, of Clare Valley winery Jim Barry Wines, has planted an acre at the winery's Lodge Hill property.
He came across Assyrtiko on Santorini, the grape's native island, where it "immediately stood out as a variety suited to the modern Australian palate. The fresh, crisp acidity is perfect with contemporary Australian food."
Known for its vigor and resistance to drought and disease, Assyrtiko is a good choice for the future of South Australian winemaking, says Barry.
"Clare is a cool district with good rainfall but we must face up to climate change and water scarcity and adapt our management appropriately. Varieties which can grow on minimal irrigation and produce contemporary wine styles are what we all look for."
"The laborious importation process and quarantine has discouraged many growers in Australia," said Barry. Barry's father, Jim, pioneered Riesling, Cabernet Sauvignon, and Shiraz in Australia.
Wines from Assyrtiko will be bottled in five years. "By the time we release this wine," says Barry, "I'll have committed 20% of my life to this project – at least 10 years. But that's preferable to passing from this world and wondering, "What if?"
---
Burgundy Buy Upsets Locals
French wine-growers in one of the premier areas of Burgundy are upset that the 12th Century Chateau de Gevrey-Chambertin was sold to a Chinese gambling tycoon from Macau over local bidders.
The chateau, listed at about $4.4 million, eventually sold for more than $11 million, upsetting a local group that had hoped to turn it into a visitor/reception centre.
The group offered $10 million and was upset at being squeezed out. "The owners wanted €7m and they sold it for eight. I hope this is not the start of a wave of foreign investors moving into Burgundy," says Jean-Michel Guillon, president of Gevrey-Chambertin's winemaker association. "We are starting to say to ourselves that our heritage is going out the window because it is not the only (foreign) purchase we've seen in the area."
However, Bernard Farges, the president of France's national confederation of wine producers, said the spurned buyers were more upset at the price than the buyer.
---
UK Bubblies Washed Out
An award-winning English winemaker has scrapped its entire 2012 harvest because of the summer's rainy weather.
Nyetimber, which produces 400,000 bottles of sparkling a year, says quality and volume are not up to standard.
This summer's wet and cold summer meant that grapes did not mature as they should. Yields across British vineyards are down between 25% and 75%.
The Sussex winery, which provided wine for the Queen's barge during the Jubilee, only uses grapes grown on its estate, meaning that there will be no wine produced at all at Nyetimber this year.
The move could result in a shortage of English sparkling wine in three or four years' time when wine from this vintage would normally be released.
Two years ago Nyetimber's Classic Cuvee 2003 won first prize in an international competition, beating leading French Champagne producers including Bollinger and Louis Roederer.
Dry weather and drought has caused heat damage to vines in key European growing regions. Spain's grape harvest this year is forecast to be 40% lower than last year as a result.
Meanwhile wine production in Italy is estimated to be 8% lower. Forecasters expect Italy's harvest to be the second smallest since 1950.
Wine producers in New World countries including New Zealand and Australia have already increased the price of wines due to poor harvests. Now Spanish and Italian wine makers are expected to follow suit.
---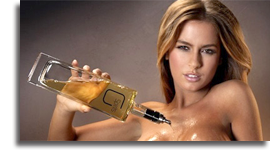 My Cup Overfloweth
A German firm is selling 5,000 bottles of booze poured over a model's breasts.
G-Spirits sells this vodka, rum and whisky for $180 a bottle, complete with a photo of the model in mid-pour and a certificate signed by the lady.
The company founders are two bartenders. They suggest that the liquor picks up "a unique erotic character" by through this intimate contact.
Take me back to the top of this page, please!