(Hint: click on labels and photos below for even more information!)
Wine's A Grocery Not A Luxury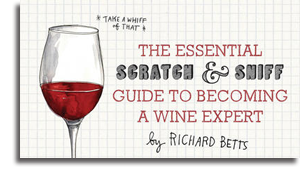 That's perfectly clear in this hilarious book by Richard Betts, Master Sommelier: The Essential Scratch & Sniff Guide to Becoming a Wine Expert.
For haters of "wine speak" this is a tonic. If you don't know your Grenache from your Syrah, so what? Better you should understand wine's basic components – the fruit, the wood, the earth and the 'other', says Richard. And he's right! The illustrations alone are charming.
Scratch and sniff your way through this tiny tome and you'll become, as we say, world famous around here – wine-wise.
Houghton Mifflin, $24.99, distributed by Thomas Allen & Son.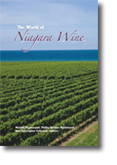 If you want in-depth, there's the wonderful academic analysis-history of The World of Niagara Wine from Michael Ripmeester, Phillip Gordon Mackintosh and Christopher Fullerton, Wilfrid Laurier Press, $29.99. A great story it is and still unfolding as this lusty infant wine region continues to impress its international peers.
With stellar contributors, it's a historical and economic snapshot of the emergence of one of the world's greatest new wine regions – Niagara. Pour yourself a good glass of VQA wine and curl up for a great read!
---
Putting On The Charmes!
It's been a busy time for Château des Charmes! Its new retail boutique in midtown Toronto has opened and the new website has gone live.
With two retail licenses in Ottawa, the winery had been seeking a Toronto location for a couple of years. This spring they found the perfect spot, in Delisle Court, 1560 Yonge St., just north of St. Clair, tucked in behind Bruno's Fine Foods and next door to Cava restaurant.
It features Schott Zwiesel stemware for retail and at the tasting bar. It's a little of the Château experience without the drive down the QEW.
The new Earth & Sky series of wines (you must try the bright fresh Riesling and stellar Pinot Noir!), Generation Seven and the classic Château des Charmes wines all live together at www.fromtheboscfamily.com and you can still get there from www.chateaudescharmes.com and www.generationseven.ca. Earth & Sky pairs wines and local music that will move you. Liquid art, in fact.
---
Freezing Out Icewine Frauds
New regulations from the Canadian Food Inspection Agency aim to eliminate fraud in Canada's most recognised wine brand, Icewine, as of January 1.
Dan Paszkowski of the Canadian Vintners Association says the legislation will "narrowly define Icewine from grapes naturally frozen on the vine" as well as standardize labelling.
Government and retailers aim to globally benchmark quality Canadian Icewine. Icewine has been counterfeited domestically and internationally for years, notably in Asia, where fraudulent "Icewines" are marketed with no resemblance to true Icewine.
---
Original Cool: Loire Wines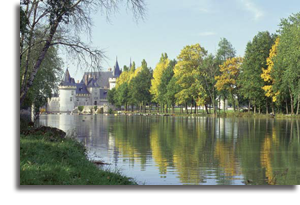 The Loire was cool before cool was cool. And now it's becoming hot!
The home of dazzling diversity, the banks of France's longest river are lined with 1,000km of picture-book chateaux as well as 7,000 wine estates that grow 400 million bottles a year!
The 69 appellations showcase four different grapes – three for whites: Sauvignon Blanc, grown in chalk, silex or caillotte soils; granite-ribbed Melon de Bourgogne in Muscadet on the Atlantic; and Chenin Blanc, dry to honeyed, in Vouvray limestone and Savennières schist; and for reds, fragrant Cabernet Franc from the Touraine.
There's almost as much sparkling (Cremant de Loire) produced here as there is in Champagne!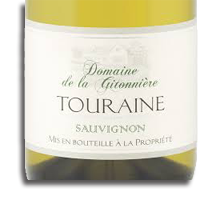 A tasting of dry whites from the same grape, Sauvignon Blanc, from four different Loire appellations is a pleasant eye-opener:
Domaine de la Gitonniere, $13.95 from Touraine is immaculately made, with a mineral-citrus core and lemon-melon and apricot fruitiness. Stellar value (

87

).
Domaine Philippe Portier, $17.95 from Quincy, is round, richer with hints of green gooseberry, herbs and wet stone (

88

).
Chateau Favry, $21.95 from Pouilly-Fume, has a steely, flinty note with lime zest, apricot and a citrus finish (

89

).
Domaine Paul Prieur & Fils, $25.95 from Sancerre, has a vibrant acidity and freshness with grassy, gooseberry and white grapefruit nuances (

89

).
All Sauvignon, all subtly different and appealing.
Of four Chenin Blanc wines, Secret de Chai from Eric Laurent in Saumur, $13.95, is deliciously floral, smooth with a hint of lime cordial and good length (

86

).
L'Effraie from Belliviere in Coteaux du Loire, $27.60 at the SAQ, is richer, smokier with a hint of tequila on the nose (

88

).
Chateau de Moncontour, $18.95 from Vouvray, has an intense star fruit-melon bouquet, brilliant balance of fruit and acidity and freshness (

88

).
Roches-Aux-Moines from Savennieres, $69.25 at the SAQ, has an oaky toasty elegance you'd expect from this aristo of appellations. It explodes on the palate with green apple, mineral and creamy smoothness (

93

). Catalogue said "aok barrels" and that's oak by me!
At the luxurious end of the scale, Chenin Blanc also delivers honeycomb-honeyed dessert sippers like Domaine des Petits Quarts from Bonnezeaux, which was hand-delivered from France for my tasting. Think Sauternes, Barsac in a slightly lighter style but sensuously equal as one of the world's great sweet white wines.
---
Heavy-Duty Help Among The Vines
Chateau Pape-Clement, owned by Bernard Magrez, is returning to its 19th Century roots with oxen working the vineyards.
The beasts are 4-year-old Gascon twins Marel and Blanc. The bulls weigh 400kg and are being trained to plough between the vine rows.
Apparently, they only understand Occitan (the ancient language of the Languedoc in southern France) so the herdsmen have had to learn it to issue commands!
Magrez says the animals are lighter than tractors and don't compact the soil – and they don't pollute and are quieter than machines. They can also reach plots of vines inaccessible to machines.
They move more slowly than horses (which Magrez also uses in the vineyard) and their work is more accurate. The oxen stop when they encounter a difficulty, unlike the horses which don't! They can pull more than twice their weight and handle mowing and cutting machinery.
Gascon cattle originate from the Central Pyrenees and Garonne Basin where they adapted to the harsh climate, mountainous conditions and rough grazing.
There are also horses working at Chateau La Lagune, Rauzan Segla, Margaux, Chateau Le Puy in the Cotes de Francs, Latour, Smith Haut Lafitte and Chateau Pontet Canet.
---
Necessity Is Invention's Mom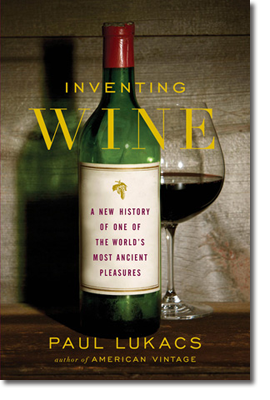 "The early United States was a phenomenally drunken place," says Paul Lukacs, in his new book Inventing Wine.
"People drank from morning till night. For thousands of years, water was pretty undrinkable. If you lived in ancient Athens or Babylon or Alexandria, you couldn't drink the water, so wine was something people drank from morning to night. Babies drank it; old people drank it; soldiers drank it; everybody drank wine all the time, and in order for them not to be falling down drunk by 10 in the morning, they mixed it with water and used it to purify the water."
About 1,000 years later, he points out, the Cistercian monks of Burgundy were the first to systematically associate wine with a place and a variety of grape. "So they started, on a very small scale, the notion of particularity and individual taste from certain wines from certain places that has become so important for wine appreciation."
Lukacs reminds us that wine dates back 8,000 years and was originally valued more because of its divine origin than for its taste. And that's a good thing because early wine was not good.
People would add everything "from lead to ash to myrrh to incense and spices. And, especially, resin from pine trees. Lead will sweeten wine and was used for thousands of years."
Pharaohs have been buried beside jugs of wine. The Quran promises baths of wine in the afterlife and, in World War I, France sent bottles of wine to its troops in the trenches.
Inventing Wine, W.W. Norton & Co., 500 Fifth Avenue, New York, NY 10110 (212-354-5500).
---
The Cool LCBO Recent Trends
Low-cal ready-to-drink beverages, wines, spirits and Ontario craft beers and ciders.
Spirits: tequila and gin are the big trend-setters. Over the last few years, tequila growth has averaged 9%, driven by deluxe products. Gin is the ultimate "flavored vodka" and sales are up 7%.
Beer and cider: India Pale Ale (IPA), first brewed in 19th Century England from pale malt, this brew was shipped around the world to Brazil, the Cape of Good Hope, and India. Sales are up 60% with seven new craft IPAs added from the US and BC. Cider is up 60%.
European wines: Summer meant demand for Italian whites – Pinot Grigio, Moscato and Prosecco. Lighter low-tannin reds like Beaujolais from France and Tempranillo from Spain are popular. Perfect with appetizers, cheese or pizza, especially chilled for 20 minutes to bring out their soft fruitiness.
New World wines: California blends lead the charge because their round, easy-drinking style and flavor complexity and texture works well with food.
Known for Sauvignon Blanc, New Zealand makes exceptionally food-friendly reds that pair perfectly with barbecue. New varietals such as Merlot and Cabernet-Merlot have been launching in the New Zealand section.
Vintages: Spanish and Italian whites are in demand and luxury Champagne has been a popular indulgence. Affordable 2009 and 2010 Bordeaux continue to be must-haves. Pinot Noir from California, Oregon and Chile is growing, with sales up 11% this year. This lighter food-friendly style can be served slightly chilled.
Ontario wines: Local varietals to watch are Riesling, Cabernet Franc and Baco Noir. Ontario Chardonnay continues to drive premium white wine with an 18.5% market share. Red and white blends are also gaining popularity.
Take me back to the top of this page, please!