(Hint: click on labels and photos below for even more information!)
Cheaper Thrills For Women
American women are drinking far more wine than their men – and spending less to do it.
Women drink to relax and they're looking for good value while men tend to be snobs, seeking high quality and new experiences.
While the US spent $21.2 billion on wine in 2013, women drank 59% by volume. Meanwhile, men spent $800,000 more for their 41%.
According to Catherine O'Connor of researcher Cana-dean, women's obsession with cheap wine is because they are drinking a LOT of it.
"Being more regular drinkers of wine than men, women look to find affordable offerings that allow them to enjoy the drink frequently without feeling guilty. This makes communicating value an essential part of how marketers should target women."
---
Shakeup In Napa Wine World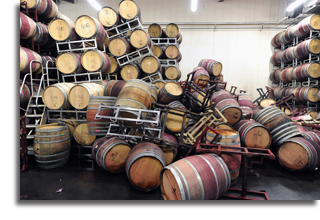 Just north of San Francisco, Napa Valley stretches 50 km over some of the earth's most geologically active fault lines. It's earthquake country and a recent 6.0-magnitude tremor did lots of damage.
Its 1,600 vineyards and 500 wineries were starting to harvest the Cab, Pinot and Chardonnay grapes when the worst quake since 1989 hit, damaging scores of buildings.
Barrels and bottles were thrown to the ground although reports suggest that not a large amount of wine was lost. Property damage and economic fallout could cost $1 billion.
Napa normally ships 50 million cases, one-fifth of all the wine produced in the United States, contributing $26 billion to the California economy.
---
Red Wine Is Dentist's Friend
Scientists in Madrid and Zürich say red wine can remove bacteria that cause cavities and tooth loss, which affect 90% of the global population.
Damage is caused by "biofilms", oral bacteria that are difficult to kill, which lead to plaque and acid that damage teeth.
Brushing with fluoride toothpaste and water helps but the effects are limited.
Red wine is the most effective at removing the bacteria, suggesting that its polyphenols can slow bacterial growth to prevent cavities.
Red wine has already been credited with protecting against obesity and heart disease, thanks to its rich reserves of resveratrol – an antioxidant in red grape skins.
---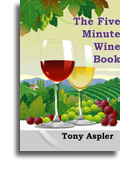 E-Whiz Aspler Très Amusant
Tony Aspler's new e-book, The Five Minute Wine Book, a humorous, easy-to-read collection of wry thoughts on 35 years of wine writing.
Available through Amazon Canada, Amazon US, Kobo and Smashwords.
---
All Hail For Nets!
After anti-hail cannons (again) failed to prevent damage in Pommard, Volnay, Meursault and Beaune for the third year in a row, some Burgundy vineyards are planning on using – nets.
Nets are already deployed in regions like Mendoza, Argentina but the Burgundians worry that tight mesh could block out precious sunshine.
Nets would have to be approved by France's national appellation body, INAO but "things can move quickly if everyone is agreed."
Meanwhile, areas of Burgundy not badly affected by hail are heading for a good-sized harvest in 2014.
---
Going There Online…
Canada's wineries are helping to create an online directory to raise awareness of their wines and attract more tourists.
The Canadian Vintners Association plans to produce this directory of 800 Canadian wineries this year. It's been named Wine411.
Tony Stewart, CVA chair and president of Quails' Gate Winery, says the directory "will help raise the profile of our vibrant Canadian wine industry."
Canadian wineries welcome 3 million tourists annually, and their visits are worth $6.8bn for the economy.
The directory will provide contact info, production, varieties planted, awards and profiles of winemakers, plus visitor facilities.
Canada's wine reached another high this year after Inniskillin's 2012 Icewine scooped London's International Trophy for Best Sweet Wine Over £15 per bottle.
---
High Flyers Bubble Up
Room service is reaching new heights with a drone that flies Champagne right to your hotel suite.
Making turn-down service look pedestrian, Sausalito, California's Casa Madrona has launched a custom-built robot plane that can deliver two bottles of Champers to guests in its most exclusive accommodations.
At $10,000-a-night, wealthy guests in the Alexandrite Suite can have bubbles flown in: the Champagne-laden robot flies from a pad on the property to the deck of the guest's room. Mme.Bollinger would faint!
---
Alsace Anger At Supermarket
The Hugel family is ticked off after finding its wines listed in one of France's biggest supermarkets, E. Leclerc.
Etienne Hugel discovered Leclerc was selling his Riesling 2012, a year after the same supermarket also listed the 2011 vintage.
Stores, including one in the Alsace capital, Strasbourg, were selling it for €13. Hugel had told distributors to steer clear of supermarkets.
"Supermarkets use one or two high profile wines to promote footfall and justify the rest of their wine range," he complained.
Hugel exports 92% of its wines. The stocks in France are sold directly from the estate and by small wine shops and restaurants.
---
Make Mine A Cabernet
If you said yes, ask your doctor or pharmacist about Cabernet Sauvignon.
Cabernet is the safe, natural way to feel more confident about yourself and your actions. It can ease your shyness and let you tell the world you're ready to do anything.
You'll notice the benefits immediately and, with regular doses, overcome obstacles that stop you living the life you want to live.
Shyness will be a thing of the past and you'll discover talents you never knew you had.
Cabernet may not be right for everyone. Women who are pregnant or nursing should not use it. However, women who wouldn't mind nursing or becoming pregnant are encouraged to try it.
Side effects may include: Dizziness, nausea, vomiting, incarceration, loss of motor control, loss of clothing, loss of money, loss of virginity, delusions of grandeur, table dancing, headache, dehydration, dry mouth, and a desire to sing karaoke and play all-night Strip Poker, Truth Or Dare, and Naked Twister.
Warnings:
Cabernet may make you think you are whispering when you are not.

Cabernet may cause you to tell friends over and over again that you love them.

Cabernet may cause you to think you can sing.

Cabernet may create the illusion that you are tougher, smarter, faster and better looking than most people.
Feel free to share this information with anyone you feel may benefit!
---
When Is NY Not New York?
Think we had a bad winter? For the first time since 2005, New York State is allowing wineries to make wine with out-of-state grapes.
The state had one of the harshest winters in memory, with damaged vines and drastic reduction in grapes. Many vines have had to be replaced.
The varieties affected include Riesling, Cabernet, Pinot Noir, Merlot, Chardonnay, Syrah, Gewürztraminer, Pinot Gris, Gamay Noir, Lemberger, Brianna, Frontenac, La Crescent, and Noiret.
---
Tongue Still In Cheek
Researchers in Spain are tweaking an electronic tongue to classify cava wines, and classify them like sommeliers.
The tongue, at the Universitat Autònoma de Barcelona, detects flaws in the sparkling wines. It mimics humans via chemical measurements and mathematical software.
It can quantify the amount of sugar added after secondary fermentation during production. This enables classification from Brut (less than 3 grams per litre) to Sweet (over 50 grams).
Sommeliers are safe, though. Manuel del Valle, the lead scientist, says the tongue can't distinguish nuance. "Personal treatment will be never replaced by a machine."
However, with its ability to detect flaws, the tongue "may be a replacement for the sensory panels used by food and beverage companies," says del Valle.
---
Sparkling New Bubble Trick
Researchers have a faster way to produce Champagne.
Traditional sparkling wines, including Champagne, undergo riddling to nudge the dead yeast – lees – to the bottle neck to be frozen and removed. This takes 60 days but Slovenian researchers have a way to do this in 15 minutes.
A U of Ljubljana team attaches magnetic particles to the yeast. Then, using magnets, removing the yeast takes 15 minutes, 4,000 times faster.
The yeast is unaffected and the wine's aroma, mouth feel, body, taste, bubble size and overall drinking experience are apparently unaffected.
In the 1970s, the cava industry developed a method of speeding up riddling adopted by sparkling wine producers around the world. The Catalan producers invented the gyropalette – a machine that allows 400 dozen bottles to be stacked and shaken, and with the assistance of riddling agents, be processed in three days.
---
Rare Wine Grape Saved By Swiss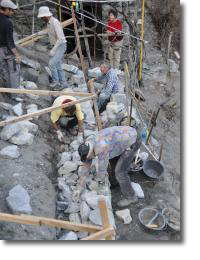 A rare wine grape known as Casanova because it fathered so many leading varieties is safer from extinction thanks to Swiss volunteers and a wine scientist.
The lowly Gouais Blanc earned respect 15 years ago when DNA showed it was the parent of prestigious Chardonnay and Gamay.
But almost no vineyards have Gouais Blanc today. One, at 800m in Switzerland's Haut-Valais, was just saved by a community led by Dr. Jose Vouillamoz, geneticist and author.
"Winemaker Josef-Marie Chanton heard [about the vineyard's imminent demise] and contacted me," Vouillamoz told a seminar on forgotten grapes in Montreux.
"We formed an association to rescue the historic vineyard, gathering 33 people to help buy it," says Vouillamoz. "Then it took three years to raise funds for the renovation."
The 0.2ha plot, on a 60% slope, has a dozen rare varieties and was called VinEsch, in honor of a nearby hamlet. Volunteers have spent many weekends rebuilding the dry stone walls that support its 27 terraces.
"Haut-Valais is the only place on Earth where Gouais Blanc has been continuously cultivated since the Middle Ages," says Vouillamoz. "In France it's been banned many times in all regions and there's now only one vineyard in Haute-Savoie."
Gouais Blanc, known as a "peasant grape" in France, can produce crisp wine, but is very susceptible to botrytis. For even more information, click HERE for an informative article.
Take me back to the top of this page, please!