(Hint: click on labels and photos below for even more information!)
Cheaper Thrills For Women
American women are drinking far more wine than their men – and spending less to do it.
Women drink to relax and they're looking for good value while men tend to be snobs, seeking high quality and new experiences.
While the US spent $21.2 billion on wine in 2013, women drank 59% by volume. Meanwhile, men spent $800,000 more for their 41%.
According to Catherine O'Connor of researcher Cana-dean, women's obsession with cheap wine is because they are drinking a LOT of it.
"Being more regular drinkers of wine than men, women look to find affordable offerings that allow them to enjoy the drink frequently without feeling guilty. This makes communicating value an essential part of how marketers should target women."
---
Shakeup In Napa Wine World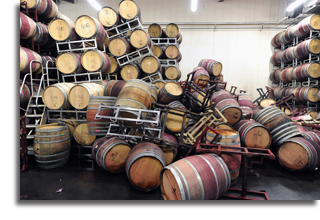 Just north of San Francisco, Napa Valley stretches 50 km over some of the earth's most geologically active fault lines. It's earthquake country and a recent 6.0-magnitude tremor did lots of damage.
Its 1,600 vineyards and 500 wineries were starting to harvest the Cab, Pinot and Chardonnay grapes when the worst quake since 1989 hit, damaging scores of buildings.
Barrels and bottles were thrown to the ground although reports suggest that not a large amount of wine was lost. Property damage and economic fallout could cost $1 billion.
Napa normally ships 50 million cases, one-fifth of all the wine produced in the United States, contributing $26 billion to the California economy.
---
Red Wine Is Dentist's Friend
Scientists in Madrid and Zürich say red wine can remove bacteria that cause cavities and tooth loss, which affect 90% of the global population.
Damage is caused by "biofilms", oral bacteria that are difficult to kill, which lead to plaque and acid that damage teeth.
Brushing with fluoride toothpaste and water helps but the effects are limited.
Red wine is the most effective at removing the bacteria, suggesting that its polyphenols can slow bacterial growth to prevent cavities.
Red wine has already been credited with protecting against obesity and heart disease, thanks to its rich reserves of resveratrol – an antioxidant in red grape skins.
---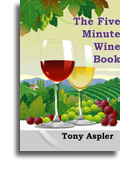 E-Whiz Aspler Très Amusant
Tony Aspler's new e-book, The Five Minute Wine Book, a humorous, easy-to-read collection of wry thoughts on 35 years of wine writing.
Available through Amazon Canada, Amazon US, Kobo and Smashwords.
---
All Hail For Nets!
After anti-hail cannons (again) failed to prevent damage in Pommard, Volnay, Meursault and Beaune for the third year in a row, some Burgundy vineya