(Hint: click on labels and photos below for even more information!)
Lapping It Up In Japan's Wine Heaven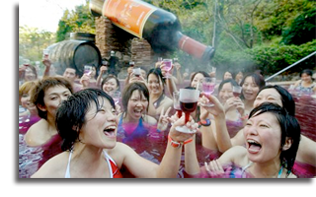 It's a wine lover's wet dream: swimming or floating dreamily in pools of warm (full-bodied) wine. A Japanese spa actually encourages you to bathe in the stuff.
Yunessun Spa,100km SW of Tokyo, offers visitors tubs full of red wine under the guise of anti-aging vinotherapy that dates back to ancient Egypt while you drink wine from a 12-foot bottle poolside.
The spa is powered by natural hot springs and it also offers coffee, saké or green tea hot tubs, as well as one dedicated to ramen.
The wine pool is only open 12 days a year so plan well ahead and beat the rush.
Meanwhile, in France's wine capital, Bordeaux, the brand-new riverside Cité du Vin, aka the Guggenheim of wine, is an ultra hi–tech wine museum with a theme park to match.
Its curvy exterior looks like wine swirling in a giant decanter and the Cité appeals to experts and novices alike, with $92 million well spent on experts in entertainment experiences alongside enophiles, historians and scientists.
Highlights include 800 world wines, an immersive boat ride through the history of wine, state of the art tasting rooms, a bouquet game and the "chair of despair", where famous folks describe their hangovers. Two restaurants and a bar with spectacular wine lists are the crowning glory.
---
Putting The Beau In Beaujolais Nouveau 2016
Of the nine international offerings of this year's first wine in Ontario, only two are really worth your while, and one of them's Italian!
To be fair, the Mezzacorona Novello from Trentino is from the wrong grape – Teroldego – grown on the foothills of the Dolomites, but for $9.95 it's a tasty, smooth slightly smoky rustic but charming dry red to buy by the case as an everyday quaff (LCBO 443192, 88).
Authentically Nouveau, from the granite slopes of Beaujolais, is the B-J Villages Nouveau from Joseph Drouhin, 50% more money at $15.95 and 100% more typical of the weeks-old wine – light garnet in color with subtle notes of black cherry and raspberry along with the characteristic Band-Aid and Juicy Fruit signature (Vintages 113266, 90).
Despite rumors to the contrary, these wines will keep for up to a year. They just won't get any better with age.
Just for curiosity, and maybe for a wine tasting with friends, the other Nouveaus are made by Ontario's Reif Estate Winery: The Hanging Man, an unusual peach pie-like white wine from the Kerner grape, and The Fool, a berry decent Gamay red, both $12.95; Negrar Novello del Veneto, good value with a soft bubble gum note at $9.95; Duboeuf Gamay Nouveau, slightly acetone character, $10.95; Art's Primeur Nouveau, savory and fruity, $13.95; Mommessin Nouveau, the best label, $13.95; and Duboeuf's pretty good traditional Beaujolais-Villages Nouveau at $15.95.
---
Chilled Rosé Now Summer's Hottest Wine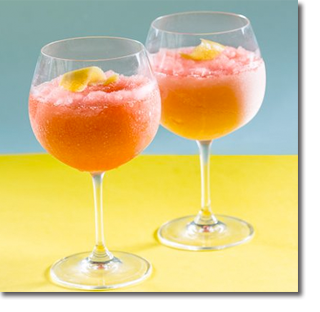 Chilled rosé has become a hot summer drink over the past decade, but this year's trend for frozen rosé, or frosé – popular in bars and clubs – sent sales soaring.
You make it by freezing rosé wine with lemon juice and sugar – typically in a large container and frozen for about seven hours before being blended into a sweet slush.
Big in Canada and huge in Britain, where rosé sales at Waitrose rose 104% as adults embrace the grownup version of the Slush Puppy.
"Frosé really has taken the nation by storm, fusing together two summer favorites – rosé and cooling slushes," says Waitrose. "Prep is minimal and it can be stored or used in batches, perfect for parties."
Meanwhile, Marks & Spencer had a "spectacular" 100% increase in sales of English rosé. Chapel Down Sparkling Rosé soared 200%, and its English Pinot Noir Rosé, produced in Surrey, saw sales lift 103%.
M&S said the rise of frosé crowned rosé as the drink of the summer, with English rosé emerging as its shoppers' new favorite.
In recent research by the Co-op, rosé was the most popular wine, beating Prosecco. "Sales of classic French rosés are hitting an all-time high thanks to the growing popularity of these lighter-colored, dryer styles," says the Co-op. "Consumers are now prepared to trade up to premium Provence wines. They're becoming more knowledgeable and high-end brands are introducing lighter-colored rosés in top restaurants, costing up to £70 a bottle."
---
Happy Pacific NW Says It's Awash In 2016 Grapes
Since it uses two of every three grapes grown in the state, no one knows the Washington wine industry better than Ste. Michelle.
And the company says the 2016 harvest is the biggest in the history of Washington wine. The Pacific Northwest's oldest wine producer projects 275,000 to 80,000 tons, beating the 227,000 tons in 2014.
"Washington and Oregon have been enjoying tremendous growth for many years now, and another outstanding vintage like this will only accelerate that," says Ted Baseler, president of Ste. Michelle. "The quality has never been better, and we've proven we belong among the world's greatest winegrowing regions."
Ste. Michelle is the third-largest premium wine company in the U.S., owning 3,900 acres of vines in Washington, Oregon and California, with long-term contracts on tens of thousands more in Washington.
Vintners from Chablis to the Mâconnais report a year of extremes that devastated some vineyards but produced gorgeous wines in others.
The big news in Burgundy for another year, was low yields. An April frost affected almost all vineyards in the Côte d'Or and Chablis. Overall, yields were down 50%, with quantities inconsistent across the board – some parcels yielded normal crops while others saw 90-100% of their grapes destroyed. In the Chassagne portion of Montrachet, the crop was so devastated by frost that seven domaines vinified their grapes together to make two barrels, 600 bottles, from 3 acres. An average year would yield 5,000 bottles. Despite the lack of grapes, the quality is good.
---
Just Give Us The $60 Billion US Wine Facts
California produces most US wine, as we all know, but there's now at least one winery in each of the 50 states (even Alaska and Hawaii). As of this year, there are 8,702 wineries in the USA, the world's 4th-largest wine producing country.
Retail value of US wine sales is $60 billion, growing at 10.7% annually.
The favorites are (still) Chardonnay and Merlot, followed by White Zinfandel, Pinot Grigio, Cabernet Sauvignon, Pinot Noir and Riesling.
Americans love fruity wines: 74% prefer red, with white at 72%. The top three styles are fruity (58%), semi-sweet (57%) and smooth (56%). Dry, crisp white, anyone? Only 26% seek that out. Nice tannins on your Cabernet? Forget it – you're only appealing to 9%. And only 10% care if wines are organic.
Not surprisingly, 83% drink wine because "they like the taste". Only 9% are into analyzing and comparing it with friends. Wine geeks still in the minority. And the most cited decision-making factor. Price: 72% look at the price before they buy, with the brand I.D. trailing at 67%.
---
Harvest Help Going To Pot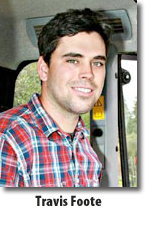 Boonville, CA—California's marijuana growers and grape growers are at odds over more than water. They're also vying for the same labor pool at harvest time.
Travis Foote, GM of Vineyard Logistics, says his Mendocino County company started harvest with 22 pickers. Less than six weeks later, he was down to eight.
"The marijuana pay is better, and the work is much easier," Foote says. "They pay cash, and people can do the work from home a lot of the time. Marijuana doesn't require a lot of labor the rest of the year, but when we need workers the most, they need workers the most."
The problem is particularly acute in the remote, sparsely populated Anderson Valley. A perfect storm of factors makes getting reliable help harder: a smaller labor pool, a proliferation of marijuana growers and issues with the vineyards, which are often too small and too remote for mechanized harvesting.
---
Who Says?
Thanks again to our friends at Ceja Vineyards, the family-owned winery in Carneros, for more great wine quotes:
"Wine makes every meal an occasion, every table more elegant, every day more civilized."
— André Simon
"I serve your Beaune to my friends, but your Volnay I keep for myself."
— Voltaire
Asked whether he ever confused a Bordeaux with a Burgundy in a blind tasting, British wine legend Harry Waugh replied: "Not since lunch."
"My dear girl, there are some things that are just not done, such as drinking Dom Perignon '53 above the temperature of 38° Fahrenheit."
— James Bond in Ian Fleming's Goldfinger
"Wine is at the head of all medicines; where wine is lacking, drugs are necessary."
— Babylonian Talmud: Baba Bathra
A man, fallen on hard times, sold his art collection but kept his wine cellar. When asked why he did not sell his wine, he said, "A man can live without art, but not without culture."
— Anonymous
"I made a mental note to watch which bottle became empty soonest, sometimes a more telling evaluation system than any other."
— Gerald Asher, On Wine, 1982

"The peoples of the Mediterranean began to emerge from barbarism when they learnt to cultivate the olive and the vine."
— Thucydides, Greek historian, 5 Century BC
"Great news!" she said. "I have it on the highest medical authority that you will still be alive in 10 years! You know what this means?" she asked. "Yes, it means we don't have to drink up all our 1985 and 1986 Château Latour at supper tonight for fear I might die with several outrageously priced wines undrunk. For the first time in years, we can go to bed sober."
— Russell Baker, New York Times, 12 May 1990
"Wine is a living liquid containing no preservatives. Its life cycle comprises youth, maturity, old age, and death. When not treated with reasonable respect it will sicken and die."
— Julia Child
"Filmmaker/winemaker Francis Ford Coppola says, "The two professions are almost the same. Each depends on source material and takes a lot of time to perfect. The big difference is that winemakers still worry about quality."
Take me back to the top of this page, please!