July 21: LCBO Premium Tutored Tasting: The ABCs of Italian Wine; LCBO Summerhill, Toronto, 416/922-0403.
July 23: Fiesta Buckhorn (Noon-7:30 p.m.; featuring Canadian wine, beer and local cuisine); www.fiestabuckhorn.com
Aug 8: 2005 Wine and Spirit Education Trust Diploma Course begins; Offered by the Independent Wine Education Guild, 416/534-2570; iweg@bellnet.ca; www.iweg.org
Aug 28-29: Court of Master Sommeliers Introductory Course; Ruth's Chris Steak House, Toronto, led by John Szabo, MS, 416/654-9695; info@thecva.ca
Sept 18: Frescobaldi Fine Wine Tasting; Grano Restaurant, Toronto, vertical tasting with Marchese Leonardo Frescobaldi); Grapes for Humanity, 416/922-7776, 1-800/218-1422; lifeiswine@aol.com
Sept 27: Portuguese Group of 7 Tasting, featuring: Aliança, Esporão, Messias, José Maria Da Fonseca, J.P. Vinhos and Sogrape; Portuguese Trade Commission, 416/921-0259; william.delgado@icep.pt
Sept 27: Australian Wine Tasting; National Trade Centre, Exhibition Place, Toronto; in support of Heart & Stroke Foundation, 416/870-8000; www.australianwineexperience.com
Sept 28: Spain: Old Vines New Wines; Hart House, University of Toronto, Toronto; 416/967-0488 ext. 612; Toronto@mcx.es
Oct 4: Bravo España! 2005, an interactive gastronomic seminar with tastings, chefs and personalities from Spain; Liberty Grand Entertainment Complex, Toronto; 416/967-0488 ext. 612; Toronto@mcx.es

---
Ontario Wine Awards 2005
A record 443 wines in 27 categories were blind-tasted and evaluated by four panels of professional tasters, including yours truly. www.tonyaspler.com
Winemaker of the Year: Carlo Negri, Colio. Wine of the Year: Reif 2002 Vidal Icewine. Wine Journalism Award: Gordon Stimmell, Toronto Star. Ontario Sommelier Award: Zoltan Szabo. Sparkling Wine: Peller Founder's Series Cristalle NV. Riesling Dry: Château des Charmes 2003 Riesling Dry Estate Bottled.
Riesling Off-Dry: Fielding 2004 Riesling Semi-Dry. Other Dry White: Silver: Hernder 2004 Vidal. Other Off-Dry White: Pillitteri Semi-Dry 2003 Vidal. Aromatic White: Stoney Ridge 2004 Muscat Ottonel. Pinot Gris: Magnotta 2003 Pinot Gris Special Reserve.
Sauvignon Blanc: Château des Charmes 2004 Sauvignon Blanc St. David's Bench. Chardonnay Reserve/Single Vineyard: Cilento Chardonnay 2003 Signature Reserve and Henry of Pelham 2003 Chardonnay Barrel Fermented.
Oaked Chardonnay: Palatine Hills 2003 Chardonnay Proprietors Reserve. Unoaked Chardonnay: Fielding 2004 Chardonnay Musqué. Rosé/Blanc de Noir: Silver: Peninsula Ridge 2004 Cabernet Rosé. Gamay: Thirteenth Street 2002 Gamay Noir Reserve.
Pinot Noir: Inniskillin 2002 Pinot Noir Reserve. Hybrid Red: Hernder 2002 Chambourcin. Cabernet Franc: Coyote's Run 2003 Cabernet Franc. Cabernet Sauvignon: Mountain Road 2001 Cabernet Sauvignon. Merlot: Pillitteri 2002 Merlot Reserve.
Syrah/Shiraz: Creekside 2002 Shiraz Signature. Cabernet/Merlot Blends: Henry of Pelham 2002 Cabernet Merlot Speck Family Reserve. Meritage: Thirteenth Street 2002 Meritage.
Late Harvest White: Château des Charmes 2000 Riesling Late Harvest. Select & Special Select Late Harvest White: Konzelmann 2002 Vidal Special Select Late Harvest.
Vidal Icewine: Reif 2002 Vidal Icewine. Vinifera Icewine: Jackson-Triggs Proprietors Reserve Riesling Icewine 2002. Sparkling Icewine: Inniskillin 2002 Vidal.
Best Label Design: Inniskillin 2002 Sparkling Vidal Icewine.


& The Cuvée Winners Are:
At the Cuvée 2005 awards, judged by the Ontario winemakers themselves, the medals for top Ontario wines went to:
Red: Jackson-Triggs Proprietor's Grand Reserve Meritage 2002. Ltd. Ed.
Red: Konzelmann Winemaster's Collection Merlot Grand Reserve Classic 1999.
White: Niagara College Chardonnay Barrel Fermented/Barrel Aged 2003. Ltd. Ed. White: Cilento Chardonnay Reserve 2003.
General List Red: Cave Spring Cabernet Merlot 2002.
General List White: Cave Spring Off-Dry Riesling 2003 and Strewn Riesling Semi-Dry 2003.
Sparkling: Jackson-Triggs Proprietor's Grand Reserve Méthode Classique 2001. Ltd. Ed.
Sweet: Pillitteri Riesling Icewine 2002. Birchwood Riesling Icewine 2003.
Red Hybrid: Creekside Signature Cabernet Sauvignon 2001. Lakeview Baco Noir Reserve 2002.
Merlot: Colio Reserve 2002. Pinot Noir: Creekside Signature 2001.
Off-Dry Riesling: Cave Spring 2003 and Strewn Semi-Dry 2003.
Sauvignon Blanc: Magnotta Special Reserve 2003.
Gewürztraminer: Palatine Hills 2003.
Sweet Red: Magnotta Cabernet Franc Icewine Limited Edition, 2002.


How Sweet...And Dry!
Jorge Pascual, President of the Consejo Regulador of the DOC of Sherry, is in town to present a special seminar on Sherries, from bone dry to the luscious Pedro Ximénez, with perfectly matched cuisine, at the York Event Theatre, 101 Eglinton E., June 15, 416/322-3943.


Lighter, More Elegant Wine
An emerging global wine issue is the towering alcohol levels of many (New World) offerings. Warm climate wines (15% alc and more) that initially flatter the palate then overwhelm the tippler and whatever food the chef has prepared!
Good news, however. Scientists are developing wines with a lower alcohol and more flavor. The Australian Wine Research Institute has found a new yeast that, when added to fermented juice, reduces alcohol by (a huge) 4%.
At present, winemakers resort to costly reverse osmosis to reduce alcohol content and this can damage flavor. However, Institute managing director Sakkie Pretorius says the new yeast doesn't hurt flavor. "In fact, it will probably enhance favor." And the cost is virtually nil.
As the popularity of fruitier-tasting wines has increased, so has the alcohol level, as grapes are left to ripen longer and natural sugar levels soar. Instead, the new yeast converts sugar to glycerol and gluconic acid, already found naturally in wine.
There are many benefits: "It has to do with the flavor and what you expect from the wine. And the alcohol has a big effect on duties and taxes. And some people just prefer less alcohol."


* In case you missed it: you could have saved $550.00 on a single bottle of Château Pétrus '82 at Vintages recently....marked down from $3,999.95. The GST alone was over 200 bucks. I missed it, too.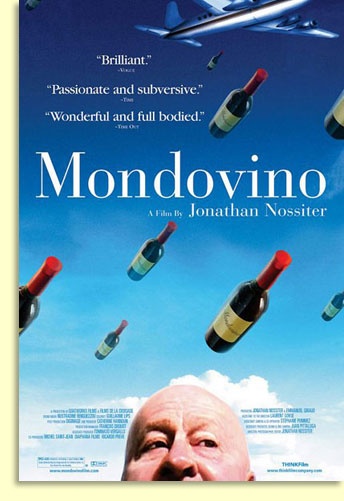 The Soap Opera Of Wine...
Don't like winery dogs doing what all pooches do? Don't go. Don't care about the cookie-cutterization of international wines? Don't go. Not amused/fascinated by the soap opera of (dysfunctional) wine-dynasty interactions? Don't go.
Mondovino, Jonathan Nossiter's fly-on-the-wall winumentary will do OK and you'll miss a thought-provoking treat. His unblinking camera ingests writers who own farting bulldogs, a flying winemaker with the mantra "oxygenate, oxygenate," the royalty as well as the dirt-farmers of wine. Mussolini-loving aristos, Napa power brokers and terroirist visionaries, they're all there. It's about the fight for the soul – and profit – of wine, where transition collides with transition.
As Nossiter, a one-time sommelier, puts it: "A wine grower is at once a farmer, a businessman and an artist. His attachment to the earth is simple and humbling, dependent as he is on the cruel whims of nature. But at the same time the wine he fashions is linked to the greatest cultural ambitions – and pretensions – of his time."


Tipple On
Women who sip beer or wine daily have sharper minds into old age than abstainers, according to a study of 12,500 US nurses, adding to the known benefits of a light tipple which can also prevent heart disease and stroke.
"Our study suggests that moderate consumption might provide older women some cognitive benefits," said Dr Francine Grodstein of Brigham and Women's Hospital and Harvard Medical School in Boston.


*This wine seems very closed and in a dumb stage. Sort of a Marcel Meursault -- Paul Winalski


Aussies Plugging The Screw-cap
Oxygen is not important in aging wine and screw-caps are the obvious choice for closures, says a new Australian study.
Southcorp's R&D winemaker Allen Hart says oxygen is "not a vital component for the evolution and maturation of red wines after bottling." Maturation accelerates with small amounts of oxygen but red wine matures anaerobically in any case. The fact is, red wines are already much more heavily exposed to oxygen than whites before bottling: through pumping over (of the juice over the floating cap of grape skins during fermentation), during barrel aging, and in the final blending.
Clare Valley winemaker Jeffrey Grosset adds: "We can now say with a high degree of confidence that oxygen is not necessary and that zero or low permeability closures (i.e. screw-caps) are the obvious choice for quality." Synthetic and natural corks are too permeable and inconsistent, he adds.
According to Bernie Hickin, senior winemaker at Jacob's Creek: "In our research, we've found 3-7% of wines contaminated by cork taint and a further 33% affected by other off-flavors from the cork: woodiness, bitterness, loss of fruit, etc., and the corks are a major factor in bottle variation.
Wine scientist Pascal Chatonnet, meanwhile, says the wine flaw Brettanomyces (that rubbery, Band-Aid character) is more common than previously thought, affecting up to 70% of reds. "Under 500 micrograms/litre, it adds to the complexity, above that it's a noticeable fault."
This is not a cork problem, it's related to wood preservatives, Chatonnet told a UK clinic sponsored by cork maker Amorim, but he did present a wine spiked with MDMP, a compound found in corks which has an earthy, woody, musty aroma.
Some commentators suspect this may be second in importance only to TCA in cork taint, although no survey of MDMP in wines has yet been carried out.
Jacob's Creek's Hickin says: "Australians want all their whites in screw-cap bottles nowadays and lots of high end reds are also being put in screw-caps. It's been a top-down process of change over the last five years or so: with the best wines being offered in screw-cap and selling out fast! It's the same in New Zealand."


Folie à Trois
St. Helena's Sutter Home, which holds the trademark Ménage à Trois, and is fighting Madrona Vineyards' brand Mélange à Trois.


*For the world's most entertaining wine tour, join the Spanish Wine Society's Barry Brown, Barcelona-Priorat-bound Sept. 11. It'll change your life (at least for a week!) 416 927 9464.


Bonzer, Mate!
A record 1.96 million tonnes of grapes are being crushed this year in Oz. "Exceptional quality is expected," says the Wine & Brandy Corp, because of a mild season and disease-free conditions.


*Add to your enocabulary: Pneumontage – bubbling air up through fermenting red wine to gently break up the floating cap of grape skins, extracting desired color and tannins.


Vintage 2003 For Ports
The top Port houses Taylor, Fonseca, Delaforce, Croft and the Symington family have declared 2003 a vintage, "a perfect year in the vineyards," says Taylor's winemaker David Guimaraens. "A wet winter to build up water reserves, excellent flowering and plenty of heat and sunshine. All the ingredients for a great vintage port." The roasting hot vintage has produced ports of massive scale, with concentration, power, structure and finesse. The announcement was made on the traditional 23 April, St George's Day.
The Symingtons own Graham's, Dow's, Warre's, Smith Woodhouse, Gould Campbell and Quarles Harris, and Quinta do Vesuvio.
It's the first vintage declaration since 2000. On average, there are three per decade. Vintage Port accounts for 2% of production.
Rupert Symington calls 2003 "an optimal viticultural year. Hot, arid summers are the norm in the Douro but, thankfully, the heat was not excessive. We had excellent weather during the harvest, mid-September to early October. Our grape yields were quite low, so our quantities are limited, but the wines are especially flavorful."


*Don't forget to pick up your (very good) Official Guide to the Wineries of Ontario 2005 at the LCBO, and you can also get up-to-the-minute stuff at www.winesofontario.ca


Rosé Cheeks?
Seven wine pros are set to bare all for charity. Women of Wine (WOW) have recruited MWs, journalists and merchants to strip for prostate cancer research. Decanter's Steven Spurrier hosts the event at the Bleeding Heart restaurant's Crypt, London, June 30. The strippers include Tim Atkin MW, the Observer's wine critic, and Michael Palji, MW.


Get Into The Spirit
Ne Plus Ultra Agencies has released Pedro Romero's Punto Azul Prestige, a 50-year-old brandy from Sanlúcar de Barrameda in Spain's Sherry country. The Moors may have invented distillation, but practice makes perfect at Pedro Romero.
Ne Plus Ultra is aged (like Sherry) in soleras of 500-litre American casks from distillates of several vintages. Rich, mahogany-colored; with a nose of plum and currant. Balanced, soft, warm, persistent and deep, with hints of old mahogany.
Savor it before and/or after dinner with coffee. Fourteen bottles were released as an In-Store Discovery @ $219.95. An 80-year-old is also available.


Enough To Float a Battleship
The EU is allowing the distillation of 1 billion litres of wine, at a cost of €300m, to deal with Europe's wine lake, almost a quarter of it French and high-quality Appellation d'Origine Controlée. France has a 200m-litre surplus from the 2004 vintage, with 100m from Bordeaux alone. Bordeaux exports fell 25% in the first three quarters of last year, 12% in volume and 24% in value. Apart from Belgium, up 3%, Germany, the UK and the US show a significant downward trend. Exports to the UK dropped one third in value and 22% in volume. The US is in free fall, with volume down 34%, value down 58%.
Bordeaux exports to Russia, South Korea, Hong Kong and Taiwan posted increases of 34%-50% in volume. Exports to Japan rose by 7%. These, however, are not the main markets.
By 2008, South Africa will overtake Germany, Portugal and Chile as a producer. It will be producing 35% more wine while global production will have increased by 6.4%, says the International Wine & Spirits Record.
The study predicts that the global wine surplus will return to 2000 levels. The surplus rose sharply in 2004, and by 2008 will represent 11.3% of world production.


'Historic' Rioja
The 2004 Rioja vintage has an 'excellent' rating and should go down as 'historic', the region says. 2004 was ideal with full, ripe aromatic wines.'


Château des Charmes Seminars, Tastings
Thursdays and Sundays at 2pm: May and Nov: rare and pioneering varieties in Niagara. June and Dec: sparkling wine made by the méthode traditionnelle. July and Jan. '06: Chardonnay at the Château: the difference age, wood and clonal selection make. Aug. and Feb. '06: Does terroir make a difference? Sept. and March '06: the reds of St. David's Bench, warmest sub-appellation in Niagara. Oct. and April '06: Late harvest, botrytis-affected and Icewine.
Family winemaker dinner series: June 24: Madame Andrée Bosc, wine country living. July 22: Paul Bosc Sr., the art and science of wine making. Aug. 12: Paul Bosc Jr., Vineyard Smoker. Sept. 9: Michèle Bosc, East Coast Meets Niagara. Call 905/262-4219 for reservations.

Take me back to the top of this page, please!