April 22: Ontario Wine Awards Gala, Queens Landing, Niagara-on-the-Lake, followed by an opportunity to sample the wines at the Distillery District Fermenting Cellar June 13, 416-398-
3335 x2 or tickets@forefrontcom.com Info at www.ontariowineawards.ca
May 2: Beringer Vertical Tasting, Royal York, Toronto, presented by Vintages and Foster's Wine Estates, 416 365 5767.

May 2-7: Santé, Bloor-Yorkville Wine Festival (over 70 international wineries, dining, shopping, tastings, 416 928 3553, ext. 27.
May 4: Toast! The Stone Distillery, 55 Mill Street, Toronto, the Canadian Cancer Society's fundraiser, featuring wines, beers, live entertainment, a silent auction and foods from top restaurants, 416 485 0222.
May 8: Winemakers' dinner with Robert Mondavi Winery, Jamie Kennedy Restaurant, 9 Church Street, Toronto, presented by Vintages and Churchill Cellars, 416 365 5767.
May 10: Syrah vs. Grenache, North York Memorial Community Hall, Winetasters Society of Toronto, 416 690 0281.

May 23: New Zealand Wine Fair, 705 444 0195.
July 21-22: Sample good wines/food with over 100 exhibitors at Fiesta Buckhorn: www.fiestabuckhorn.com.
---
*Law of Mechanical Repair: After your hands are coated with grease your nose will itch or you'll have to pee.
The Envelope Please...
The Cuvée Awards, Ontario's wine Oscars have been judged, from 180 hopefuls, and not found wanting, by a jury of 37 winemakers, and the winners are....

Best Red: Pillitteri Cabernet Franc Family Reserve 2002;
Ltd. Edition Red: Creekside Reserve Merlot 2002;
Best White: Andrew Peller Signature Series Chardonnay Sur Lie 2004;
Ltd. Edition White: Niagara College Teaching Winery Chardonnay Warren Classic 2003;
General List Red: Creekside Cabernet Merlot 2002;
General List White: Colio Pinot Grigio 2004;
Sparkling: Hillebrand Trius Brut NV;
Sweet: Andrew Peller Signature Series Vidal Icewine Oak Aged 2004;
Ltd. Edition Sweet: EastDell Vidal Icewine 2004;
Meritage: Mike Weir Cabernet Merlot 2002;
Cabernet Sauvignon: Kacaba Reserve 2002;
Red Hybrid: Henry of Pelham Reserve Baco 2004;
Merlot: Peninsula Ridge Reserve 2002;
Pinot Noir: Niagara College Teaching Winery Reserve 2004;
Riesling: Angels Gate Süssreserve 2002;
Sauvignon Blanc: Vineland 2004;
Gewürztraminer: Malivoire Estate Bottled 2004;
Tony Aspler Cuvée Award of Excellence: Bill Lenko.

*Law of probability: The probability of being watched is proportional to the stupidity of your act.
Bacchus is Back (soon)
Brock U at St. Catharines is hosting the third Bacchus wine conference June 14-16, 2007. Dr. Isabel Lesschaeve, Director of the Cool Climate Oenology and Viticulture Institute, is happy "to raise our profile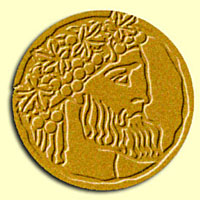 and because our students will benefit hugely."

Wine scientists, experts, professionals and enthusiasts will exchange ideas on science, culture and business with a strong focus on educational tastings.

The first Bacchus (to the Future) was at Brock, the second was in Beaune and Dijon, Burgundy. For more
information, www.brocku.ca/bacchus.
*Bath Theorem: When the body is fully immersed, the telephone rings.

Platinum Vintage
Jean-Guillaume Prats, of superstar Cos d'Estournel, sees the top 2005 Bordeaux possibly going to the consumer for 350-500 a bottle.

"We may see a situation where two bottles of first growths are selling for the equivalent of 900 litres (1,200 cases) of Bordeaux bulk wine!"

That's how extraordinary the early appraisals are of this stellar vintage.


Screw It!
A new study says screw caps keep Sauvignon Blanc fresher than corks (as well as never tainting the wine).

Researchers at U of Auckland using gas chromatography found the aromas of passion fruit, box tree and grapefruit were 23% higher in wines with screw caps. These tropical smells fade in contact
with oxygen, which is why wines lose their fruitiness.

The cork and screw cap are equal at preventing oxygen getting into the bottle, but oxygen can get in during corking operation or the aromas could be absorbed by the cork.

*Law of Logical Argument: Anything is possible if you don't know what you are talking about.
The Longest Row
Riverland, South Australia, home to volume production of sunny everyday Oz wines is also home to family-owned Angove's, the makers of Red Belly Black, Long Row and Bear Crossing, some of the world's

best-value wines.

The Long Row wines are from the enormous 1,300-acre Nanya Vineyard. They're 5 kilometres long and laseraligned: 1,500 km of vines in all, with precision irrigation on the red, sandy loam! On the banks of the Murray, NE of Adelaide, Nanya is harvested in 150 parcels by machine, at night when it's cool, and the grapes are further cooled in the winery to keep them fresh with crisp acidity. The Long Row Chardonnay '04, 88641779 (v) $13.95 is robust and fruity with a core of ripe Bosc pear, lemony citrus with a hint of creamy vanilla and finishing on a tangy note of lemon drops. Ready for roast chicken, grilled salmon, paella or pork loin (88).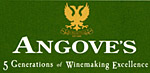 The other half of Angove's wines come from elite regions such as the Hunter, Clare, McLaren Vale, Coonawarra and Padthaway, handled individually as a premium range or blended into the Riverland wines. Tulloch, another family winery, whose products Angove's distributes, offers a super Verdelho (that's the grape variety) in Ontario, a rich dry white with damson, greengage, green apple, lemon grass and lime character, (88) $19.95 at Vintages in April, from the Hunter Valley, much visited by Sydneysiders and tourists.

In April, also, you'll see Nine Vines, a Grenache/Shiraz dry rosé for spring/summer sipping pleasure on the dock or at the cottage – think food-friendly cherry cola, smoky strawberry/ raspberry with a touch of licorice $11.95 (v). In Oz they call this the red drinker's white! The obscure label image, by the way, is a rose. Rosé, get it?

Bear Crossing Cabernet Merlot '03 is more cola-chocolate, with plum and mulberry, spicy, soft, with a lift of residual sugar for mouthfeel and smoothness (86). Very user friendly at $11.95 LCBO. The Teddy Bear

logo is an Aussie road sign. Angove's Shiraz, alias Stonegate Shiraz in some provinces, is a soft, black pepper, raspberry and red fruit for everyday drinking that's a steal for $9.70 (87). Red Belly Black Shiraz '03, $16.95, rich, ripe, chocolatey blackcurrant and spicy, sold 200 cases in Ontario in just three days and has been re-ordered by Vintages, back here June 10. Layered and complex, with a touch of oak, there's a lot there although it can be cellared for 2-4 years. Named for the eponymous snakes in the vineyards, it's good value. Fruit from cool Wrattonbully and Padthaway is in the blend. 100% pasta perfect! Stay tuned for it to reappear.

*Law of Close Encounters: The probability of meeting someone you know increases when you are with someone you don't want to be seen with.

Breathe Easier: Organically
Sulfites, harmless and universally used to kill airborne vinegar bacteria, are the usual suspects when people occasionally have bad reactions to wine – sneezing, hot flushes, headaches, etc. If you don't already decant/aerate your reds and whites to dissipate (the highly volatile) sulfites, vigorously pre-pouring the wines into a widemouthed jug (highly advisable), here are the organic wines available in Ontario so you don't have to: made with minimal sulfur, pesticides and herbicides, these all-natural wines taste good and are examples of the purist's art:

Syrah Mendocino '02, Brown Forman Intl., 573709
Les Baux Provence Rosé '05, Terres Blanches, 684993
Riesling Organic Terre d'Etoiles '04, Mittnach, 685339
Yoshi Premium Ginjo Junmai Sake, 671271
Shiraz '04, Sonop, 999961
Falerio, Colli Ascolani '04, Pilastri, 681700
Family Reserve Riesling '04, Quails Gate, 590653
Kendermann '04, Rheinhessen, 682344
Ch St Germain Rouge '03, Languedoc, Didier Cabanes, 718924
Minola Barbera '03, Nuova Cappelletta, 701946
Chardonnay Moira Vineyard '03, VQA Niagara Peninsula, Malivoire, 573154
Melissanthi Meliton '04, Porto Carras, 673269
Nature Côtes-du-Rhône '03, Domaine Perrin, 948059
Vertus Crianza Tempranillo '02, Iranzo, 669598
Can Vendrell Brut Reserva, Albet y Noya, 664615
Mantinia White '04, Spiropoulou, 710970
Rosso Piceno '03, Saladini Pilastri, 964866
Las Lomas Chardonnay '05, Maule Valley, 663021
Ch Roubia '01, Minervois, Grotti Mestre, 705632
Monferrato Barbera '03, Nuova Cappelletta, 719518
Le Haut-Lieu Vouvray Sec '04, SA Huet, 705764
Tommolo Montepulciano '02, Chiusa, 594788
Merlot Côtes-de- Thongue '03, Domaine Bassac, 730978
Vintages Essentials: Bonterra Chardonnay, 342436, Bonterra Cabernet Sauvignon, 3424288.

Farming au naturel: going beyond organic, biodynamic growers create their own liquid natural fertilizers by burying cow horns stuffed with manure vines then crushing them with water, blood and bone meal to feed the vines.

Biodynamics is oldfashioned husbandry and it's eco-friendly.



Take me back to the top of this page, please!