June 7 : Bacchus at Brock, St. Catharines; science, culture, business with tastings focused on Napa and Niagara and the language of wine (labels, influence of wine writing, linguistics, sensory language, 905/688-5550, x4652, ccovi@brocku.ca;
October 18: Grapes for Humanity Fund-raising Gala, Toronto, 416/488-8597, tony.aspler@sympatico.ca
* Sign at a radiator shop: Best place in town to take a leak.

---
Buon Appetito!
After reciting the menu every day for 28 years at La Bodega, restaurateur Philip Wharton (David Niven's twin, separated at birth) is now pouring himself into wine.
Now part of Mani Agencies of Concord, he's offering a list that covers Italy from top to toe, plus tasty French, Spanish and Australian vintages, too.
You could sip his foamy-fresh Prosecco Villa Frattina from Friuli, just inland from Venice, as your aperitif/first course white, enjoying its orange blossom, pear/spice notes ($15.95, 86); then move to Frattina's Pinot Grigio, with its elegant walnut, fresh hay, wild honey profile ($19.50, 88).

Rosé fans might choose a delicately dry Chateau d'Anglès '06, from a rocky outcrop overlooking the Mediterranean in the Languedoc. Its Cinsault, Syrah and Grenache grape blend, with their peach-citrus, plum-nectarine aromas, ($17.95, 89), is made by Eric Fabre, ex-Lafite winemaker.
Fabre has restored vineyards first created by Roman soldiers of Julius Caesar's 10th Legion. Their first vine planting, the Malvoisie grape (alias Bourboulenc) was reputed in Greek myth to confer wisdom! You can almost hear the cicadas singing here among the pine, thyme and juniper of the garrigue....
For a fine red with red meat or game, Frattina's Refosco '05, from an indigenous Italian grape, leaps forward with blackberry, morello cherry, black plum and smoked meat flavors, and silky tannins ($23.95, 93).
You could also sip Balbi Soprani Barbaresco '03, from Piedmont, a juicy red with aromas/flavors of sun-dried tomatoes, red berries, currants and rich tannins ($26.50, 87).
With dessert, especially fruit or roasted nuts, Balbi's Brachetto d'Acqui sparkler delivers a wild strawberry/raspberry spritz ($19.50, 88).
For digestif, Vecchio Amaro del Capo from Calabria is steeped in mandarins, licorice, chamomile and juniper and best served ice-cold ($38.50, 91).
Call Philip at 905 660 4172.
* Verdict on the Vinitaly from an exhausted agent: It was like Hell: translated as – Italian punctuality; German humor; English wine....
---
Cruisin' Down The Loire
Loire lovers – fans of smooth, fresh, harmonious wines from France's third largest wine-growing region – will love the new line-up offered by Loiriste Christophe Garnier.
Garnier markets six growers – Les Copains d'Abord – from the Loire's main regions, Sancerre, Pouilly, Bourgueil, Chinon, Muscadet, Touraine and Vouvray, who co-operate to sell their wines. Enologist, grower and consultant Garnier makes his own Domaine de la Croule.
Best of this attractive bunch are Vouvray Domaine du Viking, a party-perfect Chenin-based bubbly (88); Menetou-Salon Blanc Domaine Gilbert '06, an aromatic Sauvignon Blanc with floral/vanilla nuances (90); Sancerre Blanc Pierre Cherrier & Fils '06, floral/mineral, full-bodied Sauv with a steely finish (91); Pouilly-Fumé Yvon & Pascal Tabordet '06, a Sauvignon Blanc with a clean, fresh core and apple blossom aromatics (92); Touraine Azay-le-Rideau Rosé Pascal Pibaleau '06, apple skin, floral and fleshy profile from Grolleau, a grape losing ground to Gamay in the Loire; Bourgueil Vieilles Vignes Chasle & Menard '03, a Cabernet Franc that packs violet, lavender, elderberry nuances and soft tannins ((90); and La Croule, from Azay, a blast of berry fruit, vanilla and silky tannins (90).
They're all in the $20-$26 range via Nuray Ali at ex-Cellars Wine Services, 416 822 8187.
* Sign at a muffler shop: No appointment necessary. We hear you coming.
---
A Fist Pump For Chianti
"We have only just begun to do what the French did long ago, coordinate our wine varieties with their ideal habitat. It's hard to believe that after 600 years we still have so much to accomplish. In a sense, Italy is a young wine country with so much potential – Piero Antinori in Christie's Wine Companion in 1987.

How right he is, and was: seminal research into the multitudes of indigenous vine varieties growing in Tuscany (278 distinct varieties, 161 red) begun 20 years ago at the University of Florence, is now bearing fruit with the rediscovery of an ancient and very promising variety, Pugnitello.

Named for its fist-shaped clusters (pugno means fist), the dark, thick-skinned, juicy Pugnitello grape translates into wines of a deep purple-hued red with pronounced blackcurrant jam and floral fruit. Similar to France's Mourvèdre, it's a well integrated wine with cedar and leather nuances from 18 months in barrels.

Firm acidity precedes robust but not austere tannin and minerality that's typical of Tuscan reds. Should age well for a decade, perhaps longer. www.winetrader.ca

In the grape research, 18 vines every variety were planted in an experimental vineyard at San Felice, observed over the years and three were selected for their wine abilities. Pugnitello, one of the tri, was planted to several hectares and now brought to market. The 2003 Pugnitello, the world's oldest "new" wine, costs $55.20 via John Hanna & Sons, 1 800 337 7043.

How's it taste? Rich, open-knit with raspberry, cherry and mocha tones, hints of saddle leather, toasty oak and a whiff of lavender (91). It will age well, judging by the'01, the 2000 and especially the '97, chunky, packed with flavor and good for a decade.

There's a little of San Felice's Chianti Classico Riserva Poggio Rosso 2000 still in Vintages, 965665, $49.00. However, the '01 coming in is a rich, ripe style with mulberry-strawberry fruit and aromas of black cherry/blackberry. A 9/1 ratio of Sangiovese and Colorino. Now to 2014 (

91

)

.



---
Hats Off... To Screwcaps
Sales of screwcap wines soared 24.6% last year in the US, says AC Nielsen, citing quality control and convenience for consumer acceptance. This despite reports in the UK that screwcaps can "cause" a taint problem from hydrogen disulfide.
In reality, this stink is created accidentally during the wine making, in the cellar, not by the closure, whether cork or screwcap.
The screwcap is merely more efficient at sealing in the pong!
* Sign on a maternity room door: Push. Push. Push.
---
Lousy Luck In Yarra
The vine-killer phylloxera is threatening 70% of Australia's Yarra Valley, just east of Melbourne.
The insect, which attacks vine roots and cuts off nutrients is in the Coldstream area and the vineyard is under quarantine.
Less than 30% of Yarra, one of Australia's best regions with 100 wineries, is planted on resistant rootstock, making it particularly vulnerable.
* Sign on an electrician's truck: Let us remove your shorts.
---
Icy Threat To VQA
"Changyu Pioneer Wine Co., Yantai, China, has cooperated with a Canadian ice wine company to set up the largest ice wine château in the world in the east of Liaoning, China. Changyu has invested 50 million renminbee on the construction of the chateau, holding 51% shares of the company. It is predicted that the first bottle of ice wine will be put into market by the end of 2006, with ice wine production capacity of 1000 kiloliters...

* Sign on an electrician's truck: Let us remove your shorts.
---
One-Stop Sipping
An all-in-one acrylic glass and bottle combo from Hardy's of Australia is coming your way soon. The "Shuttle"is a 187ml single serve bottle opens with a twist-top that releases the glass. Perfect for picnics, sports and outdoor events, it's being tested in the UK.
* Sign on a plumber's truck: Don't sleep with a drip. Call your plumber.
---
Gracie Allen's Classic Recipe for Roast Beef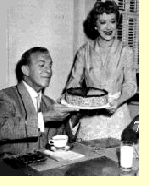 1 large roast of beef
1 small roast of beef
Take the two roasts and put them in the oven. When the little one burns, the big one is done.
---
Sun Screen for Grapes?
Stronger sunlight associated with global warming means winemakers will have to think of new ways to protect their grapes, says Italian wine expert Riccardo Cotarella.
Italy's best vines are moving from the south to the north because of climate change, Cotarella, said at a London tasting.
His comments add to growing concerns about how rising temperatures could affect some of the world's best vineyards.
Cotarella says stronger rays present particular problems for coastal wineries.
"A few years ago we considered the sea coast one of the best places, but this is not true today. The problem is the UV rays. If I go to the beach, if I don't protect my skin with cream I will burn. It is the same for the skin of the grapes."
Global temperatures are expected to rise around 2C by 2050.
Huge swathes of Napa valley may cease to exist, according to US academic Gregory Jones. Meanwhile, effects of global warming are already showing, as Australia's wineries experience their worst drought on record. A recent industry conference in Dijon, France, suggested water shortages could be just as harmful as rising temperatures.
Other wine growing regions may benefit from climate change, however. In Italy, Cotarella says a slight rise in temperatures means the Sangiovese grape "can finally get the best ripeness".
In New Zealand's cool Marlborough region, Sauvignon Blanc could be replaced by red wine and kiwi fruit if climate change predictions bear fruit, according to a new report.
The United Nations Intergovernmental Panel on Climate Change sees Marlborough evolving from white wine to red wine styles. Vineyards could also potentially move further inland into cooler areas.
---
His Heart's In The Right Place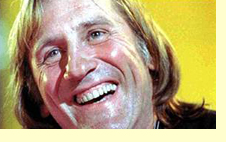 In July 2000, Gérard Depardieu had an emergency quintuple heart bypass. Doctors ordered the grandaddy of French acting to slow down. He claimed to have given up drinking.
Not so. At a recent lunch, Depardieu attempted to launch his own range of wines at London's Mayfair eatery Fifty. He was unable to fulfil his duties (introducing each plonk between courses). He had allegedly been boozing since 10:30 am.
"I hope you can understand me, because I can't really understand myself..." he burbled, before lapsing into French and then resigning with a Gallic sigh. His wine merchant took over: "Gérard isn't, er, going to stand up because he's been enjoying the wine even more than I have."
Depardieu remains a sexy ugly man: a phalanx of female guests (each of whom had paid £90 for the honor) attended his table, few of them escaping without figure or hair caressed. "You are so beautiful, why are you a journalist?" he demanded of my pretty companion, reassuring diners that global warming "is very good... good for making wine in England." Can he enjoy making wine more than he enjoys drinking it?
In an interview with the BBC 18 months ago, a pie-eyed-looking Depardieu said he slugged "between four and eight bottles" of wine a day; dismissed some of his films as "grosses merdes"; and explained how to cook a hedgehog: "First, you shove a pump up its arse and blow it up to remove the spikes." Small mercies, ne c'est pas?

---
Take me back to the top of this page, please!