May 19-30: the wines of northern Spain (a wine-and-food tour
from the Basque country via Rioja to Catalonia, hosted by Tony Aspler including Muga, CUNE, Vina Tondonia, Codorniu, Torres and others) Pauwels Travel Bureau, 519-753-2695.
May 25-27: Vinexpo Asia-Pacific, Hong Kong Convention & Exhibition Centre, www.vinexpo.com.
---
Take Heart, Wine Fans
Three to five glasses of red wine a day may be better for your heart than aspirin, researchers say.
It's thanks to resveratrol, the heart-friendly red wine molecule.
University of Connecticut researchers induced heart attacks in animals and found that resveratrol significantly cuts damage to the heart and the animals survived an otherwise lethal event.
Dipak Das of the U-C Cardiovascular Research Centre, Farmington, says resveratrol provokes a 'pre-conditioning effect' switching on antioxidant defences prior to an attack – 'the best yet devised method of cardio protection.'
Consumption of 175-350 milligrams is optimal.
Since resveratrol also thins the blood and inhibits clots as well as inhibiting plaque from sticking to artery walls, it may be superior to aspirin, Das adds. Click HERE for more information.
The red wine-drinking French have a heart disease mortality of 90 per 100,000 versus 240 per 100,000 in North America.
---
Ontario Wines – Smokin' Hot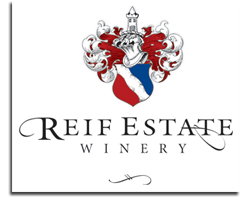 Giant (and now redundant) old Ontario tobacco kilns are now being used to help make three kinds of wines in Canada: a rich, concentrated dry red in the Veneto "passito" style of Amarone; a sweet botrytis-affected white wine; and a fast-track Icewine.
Reif Estate Winery is using one kiln to air-dry grapes for the passito, producing three batches each vintage.
The second blows humid air to create the fungus botrytis cinerea on the grapes to produce a beautifully sweet wine that's usually caused by an accident of nature.
The third uses a new cross-flow filtration system to improve the quality and speed of Icewine production.
"The idea is to transfer the ancient kiln technology into today's wine production," says Reif winemaker Roberto DiDomenico.
The Niagara winery received $196,000 from the National Research Council.
Other producers in Niagara are already successfully making passito by drying out grapes in racks, which can take up to six weeks.
Reif has spent $108,000 on equipment, including the filtration system and two 12-metre by three-metre kilns. The results will be shared with other wineries, says Klaus Reif.
"People in Canada can buy cheaper wines from anywhere in the world. What we have to do here in Ontario is to be very specialized and to produce wines which are unique and appeal to a niche market."
In Italy, the status of Amarone has recently been raised to the most prestigious level of wine produced, DOCG.
---
Scotch Mist
Scottish chef Pete Gottgens is harvesting grapes at his Perthshire hotel this summer to make wine for his restaurant.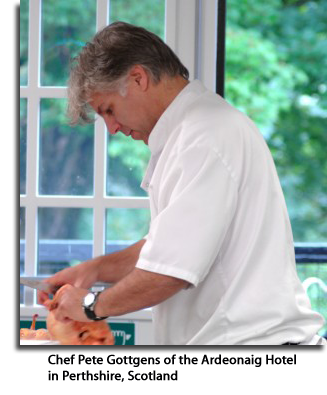 "If we have a warm summer we're in business. This will be the first harvest we pick the grapes," said Gottgens, who was Nelson Mandela's personal chef. "Cold is not the problem, the lack of sunshine is our biggest problem. If the wine is fit for consumption it will be served by the glass with our food. If not we can make vinegar." Gottgens planted Bacchus and Madeleine Angevine vines at the Ardeonaig hotel, on Loch Tay. He admits Scotland won't be Europe's next wine region, but argues: "If we don't try we will never know if Scotland can produce wine or not. Somebody has to be first." There are 416 vineyards in England and 2,732 acres of vines, up 45% in four years.
---
Channelling Burgundy?
The Barclays, owners of the Daily Telegraph and the Ritz in London, have recruited Bordeaux winemaker Alain Raynaud to plant a vineyard on Sark in the Channel Islands.
The twins own neighbouring Brecqhou and land on Sark (pop. 600, no cars, no income tax). They're planting 5 hectares of Chardonnay, Chenin and Pinot Gris to be sold to tourists.
Recent months saw David and Frederick Barclay, estimated wealth $36 million, withdraw funding from the island following disputes with the new democratic government. But their hotels, restaurants and golf courses are now back in business.
---
Rising Tide Of Wine!
World wine trade has doubled in a decade to $30bn. The UK, the US and Germany are the biggest importers with the first two buying one-third of all imports in 2008.
The Financial Times says the UK's per capita imports are 300 times China's, but China is the fastest-growing, followed by Australia.
French wine dominates all import markets except for the US and Germany where Italy leads. In the rising markets, France recently overtook Chile as the main supplier in China, but lost top spot in Australia to New Zealand.
Wine consumption will be 1 billion bottles a year higher by 2013, says the International Wine and Spirits Record.
Consumption will rise 3.57% to 2.7 billion cases and the US will be the #1 consumer at 310 million cases. Canada, Russia and Brazil will see increases of 6.51%, 5.63% and 4.23%.
At the moment, Italy is top at 298 million cases, with France third. French consumption continues to wane while China, now #8, continues to rise, with 74 million cases, potentially topping 100 million by 2013.
The study predicts a 3.79% increase in red wine consumption, 52.27% of the total. Whites will show little change while rosés continue their rise in popularity with a 6.13% increase. The world market, worth US$151.817 billion, will grow by 8.05%.
Spain has become the leading exporter by volume with a rise of 13.66% between 2004 and 2008 while Italy is up 8.97% and France down 3.88%. However, France remains the leading exporter by value at US$9.731 billion.
---
Flying Corks!
Under pressure from screw caps and the global economy, Portugal's cork industry is looking at diversifying into airplanes.
French-owned DynAero in Alentejo, the main cork growing area, wants to build its ultra-light 2- and 4-seat planes from cork instead of plastic and that could help a national industry that employs 12,000, exports $1.4 billion of cork a year, 157,000 tonnes or half of the world's total.
The idea is to replace light porous plastic PVC with cork composite in the fuselage, wings and flaps of light aircraft, where it's coated with carbon fibre sheets.
Costly oil-based PVC and environmental concerns are among the reasons DynAero wants a new material.
---
Better Bet On Wine
Wine is a better investment than equities in a crunch.
Investment-grade wine increases your returns and cuts risk in an economic crisis, according to researchers.
A recent study compares auction results for wines against the Russell 3000 index of U.S. companies over 13 years, a period that includes two bull and two bear markets.
Wine outperformed by holding its value with lower volatility.
Top growths in top vintages since 2005 have returned 500%, to the Russell's 50%.
---
Big US Wineries Bulk Up Sales
California wine shipments dropped in 2009 for the first time in 16 years as US wine companies looked overseas for cheap wines.
US consumption rose 2.1% to 323 million cases, but California sales fell 1.6% to 236 million cases, a drop of 4 million cases, according to analyst Jon Fredrikson."It was ugly," Fredrikson told wine industry leaders.
For small- to medium-sized wineries, the year was "brutal," as consumers shunned higher-priced wines, powerful distributors focused on big brands, and the recession hurt exports, said Fredrikson, president of Gomberg, Fredrikson & Associates.
The big US wineries capitalized on the "trading down" phenomenon by tapping into the global supply of cheap wine. E&J Gallo, Constellation Brands, The Wine Group, and negociant wineries like Don Sebastiani & Sons, imported bulk Pinot Noir from France and Malbec from Argentina and sold it in the US.
This outsourcing has been growing but it exploded in 2009. Imported bulk wine increased to 25 million cases, an 87% jump, pushing imports' share of market to a high of 104 million cases, or 32% of the market.
---
Christie's Sued For Fraud
Billionaire US collector William Koch is suing Christie's for fraud.
Koch claims Christie's has sold counterfeit wine for years. He alleges Christie's fails to ensure bottles are genuine, and turns a blind eye to fraud. "Because Christie's has inspected so many wine cellars and has examined so many bottles of wine, it knows how to identify counterfeit wine," Koch says.
"Christie's has unique access to facts and circumstances that might call into question the authenticity of specific wines it handles," he adds.
Koch has previously sued Zachy's, Acker, Merrall & Condit and German collector and dealer Hardy Rodenstock for fraud.
---
Ontario Wine Snapshot
---
18 Million Fake Bottles
A French judge has handed out suspended jail terms and hefty fines to 12 wine industry figures for selling millions of bottles of fake Pinot Noir to US wine giant E&J Gallo.
The wine was sold under Gallo's Red Bicyclette Pinot Noir label though made from far less expensive grape varieties. Some $7 million in profits was generated by the scam, which saw 18 million bottles of falsely labelled wine produced.
---
Going Sideways?
More American households buy Merlot than any other wine, red or white.
It's loved for taste, value and approachability, and has the highest repeat purchase rate. Some 90% of people sampled say taste is the important factor and good value second.
Some 80% consider Merlot "a good everyday food wine," while 70% find it "a good value" ("great" under $12 per bottle), "a good wine to drink at home," and "approachable and reliable."
---
Sunny Outlook For NZ Wines
Ultra-violet light helps makes New Zealand wine unique.
Lincoln University is looking at UV radiation on Sauvignon Blanc grapes and vines. New Zealand receives 50% more UV than northern hemisphere regions – largely because there's a hole in the ozone over New Zealand.
Brian Jordan, who heads the study, says radiation alters the biochemistry of the vines leading to changes in the aroma and taste of the wine. The scientists hope to be able to advise viticulturists how to get a consistent composition of grape juice.
---
Fill 'Er Up!

Rising costs have fuelled a vineyard tractor powered by vine cuttings.
Marlborough, New Zealand, producer Grove Mill has spent $15,000 on the conversion, called gasification, reducing diesel consumption 75%.
"When you've got a tractor going six hours a day, that's a lot of fuel and money," says the winery's Greg Fowles. Grove Mill is the world's first winery to be certified Carbon Zero. Click HERE for more information.
---
Hard Times In Riverland
Grape growers in Riverland, Australia will make a mere 27 cents for a bottle of wine this year amid predictions that a horror harvest will push them into ruin.
Consumers are benefiting with wines selling for less than a bottle of water.
As the poorest harvest for two decades draws to a close, revenue is down 75% from the 2002 peak. Riverland, which makes half of South Australia's wine, earned $68 million this harvest, down from $255 million eight years ago.
Few growers have made money this year as increasing numbers leave the industry.
Take me back to the top of this page, please!