May 12: New Zealand Wine Fair, Design Exchange, Toronto, 705-444-0195.
May 19: Classic Pinot Noir: Burgundy and Ontario Pinot Noir, Ontario Wine Society, Casa Loma, Toronto, 416-921-9798.
May 18-29: Sicily wine tour, Tony Aspler, 416-488-8597.
May 27-29: Niagara Food & Wine Expo, Scotiabank Convention Centre, Niagara Falls, 1 866-414-1566, x309.
May 28: Ontario Consumers Riesling Challenge, Guelph, 519-823-5080.
June 17-18: 1000 Islands Wine and Food Festival, Brockville, 613-342-4357.
June 22-24: International Cool Climate Chardonnay Celebration, 905-563-8700, x23.
July 14: Boys' Night Out, Audi Downtown Toronto, 416-440-4101, www.liffordboysnightout.com.
---
Hint: click on labels and photos below for even more information!
A $Billion Bill – Hold The Phone!
Burgundy distillery staff freaked at an eye-popping phone bill they just got for 716,414,273 euros ($1.02 billion).
"It's so enormous you can't believe it. We all had to look," says Gerard Chaussée, who runs Maison Védrenne in Nuits-Saint-Georges, famed for its eau-de-vie and brandy.
"I thought it was a forgery, with all the things you can do with a computer these days. I looked at it from every angle," he says.
Phone operator Orange says "there was a glitch when the bill was being printed."
"The amount in the computer is correct. Fortunately, it's more of a fright than real harm to the customer."
---
Small Region, Big Wines
Nestled between Burgundy and Switzerland, tiny Jura is a spectacular 80km ribbon of wine country, from verdant plain to soaring foothills – the home of 300 wineries, mostly family businesses, and 200 tiny vineyards.
The region consists of four AOCs: Arbois, France's first appellation in 1936 and home of Louis Pasteur, the father of modern enology; the colossal rock of Château-Châlon; L'Etoile, rich in star-shaped fossils; and Côtes du Jura. The best wine growing land has iridescent strata of red, green, grey and beige shales, clay, gravels and limestone. The climate is a cooler version of Champagne, Burgundy and Alsace with microclimates that get good wind protection and great sun exposure.
The wines are fascinating. Most famous is the oxidized white called "vin jaune" – yellow, or gold, wine (think Sherry) made from late-harvest Savagnin grapes aged six years in barrels that aren't topped for evaporation. The air space (ullage) fosters a yeasty film over the wine called the veil, which Sherry makers call the flower. However, unlike Sherry, vin jaune is not fortified with grape brandy and has around 11% alcohol. It's often aged under the eaves where the wide temperature swings accelerate oxidation.
The traditional Clavelin bottle of vin jaune holds 620ml, roughly the amount of the original litre of grape juice left after aging.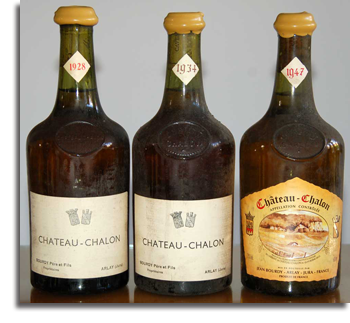 Vin jaune can age 50 years and the best is made (only in good years) by Château-Châlon. There are also a huge variety of fruity dry supple reds from local varieties Poulsard and Trousseau as well as Pinot Noir, and crisp dry whites from Chardonnay and Savagnin. Unlike vin jaune, the barrels are topped up weekly in all these wines to prevent oxidation.
There's also Macvin, red, white or rose, (which I suspect comes from Marcvin) unfermented grape juice fortified with marc, the brandy distilled from grape skins. In France they're called mistelles, liqueur wines, tasty chilled as aperitifs or room temp as dessert wines. And there's Crémant sparkling, from Chardonnay and Pinot Noir, fresh with notes of hazelnuts, sweet buns and apple, hard to find outside the region.
The great dessert wine is Vin de Paille, straw wine, made from grapes dried on straw mats and racks that's reminiscent of vin santo from Italy.
When you find these jewels, serve them with coq au vin jaune and morels, walnuts, dried fruit or Comte cheeses. You`ll have to look hard on Ontario, contacting agents like Trialto Wine Group, MCO Marketing and Distribution, The Living Vine and Mark Anthony Brands – or shop in Quebec, where the SAQ offers excellent Vin de Paille from both Henri Maire and Domaine Rolet, Cremant from Rolet, Cotes du Jura from Cave Jean Bourdy and Fleur du Savagnin from Domaine Labet.
---
Healthy Bonus From Red Wine
Southbrook Vineyards, famous for its light footprint on the planet, has created an exciting natural health product made from organic red wine grape skins. Bioflavia is full of powerful antioxidants and it's a first for both the wine and the natural health industries.
Bioflavia starts with the "pomace" left over after the crush. "The idea of finding a way to turn it into a valuable health product was very appealing," says Bill Redelmeier, co-owner of Southbrook, a leader in organic and biodynamic wines.
"We made this to enhance the dough for the pizzas we serve at the winery. But when we researched the antioxidant levels we were surprised," he adds.
The pomace is dried before the grape skins and seeds are separated. The skins are furthered dried and then milled. Organic grape powder and Vitamin C are added and the product is packaged at a Health Canada production facility.
Antioxidants help neutralize oxidation and cell damage caused by free radicals in our bodies. A daily consumption of antioxidants is recommended to help protect against heart disease, atherosclerosis, cancers, autoimmune disorders and advanced ageing.
Health Canada recommends 7 to 10 servings of fruits and vegetables a day. A suggested 10g serving ensures we meet our daily antioxidant requirements. Add one scoop to your smoothie or juice, or stir into yogurt or cereal. It can also be used in muffins, bars and breads, and in dips, sauces, burgers and stews.
A 300g canister costs $29.95. www.southbrook.com
---
Longue-Dog White, Red
From the same stable (kennel? cattery?) that brought you Chat-en-Oeuf, here come two cute new Languedoc (get it!) wines to make your tail wag at this summer's barbies, clambakes and pasta fests.
Crisp, citrus-driven Longue-Dog White is from Colombard and Chardonnay vines near the Etang de Thau lagoon on the Mediterranean, famed for its great oysters and mussels, $11.95 at the LCBO. Plump and fruity Longue-Dog Red is Grenache-Syrah with a lively blackberry note, $12.95.
Easy-drinking blends from sunny southern France at a friendly price in a witty package.
---
US Wines Ahead At Vintages
Fuelled by strong demand for California wines, U.S. wines have overtaken France and Italy to become the leading wine category in Vintages, the LCBO's fine wine unit.
Annual U.S. wines net sales are up 21.5% to $70.8 million, a 20.1% Vintages market share. France follows at 19.6 and Italy at 18.8.
Rick Slomka, Canadian Director for California Wines, says: "Consumers have always embraced California wines for their high quality, but they now also recognize that California represents great value, brand consistency and reliability."
---
French Police Riot Over Wine Ban
France's riot police insist there's nothing wrong with a glass or two of wine with lunch, even when they're on duty. They're up in arms after bosses ruled they can no longer enjoy a quarter litre with their meal.
The row broke out after pictures were published showing officers enjoying a drink with their midday meal while policing a demonstration.
Their right to a "beer or a quarter litre of wine" with their meal dates back to 1989. The police union says the pictures "upset management far more than public opinion. "Decisions like these should be based on the actual negative effects [of a small amount of alcohol]. There are none."
The riot police are notorious for their strong arm tactics.
---
Chanel-ling Claret By Lagerfeld
Chanel's Karl Lagerfeld is designing the 2009 label for Rauzan-Ségla celebrating the château's 350th birthday.
Rauzan-Ségla was bought by Chanel in 1994, so a hook-up with Lagerfeld would be a natural. With the importance of the Asian market, a Chanel label could spell success in China.
Last October, when Lafite put a Chinese figure eight on every bottle of its 2008, prices went up 20% overnight. A Lagerfeld label would have immediate appeal in China, the fastest-growing consumer of leather goods and jewellery worldwide.
---
Kir Package
A traditional sipper in Burgundy is Kir, a delicious marriage of dry white wine and crème de cassis, the French blackcurrant liqueur. About 5 parts cassis (or Ribena if you're on budget!) to one of wine.
It's named for Félix Kir, priest and Resistance hero in World War II, and mayor of Dijon from 1945 to 1968.
It must have agreed with him, since he died in his nineties, perhaps because blackcurrants have seven times as much vitamin C as oranges!
An elegant version, Kir Royale, is served in a flute with sparkling wine.
---
The Mother Of All Squabbles

Wineries targeting overworked moms are squabbling over using "Mommy" on their labels.
California's Clos Lachance Wines wants federal court to find that its Mommyjuice doesn't violate the Mommy's Time Out trademark marketed by a New Jersey distributor.
"Mommy is a generic word," says Clos Lachance. Mommy's Time Out had no comment.
The Mommyjuice label features a woman juggling a house, teddy bear and computer. The back label advises "tuck your kids into bed, sit down and have a glass of Mommyjuice. Because you deserve it."
"Mommy's Time Out" shows an empty chair facing a corner. A bottle and glass sit on a table next to the chair.
In recent years, various vintners have launched Fat Bastard, Cleavage Creek, and a red featuring a rooster called Big Red Pecker.
---
Sour Taste For Growers
There's no end to low grape prices in Australia.
Prices have plunged 50% in a decade with red varieties suffering the most.
The government says prices will stay low because of increased bulk wine exports, oversupply and international competition. In 2010, Australia's wine exports by value fell by 9%.
Meanwhile, harvests are not expected to decline. This year's crop is set to fall by just 2%, to 1.5m tonnes.
Cheaper bulk wine exports now account for 40% of wine exports, versus 13% a decade ago. The report comes a month after the Wine Grape Council estimated that only a third of growers in South Australia turned a profit in 2010.
---
Stepping Lightly On The Planet
Ontario's move to make packaging environmentally friendly is setting the pace for packaging suppliers everywhere.
The Liquor Control Board of Ontario, the world's largest wine buyer at $4.3 billion, now stipulates that under $15 wines must be in bottles less than 420 grams (14.8 ounces), while cases cannot exceed 18.9 kilograms (41.7 pounds).
Under $15 wines represent 77% of the 80 million bottles it handles each year. Bottles average 500 grams, although one weighs 900 grams.
Wineries such as Beamsville's 18,000-case Malivoire. And some from the southern hemisphere already use bottles weighing 350 grams.
The LCBO made a commitment in 2005 to cut the packaging it uses by 10 million kilograms and it's done that through favoring TetraPaks and PET bottles.
---
Essential Wine
Now a Vintages Essential, Osoyoos Larose is a Canadian collectible and an opportunity to follow a great native BC vineyard from its earliest days.
Le Grand Vin 2007: a full-bodied blend of Merlot, Cabernet Sauvignon, Cabernet Franc, Malbec and Petit Verdot, displays vanilla, raspberry, plums, chocolate, as well as pepper and mint (91).
Pétales d'Osoyoos 2006: the second wine, shows deep color, aromas of red fruit complemented by vanilla and caramel notes (89).
---
Can you make an insurance claim if you're bitten by a dyslexic corgi? Sorry, it's an act of dog!



Take me back to the top of this page, please!