May 10: New Zealand in a Glass, Design Exchange, Toronto,
705-444-0195, rketchin@ketchin.com.
May 15: The New Wines of Greece, Metropolitan Hotel, Toronto, George Athanas, 404-545-2323, gathanas@allaboutgreekwine.com.
May 16: ZAP Zinfandel, The Fifth Grill & Terrace, Toronto, Brianne Cunningham, California Wine Institute, 905-336-8932, brianne@calwine.ca.
May 23: Wines of South Africa, Laurel Keenan, 416-461-6016, keenan@propellerpr.com.
May 25–27: Niagara Food & Wine Expo, Scotiabank Convention Centre, Niagara Falls, Jennifer Campbell, 905-634-8003, Ext. 309, jennifer@townmedia.ca, www.niagarafoodandwine.ca.
May 27: Vintages presents Francis Ford Coppola and the Wines of Inglenook Vineyards, TIFF Bell Lightbox, Toronto, 416-365-5767, 1-800-266-4764.
May 29–31: Vinexpo Asia-Pacific 2012, Hong Kong; www.vinexpo.com
---
Hint: click on labels and photos below for even more information!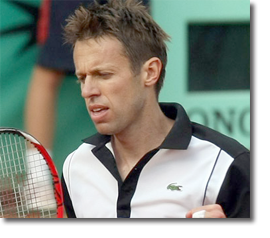 Make Mine A Double!
The world's number one tennis doubles player, Canadian Daniel Nestor of Toronto, has turned his hand to wine!
The lanky lefty has been a star for Canada in Davis Cup, beating Stefan Edberg at his best and dominating in Grand Slams with several partners. He's also a nice guy.
Working with Creekside and Stonechurch wineries in Niagara, Daniel's come up with: Daniel Nestor's 2008 Match Point Chardonnay VQA Niagara Peninsula, described as a fresh and bright white with notes of citrus, apple, and pear.
Medium-bodied and nicely textured. The finish is clean and long.
Daniel Nestor's 2007 Match Point Meritage VQA Niagara Peninsula, "a blend of Cabernet Sauvignon and Merlot, loaded with juicy dark fruit and subtle spice characteristics. Medium-bodied with soft ripe tannins and a lengthy finish."
Both $12.99 and not yet tasted by Wine Express. Available through Hobbs & Co., inquiries@hobbswines.com.
---
Taste Trivento Great Wines From Argentina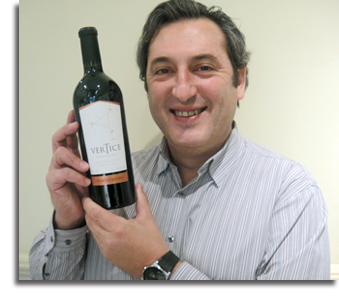 Along the Andes, in Argentina, Trivento, based in Mendoza with its fabulous terroirs, makes superb wines, stickhandled by German di Cesare, folk singer, dancer, chef and winemaker.
He's in charge of Trivento's premium ranges – Golden Reserve, Coleccion Fincas, Amado Sur and Reserva.
German's Golden Reserve Chardonnay '09, $18.95 at Vintages, is what I call "more-ish" with a mineral acidity, tropical fruit flavors and some spicy oak, but not too much! A natural with poached or planked salmon (90).
The Coleccion Fincas No 2 Syrah '07, here in May at $16.95, is soft, elegant and delicious with spicy black fruit, strawberry and cherry notes, black pepper, vanilla and toast (92).
Trivento Tribu Malbec 2011 is a crowd-pleaser at $8.95 at the LCBO, showing cherry, plum and marmalade notes with no oak (89) while the Malbec Fairtrade 2011 is a dollar more and shows a touch more alcohol and slightly less residual sugar (91).
Amado Sur is here now at $15.00 to enjoy with empanadas and ribs. A Malbec, Bonarda, Syrah blend, it's fresh, smooth, berry-forward with vanilla and dark chocolate in support and gentle tannins for texture (90).
The Golden Reserve Malbec '08, $19.95 LCBO, has an intense Scotch-like nose, svelte tannins and plum-cherry notes with a sweet French oak finish (93).
Trivento is named for three winds, the icy-dry Polar, hot-dry Zonda and fresh summer Sudestada that blow across the sunny, arid Mendoza. The barrel cellar holds 4,000 French and American barriques.
Trivento supports 15 small estates with old vines in Lujan de Cuyo through fair trade at www.vinasol.com.ar. Bravo!
---
Golden State Is Glittering
California wines are booming in Ontario.
As of February, sales are up 15% at $196 million – $114 million at the LCBO, up 9%, and $82 million at Vintages, up 23%.
Imported wine sales grew only 5.7%, so California is growing market share, Bob Downey, senior VP sales and marketing, told the California Wine Fair in Toronto.
In the LCBO, California is #4 behind Ontario, Italy and Australia. Cabernet Sauvignon is the top varietal, followed by red blends and white Pinot Grigio. Pinot Noir generated largest percentage growth – an amazing 139%.
LCBO sales in the $15-20 range are up 46%, demonstrating a willingness to purchase higher-priced California products if the value is there, added Downey.
California continues to be the best-seller in Vintages, outpacing France and Italy with 20% of total Vintages sales. Vintages released 608 California wines along with 15 year-round Essentials offerings.
The really interesting news is Vintages California wines over $50 increased by 63% and show no signs of slowing down.
Cabernet Sauvignon is by far the most popular accounting for 72% of all Californian red sales and growing at 27%. Chardonnay represents 85% of Californian white sales and is growing at 23%.
"We plan to open 34 new and relocated stores this fiscal year with larger LCBO Wines and Vintages sections," said Downey, who reminded California wineries that the LCBO will be implementing a lightweight glass standard of 420 grams a bottle for wines under $15 next January.
---
Expectations Are Low
While Britain is mulling minimum drinks prices, some US wineries are developing 5.5% wines to target the growing low-alcohol wine market.
Percy Fox plans will launch a product under the Blossom Hill brand this autumn to cash in on the tax break for wines of 5.5% or less.
UK marketing manager Liz Ashdown said: "The key in anything low-alcohol is it has absolutely got to deliver on taste, and we have spent a very long time both with our technical teams and winemakers leveraging technical expertise to ensure we have a product that will taste right and deliver the taste expression consumers want in that category.
"Most consumers wouldn't consider lower-alcohol wines because they don't think they're going to taste good. That is absolutely key to get right. We have got a pretty fantastic product," she added.
Gallo is also looking into launching a 5.5% range. Regional sales director Mark Tinsley said: "We don't want to bring in a wine just to hit a tax break. If we are going to put any of our brand names to a product it has to deliver on quality."
The winery recently launched 8.5% Moscato wines under its Gallo Family Vineyards and Barefoot brands.
---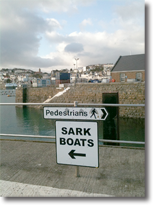 Sparkling Start For Sark Wine
Sark, a dot in the English Channel, just off the Guernsey coast, is the world's newest wine region.
Sark Vineyards has released its first harvest under the direction of Bordeaux winemaker Dr Alain Raynaud. It's a blend of Savagnin, Chardonnay and Pinot Gris.
Sark's grapes, which include Gamay, Pinot Noir, Albariño and Müller-Thurgau, are grown organically at 100m above sea level and Reynaud says the soil is perfect for sparkling wine.
---
Aw, Nuts!
A wine from Chile has offended Cantonese speakers.
Chilensis, from the Maule Valley, translates as "f*cking nuts".
Following local press reports demand has soared. The wine was HK$49 in off-licences and supermarkets but has risen to HK$59.
It was earlier reported that Château Latour may have underperformed in Asia because its name meant "fall down" – unfortunate after important deals have been concluded.
Pepsi used the slogan "Pepsi Brings Your Ancestors Back from the Grave" trying to translate "Pepsi Brings you Back to Life". Coca-Cola translated its brand as "Ke-kou-ke-la" which meant "mare stuffed with wax", although the current "Ko-kou-ko-le" does mean "happiness in the mouth".
---
Chocoholics Pouring In
A chocolate-infused red wine called The Chocolate Shop has surprised its creators with surging demand in the US and UK.
"We thought the market would be female and young, but it has broader appeal," says Andrew Browne, its creator. "We call it the chocolate lover's wine," explained Browne.
The Chocolate Shop was launched in the US using a Bordeaux blend from California with sugar and natural chocolate. For the UK, the wine is Tempranillo from Spain, while Shiraz is used in Australia, where Chocolate Shop was launched last November.
The company has also created a strawberry and chocolate version and is on working white chocolate, caramel and Chardonnay.
---
Hope Springs Eternal
A young financier splashed out over £200,000 on drinks at a Liverpool nightclub called The PlayGround, the highest bill ever paid in a club.
Alex Hope, 23, spent £125,000 on a 30-litre Midas bottle of Armand de Brignac, known as the Ace of Spades – the world's most expensive bottle of Champagne. The 45kg bottle had to be carried by two waiters.
He spent a further £80,000 on other Champagnes, vodka, beer and mixers for guests including Manchester City footballers Joe Hart and Adam Johnson and Man U star Wayne Rooney's wife Coleen at the nightclub at Liverpool's Hilton Hotel.
Hope ordered 40 bottles of Armand de Brignac – endorsed by rapper Jay-Z – and handed them out to single women in the club.
One clubber observed: "He didn't seem to be drinking a lot and looked totally sober." The £204,000 bill included an £18,500 tip.
---
Going Gaga For Wine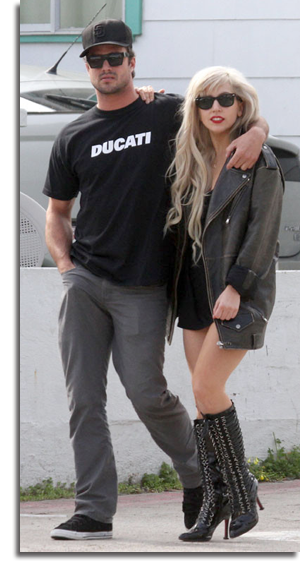 Lady Gaga plans to make her own wine with boyfriend Taylor Kinney.
The 25-year-old Italian American, Stefani Germanotta to you, is a huge fan of red wine. "My favorite way to catch up with friends is to have wine and food nights. We cook together and drink six or seven bottles of red wine," she says.
The singer tops the Forbes celeb list with a net worth of $90m.
No fiscal slacker himself, football superstar Lionel Messi is the latest jock to enter the wine industry after Bodega Valentin Bianchi announced a new wine bearing his name. It's called Leo after the Barcelona and Argentina star. The winery is in Messi's home province of Mendoza and profits will go to the Leo Messi Foundation.
Last year NBA star Yao Ming retired to set up a wine company in China. Meanwhile, Hollywood's Drew Barrymore has joined Francis Ford Coppola, Dan Aykroyd (Crystal Head Vodka) and Antonio Banderas by launching her own wine made in Friuli.
In Canada, philanthropist and bass guitarist Geddy Lee of Rush has had a wine scholarship created in his name. His fellow directors of Grapes for Humanity voted unanimously to commit $26,500, matched by Ontario, for a student of winemaking scholarship at Niagara College.
Take me back to the top of this page, please!