(Hint: click on labels and photos below for even more information!)
Grapes of Wrath Again In Napa
Winemakers are fighting plans for a Vegas-style casino in the heart of Napa.
The Mishewal Wappo tribe of Alexander Valley have mooted the project which has angered county officials and winemakers who say it would damage the environment that's essential for Napa's signature Cabernet Sauvignon.
Winemaker Janet Viader of Viader near St. Helena, says: "We're protecting the right to grow agriculture and continue our trade."
Scott Gabaldon, the tribe's chairman, meanwhile, says: "A casino is the fastest, most-efficient, money-making way."
However, Larry Florin, Napa's director of housing and intergovernmental affairs, argues: "A casino in Napa would be completely inappropriate. The ecological balance — the climate, water, the lack of industrial uses — together create the types of grapes that are in such large demand that are the basis for our wine that's world-renowned. Any upset in that balance really threatens our livelihood."
---
Spain Honors Barry Brown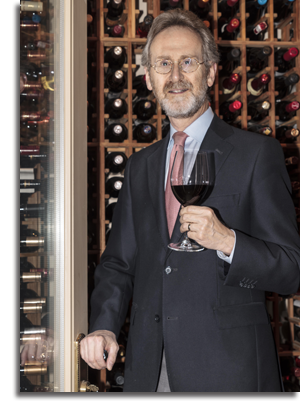 Canada's wine imports from Spain have leaped from $75 million to $113 million in five years and wine tourism has soared – with the passionate support of Toronto's Barry Brown.
Barry, president of the Spanish Wine Society, has hosted over 200 events. "I've promoted Spanish wines by pouring at least 250,000 glasses of blancos, tintos, cavas, Sherries and brandies," he recalls fondly.
His tours of Spain's wineries, which include the cuisine, art, and architecture are legendary, life-affirming and at times rib-crackingly funny! Over 30 years, Barry and wife Patricia Goldby have led 24 of these adventures with 600 wine lovers to many wine regions, generating $3 million in wine and tourism revenue for Spain.
Now, the King of Spain is awarding Barry the Officers' Cross of Spain's Order of Civil Merit.
My fellow wine writer Tony Aspler says: "No one in North America has a better grasp of the soul of Spain." And I say: "Bravisimo, Barry!"
Barry, 64, is one of very few Canadians to receive this high honor, including Leonard Cohen and my friend, poet and food writer Gerry Shikatani.
---
Really Dry Wine
The entire state of California is suffering from "severe drought" conditions, or worse, for the first time this century.
The drought, in its third year, will cause 14,500 full time and seasonal workers to lose their jobs and cost farmers in the Central Valley $1.7 billion, researchers say.
The entire state is now classified abnormally dry, moderate drought, severe drought, extreme drought and exceptional drought.
Climatologist Mark Svoboda of the National Drought Mitigation Center says conditions are "unprecedented."
Currently 23% of California is classified severe, 51% extreme and 24.7% exceptional.
---
Casuals Switching Away From Wine
Casual dining restaurant chains may be switching their beverage focus away from wine and onto craft beer and cocktails.
Winemetrics says eight of the ten largest US casual dining chains have slashed their wine selections by -7% over an eight-month period.
The chains account for 3,500 restaurants including Olive Garden, Outback Steakhouse, Red Lobster and Ruby. All reduced their wine selections between -6% and -28%.
Winemetrics' Charles Gill says: "We've never witnessed such a dramatic drop in wine selections across so many major national restaurant chains. The real challenge for wine suppliers may be holding on to the placements they currently have."
According to industry sources, spirits grew at three times the rate of domestic table wines, while craft beer has grown by double digits and now accounts for 14% of the entire U.S. beer market.
---
Top Bordeaux Challenged By 2013 Vintage
In a rare move, a number of top Bordeaux chateaux added sugar during the challenging 2013 vintage.
Not to the finished wines, of course, but to the fermenting grape must, in order to achieve normal alcohol levels, around 13% – a process known as chaptalisation.
Chateau Palmer's Thomas Duroux says: "Our tanks came in at an average of 12.25% alcohol by volume and we chaptalised up to 13%. The last time that happened was 1994."
Official rules say the chateaux cannot add more than 1.5% alcohol via chaptalisation.
Charles Chevallier, of Chateau Lafite-Rothschild said chaptalisation of some vats at the First Growth chateau was necessary for the 2013 vintage to have a good balance in the finished wine.
EU rules state that winemakers in southern France cannot go above 13.5%, where chaptalisation has been used.
Consultant Denis Dubourdieu says producers should limit the increase in alcohol to 1% to avoid unbalancing other flavours. In theory, that means adding no more than 17g of sugar per litre.
Chaptalisation is named after Jean-Antoine-Claude Chaptal, who described the technique in his 1801 book The Art of Winemaking.
---
Retirement Planning
If you had purchased $1,000 of Nortel one year ago, it would now be worth $49.
With Enron, you would have $16.50 left of the $1,000.
With WorldCom, you'd have less than $5 left.
If you'd purchased $1,000 of Delta Air Lines, you'd have $49 left.
But, if you'd bought $1,000 worth of wine one year ago, drunk all the wine, then turned in the bottles for the recycling refund, you'd have $214.
Based on this, the best investment advice is drink heavily and always recycle.
Let people you care about know this... And tell them to start now!!!
I'm passing this on as a public service. No need to thank me.
---
Choc Absorbers
Things do go better with chocolate – the dark stuff with spicy, black peppery Durbanville Hills Shiraz, packed with black plum, earth and berry flavors, and velvety white chocolate with the green figs, gooseberry, grass and lime zest of sibling Durbanville Hills Sauvignon Blanc, both $11.95, from S Africa, at the LCBO.
Chocolate aside, you can enjoyably pair red meats and casseroles with the Shiraz and pesto pasta, seafood with the Sauv.
---

Footing The Bill
A bottle of wine has caused permanent injuries, says an $8.2 million lawsuit.
Jewel Strite says she was hurt by a 1.5-liter Barefoot Chardonnay, twice the size of a standard bottle.
It fell from a bag she was loading into her car and she's suing Albertsons – claiming an employee improperly placed it in a single plastic bag that ripped.
The bottle shattered on Strite's right foot and she suffered a broken ankle; injuries to her muscles, ligaments, tendons and nerves; and cuts and bruises.
Two other injury suits have been filed in Oregon recently. A woman claims she cut her foot on broken glass in a store bottle-return area and is suing for $500,000. Another filed a $108,000 suit against Safeway, claiming she sliced her finger while reaching for juice in a beverage cooler.
---
Thirsty Yanks Are Now #1
The US has become the world's largest wine market, overtaking France for the first time.
France's Senate declared wine part of its national heritage, but consumption fell 7% last year to 2.8bn litres,(3.7bn bottles), the International Organisation of Vine & Wine estimates.
Consumption in the US crept up 1% to 2.9bn litres (3.9bn bottles).
Winemakers in Europe cite lifestyle shifts, such as shorter lunch breaks, and a generational shift towards beer and spirits. The OIV says that although France, Spain and Italy are drinking much less wine, consumers are trading up to better quality.
Global wine consumption dipped 1% in 2013 to 23.9bn litres and has been flat since 2009. A 4% drop in consumption in China, to 1.7bn litres may reflect government efforts to curb entertainment spending by officials.
A sobering note is that half the Chateau Lafite sold in China is fake and, like other Bordeaux counterfeits, made on boats in international waters off the mainland coast, a senior Chinese government official says.
Xinshi Li, president of the Chinese Academy of Inspection and Quarantine calls fake Bordeaux wine in China 'very serious'.
China has become the biggest market for Bordeaux, buying 20% of the area's wine exports.
---
Pleasant Surprise From Chile
Concha y Toro's Winemaker's Lot 148 Carmenère Blend is a pleasant surprise to me – a card-carrying hater of Carmenère!
That is to say the mass-produced thin, ugly and unpleasant "signature" grape of Chile when it's not well produced.
Here's is a beautifully grown and vinified example of what the grape can really do with a little TLC.
It's a full bodied red – perfect for BBQ and campfires. Ultra blackberry and warm earth, fig and black cherry notes that marry with a juicy steak, straight off the grill.
Exclusive to the Canadian market, Lot 148 retails for $18.95 at the LCBO.
---
Drunken Fish Take The Lead
When fish get drunk they become hyper, swim faster and show aggressive behaviour that elevates them to the status of leaders.
Maurizio Porfiri, associate prof at NYU Poly, had already shown that drunken zebra fish don't fear robotic predators, also found them "less afraid of unfamiliar things", much like a pub night.
Instead of ignoring the zippy zebra fish, the sober ones followed it around, speeding up to keep pace. Porfiri says they saw the drunk, with its confident, uninhibited behaviour, as their leader. "The uninhibited behavior is perceived as a boldness trait, imparting a high social status."
---
Pa Excellence!
For the third Sunday of June (you may have forgotten) it's Father's Day and some fine wines are appropriate!
You can't go wrong with these Canadian thoroughbreds: the 2009 Le Clos Jordanne Village Reserve Pinot Noir $30 and Le Clos Jordanne Estate Vineyard Chardonnay $40. Or the 2011 Le Clos Jordanne Village Reserve Pinot Noir $30 or Le Clos Jordanne Estate Vineyard Chardonnay $40.
If that's all too much to contemplate, spread them over to the second Sunday in September for – Grandparents' Day!
Take me back to the top of this page, please!