(Hint: click on labels and photos below for even more information!)
Hardys Honors Fifth Generation Wine Icon
It's easy to have a wine named after you.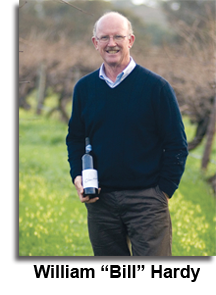 Just be a fifth-generation, Bordeaux-trained winemaker called William Hardy (in the wine business 44 years so far) and – voila!
Recognizing 160 years of winemaking, Hardys, one of Australia's largest and best wineries, has launched a new range called – William Hardy.
Known and loved worldwide as Hardys' "brand ambassador," Bill Hardy couldn't be more pleased.
"I'm incredibly proud. That's my name on that bottle of wine. It only came into being two years ago. I feel incredibly honored by this.
"The company has honored a member of our family by name in each of our five generations now: The founder, Thomas Hardy, gives his name to our very best Cabernet, our Nottage Hill range is named for Thomas Hardy Nottage, the second generation, who worked for his uncle for 66 years; my grandmother Eileen puts her name on our best Chardonnay, Shiraz and Pinot; my uncle, Sir James Hardy, puts his name on all our sparkling wines.
"Now, I put my name on four wines, all mid-market.
"I don't go straight to the top like Eileen or Thomas but I am proud to have trained and qualified as a winemaker in Bordeaux with enologists Emile Peynaud and Pascal Ribereau-Gayon and I have a lot of Old World leanings in me as well as New World. And, because I'm a winemaker, they couldn't just slap my name on anything!
"When they came to me, I said I'd like my wines to be straight varietals, major varietals well suited to their own regions of Australia, so you'll see we have an Adelaide Hills Sauvignon, a Coonawarra Cab, a Barossa Valley Shiraz and an Adelaide Hills Chardonnay.
"Stylistically I wanted them to have a New World bouquet and the mid palate of their region with an Old World finish, savoury and dry. They would have an Australian generosity of fruit and flavor without being afraid to have a little bit of tannin, even in the whites, to give that bit of savouriness on the finish. All would have clear varietal flavor, with oak very much in the background.
Paul Lapsley, Hardys' chief winemaker, calls the William Hardy range the right grapes from the right regions. "We've always pursued wines with character and complexity, varietal personality and regional identity."
"The Hardys name is synonymous with South Australian winemaking, dating back to 1853, and we want this new range to recognize and celebrate the pivotal role the family has played in developing the premium wine regions of the state," he adds.
"The William Hardy Range is at the very centre of modern winemaking in Australia, reflecting an accumulated wisdom and contemporary knowledge that informs every decision made, from grape to glass."
Coming soon to an LCBO near you!
---
31 Glorious Days Of German Riesling
In July and August, if you go to 31daysgermanriesling.ca you'll be on your way to a great glass of German Riesling!
Restaurants across Canada will serve you by the glass Riesling specials, Riesling flights, food and Riesling pairings and Riesling dinners or tastings.
You'll be invited to win a weekend for two in Berlin by saying at which restaurants you most enjoyed their glass of Riesling.
---
Waffles, Anyone?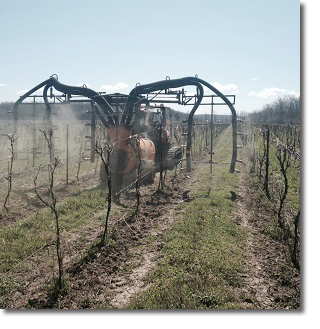 Organic and biodynamic wineries avoid using synthetic chemicals against pesky vineyard pests.
Ontario's Southbrook, however, goes one holistic step further.
They're using a spray mixture found in your kitchen cabinet with an ingredient from your favorite desserts.
It's a mix made with molasses.
This makes the soil structure more friable and nutrients more accessible. And it has an added benefit of inhibiting fungus spores, insect eggs and their larvae which would become pests through the growing season.
"It's using processes such as these that truly shows the use of industrial chemicals simply isn't needed to produce our food and drinks," says the winery.
---
Movies 'n Music Among The Vines
Château des Charmes at 1025 York Road in Niagara-On-The-Lake welcomes you to the Earth & Sky Film Nights and Music Markets until September.
Enjoy feature films under the stars, live music, food trucks, artisans, gourmet snacks, and wines by-the-glass. Surrounded by the St. David's Bench Vineyard, it's the perfect place to enjoy local fare in a family-friendly atmosphere.
Tickets online at fromtheboscfamily.com.
---
Tall Order For Winery
Ex-Houston Rockets star-now-wine producer Yao Ming is using crowdfunding to raise $3m to build a visitor centre for his wines in Napa.
Yao Ming, at 7ft 6ins (2.29m) the tallest NBA player until retiring in 2010, also plans a tasting room in Shanghai to showcase his Yao Family Wines.
Investors can earn access to the grand opening in Napa or Shanghai, including business class air tickets and a luxury suite.
According to Yao's Crowdfunder page, which values Yao Family Wines at $15m, $1.76m of the $3m target was raised in the first four days of the campaign.
---
Hello, Go Train, CP and CN!
The Perrin family of Chateau Beaucastel and producers of Chateau Miraval with Brangelina have opened a pop-up wine store at the Avignon TGV train station.
The shop coincides with new direct Eurostar links between London and Lyon, Marseille and Avignon.
The first train left St Pancras London May 1 with five hours to Lyon, six to Avignon and seven to Marseille. It had Provence wine tastings, naturally.
Charles Perrin described the store as a "giant wooden case like we use to transport our wines around the world." It contains all the family wines from the Rhone Valley. The family opened a boutique in Aix en Provence earlier this year.
---
Quake Sinks High Dinner
Taylor's Port chief Adrian Bridge and chef Sat Bains abandoned a plan for the "world's highest dinner party" on Everest following the earthquake in Nepal.
Their team were in the area when the earthquake triggered avalanches that killed 18 people on the mountain, and more than 4,000 in total.
Bains, chef-proprietor at Michelin 2- Sat Bains in Nottingham, was to cook the meal, but had left the expedition after suffering altitude sickness.
Bridge, CEO of Fladgate Partnership, owner of Taylor's, Fonseca and Croft, tweeted: 'Just to let everyone know that I am ok on Everest. More news later.'
The team had planned to hold the party on Everest's North Col, an altitude of 7,100m (23,293ft), with Bains designing, preparing and freeze-drying the food.
---
Importing Info For Wine Pros
Importing Wine, Beer and Spirits for Pleasure and Profit is the title of Steve Trenholme's annual must-attend seminar for would-be importing agents.
It's in Toronto Saturday June 6 and the goal is to participate actively in the LCBO's imported alcohol sales of $2.8 billion.
Trenholme has 30 years' experience including managing a national sales agency, brand manager of Mosel wines in Germany and consulting to Wines of South Africa and SABMiller.
Many of Ontario's top importers and agents started their careers after attending his seminar, offered since 1993. For more info, go to canmarketwine.com.
---
China Now #2 Grape Grower
China has become the second-largest grape-growing region after Spain, pushing France into third place.
The International Organization of Vine and Wine says China now has 799,000 hectares (1.97 million acres) of land devoted to grapes.
That compares with 1.02 million hectares for Spain.
But France remains the biggest producer of wine, producing 46.7 million hectolitres. France also sold the most wine abroad, more than €7.7bn.
The United States remains the biggest consumer of wine at 30.7 million hectos – 13% of all the world's wine produced last year – followed by France and Italy.
Global wine consumption overall fell in 2014 by 2.4 million hectos to 240 million hectos.
China has rapidly emerged as a major player, accounting for 11% of the territory given over to vineyards last year, up from 4% in 2000.
The biggest importers of wine are Germany, the UK and the US with total global trade valued at €26bn.
---
Wine Nightcap Helps Diet
Wine drinkers rejoice. A glass of wine before bed can help you lose weight.
Harvard University studied 20,000 women over 14 years. They drank a half a bottle of wine a day. Researchers found the women who drank had a 70% reduced risk of obesity compared to non-drinkers.
The National Institute for Alcohol Abuse and Alcoholism agreed, saying "when alcohol is substituted for carbohydrates, calorie for calorie, subjects tend to lose weight, indicating that they derive less energy from alcohol than food."
Another study said a glass of red wine every night increased the good cholesterol HDL.
The European Conference on Obesity in Prague said that the glass of wine could help improve type 2 diabetes because it boosted glucose metabolism.
Moderation is the key. Binge drinkers had larger waistlines.
---
El Nino Again Shaping Up
Australian scientists are forecasting a "substantial" El Nino for 2015, with potentially deadly climate extremes.
El Nino last year made 2014 the hottest in Australia for more than a century.
Japan's Meteorological Agency confirms that the phenomenon has begun and forecasts it to continue into late 2015.
The El Nino phenomenon occurs when trade winds that circulate over waters in the tropical Pacific start to weaken and sea surface temperatures rise.
It can cause havoc for global agricultural markets, hitting economies heavily dependent on the land, including Canada.
Take me back to the top of this page, please!