September 21: Sonoma Wine Fair, Toronto, Rick Slomka,
(905) 336-8932.
September 22: Stem Wine Group Gala Tasting, Eglinton Grand, Toronto, Robert Tomé, (416) 548-8824.
October 6: Profile Wine Group Portfolio Tasting, Liberty Grand, Toronto, John Turco, (416) 598-0033.
October 7: Chilean Wine Festival, Fermenting Cellar, Distillery District, Toronto, (416) 398-3335 x2, www.winesofchile.ca.
October 8: Chilean Winemakers Dinner, (416) 398-3335 x2, www.winesofchile.ca. Grapes for Humanity fund-raiser, Four Seasons, Toronto, (416) 488-8597.
October 26: Napa Valley Wine Tasting, Toronto, Rick Slomka, (905) 336-8932.
---
Open Season
It's OPEN season on young wine buyers.
The newest summer lineup, from Vincor, is an easy-drinking entry called OPEN, a collection of three wines, all priced at $11.95.
Riesling-Gewürztraminer: Aromatic with fresh citrus and tropical fruit on the
nose and palate with a refreshing finish. LCBO 134965.
Cab2-Merlot: Soft and fruity with blackberries and red currants on the nose and palate, LCBO 134957.
OPEN Merlot: Blueberry and raspberry with hints of vanilla and cola
LCBO 140129.
They're all 100% Ontario from the Niagara Peninsula, made with a touch of residual sweetness especially the white, and minimal tannins in the reds, which makes them approachable with or without food.
The target wine drinker cohort is, of course, the Millennials and GenXers and the wines do offer an elegant package, a reasonable price, and an easy-to-remember name. Decent drinkability, too.
---
I'll Take A Dozen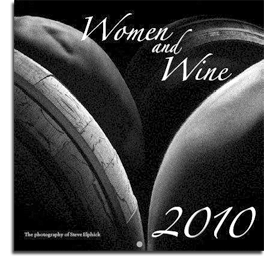 Of the 2010 Women & Wine Calendar, that is.
Photographer Steven Elphick, www.stevenelphick.com, shot twelve young ladies from the Ontario wine industry in living black and white. The 2010 calendar has now been released with 100% of proceeds going to the Grapes for Humanity Foundation, www.grapesforhumanity.com.
Send a cheque or money order for $29.95 + $7 to Grapes for Humanity, c/o Lindsay Groves to 397 Patricia Dr., Burlington, On., L7T 1J9.
Visit www.tonyaspler.com or www.lindsaygroves.ca for a listing of retailers. Grapes for Humanity is a charitable organization focusing on providing better quality of life to survivors of disasters.
---
Tour de Force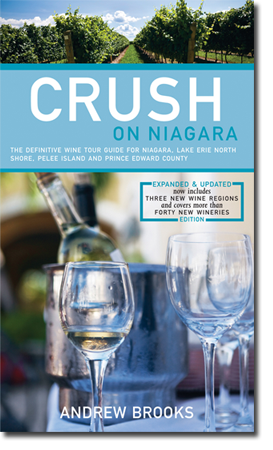 For a lightning Ontario vinotour, you would enjoy a dip and sip in Crush on Niagara – The Definitive Wine Tour Guide for Niagara, Lake Erie North Shore, Pelee Island and Prince Edward County by sommelier/tour guide Andrew Brooks. Whitecap, $19.95, (416) 368-3763.
Lovingly and thoughtfully written and with a keen eye on the fast moving big picture, Andrew creates vivid snapshots of these bucolic but dynamic regions and explains what makes Canadian wineries and visiting them in person so special.
The guide's info on logistics, directions, recommendations and lodging/restaurant suggestions is timely and practical. The only better way to tour would be to contact www.crushtours.com and cut right to the chase.
Meanwhile, on a more intellectual level, The Pocket Sommelier – Wine Tasting Guide & Journal by Christopher Warren is a useful new wine appreciation primer on tasting, scoring, grape varieties and wine-food pairing and for a limited time you can get a free e-version at pocketsommelier.blogspot.com
---
Terroir Trek
Dine among the vines at Peller Estate with winemaker Lawrence Buhler and chef Jason Parsons, starting with oysters in the Sauvignon Blanc vineyard and food and wine pairings in the Chardonnay, Cabernet Sauvignon and Merlot vineyards. $140 per person August 25 and September 26. www.peller.com or 1-888-673-5537.
---
Star Quality
Rocker Sting is the latest celeb to launch his own wine, 30,000 bottles of Sangiovese/ Cab/Merlot from his Tuscan vineyard.
Ex-Police front man Gordon Sumner owns C16th Il Palagio near Figline Valdarno and 182ha alongside, which he farms organically. The farm also produces olive oil, honey, and salami from Tuscany's Cinta Senese pigs.
Meanwhile, not to be outdone, US rapper Chris Bridges, AKA Ludacris, is launching his own Cognac. Working with a Norwegian-owned Cognac producer, Ludacris has created Conjure, a blend of 14 samples.
He wants the bottle – labelled with naked female silhouettes – to be a collectible. Timing could be dodgy: after a 15-year boom, Cognac sales are in decline, down 22% in the US.
---
A Monster Opportunity!

You won't find Sasquatch but you'll reach Ogopogo's Lair in the Okanagan via a good glass of Pinot Grigio, courtesy of the outstanding young Ganton & Larsen Prospect Winery.
The PG '08, a bright, tropical, peach-apricot and papaya melange (88), is now at the LCBO, $15.15, sporting original Okanagan artwork of Squally Point, home of the legendary lake monster. It's the #2 selling VQA wine and #1 PG in BC.
Also at the LCBO now is its sibling from Ganton, Fats Johnson Pinot Noir '07, $15.95, fresh, fragrant, light cherry-raspberry French oak-aged PN with hints of wild strawberries (90). Look for Fats and his dog, Tupper, on this label.
Colorful labels, colorful history and it's good to see more BC wines in our stores.
---
Speedy Stewart Tends Vines
Marlborough organic winery Seresin has ditched its tractor in favor of an ex-race horse called Stewart to tend the vines.
Viticulturist Colin Ross has been taking Seresin down the bio-organic path since 1994 and says Stewart is as efficient as a tractor and has less impact on the ground between the vines.
The 22-year-old horse tows the sprayer, which applies seaweed and compost "teas" instead of chemicals. "I'd challenge any farmer to find a 22-year-old tractor they're still using," says Ross.
The organic approach by owner Michael Seresin started as an "ethical, philosophical, cultural thing." Two cows grazing the property produce 160 kilograms of manure a week, which goes into Seresin's "cow pat pits" for fertilizer. "The great story is the byproduct is 40 litres of organic milk."
---
It's $3 Koala vs Yellow Tail
We can't get Two Buck Chuck and we won't get Three Dollar Koala.
California maverick Fred Franzia sells both: the Charles Shaw wines for $1.99 and now Down Under, a Chardonnay he's importing from Australia for $2.99.
"It's time that the American consumer paid the correct price for Australian wine. They've been overpaying for it," says Franzia.
In Australia, John Casella, managing director of Casella Wines, which makes Yellow Tail, took the news phlegmatically. "A lot of brands compete with Yellow Tail and this will be another," he said.
Franzia is importing the wine in bulk and having it bottled, labelled and shipped in California.
The cheeky newcomer arrives as many high-end American wineries are reeling from the economic downturn, as even wealthy drinkers slash spending on fine wines. Americans continue to drink more wine overall but they're buying more mid- and low-priced wines, killing sales of wines $25 and up.
The shift is pinching profits in Napa and Sonoma and forcing many wineries to cut prices and seek new distribution channels. Some hard-hit wineries have quietly put themselves up for sale. Total US wine sales rose 5% in volume in the first quarter but wines $25 a bottle and up fell 12%.
One sign of the times: Auction Napa Valley – the premier charity and social event of the year – raised $5.7 million down from $10.4 million last year.
There are 2,843 wineries in California, 4,600 wine grape growers, and 110 varieties grown. A total of 526,000 acres of wine grapes are planted although vineyards only take up 1% of the state's terrain. By volume, Chardonnay remains the leading varietal wine, followed by Cabernet Sauvignon, Merlot, White Zinfandel and Pinot Grigio.
---
Doggone Wine!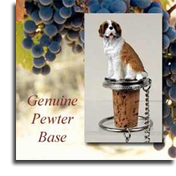 If you want to save the heel of an enjoyable wine until tomorrow, you can choose from 217 (count'em) breeds of doggie bottle stoppers, ceramic on pewter, at dogdecor.com.
Click on "Wine Bottle Stoppers" and sniff out your favorite. Can't decide between Bloodhound and St Bernard...
---
Johnny Hugel, 84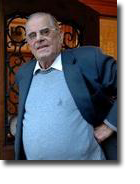 Jean Hugel, Alsace's greatest champion, has died in Riquewihr at 84.
Hugel wrote what became the legislation regulating Alsace wines, some of the strictest of all French wine appellation laws. Known to all as Johnny, he once said of his fellow winemakers' use of oak, "They're timber merchants who forget to be winegrowers," adding that "people who like wine are nicer people than those who do not like wine."
The excellent Hugel wines in Ontario are the field blend Gentil, the youthful, elegant Riesling '07, the wonderfully aromatic, fruit-driven dry Muscat Tradition, the lightly oaked blackcurrant-scented, pure Pinot Noir Jubilee '05, the luscious late-harvest Gewurztraminer Vendange Tardive '01, and Icewine-like Selections de Grains Nobles 2000. Halpern Enterprises is the agent, (416) 593-2662.
---
How You Know It's 2009...
You enter your password on the microwave.

You haven't played solitaire with real cards in years.

You have 15 phone numbers to reach your family of 3.

You e-mail the person at the desk next to you.

You don't stay in touch with friends and family is because they don't have e-mail.

You pull up in your driveway and use your cell phone to see if anyone's home.

Every TV commercial has a web site.

Leaving home without your cell phone is a cause for panic.

You go online before your morning coffee.

You're reading this and nodding :)
Take me back to the top of this page, please!