Sept 20: Family of Wines Gala, 99 Sudbury St, Toronto, Stem Wine Group, 416-548-8824.
Sept 24: Mediterranean Cruise with Tony Aspler, 416-488-8597.
Sept 27: Chilean Wine & Food Festival, ROM, Toronto, 416-607-7037.
Sept 27: Profile Group Wine Tasting, Liberty Grand, Exhibition Place, Toronto, 416-598-0333 x 241.
Oct 19: Sip & Savor, Steam Whistle Brewing, Toronto, 416-398-3335 x2.
Oct 20-23: Delicious Food Show, Better Living Centre, Exhibition Place, Toronto, 416-960-5399.
Oct 31: Wines from Italy, Roy Thomson Hall, Toronto, 416-598-1566 x108.
Nov 7: French Wine Connection – Organic and Biodynamic Wines, Toronto, 416-977-1257 x 220.
Nov 17-20: Ottawa Wine & Food Festival, Convention Centre, 613-523-9463.
---
Hint: click on labels and photos below for even more information!
Forking Heck!
A wonky Australian dock crane has dropped $1 million worth of wine!
Mollydooker Velvet Glove Shiraz 2010 costs $200 a bottle.
Winemaker Sparky Marquis was "gut-wrenched" that 462 cases were smashed while being loaded for the United States.
"When they opened up the container they said it was like a murder scene," he said. "But it smelled phenomenal."
The shipment was one-third of the McLaren Vale winery's production. "It's a massive loss."
PS Mollydooker is Aussie for left-hander – sounds logical!
---

Take A Bow, Loron Beau!
Well-priced, well-liked Bourgogne Chardonnay Loron takes a cute little bow in its spritely new outfit, an eye-catching revamped label, all fresh, green-apple, citrus and white flowers, at $12.95 (88) LCBO 167155. Red sibling Beau! is actually a new Ontario entry from Loron, a fruity BBQ-friendly Beaujolais, elegant with crushed black pepper and raspberry-strawberry nuances, $11.95 (89) LCBO 231811. Loron's a reliable 6th-generation grower in Macon and Beaujolais and its wines are a true value.
---
Take A Bowwow, Mike Weir
Canada's Great Green Hope turned winemaker, Mike W is now offering a new release called, wait for it! – The Underdog, a fresh lively dry white made from Sauvignon, Riesling, Auxerrois and Gewurztraminer (88), and a spicy crowd-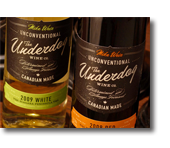 pleasing dry red blend of Cabernet, Pinot Noir, Merlot and Gamay (90). Priced at $13.95, they're a sporty addition to the competitive world of wine and food.
Earlier, Mike Weir Wines released its first estate-grown Riesling, a soft, off-dry crowd-pleaser with Anjou pear, lime zest, nectarine and apple pie aromas/flavors (87) – easy drinking and pleasant (v) 229286, $14.95. Stainless-steel fermented and bottled for Mike by Chateau des Charmes.
---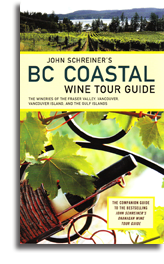 John Schreiner Goes Coastal
BC's wine guru leads us on a mouth-watering tour of the province's burgeoning (hate that word!) new boutique and garagiste wineries – and it's an eye-opener.
His BC Coastal Wine Tour Guide, from Whitecap Books at $19.95, takes us (by armchair) from every cellar door to tasting room to barrel cellar with nary a historical fact or thumbnail sketch unaddressed.
Primarily for the winoscenti among readers, he lists the coordinates of every winery in the Fraser Valley, Vancouver, the Gulf Islands and Vancouver Island, along with his wine recommendations.
Full of anecdotes and delicious vinotrivia – such as somebody making Pinot Noix, a beverage from walnuts and a broth of quaint winery names like Mooberry, Mistaken Identity and 40 Knots – there's also a fascinating and authentic tracing of the province's pioneer winemaking history.
A companion to Schreiner's Okanagan Wine Tour Guide, this is a bright, lively look at the birth of a significant new region and its wines. We're not talking about generations-old chateaux but operations being created by former fish hatchery managers and towboat company owners and successful entrepreneurs with a passion for wine – and the smarts to use top-flight international advisers in most cases. We can all drink to that!
---
The $3 Billion Question…
French wine consumption has dropped by three billion bottles - one per adult per week - in two generations, to just four billion bottles a year.
Researchers fear the wine drinking culture is being lost in France, with younger generations less likely to enjoy a bottle over food, more likely to drink for pleasure, and less aware of its cultural significance to France.
Just 16.5% of the population are wine drinkers. Regular consumption with meals has been replaced by drinking occasionally, often on nights out.
Over-65s link wine with their heritage and are likelier to drink it daily and share the experience. For the under-30s, wine is very much the exception.
---
Green Light For GreenLane
Ontario newbie winery GreenLane has launched its first estate-harvested wines: Riesling, $16.95; Old Vines Riesling, $29.95; and Pinot Gris-Riesling, $16.95, all 2010 and stellar!
Last year saw the Greetings range of wines which included out-sourced Ontario fruit and was well received. But there's nothing like your first home-grown progeny.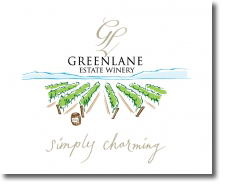 Hand crafted by Di Smith, an eco-friendly young winemaker with experience gained at Tawse and Southbrook, the hand-harvested wines come from GreenLane's own 22 acres in Niagara Peninsula's Twenty Valley.
There's a strong acid backbone in all three that she attributes to a limestone seam that was a pleasant surprise to discover in the vineyard.
The Rieslings are vibrant with crisp classic malic acidity and minerality, floral and light citrus notes, with the Old Vines (circa 1990) delivering an additional off-dry hint of honey and tropical fruit (89 and 92 respectively). The PG-Riesling also has good structure, lively aromatics and stony minerality with pure orchard fruit notes (88). Currently they're available at the winery only, www.greenlanewinery.com.
GreenLane's owner, Robert Paul, a self-described `wine geek', is a seasoned sommelier (Four Seasons, Sutton Place and Royal Brock), former wine columnist (Brockville Recorder) and member of the Ontario VQA tasting panel. He knows his wines!
---
Bad Wine...No Shit
A journalist's conviction for calling a wine "shit" has been quashed by the European Court of Human Rights in Strasbourg.
Peter Uj wrote that a wine made by Hungarian state-owned T. Zrt "had been enough to make me cry: sour, blunt and over-oxidized stuff, bad-quality ingredients collected from leftovers, mould, musty barrel... but Hungarians drink [this] shit with pride."
He was convicted of defamation but appealed and the conviction was changed to libel. This was upheld in the Hungarian Supreme Court.
The European Court said there was a difference between damaging a person's reputation and a company's commercial reputation." It found Uj's intention was "satirical... to raise awareness about the disadvantages of State ownership." The court ordered Hungary to pay Uj €3,580 costs.
The case is an echo of the case in which French magazine Lyon Mag was sued by Beaujolais producers for calling their wine 'vin de merde'. The case was settled in the magazine's favor.
---
Irn-Bru?
People were brewing beer in France in the Iron Age, 2,500 years ago.
Sprouted barley, a malting oven and storage containers were found at Roquepertuse, near modern Aix-en-Provence.
Brewing dates back to the Bronze Age in China and the Middle East, but this is the earliest known in France, where wine-making had already taken hold.
Archaeologist Laurent Buoy and his colleagues analyzed "macro botanical" remains at three sites: a paved floor near an oven and hearth of a 5thC BC home, and a ceramic vessel and a pit near storage containers. Ninety percent of the grains had been induced to sprout.
The team surmises a "home-brew" scenario.
---
New Goal For Bower
Hockey Hall of Famer Johnny Bower, Maple Leafs legend and winner of four Stanley Cups, is now also Mr. Merlot: he's the face of an Ontario wine.
Master of the poke-check and gritty goalie with no facemask, he's been honored with a limited edition Johnny Bower Rosewood Estate Merlot 2009, $25 from the winery at Beamsville. "I never imagined I'd ever have a wine named after me," says the modest 86-year-old. "I'm just a hockey player."
Rosewood is a family-run boutique winery that also makes its own delicious honey and mead (honey wine) www.rosewoodwine.com.
---
Champagne Is Really Hot!
Champagne is planning its earliest harvest in history.
Only 189 years ago was it even close, around Aug 20.
Volumes are expected to be large, 12.500k of grapes per hectare or 79.7 hectolitres of wine per hectare, up 19% over 2010.
A new reserve system allows producers to save part of the harvest for future vintages.
---
Wet Weather Woes In Oz
Australia has a glut of poor-quality wine, and a shortage of premium wines, as a result of an exceptionally wet 2011 summer. The only bright news is that in Western Australia there were no rain problems and it seems like a very good vintage.
This was one of the most drenched seasons in memory and winemakers are calling the vintage absurdly large for a nation still grappling with too much wine. The harvest came in at 1.62 million tonnes, more than 2010.
This, in the worst harvest weather conditions in most winemakers' memory. Almost every state and region except Western Australia and the Hunter Valley experienced drenching rain throughout the harvest, from late summer to autumn. Those old enough to remember 1974 say they hadn't seen so much rain and rotten fruit since that annus horribilis, 37 years ago.
And yet, a leading Adelaide wine broker, Jim Moularadellis of Austwine, reckons Australia is in a state of "mild under-supply" of high-quality wine. The problem with 2011 is a lot of ordinary- to poor-quality wine – wine no-one will want.
Most of this year's blow-out in yields is due to rain filling grapes with water and delivering heavier-than-usual bunch-weights.
---
More Precious Than Gold
An 1811 Château d'Yquem has become the world's most valuable bottle of white wine, after it was sold for $116,000.
The sweet Bordeaux set a new Guinness record after the Antique Wine Company sold it to restaurateur Christian Vanneque. He purchased it for his SIP Sunset Grill in Bali, where it goes on display in September.
Most white wines are not meant to age but Yquem's high residual sugar combined with its natural acidity help protect it.
In 1811, the Great Comet passed by the earth and this year has become the best known of the so-called "Comet Vintages."
---
Caceres Founder Dies at 86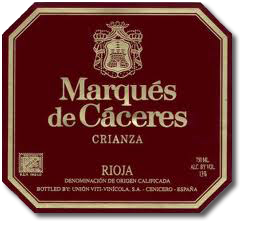 Enrique Forner, founder of Rioja's Marqués de Cáceres, has died aged 86.
Born in Valencia in 1925 he spent his formative years in France, where the family moved in 1936 after Franco's nationalists defeated the Republicans.
The Forners bought two Bordeaux properties, Château Camensac and Château Larose-Trintaudon, restoring both.
Enrique studied under oenologist Emile Peynaud, who advised him when in 1964 he decided to return to Spain to start a winery. They selected Cenicero in Rioja Alta, and there he built his winery in time for the 1970 vintage.
Forner gave growers shares in return for grapes, while a family friend, the Marques de Caceres, allowed his name to be used in return for payments to a charity of his choosing.
Believing that Rioja was too oaky, hidebound by rules governing barrel ageing – Forner installed stainless steel tanks. He also reduced ageing time while using more new oak.
As his daughter Cristina put it, they discarded "the common practice of continuous use of old barrels that left the tastes and aromas of previous wines. Instead, we started to renovate the casks on a regular basis to obtain the full potential of the wine with better balance of oak and fruit." Such practices, and stainless steel fermentation, are now the norm in Rioja.
Marques de Caceres' success led many bodegas to follow and the Caceres style – less oak, more fruit, more elegance – became the modern style of Rioja.
Today Caceres is one of Rioja's most recognized brands, sold in 120 countries, representing a tenth of all Rioja exports.
Take me back to the top of this page, please!