(Hint: click on labels and photos below for even more information!)
New Twist For Stoppers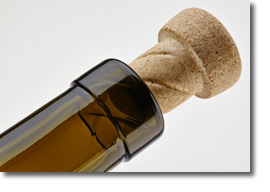 Cork manufacturer Amorim and glassmaker O-I have created "a new generation" of stoppers: Helix – Amorim.
The grooved cork twists into bottles with a matching thread. No corkscrew is necessary.
"It offers twist-pour/twist-close opening and resealing," the companies say. Ohio-based O-I operates 79 plants in 21 countries. Amorim is the world's biggest cork producer.
This new cork is formed from granules of natural bark, hand-harvested in oak forests that absorb 14,000 tonnes of waste CO2 annually and the bottle contains a high percentage of recycled glass.
Screwcork, anyone?
---
That's Rich
Bernard Arnault of LVMH – owner of Hennessy, Moët et Chandon and Chateau Yquem – continues to be the wealthiest wine owner in France.
His fortune is listed at €1.5 billion, up slightly from last year. Arnault also owns half of Chateau Cheval Blanc with Albert Frère, the wealthiest man in Belgium.
The Castel family, owners of Castel Frères and 50% of Chateau Beychevelle, Chateau Beaumont, négociant Barrière Frères and wine merchants Nicolas, are in second place with €875 million.
Third is Frédéric Rouzaud of Champagne Roederer, owner of Chateau Pichon Longueville, with €800m, just ahead of Philippine de Rothschild of Mouton Rothschild with €750m.
Francois Pinault of Chateau Latour, Chateau Grillet and Domaine d'Eugénie is sixth at €700m, with fellow First Growth owner Corinne Mentzelopoulos of Chateau Margaux at number 6, with €600m.
The other top 10 places go to Christian and Jean-Francois Moueix with €550m, Bernard Magrez of Chateau Pape Clement with €525m, and Michel Reybier of Cos d'Estournel with Benjamin de Rothschild, of Chateau Clarke, each with €450 million.
---
Great Vintage For The Kiwis
Winemakers in New Zealand are hailing the 2013 vintage as "one of the best in history", with a record high harvest.
New Zealand Winegrowers CEO Philip Gregan describes the summer as "outstanding with near-perfect conditions for growing grapes.
"The result is that we expect the 2013 wines to be vibrant, fruit-driven and complex expressions of our diverse grape-growing regions – 2013 looks set to be a vintage to remember."
Nearly 350,000 tonnes was harvested in 2013, up 5% on 2011 and 28% more than last year's small crop, which left New Zealand short of wine to feed its expansion plans.
---
See No Evil, Sip No Evil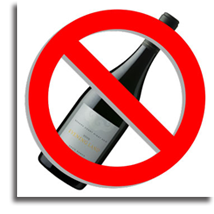 The health lobby in France has invoked the Evin Law to limit what bloggers and social media users can write about wine.
A report called "Damage related to addictions" is part of the background to forming government policy from 2013-2017.
One suggestion is that alcohol promotion should be forbidden on the internet and social media. Sites belonging to producers, wine merchants or wine tourism sites would be exempt, but wine bloggers would be barred, along with any advertising or promotion of wine.
"We need to return to…the Evin Law," writes Professor Michel Reynaud, the author of the report, claiming that youngsters 12 to 17 are three times likelier to drink than those who can't access the internet.
---
Love Match
Launched by Francoise Pauly, founder of wine jobs website vineajobs, the new site vinealove.com claims to be the first dating website and social network dedicated to wine lovers worldwide.
"Yes there are over 2,200 groups with wine in the title on LinkedIn alone, and wine lovers are already sharing ideas on countless blogs and social media sites," says Pauly. "But vinealove combines social media with a dating website."
---
Kir Royale Anyone?
Royal vineyards are being planted in Windsor Great Park, London, and overseen by the Duke of Edinburgh.
Wine merchant Laithwaites has leased three hectares and is growing 16,700 vines. The 2,000 ha park, 20 miles west of London, is owned by the Royal family.
The vines are the Champagne varieties Chardonnay, Pinot Noir and Pinot Meunier, and the wine will be exclusively sparkling.
Some 4m bottles of English wine were produced last year, around half of them sparkling, and there is 75% more land under vine in Britain than in 2004.
---
G Wines Hit the Spot
G. Marquis is a collection of premium wines in which those entrepreneurial folks at Magnotta showcase their very best Niagara-on-the-Lake VQA vintages.
The G. Marquis Silver Line Chardonnay 2011 is perhaps the finest white Magnotta has ever made, far outperforming its $16.95 price.
This elegant seafood/shellfish wine offers nuances of ripe melon, honeydew, baked apple and Anjou pear framed by toasty new oak and a crisp nectarine acidity (89), 258671 at Vintages, where you'll also find its G. Marquis sibling Silver Line Pinot Noir.
Equally Burgundian and a ringer for good Nuits-St-Georges, the Pinot shows wet earth, black cherry, raspberry and violets, a silky texture, graceful oak toast and smooth tannins (88), 258673, $19.95. Think Ontario lamb, feathered game, ham or cassoulet.
The G. Marquis range includes sparkling Ice Rose, a 100% Pinot Noir given a splash of Cabernet Franc Icewine as the dosage. This Methode Classique fun fizz is a pretty pinky-gold and opens on the nose with bright cherry, wild strawberry, and red apple notes.
The palate tends towards orange marmalade, wildflowers and brioche. It's a crowd-pleaser that looks like pink Champagne and pairs well with salmon, lobster and wedding receptions, $29.95 (90) 274761.
---
Dear Diary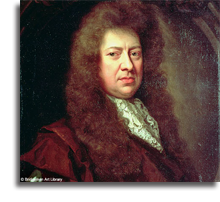 Samuel Pepys was the world's first wine blogger and his diary was the star this year at the 350th anniversary of his mention of Chateau Haut-Brion, the Bordeaux premier cru.
"Off to the Exchange with Sir J Cutler and Mr Grant to the Royal Oak Tavern in Lumbard Street," the diary entry reads, "…and there drank a sort of French wine called Ho Bryan, that hath a good and most particular taste that I never met with."
The entry, dated 10 April, 1663, was displayed at Magdalene College, Cambridge, alongside a reference to 'Hobrionno' in the 1660 cellar book of King Charles II.
The gala dinner by the Cambridge University Wine Society featured Haut-Brion Blanc 2003, Haut-Brion 1999 and 1989, and tributes from Prince Robert of Luxembourg, owner of Haut-Brion, and Serena Sutcliffe MW.
Magdalene grad Pepys left 3,000 books and manuscripts to his college in 1703. An MP and chief secretary of the British admiralty, he recorded eye-witness accounts of the Great Plague and the Great Fire of London.
Pepys loved a bargain, and often wrote his diary in coded shorthand to hide its contents from prying eyes. He kept a cellar of Tokay, Madeira and Champagne, as well as claret, and was able to comment knowledgeably on the Haut-Brion.
You can visit Chateau Haut-Brion and other great Bordeaux estates in person September 2-6 with James Lawther MW and John Salvi MW.
The tour includes Ducru-Beaucaillou, Cos d'Estournel, Yquem, Guiraud, Domaine de Chevalier, Angélus, Pavie, Bon Pasteur and Smith-Haut-Lafitte.
Dining includes meals at Michelin-starred restaurants and the tour costs $3,500 including tax. Email David@finevintageltd.com for the booking form.
---
Wine Loss Hurts Us All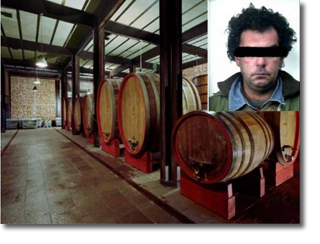 A saboteur broke into Case Basse winery one night, opened the taps of the giant casks of wine, and let 62,000 litres of Brunello di Montalcino drain away.
The loss represented 80,000 bottles, which can sell for 170 euros each – worth about 13 million euros. The raid wiped out six vintages of the 6.5 hectare vineyard in Tuscany. The Sangiovese red has to be matured for four years before it can be sold as Brunello.
Estate owner Gianfranco Soldera, who was an insurance broker in Milan before buying the vineyard in 1972, had no idea who might have been behind the raid. However, ex-employee Andrea di Gisi has since been convicted and sentenced to four years in prison.
Silvio France-schelli, mayor of Montalcino, called the raid "ugly and cowardly" and expressed solidarity with the owners of the winery.
On a happier note, Château de Roquefort in Provence has been saved by local winemakers who rallied round after its vines were wrecked by hail.
A leader in France's biodynamic movement, Raimond de Villeneuve's business faced collapse after his vines were stripped by a storm.
In a heartwarming display of solidarity from fellow winegrowers throughout Provence and the southern Rhône, de Villeneuve was given grapes or juice (with free carriage provided by a transport company) from 36 vignerons.The donations allowed him to vinify two red wines, a rosé and a white which will be bottled under the appellation IGP Méditerranée, which covers the Rhone, Corsica, Alpes and Cote d'Azur, after French customs agreed to waive the rules.
Take me back to the top of this page, please!