(Hint: click on labels and photos below for even more information!)
Kate's Coupe Bubbles Over
Marie Antoinette's left breast is historically the mould for the original Champagne coupe. British artist Jane Freud has just crafted a new coupe from Kate Moss's boob.
Drinkers who want to avoid losing all those hard won bubbles, however, are still advised to choose the tulip glass (allegedly) modelled on Napoleon's manhood. Just sayin'.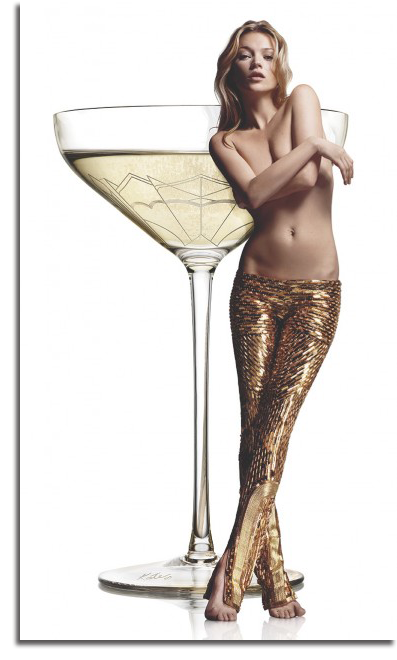 ---
Schreiner's On His Game, Again
Like rediscovering old favorites and uncovering new vintages, John Schreiner's latest look at BC's wineries gives equal pleasure.
His Okanagan Wine Tour Guide, 5th edition, profiles 30 new wineries with nicely defined anecdotal material on their (very recent) history.
Encompassing the Okanagan and Similkameen as well as Vernon, Salmon Arm, the Thompson and the Kootenays, this title from Whitecap Books, www.whitecap.ca, is worth your $19.95.
The dean of BC wine scribes writes with humor, insight and empathy about one of the world's most scenic, dynamic regions where wineries like Ruby Blues waive the tasting fee for anyone who is smiling.
Don't leave home without it!
---
Onliners Click For Charity
One Brit in seven splashes out online when they've been drinking – $125 on average – with the hottest purchases including back-scratchers and Stetsons. Men average $146 vs women at $108.
Top items bought under-the-influence include bus tickets to Glasgow and vibrating head massagers. Number one is the Lionel Richie-tea mug, according to a survey by Give as you Live, a charity that allows onliners to give to worthy causes as they buy.
---
By The Way
The Fine Wine Reserve provides secure, climate-controlled space to cellar fine wines. Rack bottles in your private locker for $50/month or store by the case.
The largest pro cellar with 24/7 access and members lounge. Packing, transport and inventory services available: 416-593-9463; website: www.finewinereserve.com.
---
Grape Exploits
Highest grape throw (and catch) 69.6 ft.
AJ Henderson performed the feat to set a new Guinness world record at Kennewick, Washington, in front of official judges and admiring fellow students at WSU.
No mention of the specific grape variety, which AJ caught in his mouth…
---
Fuhrerwein Brings $2,800
A magnum commissioned by Adolph Hitler and bearing his image has been auctioned for more than $2,800. A pre-auction estimate had valued the bottle at $3,600.
Hitler ordered a batch of 'Fuhrerwein' to mark his birthday on 20 April in 1943, in the midst of the Second World War. The label depicts the Nazi dictator in full uniform.
Dominic Hughes, whisky and wine specialist at McTear's, says: "We received the bottle from a gentleman in Hungary. It was given to his father, who had been a prisoner of war, by a German soldier when the war ended. This bottle has been in the possession of the owner's family since then." The buyer is in Australia.
The Simon Wiesenthal Center, which campaigns for human rights and hunts Nazi criminals, has called for a boycott of an Italian company producing wines with Nazi and fascist labels.
---
Laroche Means Great Chablis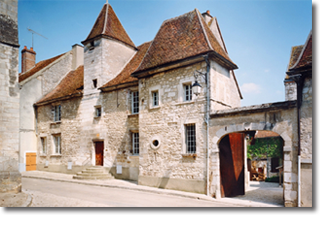 The best known and one of the best-tasting Chablis in Canada is Domaine Laroche, one of the largest producers.
Its founder and legendary pioneer is Michel Laroche.
In 2009, he merged with another wine giant, Jeanjean, a leading Languedoc negociant, co-owning outstanding wineries Ogier in Châteauneuf-du-Pape, Cazes in Roussillon, Gassier in Costières de Nîmes, Rigal in Cahors and Antoine Moueix in Saint Emilion.
Today, their Laroche Chablis Saint Martin is a 100% Chardonnay, pale gold with a crystalline purity, rich aromas of lemon zest, yellow apple, wet stone, and Bosc pear. Retails for $24.95, LCBO 289124.
Equally light, crisp and fresh, Laroche Viognier de la Chevaliere, LCBO 377622, $12.70, is pale gold with an enticing bouquet of orange blossom, spice and ripe apricots that carries through on the palate. Retails for $12.70 per bottle.
Michel Laroche has recently started a small new family winery with his wife and two daughters in Chablis called Domaine d'Henri, named for his father. Expect more good things!
---
Mostly Reds From Sir Alex?
Manchester United ex-manager Sir Alex Ferguson has been selling hundreds of cases of wine, including Romanee-Conti and Petrus in auctions expected to raise $5.5 million.
The 482 lots combined wines with memorabilia from Ferguson's career, accruing a record number of trophies for a British manager.
The lots were being sold in Hong Kong then London and then online "I didn't realize I had so much," said Ferguson. "Then you say to yourself, well I'm never going to drink that."
Ferguson estimates he has around 800 wines at home, and these aren't being sold.
Ferguson has had a yearly allocation of DRC wines since the 1990s and, in Hong Kong, six Romanee-Conti Grand Cru 1999 were offered alongside a signed retro shirt from Manchester United's Champions League victory against Bayern Munich that year. The lot was expected to fetch $110,000.
A dozen Petrus 2000 were expected to fetch $73,000 in Hong Kong. In London, 12 Petrus 1996 were forecast to sell for $36,000, with an FA Cup final shirt from the same year included. A dozen Latour 2000 were set to fetch $15,000 in London.
A six-litre imperial of Sassicaia 2005, signed 'Best wishes, Alex Ferguson', rated $1700 in Hong Kong.
Ferguson began collecting after a hotel manager introduced him to fine Bordeaux during a scouting trip ahead of a game in Montpellier, France, in 1991.
Spending more than $18 on a bottle was then a big event for the 73-year-old from Glasgow. "I remember my wedding anniversary, at about 33, and I bought a bottle for $27. My wife Cathy said: are you off your head?"
Britain's most famous football club has just announced a three-year partnership with Chile's biggest wine producer, Concha y Toro.
Expect the winery to use Man U badges and players on its marketing campaigns. The Red Devils club and Casillero del Diablo wine, anyone?
---
Miss Inniskillin '75, Debi Retires…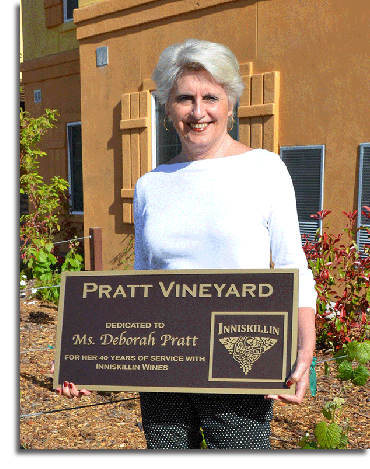 After 39 years with Inniskillin and an amazing life in the Ontario wine industry, the lovely Debi Pratt has retired.
Canada Day fireworks at Inniskillin Niagara marked her last day and, fittingly, a vineyard has been named her honor.
Debi was there in 1975 with Donald Ziraldo and Karl Kaiser when Inniskillin was granted the first licence since Prohibition.
She left school teaching to work for Inniskillin in sales, tourism, hospitality and PR, helping change consumer perceptions about Ontario wines.
She stayed through the emergence of Vincor, Canada's largest wine company that included Inniskillin, Jackson-Triggs, Le Clos Jordanne, and other wineries in Niagara, the Okanagan, and the world as Vincor grew to be a global wine company. She was there when Vincor was sold to Constellation Brands.
Even when Ziraldo, Kaiser and Donald Triggs left, Pratt held things together for nearly 40 years.
Constellation has named 90 acres in Niagara-on-the-Lake the Pratt Vineyard. Its Riesling and Cabernet Franc make Inniskillin's Icewine.
"Back in the seventies no one dreamed of the impact Inniskillin would have on our wine industry. Hard work and perseverance paid off. The strong presence of women in the industry today has evolved from a then male-dominated business in sales, marketing and winemaking.
"I'm pleased to see the acceptance of premium VQA wine (nationally and internationally) and our thriving wine tourism. There is still much potential left to be tapped."
This year, Debi has received awards fitting to her retirement, including:
Business Citizen of the Year 2013 (Niagara Grape and Wine Festival).
Lifetime Achievement Award 2013 (Tourism Industry Association of Ontario/Ministry of Tourism).
Gold Award, Educator 2014 (Ontario Hostelry Institute).
---
RIP, Philippine de Rothschild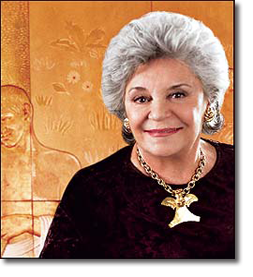 Philippine de Rothschild, the grande dame of Bordeaux, who quit a professional acting career to run the family wine dynasty, has died at 80.
The Baroness, a woman of immense flair and panache, took control of Chateau Mouton Rothschild, one of the greatest wines of Bordeaux and the world, when her father, Baron Philippe, died in 1988. She was the first woman ever to run it.
Her father was the first to engage stellar artists like Picasso and Dali to illustrate each vintage's highly collectible Mouton labels and Philippine continued the tradition, also paying the artists in cases of wine.
The red and white Mouton Cadet continue to be some of the world's most recognized wines and Philippine maintained her father's elegant Opus One joint venture with California's Robert Mondavi.
---
China Buying Aussie Winery
In a move that underscores growing interest in overseas wine assets, Chinese investors are buying Yaldara winery from Barossa's McGuigan wines for $15m.
The move will help McGuigan improve its finances amid ongoing tough conditions across Australia's wine industry. The firm's debt was $106.4m at the end of 2013 and the winery said: "It's quite clear the industry still has an issue with an overcapacity of processing capability."
---
McCown Moves Into Wine
Bob McCown, sportscaster with The Fan 590 and Sportsnet, has bought Stoney Ridge, a landmark vineyard in Niagara.
"Having seen the evolution of Ontario's wine industry, I've developed a real appreciation for Canadian wine," says McCown. "I was blown away with the impeccable quality of wine produced at Stoney Ridge and knew it was a company I wanted to grow."
McCown recently celebrated 25 years as host of "Prime Time Sports."
Plans are under way to launch Fadoo red and white blends in honor of McCown's catch phrase.
The winery has recently undergone a renovation and launched its artisan Cheese Cellar. It has three good value wines at the LCBO: Pinot Grigio, Pinot Noir and Cab Franc.
Take me back to the top of this page, please!